The Yunnan Initiative
In 1990, in an effort to assist local Chinese organizations in fostering an understanding of and appreciation for regional arts among both minority and Han populations, the Center launched the "Joint Plan on Yunnan National Cultures." With funding from The Ford Foundation and supplementary grants from the Asian Cultural Council and the United Board for Christian Higher Education in Asia, the project seeks to develop methods of preserving regional artistic traditions. It is also committed to creatively meeting the challenge posed by the great increase of tourism in the Yunnan province.

The feasibility of the project was determined during the Center director's (Chou Wen-chung) December 1990 and June 1999 visits to Kunming City and Luxi County in Yunnan, where it was immediately met with great enthusiasm by all sectors of the province. Since then, the Center and Ford have spent nine years and dedicated nearly five-million dollars to this effort. As a result, they have brought together hundreds of scholars from the United States,China, and South and Southeast Asia to develop comprehensive strategies for the continuation and further development of the traditional arts of Yunnan's twenty-five minority nationalities.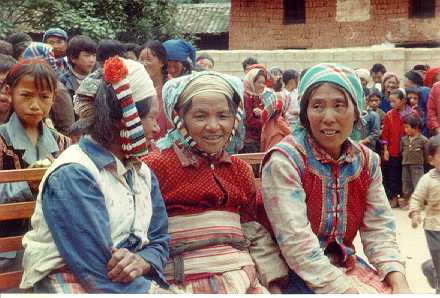 Current Projects
Fieldwork Research Group
An inter-institutional (kua-danwei) group of junior scholars and artists chosen and established as an NGO by the Center to conduct in-depth research on arts and culture projects related to Yunnan's nationalities and produce publications for dissemination.

Folk Arts Center: Province-wide Survey of Arts and Crafts
A survey of arts and crafts designed by the Center's team of advisors and the Folk Arts Center conducted in 120 counties in Yunnan using 2,000 cultural cadres who were trained to use prevailing international research methodologies in conjunction with their individual knowledge of specific nationalities and villages. The survey is also being used to recognize artists and craftsmen as "National Treasures."

Yunnan Nationalities Institute: Nationalities Art Department
The first art department and curriculum of its kind, this program was designed specifically to meet the needs of a multicultural Nationalities (minority) constituency. The department combines classroom teaching by mentors with long-term fieldwork projects in villages. Students are preparing for numerous jobs including positions in education, tourism, and government policy.

Yunnan Plan: Newsletters
Detailed information on the development of the Yunnan Plan, stage by stage. (1990-1998)