The IBM 704
The IBM 704 Computer (1954). The first mass-produced computer with core memory and floating-point arithmetic, whose designers included
John Backus
, formerly of IBM Watson Laboratory at Columbia University (who also was the principal designer of FORTRAN, the first widespread high-level language for computer programming), as well as Gene Amdahl (who would go on to become chief architect for the IBM 360 and later start his own company to rival IBM). The 704's 6-bit BCD character set and 36-bit word account for FORTRAN's 6-character limit on identifiers.

Photo: Lawrence Livermore National Laboratory
Here's a group photo of IBM Customer Administrative Class 941, 3 May 1954, on the 704, which includes 704 designers Gene Amdahl and (Watson Lab alumnus) John Backus, plus fellow ex-Watson-Labber Herb Grosch (who contributed the photo) and other pioneers of computing: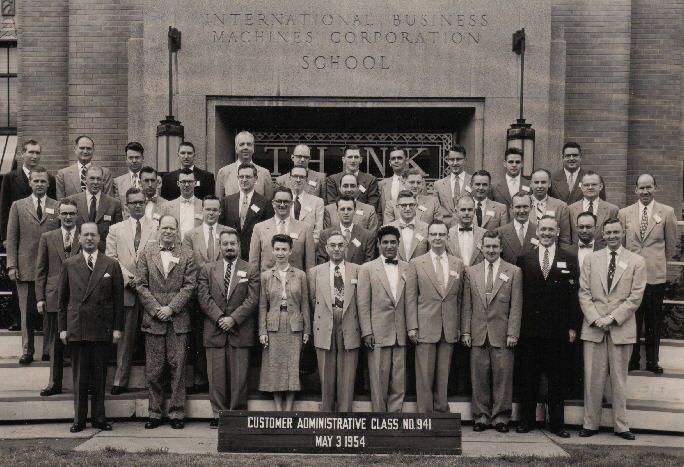 Photo: IBM, courtesy of Herb Grosch. Click for details and full-size image (1MB).
Here's another photo that highlights the 704's floorspace requirements, which were too great for the space available in Watson Lab and forced Columbia to return an NSF grant for the purchase of this machine, a factor which led to the creation of the Columbia Computer Center: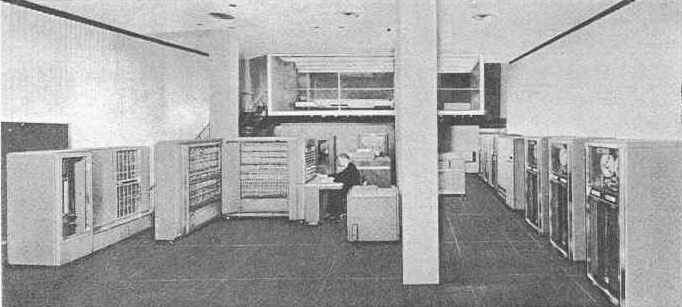 Photo: W.J. Eckert, "Calculating Machines," Encyclopedia Americana (1958)
References:
Amdahl, G.M, and J.W. Backus, The System Design of the IBM Type 704, IBM Engineering Laboratory, Poughkeepsie NY (1955), 11pp.
Links:
Translations of this page courtesy of...
[
About translations
]