Columbia University Computing History
Columbia University in 1926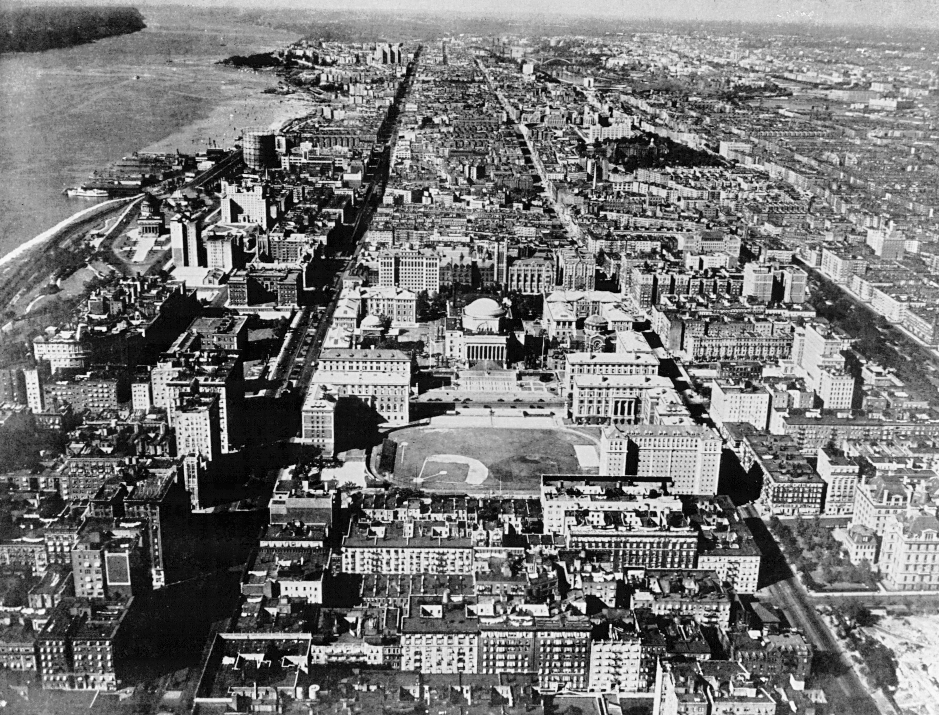 ---
Everything you see here was built without the aid of electronic computers. Hamilton Hall, location of the Columbia University Statistical Bureau, is pointed to by the line from Home Plate to the pitcher's mound. Pupin Hall, home of the TJ Watson Astronomical Lab (and later the
Manhattan Project
) is the tall building five blocks north of Home Plate. The future Watson Lab buildings,
612 West 116th Street
and
612 West 115th Street
, are in the blocks on the left side of the picture (between Broadway and the Hudson River), facing north so only the roofs are visible. The domed building is Low Library. Note:
No George Washington Bridge (construction began in 1927; the bridge opened for traffic 24 October 1931).
No Riverside Church (construction began in 1927 [12]).
North of 180th Street was not really a wilderness; probably airbrushed out (for example, from 1895 until it burned down in 1914, the Fort George Amusement Park at 190th Street and 3rd Avenue, complete with ferris wheel, "Rough Rider" roller coaster, toboggan slide, music halls, beer hall, hotel, and casino). The CU Baker Field stadium at 215th Street was completed in 1922.
No Butler Library or Ferris Booth / Lerner Hall.
No Law, Business, International Affairs, Carman, Mudd, Fairchild, New Gym, or Computer Center buildings. No bridge across Amsterdam Avenue.
No modern St Lukes or Womens Hospital buildings. St Lukes had a front yard.
117th Street still existed between Amsterdam Ave and Morningside Drive.
The brand-new (1924) medical center towers visible at 168th Street west of Broadway; the medical school is still on 59th Street between 9th and 10th Avenues.
Johnson (now Wien) Hall (then a women's residence), visible in "East Field" on the right; it opened in 1924 [5].
Difficult to see: the 116th Street subway kiosk in the middle of Broadway; this was torn down in 1968-69 and entrances installed on either side of Broadway. Also not visible at this resolution: the Broadway trolley line (but sometimes you can still see the tracks exposed in potholes or excavations).
116th Street running through campus (see the cars?); this remained a public street until about 1948, when Columbia won the right from Robert Moses to close it off in exchange for 10 acres of its newly acquired Lamont estate, which Moses wanted for his Palisades Interstate Park [39].
Also difficult to see: ground-level Hudson line railroad stops at 130th Street, 152nd Street, 177th Street, and others farther up.
The baseball field where Lou Gehrig used to break windows (1922-25).
A 400-meter track; pole-vault broad-jump shotput facilities.
There is no Studebaker Building (supposedly it was built in 1923 but I don't see it).
There is no Columbia Manhattanville campus in West Harlem.
The docks at 125th Street. At the dock you can see the ferry to Edgewater, NJ, connecting to interurban trolleys that ran to Bergen County points up the Palisades cliff on a switchback private right of way, passing the Palisades Amusement Park (which opened in 1898 and closed about 1970) at the crest of the cliff. An aerial photo from 1954 (in [37]) shows the 125th Street piers and ferry substantially unchanged. The giant gas shell near the docks is now the site of the NYC Transit Authority bus barn at 132nd Street and 12th Avenue.
Just north of Grant's Tomb is the 1700's era Claremont Inn ("George Washington Slept Here") that burned down in 1949. Professors used to stop here for a drink on the terrace, with its panoramic view, before walking down the hill to take the ferry home.
What you can't see:
Past the left edge of the photo on the River at 114th Street is Columbia's Gould Boat House (the Columbia Yacht Club), equipped with boats, lockers, and showers [5], which is, of course, long gone, demolished in 1934 when Riverside Park was reconstructed by the WPA. The site along the river from 114th to 120th Street was to have been Columbia's athletic field, including boathouse and "water gate" for visiting dignitaries arriving by ship, to be built upon landfill west of Riverside Park and the railroad tracks, according to grand plans made in 1906 and again in 1912, but the money was never raised [12]. Columbia's athletic field (stadium, track, boathouse, etc) was eventually constructed on 215th Street at the northern tip of Manhattan, about five miles north of the main campus and two miles north of the medical center.
CLICK HERE for a closer view of campus with South Field in its football configuration.
Info: The 1925 Columbia University Catalogue [5], Dolkart [15], Joe Brennan, http://www.morningside-heights.net, stories from older professors when I was in school, common knowledge.