Alumni Events
Being a FIJI is not solely about the undergraduate experience, but rather one that extends past graduation and lasts as long as one is able to enjoy the spirit of the brotherhood of Phi Gamma Delta. We value our graduate brothers, and New York City provides the perfect opportunity for maintaining relationships among FIJIs, as well as forging new ones. A motto that we live by is that FIJI is "Not For College Days Alone."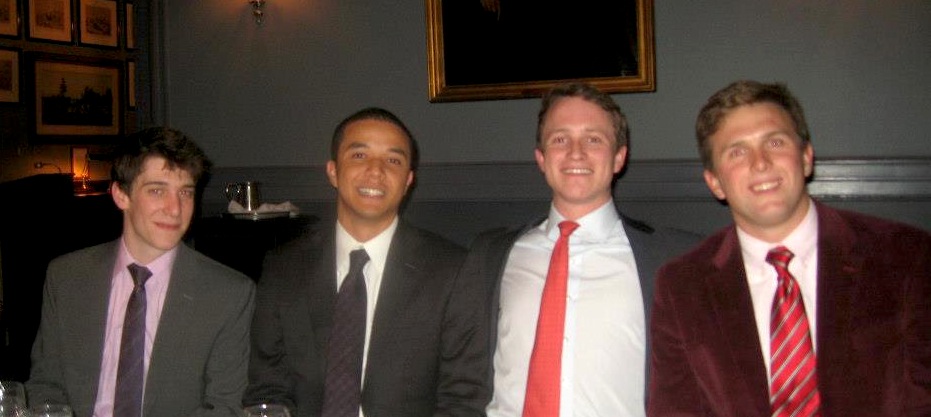 During Homecoming, we welcome our graduate brothers to once again partake in our tailgate activities in support of the Columbia Lions. In the spring, our annual Pig Dinner is an annual gathering of all local and distant Phi Gams to convene, connect, and reconnect with both graduate and undergraduate brothers.
We hold a semesterly Career Night, where graduate brothers can discuss their career paths and provide guidance for undergraduates. We also have regularly schedule events with local graduate brothers downtown at the famed McSorley's, a favorite meeting spot among FIJIs for its warm and lively atmosphere.
If you would like more information regarding Homecoming, Pig Dinner, or any of our other alumni events, please contact our Corresponding Secretary (Contact info).
The annual Pig Dinner.
Omega Newsletter
The Owl Letter is the newsletter for the Omega Chapter of Phi Gamma Delta. We publish The Owl Letter once a semester with updates on events and newsworthy items. If you would like to be added to the mailing list, please contact our Corresponding Secretary (Contact page).
Magazine
The Phi Gamma Delta is the semiannual magazine of the Phi Gamma Delta Fraternity, issued by the national organization. Current and previous issues of The Phi Gamma Delta can be found here.
Our biannual Career Night with alumni.