A Nov. 20-21 Conference on Free Expression in the Arts at the Columbia Graduate School of Journalism
Organized by the National Arts Journalism Program. Funded by the Rockefeller Foundation, with additional support from the Andy Warhol Foundation for the Visual Arts.
Summary | Schedule | Photos | Conference Report
"In Copyright We Trust?" panelists from left to right, Richard Masur, Shira Perlmutter, Gigi Sohn, Siva Vaidhyanathan. Photos by Jeremy Simon.
Disputes about free expression in the arts have always loomed as struggles between creativity and repression, transgression and outrage, candor and hypocrisy. From "Lady Chatterley's Lover" to Andres Serrano's "Piss Christ," the sequence has been predictable: Scandalized citizens, religious leaders or politicians fire an opening salvo of protest or funding cuts. Then artists, invoking the muses and the First Amendment, fire back, accusing their accusers of obtuseness and mindless censorship.
While high-profile shootouts at art museums and less visible skirmishes at schools, libraries and theaters persist, overt censorship is no longer the only, or the most dire, threat to free expression. On the one hand, society has become more accepting of provocative imagery, with media conglomerates often leading the way in the depreciation of taboos. On the other, artists, while enjoying some unprecedented liberties, are hemmed in by new constraints that often fall beyond the range of First Amendment protection. The current terrain bears little resemblance to the "culture war" battlegrounds of a decade ago, much less to what the First Amendment's framers could have imagined. And in the wake of Sept. 11, the front lines of the free-expression debate
may be shifting once again.
Free-expression conflicts are increasingly fought over intellectual property and copyright. Today's artist is less likely to encounter the ire of a politician than a cease-and-desist order from a corporation's legal counsel. Entertainment companies defend their ownership of their products no less fervently than artists who proclaim their right to sample freely from an "intellectual commons" of existing creations. The stakes are enormous: Without a marketplace of sounds, words and images, the future of the information economy is potentially anarchic; but many feel that without open access to source material for artists to draw upon, creativity in our digital culture is cast in doubt.
In the popular-culture marketplace—the most visible battleground of free expression in the arts—different business models involve different tolerance levels for controversial content. But undeniably, bottom-line management and blockbuster marketing fuel an insatiable "shock market," leaving the public variously angered, teased, bored, numbed and frightened by the proliferation of sexual or violent content. Executives of some Fortune 500 companies have turned from custodians of mainstream tastes to retailers of sensation, in the process becoming some of the most fervent advocates of the First Amendment. Meanwhile, mindful of their public image, purveyors of popular culture aim to keep the debate about their products and programming in the boardroom and out of the courtroom—clear of any scandal that would involve the First Amendment.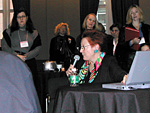 Martha Wilson, founding director, Franklin Furnace Archive Inc.
In the nonprofit arts, trends in patronage raise concerns about free expression. While much energy is expended on preventing and mitigating fallout from controversial presentations, the stifling effects of current funding patterns go unexamined. As support shifts from the public to the private sector—and presenters turn toward commercial sponsors and the box office to help meet the bottom line—some artists face steeper odds in presenting their work. Here again, the decision to fund or not to fund, to include or to exclude, occurs before the First Amendment can exert its protective influence.
Arts audiences, larger than ever, need well-informed journalists to explain the new free-expression environment. But even for an experienced reporter, the issues can seem bewildering, all the more so because of the passions that continue to polarize the public debate. While art advocates, joined by corporate executives, frequently espouse a no-tolerance policy against regulatory incursion on creative freedoms, many citizens, bombarded by art and entertainment that they feel has coarsened their surroundings and threatens their children, are convinced that too little is done to mediate free expression.
For the benefit of arts journalists and others concerned about the arts in America today, the National Arts Journalism Program will host a two-day conference at Columbia University's Graduate School of Journalism and publish a research report on challenges to free expression in the arts. The discussions will bring together a cross-disciplinary group of participants—artists, technologists, media executives, lawmakers, museum curators, theater producers, legal experts, government regulators, free-speech advocates, and of course journalists—to explore the shifting frontiers of free-expression in the arts and search for workable solutions for the future.
DAY ONE: Wednesday, November 20
10 a.m.-10:45 a.m.: Conference Introduction
Welcome by Michael Janeway, director, National Arts Journalism Program
Keynote Address by Lee Bollinger, president, Columbia University
Overview by Andras Szanto, deputy director, National Arts Journalism Program
10:45-Noon: Legacies of Transgression: The Who, What, When, Where and Why of Censorship in the Arts
The backdrop to today's free-expression debates is a centuries-old legacy of conflict over art deemed morally transgressive or politically irksome by the powers that be. The aims, means and outcomes of restricting free artistic expression have varied widely across historical periods and national borders. This panel of art historians, social scientists and legal historians explores the history and impact of arts censorship. On what grounds has censorship occurred, and what kind of legal principles and institutional methods had it invoked? Does censorship always have a stifling effect, or have there been instances where art has flourished not just in spite of, but as a result of censorship? The panel will examine the historical record of arts censorship both domestically and in comparison with other nations, and evaluate how contemporary challenges to free artistic expression stack up against earlier episodes of arts censorship in American history.
Moderator: Casey Nelson Blake, professor of history, Columbia University
Panelists: Rochelle Gurstein, author, "The Repeal of Reticence"; Marjorie Heins, author and director, Free Expression Policy Project; Louis Menand, author, "The Metaphysical Club"; and professor of English, Graduate Center, City University of New York; Jon Wiener, professor of history, University of California, Irvine; and author, "Gimme Some Truth: The John Lennon FBI Files"
Noon-1:30 p.m.: Lunch Break
Evidence Room speaker (1 p.m.): Martha Wilson, founding director, Franklin Furnace Archive Inc.
1:30-2:45 p.m.: The New Face of Censorship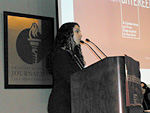 Playwright Betty Shamieh.
Where does censorship occur in the arts today, and why? In this panel, we survey the landscape of free expression, with special attention to how First Amendment conflicts have been affected by today's moral, legislative and political climate. We also examine the political and financial motivations behind the moral rhetoric emanating from both sides in censorship debates. When is the cry of "censorship" legitimate, and when is it a cover for career ambitions or market forces? Does "self-censorship" exist, and if so, what forms does it take? The discussion will take up mediation-oriented approaches, such as the Artist as Citizen initiative (which asks artists to consider the implications of their work in a social context), that strive to reconcile the competing sides in the free-expression debate.

Online culture is changing the debate about censorship. On the Internet, pornography and other kinds of disturbing content are more easily accessible than ever, especially to children. Technological remedies such as filtering software don't provide an easy fix--such filters, it turns out, often filter out art. Should citizens learn to live with graphic imagery as a price to pay for new media? Can government successfully regulate content, either online or in traditional media, without alienating concerned citizens, free-speech advocates or cultural conservatives? Are there forms of expression that everyone agrees are "indefensible"?
Moderator: Todd Gitlin, author and professor of sociology and journalism, Columbia University
Panelists: Amy Adler, professor of law, New York University; Carol Becker, dean, School of the Art Institute of Chicago; David Lowenthal, author and professor emeritus of history, Boston College; Breck Rice, founder and chief operating officer, Trilogy Studios Inc.; Betty Shamieh, playwright
2:45-3 p.m.: Intermission
3-4:30 p.m.: Patterns of Patronage
Many highly publicized free-expression controversies have involved public financing or use of taxpayer-supported spaces. Objections to publicly funded art are usually based on that art's alleged violation of "community standards"˛a link that has legislative sanction since the Supreme Court's 1998 ruling allowing the N.E.A. to use a "decency test" in its funding guidelines. Do such objections still keep challenging art out of nonprofit institutions? Should artists be responsible for community sensitivities, and if so, how? Complicating the free-expression story in non-profit institutions are continuing changes in cultural patronage. As arts organizations turn to the private sector for support, the bidding for dollars and the search for box-office hits can encourage safer, more populist programming. Are museums shunning controversial art as they transform into palaces of fun and commercial brand-building? Or conversely, can private funders, free of legislative constraints, give art institutions the latitude they need to present risky and challenging art? The discussion examines the link changing patterns of support and new tradeoffs for artists and their presenters.
Moderator: Michael Brenson, author and art critic
Panelists: Peggy Ahwesh, media artist and filmmaker; Max Anderson, director, Whitney Museum of American Art and president, Association of Art Museum Directors; Roberto Bedoya, writer and arts consultant; Marian Godfrey, director, Culture Program, The Pew Charitable Trusts; Saralyn Reece Hardy, director, Salina Art Center, Kansas, and former director of Museums and Visual Arts, National Endowment for the Arts; Timothy McClimon, executive director, AT&T Foundation
4:30-4:45 p.m.: Intermission
4:45-6 p.m.: Art Meets Entertainment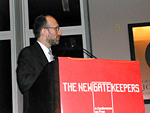 Brian Lehrer of WNYC Radio moderated the "Art Meets Entertainment" panel.
The market of art and entertainment products that reach the general public is determined by an ever-shrinking number of ever-expanding multinational conglomerates. These companies are today's largest arts patrons by far, and they have unprecedented control over what is seen, read or heard by audiences. The Federal Communications Commission and the entertainment-industry associations are variously considered too lenient and too harsh in their attempts to mediate between consumers, entertainment companies and the public interest. Do corporations have a responsibility to shape, or respond to, community standards, and if so, how? Should the public accept the proliferation of violent or sexually explicit movies, television programs and pop music as a necessary byproduct of First Amendment liberties? What is the link between industry models, company strategies and content regulation, and what is the net effect of these on freedom of artistic expression? The corporate consolidation of recent years has diminished the number of channels through which artists can reach an audience. Must a songwriter who wants to be heard in Omaha consider the standards of Wal-Mart before composing a lyric? Artists, especially in the popular-music industry, have tried to fight back, but can they succeed?
Moderator: Brian Lehrer, host, "The Brian Lehrer Show," WNYC Radio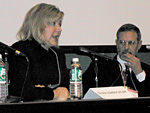 Olivia Cohen-Cutler and Neal Gabler.
Panelists: Olivia Cohen-Cutler, vice president of broadcast standards and practices, ABC, Inc.; Neal Gabler, journalist and author, "Life The Movie: How Entertainment Conquered Reality"; Daniel Okrent, journalist, author and former editor-at-large and editor of new media, Time Inc.; Douglas Rushkoff, author and cultural critic; Jennifer Toomey, musician and executive director, Future of Music Coalition
DAY TWO: Thursday, November 21
9-9:45 a.m.: Introduction
Welcome by Michael Janeway, director, National Arts Journalism Program
Keynote Address by Cass Sunstein, professor of law and political science, University of Chicago
Overview by Andras Szanto, deputy director, National Arts Journalism Program
9:45-11 a.m.: In Copyright We Trust?
The ownership of images, texts, and sounds is a paramount legal issue of our time, and nowhere are the implications more profound than in the arts. Copyright is meant to encourage creativity by securing limited ownership rights for artists. But artists today rarely retain copyrights, ceding them instead to commercial entities that they rely on to distribute their work. Eager to protect revenue streams, corporations have fought successfully for the expansion of copyright protection. Some fear that this has shrunk the "intellectual commons" of freely shared material that artists can draw on to create new works. Meanwhile, more and more of today's artists are weaving existing documents, samples and artifacts˛everything from James Brown tunes to photographs of puppies to characters from old novels˛into their creations. For these appropriationists, copyright has surpassed censorship as the most feared hurdle to free expression. Meanwhile, despite the clear legal protection the Napster proceedings reaffirmed for copyright owners, alternative file-sharing technologies continue to allow anyone with a computer to download music and films illegally. This panel examines the impact of intellectual-property laws on corporate bottom lines and creative practices. To what extent does tighter copyright law hurt creative expression? Do digital copy protection and legislation against copy-protection circumvention challenge existing notions of fair-use and First Amendment protections? Will copyright subversion undermine the business models of established arts industries? In either event, how will artists fare when the current debates about intellectual property regulation play out?
Moderator: Justin Hughes, professor of law, Cardozo Law School
Panelists: Charles Mann, author and contributing editor, The Atlantic Monthly; Richard Masur, actor and former president, Screen Actors Guild; Shira Perlmutter, vice president and associate general counsel for intellectual property, AOL Time Warner Inc.; Gigi Sohn, president and co-founder, Public Knowledge; Siva Vaidhyanathan, professor of culture and communication, New York University, and author, "Copyrights and Copywrongs: The Rise of Intellectual Property and How it Threatens Creativity"
11-11:15 a.m.: Intermission
11:15 a.m.-12:30 p.m.: Reconciling the Commons and the Marketplace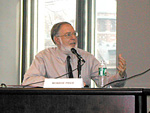 Panel moderator Monroe Price, author and professor, Cardozo School of Law.
Proposals for intellectual-property reform are diverse and sometimes radical. Many experts argue that information should be more widely available for public use, and that copyright restrictions are counterproductive and corrosive. Others contend that corporations should be held to different legal standards than artists when it comes to free use of content. Still others advocate further expansion of copyright, or for "fair use licenses" that would require content users to register with a central administration, or invoke "moral rights" doctrines (such as the little-known 1990 Visual Artists Rights Act) that aim to protect the dignity of the artwork. Can such legislative and practical solutions address the concerns of both creators and owners of artistic content? What changes in institutional and technological infrastructure might help these solutions along? Where exactly lies the border between the "commons" and the free market, and how firm is that line? Are owners and creators of artistic content bound to oppose one another, or is there room for productive compromise? These are some of the most exciting legal and legislative dilemmas of our time. This panel will address their impact on new approaches to the ownership and dissemination of art.
Moderator: Monroe Price, author and professor, Cardozo School of Law
Panelists: Allan Adler, vice president for legal and governmental affairs, Association of American Publishers; Barbara Hoffman, art and intellectual property lawyer; Beryl Howell, general counsel, Senate Judiciary Committee; Wendy Seltzer, fellow, Berkman Center for Internet and Society, and founder, The Chilling Effects Clearinghouse, Harvard University; David Sutphen, vice president of government relations, Recording Industry Association of America
12:30-2 p.m.: Lunch Break
Evidence Room speakers: (1:30 p.m.) Steev Hise, electronic musician; (1:45 p.m.) Alexandra Ringe, Illegal Art
2-3 p.m.: Specialized Breakout Sessions
While concerns about free expression touch all creative practices, the specifics range broadly from discipline to discipline. In these working sessions, conference participants will be divided into groups for targeted discussions on free-expression issues in specific domains of creativity. Sessions will be held for visual art, popular music, performing arts, new media and the literary arts. A separate session will focus on legal and regulatory concerns. Participants will share experiences, discuss new approaches and search for new answers to the problems that are endemic to their field. The sessions will allow closer interaction between audience members and conference speakers and generate specific proposals for inclusion in the conference report.

Discussion Leaders: Visual and Online Art: Svetlana Mintcheva, arts advocacy project coordinator, National Coalition Against Censorship; Music: Sasha Frere-Jones, writer, musician and 2002-03 NAJP mid-career fellow; and Douglas Wolk, writer on commic books and music, and 2002-03 NAJP mid-career fellow; Performing Arts: Diane Solway, dance writer and adjunct professor, Columbia University Graduate School of Journalism; Legal and Regulatory Issues: Roger Newman, author and legal historian; Arts Writing and Self-Censorship: Margo Jefferson, cultural critic, The New York Times
3-3:30 p.m.: Breakout Summaries, moderated by Mark Schapiro, independent journalist
3:30-3:45 p.m.: Intermission
3:45-5 p.m.: The Free Expression Story
Readers rely on arts journalists to provide a road map to the new free-expression environment, especially when controversial disputes erupt˛as they did in 1999 around the Brooklyn Museum of Art's "Sensation" exhibit. Such controversies often strike both journalists and readers by surprise. How can news organizations prepare for such inevitable events, and how can they avoid the kind of meltdown that accompanied "Sensation"? What sort of standards and operating mechanisms could improve the performance of the press when it comes to reporting free expression stories? Complicating matters is the proliferation of art that demands news coverage, while established notions of quality have been discarded in many disciplines. The challenge of reporting on the fast-changing institutional environment adds to the arts journalist's task. Meanwhile, while detailed reportage and insightful storytelling about art have never been more important, changing news values and a faltering economy are continuing to squeeze the amount of space and resources afforded to quality arts journalism. This panel will also examine a unique dilemma of the arts journalist's beat: critics are frequently asked not only to report objectively on their fields, but also to take a stand on controversies that divide their communities. How can arts journalists serve their many different masters˛the publications they work for, the artists they cover, and the public they inform˛without compromising their objectivity?
Moderator: Ken Paulson, executive director, First Amendment Center and host, "Speaking Freely," PBS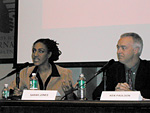 Sarah Jones and Ken Paulson.
Panelists: Paul DiMaggio, professor of sociology and research director, Center for Arts and Cultural Policy Studies, Princeton University; Sarah Jones, playwright, actor and poet; Cathleen McGuigan, senior editor and national arts correspondent, Newsweek; David Resnicow, president and co-founder, Resnicow Schroeder Associates; Danyel Smith, author and former editor in chief, Vibe
Evidence: A Selection of Banned and Contested Art
To illustrate the stakes of free-expression debates, we will host in conjunction with the conference an exhibition of art that has provoked conflict, including: a slide show of visual art by artists such as Andres Serrano, Robert Mapplethorpe and Tom Forsythe; listening stations for music that has challenged copyrights or morals; video stations featuring examples of film or performance art found transgressive; links to controversial online art by Etoy, RTMark and selections from the a concurrent exibition of Illegal Art; and informational resources such as the online arts censorship archive The File Room and the Columbia Music Plagiarism Project. A more detailed roster of exhibition items will be posted in upcoming week. Censorship-related books and journals, as well as literature that has come under contention, will be offered for sale in the exhibition room.
Conference Report
A corresponding research report, aimed toward working journalists who cover issues of free expression, will draw on commissioned articles, conference transcripts and independent research, and it will be released in early 2003. Contributors to the report will include Cass Sunstein, Mark Schapiro, Steven Tepper, Henry Jenkins, and nearly a dozen fellows and alumni of the National Arts Journalism Program.