JOIN US! FRIDAY AFTERNOON, OCTOBER 21, 2016

SYMPOSIUM EVENT

BEYOND THE FRAME:
Contemporary Photography from Africa and the Diaspora

Co-organized by The Walther Collection
and the Department of Art History and Archaeology

Friday, October 21: 1:00–6:30 pm
Columbia University, 501 Schermerhorn Hall
116th & Broadway


Beyond the Frame brings together leading international scholars, curators, artists, and cultural producers to engage with the multiple perspectives, conceptual themes, and circumstances shaping the work of the current generation of African photographic and video artists.
The Wallach Art Gallery is grateful to its generous supporters.

Gallery Location:
Schermerhorn Hall, 8th Floor
Enter the main campus at
116th St and Broadway
Gallery Hours:

Wednesday–Saturday, 1–5pm



2016–2017 EXHIBITION SEASON:
The Expanded Subject:
New Perspectives in Photographic
Portraiture from Africa
September 7 - December 10, 2016


Tomo Mori: Concerto Encircling
September 13, 2016 - June 30, 2017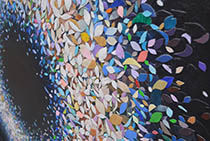 Finesse
January 18, 2016 - March 11, 2017


March 24 - April 8, 2017