Revolutions: A Century of Makonde Masquerade in Mozambique
September 19–December 8, 2007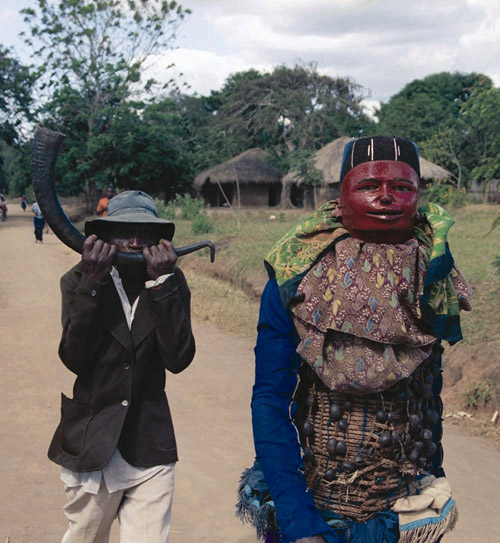 An exhibition of masks and other performance objects from East Africa, titled Revolutions: A Century of Makonde Masquerade in Mozambique features more than 60 examples of Makonde art, on loan from public and private collections, including a comprehensive selection of helmet masks, antelope-horn trumpets, drums, figural dance sticks, and ornate metal bracelets.
Playing a key role in the unique cultural performance genre known as mapiko, these objects present a broad overview of the evolution of mapiko during the past 60 years and contextualize its practice within the shifting political and economical landscape of the Makonde peoples of southeast Tanzania and northern Mozambique. The exhibition not only represents the first major research contribution to Makonde studies in the past thirty years but offers a rare opportunity to view Makonde art, which has been largely neglected within the city's public collections of African art.
The first section of the exhibition includes "classical" pieces from the early twentieth century, which establish an aesthetic foundation against which later stylistic developments can be compared. This section also introduces the performance genre known as mapiko and demonstrates through documentary photographs of Makonde dancers in action how the objects on view function.
The second part of the exhibition traces a historical narrative, revealing how aesthetic shifts found in performance objects reflect the society's broader social and political circumstances, including the Portuguese colonization, socialism, and political independence.
Alexander Bortolot, a doctoral candidate in art history and archeology at Columbia University, is the curator of the exhibit and author of the accompanying catalogue. He has done extensive archival research and fieldwork, living among Makonde communities in northern Mozambique for a year and conducting interviews with mask sculptors and masquerade performers. In addition to a curatorial essay based on Bortolot's research, the publication will include more than 60 color images that provide a rare record of Makonde visual culture.