Delight in Design: Indian Silver for the Raj
September 17–December 13, 2008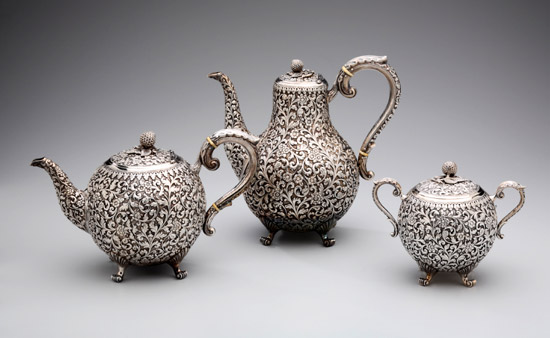 Delight in Design: Indian Silver for the Raj presents a never-before exhibited selection of richly decorated silverware produced by Indian craftsmen from varying parts of the British India empire during the Raj, the popular term for Crown rule of India between 1858–1947. It will be on view at Columbia University's Miriam and Ira D. Wallach Art Gallery from September 17 through December 13, 2008.
Delight in Design offers presents more than 150 pieces silverware reflecting a remarkable amalgam of taste. Indian silversmiths created European forms such as tea services, bowls, claret jugs, goblets, and beer mugs, for European customers. The same silversmiths then adopted a unique manner of embellishing these objects with designs that displayed an innate Indian fondness for decoration. While the shape and function of Raj silver catered to colonial taste and demand, the exterior surfaces displayed "native" decorative skills in design, a word used to encompass pattern, figuration, and all manner of embellishment.
The exhibition is organized to highlight the distinctive regional styles that emerged throughout India's British Empire. A silversmith from Kutch would often create heavily embossed work with parts in the form of an animal, for example, a twisted snake as a handle, an elephant head forming a spout. A Madras craftsman would decorate his work with images of gods, Swamis, being carried in procession to the accompaniment of music and dance; thus the designation of this ware as Swami, or god, silver. Pieces from Calcutta are embellished with rural scenes, such as men and women carrying water, husking grain, or plowing fields, against a backdrop of palm trees and village huts.
The finest examples of Raj silver appear to have been created between 1860 and 1920. Much of it was ordered by the British stationed in India from the catalogues of local firms like P. Orr and Sons of Madras, or from workshop drawings such as those of Oomersee Mawjee of Kutch, some of which are included in the exhibition. Inscriptions engraved on silverware indicate that such objects were gifts for christenings and weddings, trophies for winners of polo and other sporting events, and mementos presented upon retirement from service. Even larger quantities of silver were imported into Britain and Europe.
The silverware in this exhibition comes largely from the Paul F. Walter collection, with a few choice objects from the collection of Julian Sands. We are immensely grateful to these collectors for sharing this material with us and making it available for display in the Miriam and Ira D. Wallach Art Gallery at Columbia University. We are also deeply indebted to Elizabeth and John Sequeira for making available to us their rich collection of drawings from the Kutch silver workshop of Oomersee Mawjee and Sons.
Exhibition curator Vidya Dehejia, the Barbara Stoler Miller Professor of Indian and South Asian Art brings vast experience to this project, having served as the curator of major exhibitions on Indian art and written numerous books and articles. Collaborating with Prof. Dehejia are Dipti Khera and Yuthika Sharma, both Ph.D. candidates in the Department of Art History and Archaeology at Columbia.
In conjunction with the exhibition, Mapin is publishing an extensive catalogue with essays by each of the three exhibition curators and by Wynyard Wilkinson, author of four books on silver including Makers of Indian Colonial Silver and Indian Silver 1857–1948 published in 1999. The 224-page exhibition catalogue includes 230 color and 30 black and white illustrations. The publication will be available for sale at the gallery.

Special exhibition website: Delight in Design