Ely Jacques Kahn, Architect: Beaux-Arts to Modernism in New York
September 27–December 9, 2006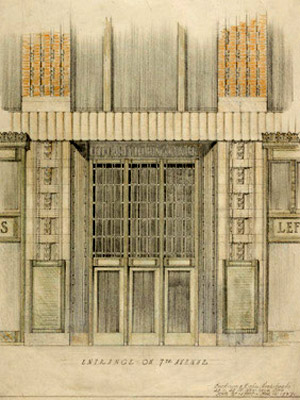 The first comprehensive exhibition of the work of Ely Jacques Kahn, one of the most enduring and prolific architects of twentieth-century New York, will be shown at the Wallach Art Gallery. The exhibition traces a trajectory through the life and work of a man whose designs have become icons in the architectural landscape of Manhattan.
Kahn's career spanned nearly half a century—from his partnership in 1917 in Buchman and Kahn, through the 1930s when he worked independently under his own name, and in the firm of Kahn and Jacobs from 1940 until his retirement in 1965. More than fifty of his projects, designed from the 1920s through the 1960s, are still in use in nearly every corner of Manhattan. Kahn's most important commission—the Squibb Building on Fifth Avenue—overlooks Central Park. His office buildings define much of today's Garment District and his high-rises include the Insurance Center Building, his first skyscraper, in the Financial District. His work is notable for its use of art deco motifs and elaborate and colorful decorations.
Born in New York City in 1884, Kahn graduated from Columbia College and then the Columbia School of Architecture. He completed his studies in Paris at the Ecole des Beaux-Arts before returning to New York. Best known for high-rise office and loft buildings, Kahn was interested in every aspect of design, creating interiors for private homeowners and high-end retailers. In addition, he helped to organize several influential exhibitions, including The Architect and the Industrial Arts at the Metropolitan Museum of Art (1929).
The exhibition curators are Jewel Stern, John A. Stuart, and Janet Parks. Jewel Stern is an independent scholar and authority in the Art-Deco style, and John A. Stuart is a professor of architecture at Florida International University. Janet Parks is the Curator of Drawings and Archives at Columbia University's Avery Architectural and Fine Arts Library. The works in the exhibition are from the Kahn and Jacobs Collection at the Avery Architectural and Fine Arts Library of Columbia University, augmented with drawings and objects from private and public collections. The exhibition follows the recent release of Jewel Stern and John A. Stuart's monograph Ely Jacques Kahn, Architect: From Beaux-Arts to Modernism in New York, published by W.W. Norton.
Events
Gallery talk with the exhibition curators
Wednesday, October 11, 6:30 p.m.
Guided walking tour
Saturday, October 14, 1 p.m.
(shuttle bus departs from the gallery)