Eva Nikolova: The Edifice of Memory
February 18, 2016 – May 12, 2017
Curated by Jeff Paul


On view at the Russ Berrie Medical Science Pavilion, 1150 St. Nicholas Ave. at 168th Street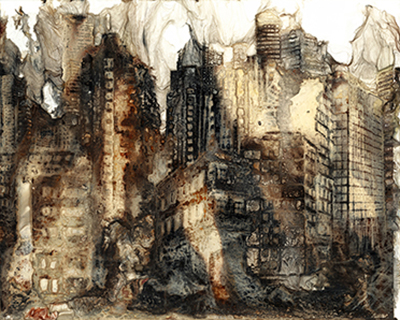 Eva Nikolova: The Edifice of Memory examines the entanglement between geography and memory. In emigrating from Bulgaria to the United States, Nikolova recalls confronting the notion of remembrance as essentially inseparable from that of place. Her experimental depictions of buildings and landforms, in their manifestation of instability and transience, reflect a personal narrative of displacement. This solo exhibition presents a selection of works from her most recent series of cliché-verres 21 Fragments of Yesterday and Tomorrow in addition to the standalone piece Tributaries, a set of chemigrams – cameraless gelatin silver photographs created by drawing and painting onto light-sensitive paper.
Nikolova suggests that "nothing can erase the experience of the past quite like a photograph, which replaces what it purports to preserve." She insists on drawing from memory in an attempt to capture the subjectivity of a lived experience, employing the cameraless, inkless printmaking technique of cliché-verre. Nikolova sketches a matrix with graphite, white chalk, charcoal, black and white ink, and oil pastel, later transferring the image onto light-sensitive paper to be reworked once again. This matrix, enlarged onto gelatin silver photographic paper and developed in the darkroom, generates the cliché-verre prints. These prints serve as a matrix once more as Nikolova bleach-etches each image to emulsify the metallic chemicals. 
In this complex and time-intensive process, Nikolova physically erodes her prints of forgone cities and landscapes in part to reflect her experience as an immigrant faced with personal discontinuities and the monumental task of remembrance. She recalls "the gelatin-silver emulsion, equally a site of creation and dissolution, became the embodiment of the themes of the work – the nature of transformation and the interchangeability of construction and destruction within the unstable and fragmentary edifice of memory itself."
Eva Nikolova earned her M.F.A. in Printmaking at Indiana University, Bloomington and B.F.A. in Painting and Printmaking at Southern Illinois University, Carbondale. She has received multiple Individual Artist Grants from the Northern Manhattan Arts Alliance and the Lower Manhattan Cultural Council. In the past year Nikolova participated in residencies at Virginia Center for the Creative Arts, Millay Colony, and Brush Creek Foundation for the Arts, and had her work included in group exhibitions at Lite Haus Galerie, Berlin, Germany, and in New York's Javits Center, Rio III Gallery, Soho Photo Gallery, and Derfner Judaica Museum + The Art Collection at Hebrew Home in Riverdale. She's currently participating in Lower Manhattan Cultural Council's Su Casa Artist Residency.
Jeff Paul is a first year M.A. student in the Modern Art: Critical and Curatorial Studies (MODA) program at Columbia University and the 2016-2017 Russ Berrie Fellow of the Miriam and Ira D. Wallach Art Gallery at Columbia University. Jeff recently graduated from Northeastern University with Honors, earning a B.S. in Business Administration and a minor in Art History, and was the recipient of Northeastern University's Dean's Scholarship. He has held internships at the MIT List Visual Arts Center, the Institute of Contemporary Art in Boston, Artnet, and Adobe.
The Russ Berrie Pavilion Exhibition Series highlights the work of contemporary artists from upper Manhattan. The series offers an annual opportunity for a graduate student to take on a curatorial role, gain valuable experience, and learn about creativity in the neighborhood. This series is a collaboration between Columbia University's Miriam and Ira D. Wallach Art Gallery, the Office of Public Programs and Engagement at School of the Arts, and Government and Community Affairs at Columbia University Medical Center.