Jean Fautrier: 1898–1964
January 29–March 29, 2003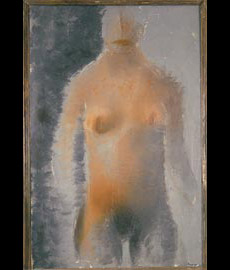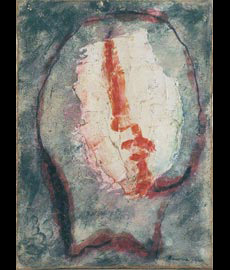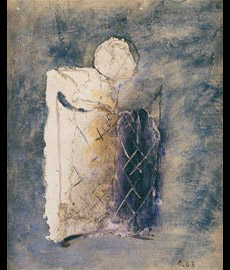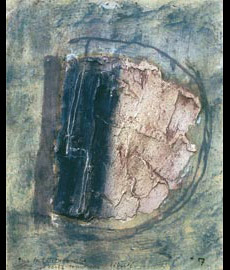 The Miriam and Ira D. Wallach Art Gallery is pleased to present the first U.S. retrospective of Jean Fautrier, one of France's most important interwar and postwar artists. Jean Fautrier: 1898–1964 will introduce new audiences to a major French modernist who has been largely overlooked in the United States.
In paintings of nudes, animal carcasses, and landscapes, Faurtrier evoked a world of darkness and violence while pressing the boundaries of traditional academic art further and further into abstraction. In the 1940s, he invented a new process of painting, replacing traditional oil technique with haute pâte (high paste) constructions, seen in the exhibition in works from the series Les Otages. Fautrier, along with André Malraux, participated in the French Reseistance, and his Otages paintings represent a response to Nazi atrocities. His Originaux multiples of 1950 are hand-painted lithographs, hybrid works that challenge the concept of the uniqueness of original art objects.
The exhibition brings together for the first time more than 60 works from public and private collections in Europe and the United States: paintings, works on paper, "original multiples", sculptures and illustrated books. Notable are a selection of works from his early period (1926–28), his Otages series (1945), and his late abstractions and objects (1955–64).
The exhibition is curated by Karen K. Butler, a Ph.D. candidate in Columbia's department of art history and archaeology, and Curtis L. Carter, the director of the Haggerty Museum of Art at Marquette University. Butler is writing her dissertation on Fautrier's response to the German occupation of France. The exhibition is jointly organized by the Wallach Art Gallery, the Haggerty Museum of Art and the Fogg Art Museum at Harvard University.
The exhibition catalogue, the first major publication on Fautrier in English, contains scholarly essays by the exhibition curators as well as Benjamin Buchloh, a professor of art history professor at Columbia University, Yve-Alain Bois, an art history professor at Harvard University, and Rachel Perry, an independent scholar. It also includes translations of critical writings by André Malraux, French writer and resistance hero, and Jean Paulhan, French philosopher, writer and cultural critic. Linking Fautrier's postwar work to its larger cultural context, the catalogue documents his impact on contemporary artistic and literary movements: the art of Jean Dubuffet and l'art informel in Europe, and abstract expressionism in America, particularly the work of Jackson Pollock.
In conjunction with the exhibition, the Wallach Art Gallery, in cooperation with Columbia University's Maison Française, will sponsor a related symposium on Saturday, March 8, from 1 p.m. to 7 p.m. in Room 501 Schermerhorn Hall. Serge Guilbaut, professor of art history at the University of British Columbia, will deliver a keynote address. Bois, Buchloh, Butler, Carter and Perry will participate, as will Ames Hodes, Ph.D. candidate in Columbia's French department; Anna-Louise Milne, independent scholar, and Eric Trudel, Bard College faculty member. The event is free and open to the public. Reservations are not required.