2017 MFA Thesis Exhibition
April 22–May 21, 2017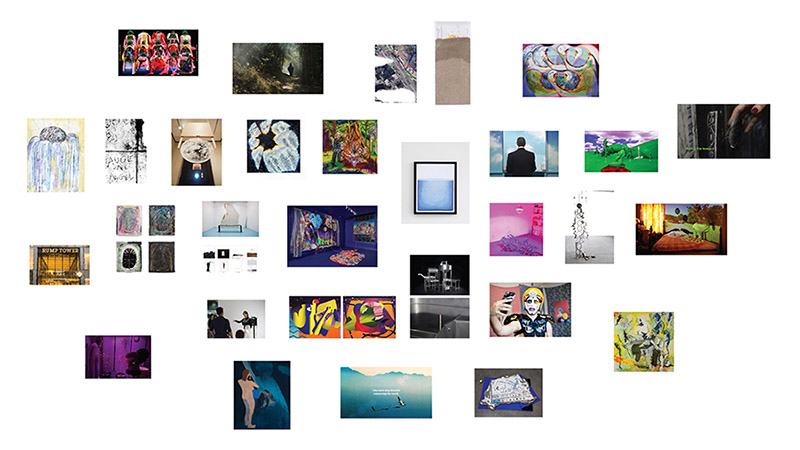 Columbia University's Wallach Art Gallery and the School of the Arts presents the thesis works of the graduating Visual Arts students at the new Lenfest Center for the Arts. The artists are: Joeun Aatchim, Michal Alpern, Dana Buhl, Lucy Lord Campana, Andrew Cannon, Nash Glynn, Maggie Goldstone, Allison Janae Hamilton, Taylor Ashby Hawkins, Duy Hoàng, Iris Yirei Hu, Juntae TeeJay Hwang, Kim Junsung, Peter LaBier, Pera Lern, Alex Mctigue, Julia Medyńska, Cy Morgan, Rocío Olivares, Jenna Basso Pietrobon, Adam Liam Rose, Emily Ludwig Shaffer, Lynn Spanke, Sara Stern, Dylan Vandenhoeck, Kristin Walsh, Derick Whitson, Bryan McGovern Wilson, Zou Zhao (Xi Xi), and José Delgado Zúñiga. Coinciding with the MFA Thesis Exhibition is the presentation of works from graduating students in the Sound Arts MFA program. The artists are: Dani Dobkin, Ashley Grier and Geronimo Rafael Mercado.
Curated by Deborah Cullen, Director and Chief Curator, The Wallach Art Gallery.
Events
Opening Reception: Saturday April 22, 3 - 6pm
A celebration of the opening of the 2017 MFA Thesis exhibition including several live performances listed here
Live - Saturday afternoons in the Gallery: April 29th, May 6th, May 13th
6th floor / ongoing with the artist's presence
Peter LaBier, Private Dancer, individual dance performances
6th floor / 3 pm:
Zou Zhao (Xi Xi), The Apology Workshop
- a seminar-discussion, collective script editing, rehearsal, and performance that dissects the structure of a well-crafted apology. Please RSVP via email to wallach@columbia.edu for this event indicating your name and what day you would like to participate. The artist has authored a brief on the workshop available to download here.
8th floor / 4 pm:
iris yirei hu & Sonia Louise Davis, Can we touch the Sun from here, live performance and sound installation
Tuesday evening, May 2, 5:30 - 8pm
A special viewing of the 2017 MFA Thesis Exhibition, Wallach Art Gallery (6th Floor) and The Lantern (8th floor)
The following program will take place in the Katerina Otto Bernstein Screening Room located on the 3rd Floor
6:00 - 6:45pm: A Lecture Performance
Zou Zhao (Xi Xi), The Communism Appreciation Club
7:00 - 7:35pm: Video program
Kim Junsung, Adieu Dawn, 2016
HD video with sound, 23:03
Rocío Olivares, Cattle Egrets, 2016
HD video with sound, 5:03
Adam Liam Rose, Man Above the Fog, 2017
HD video with sound, 5:20