Modernism and Iraq
January 27–March 28, 2009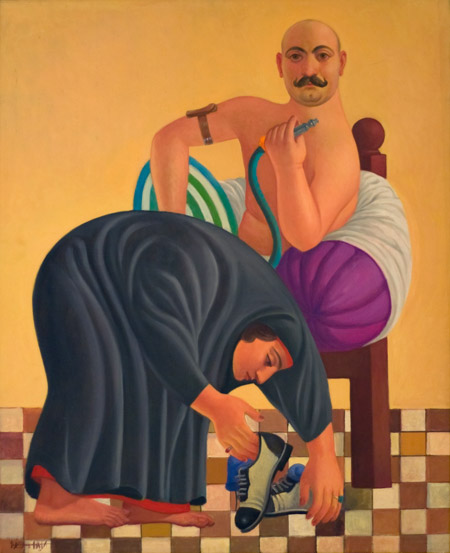 Columbia University's Miriam and Ira D. Wallach Art Gallery presents Modernism and Iraq, an unprecedented overview of the work of several generations of Iraqi artists, from the mid-twentieth century to the present. The exhibition includes paintings, sculpture, book arts, and videos by forty-five artists, among them Jawad Salim, Dia Azzawi, Hana Malallah, Nazar Yahya, Kareem Risan, Ghassan Gha'eb, Rafa al Nasiri, and Mohammed al Shammarey; of the living artists, some work in Baghdad while others are abroad, in exile.
The exhibition is open to the public from January 28 through March 28, 2009. A panel discussion, "Curating Modernism and Iraq," will take place on Wednesday, January 28, in room 612 Schermerhorn Hall. Admission to the exhibition and the related programming is free of charge.
The emergence of a modern style in Iraq has been attributed to artists' newly established contacts with the West. But, as this exhibition shows, members of the so-called sixties generation used their Western training as a means of investigating their own past. This period was followed by decades of war. From the beginning of the Iran-Iraq war in 1980 through the ongoing conflict following the U.S. invasion in 2003, artists were prohibited from traveling abroad. During years of sanctions, state patronage vanished, art materials were scarce or nonexistent, and artists were forced to improvise. Modernism and Iraq offers a rare opportunity to understand the impact of cultural isolation on the development of contemporary Iraqi aesthetics. Notable among the contemporary works are Dafitir (notebooks), which bear testimony to the prevalence of book-art in current Iraqi practice.
The exhibition curators, Zainab Bahrani, the Edith Porada Professor of Ancient Near Eastern Art History and Archaeology at Columbia University, and Nada Shabout, an associate professor of art history at the University of North Texas, have selected art works from several private collections and from the collection of the Qatar Foundation, Arab Modern Museum of Art. The exhibition is presented in cooperation with the Arab Museum of Modern Art, Qatar Museums Authority.
In conjunction with the exhibition, the Miriam and Ira D. Wallach Art Gallery is publishing a fully illustrated catalogue with essays by each of the curators. The 104-page catalogue, with 58 color illustrations, promises to be a valuable resource for information on modern Iraqi art, which is otherwise difficult to find in the West.

Special exhibition website: Modernism and Iraq