Moscow: City, Spectacle, Capital of Photography
April 30–June 21, 2003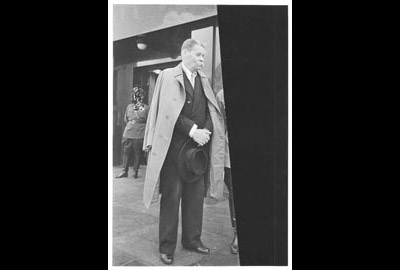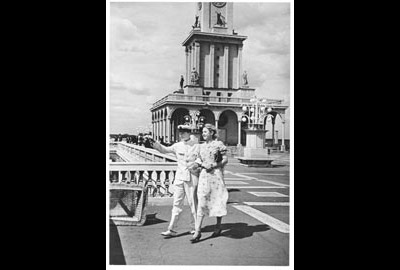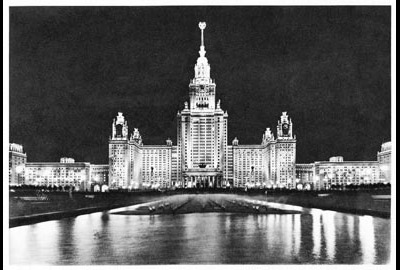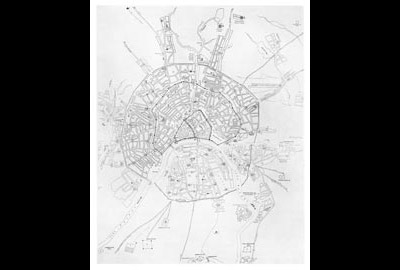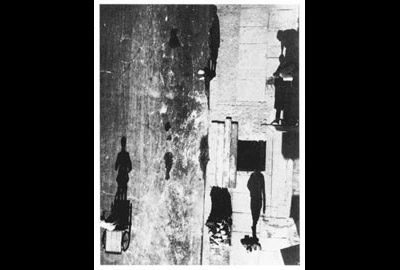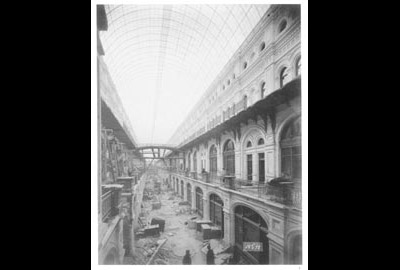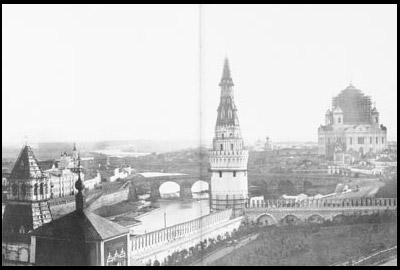 Moscow: City, Spectacle, Capital of Photography, an exhibition of 20th-century photographs of Moscow, opens at Columbia University's Miriam and Ira D. Wallach Art Gallery on Wednesday, April 30, 2003 and remains on display through Saturday, June 21, 2003.
Moscow has been a powerful magnet for many Russian photographers of the 20th century. Moscow: City, Spectacle, Capital of Photography presents the work of 31 photographers, whose images have defined the visual experience of Moscow from the 1920s to the present. Diverse in form and strategy, the 90 photographs chosen for the exhibition trace the history of Russian documentary photography and offer insight into individual practices. From Aleksandr Rodchenko's constructivist visions and Evgenii Khaldei's humanist landscapes to Igor Moukhin's scenes of urban spectacle and alienation in the works of Russia's key 20th-century photographers, Moscow ventures beyond the expected image as a site of famous landmarks, architectural treasures and dramatic lifestyles.
Early 20th-century photographers Boris Ignatovich and Arkadii Shaikhet saw themselves in the vanguard of an emerging mass-media culture, defining with their cameras the visual experience of Soviet modernity. For nearly 70 years, Soviet photography was assigned the duty of maintaining the ideological rigidity of the Soviet State. Yet, as examples of the work of Iakov Khalip, Anatolii Egorov, Mikhail Savin, and Mark Markov-Grinberg show, Soviet photographic practices were much more complex than has been previously acknowledged. The works of these photographers remain intensely compelling to a modernist eye.
Contemporary Russian photographers, such as Lev Melikhov, Valerii Stigneev and Sergei Leontiev, engage with the legacy of the Soviet documentary photography. But for them the documentary is a complex and multivalent genre, which incorporates subjectivity, ambiguity and reflexivity and comments on social and cultural issues without losing sight of the position from which that commentary is made. In the recent photographs by Vladimir Kupriyanov, Igor Moukhin, Anna Gorunova and Pakito Infante, the "real" space of Moscow is replaced by an imaginary and optical spaces of virtuality.
The works in the exhibition are on loan from Moscow's Cultural Center Dom, and many are being shown outside Russia for the first time. In conjunction with the exhibition, the Wallach Art Gallery is publishing an illustrated catalogue with a scholarly essay by the exhibition curator, Nadia Michoustina, a Ph.D. candidate in Columbia University's Department of Slavic Languages. The essay presents a nuanced history of Russian photography of the 20th century, and contributes to an interpretation of extraordinary images.