Otherwordly
by Lorella Paleni
October 15, 2015 – June 2016
Curated by Deborah Cullen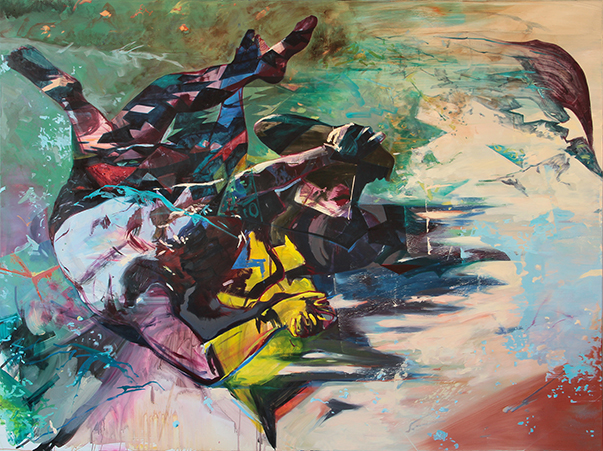 Lorella Paleni was born and raised in Casazza, northern Italy. She received her BFA from the Academy of Fine Arts, Venice, and her MFA from Columbia University in 2015.
Paleni has shown extensively across Italy, and was featured in the 2014 Biennale d'Arte Giovani, Museo d`Arte Moderna e contemporanea dell`Alto Mantovano. In 2013, she presented a solo exhibition at HB55 Räume der Kunst, Berlin. Her work has been presented by select New York galleries and she has been an artist-in-residence with Andrea Zittel's A-Z West, Joshua Tree, California, 2014; the Communications History Museum, Kaunas, Lithuania, 2013; and the Wassaic Project, NY, 2011-2012. In 2012, she was awarded Artists Wanted's Art Takes Time Square "Cut & Pick" finalist prize in 2012.
Paleni's painting seeks to capture the ever-changing energy of being. Her works can be seen, simultaneously, as both abstract and figurative. Her lushly colored surfaces compose dream-like imageries. Rendered vegetation or furry beasts dissolve into charged brushstrokes. A shapely leg is a mere silhouette that opens into another world. Pattern and splatter pushes and pulls the eye. What seems, on first glance, to be a type of contemporary surrealism is, on closer inspection, shot through with quotidian glimpses. Paleni's work offers us an otherworldly visual feast.
Presented by The Graduate School of Arts and Sciences in collaboration with The Miriam and Ira D. Wallach Art Gallery, Columbia University.
Otherwordly is on display in Philosophy Hall's Cafe Nous on Columbia University's main campus (upper level, next to St. Paul's Chapel). The cafe is open to Columbia affiliates Monday through Friday, from 8 a.m. to 8 p.m; Saturdays and Sundays, 8 a.m. to 6 p.m.