Progeny: Deborah Willis and Hank Willis Thomas
April 29–June 6, 2009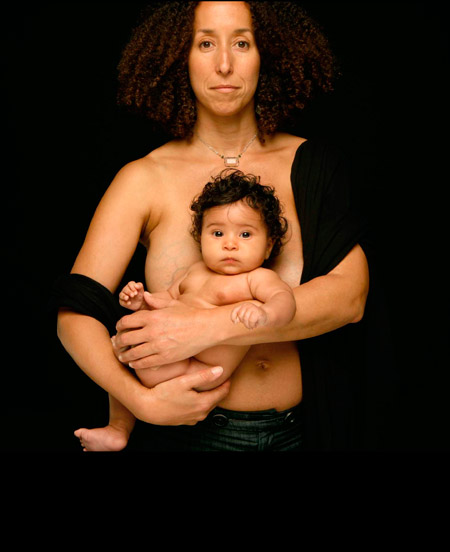 Progeny: Deborah Willis and Hank Willis Thomas presents a selection of photographs by this mother son duo, each of whom is a notable, award-winning artist. The exhibition of 48 photographs and 2 videos is the first collaborative venture undertaken by the two, including works they have created together alongside works done by each independently. It will be on view at the Miriam and Ira D. Wallach Art Gallery, Columbia University, from April 29 through June 6, 2009.
Deborah Willis and Hank Willis Thomas draw upon their relationship with each other, producing work that encompasses the influences of their extended family. The photographs on view are positioned at the intersection of their practices. Willis's influence as a mother and artist is apparent in her son's work and, conversely, Thomas's skillfully composed images have impressed themselves upon his mother's visual imagination. The result is an exquisitely thoughtful medley that highlights the impact of family, history, and memory on the processes of artistic production.
As a photographer, author, and scholar, Deborah Willis has numerous exhibitions and publications to her credit. She has been a MacArthur Fellow (2000), a Guggenheim Fellow (2005), and a Fletcher Fellow (2005). Currently, she is on the faculty of the Tisch School of the Arts at New York University, where she is chair of the Department of Photography and Imagining. Hank Willis Thomas received a BFA from New York University and an MA and MFA from the California College of the Arts, San Francisco. The recipient of the New York Foundation of the Arts Fellowship Award (2006) and the Renew Media Arts Fellowship from the Rockefeller Foundation (2007), he has exhibited in museums and galleries in the U.S. and abroad. He now lives and works in San Francisco and New York City. This exhibition has been organized by Kalia Brooks, an independent curator.
In conjunction with the exhibition, the Wallach Art Gallery is issuing an illustrated booklet with an essay by the curator. The 32-page catalogue, with 13 color illustrations, provides an overview of the artists' work.
A panel discussion with the exhibition curator and both artists will take place on April 29 at 4:30 p.m. in the gallery. The event will be immediately followed by the exhibition's public opening reception. Admission to the exhibition and related programming is free of charge.