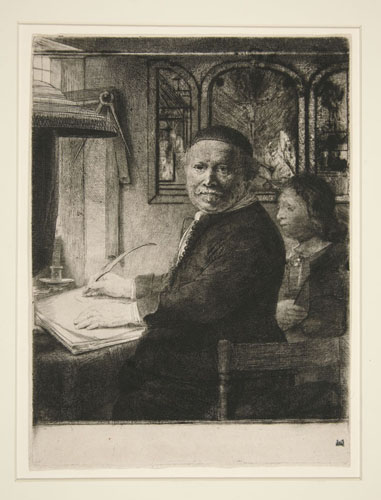 Rembrandt's Changing Impressions
September 9 – December 12, 2015
Curated by Robert Fucci
This extraordinary presentation will highlight a selection of some of the most noteworthy changes that Rembrandt made to his prints over the course of his career. Rembrandt manipulated his copperplates in unprecedented ways in order to achieve an image that was often in flux. This exhibition will focus on approximately 20 of his most dramatically changed works, displaying each in multiple impressions, side by side, in order to give visitors the opportunity to examine their range, power, and nuance.
Many of Rembrandt's state changes reflect an unconventional working process. The high survival rate of certain states indicates that these were not mere working proofs, but rather finished products in their own right. Due to recent developments in Rembrandt print research (such as the landmark publication of the New Hollstein catalogue) we now have a much clearer idea of which changes Rembrandt effected himself, and which were made after his death. This exhibition will be comprised of only seventeenth–century impressions, drawn from significant U.S. collections, in an effort to best show the artist's intended efforts.
This is the first time in over 40 years that such an exhibition has been undertaken, and the new scholarship contributes much to a reinvigorated discussion. A publication reproducing all the works will make these images broadly available, and a symposium timed to the IFPDA Print Fair will foster a scholarly conversation.
The Wallach Art Gallery graciously acknowledges the Netherland-American Foundation and the IFPDA for their support of the exhibition.