Romare Bearden: A Black Odyssey
November 15, 2014 – March 14, 2015
Regular hours: Wednesdays, Fridays, Saturdays, 1–5 pm, Thursdays, 1–8 pm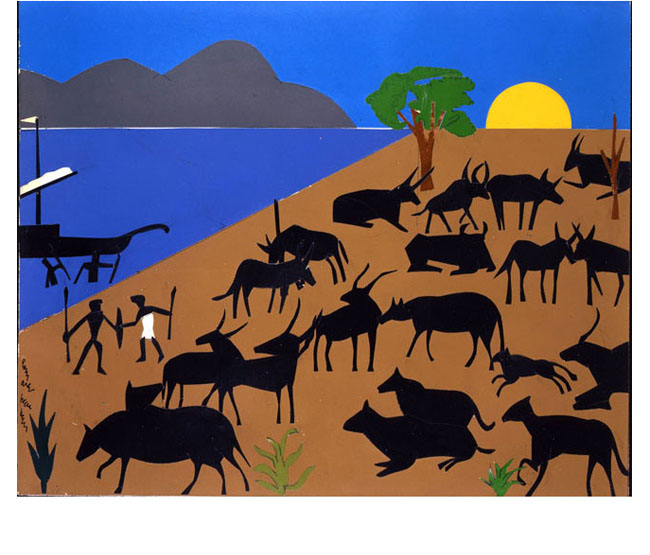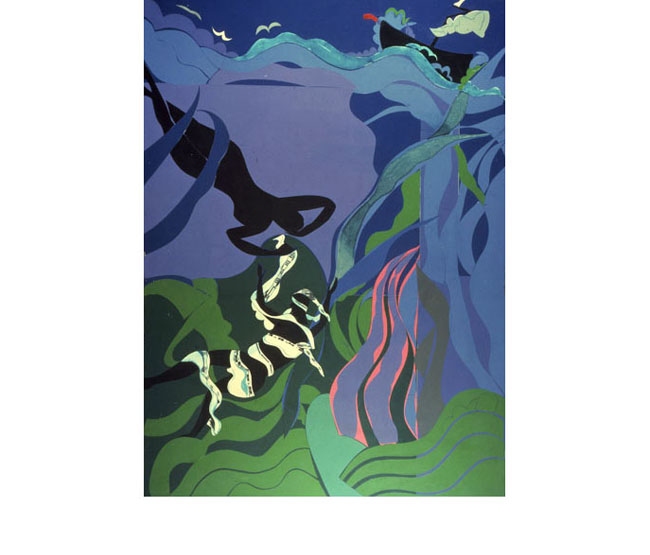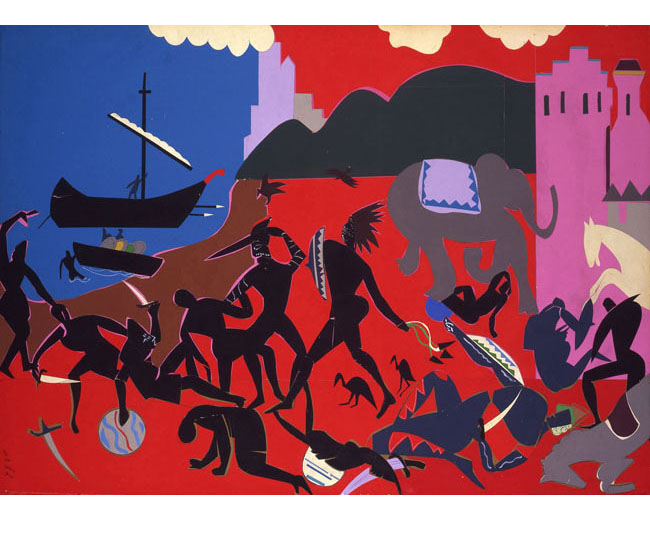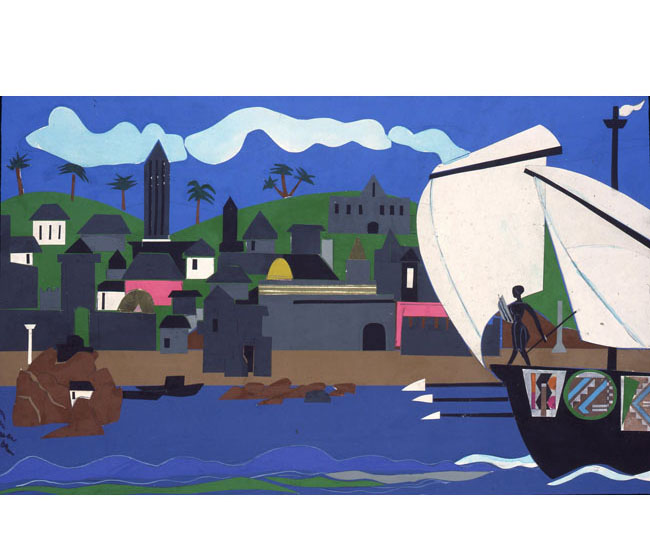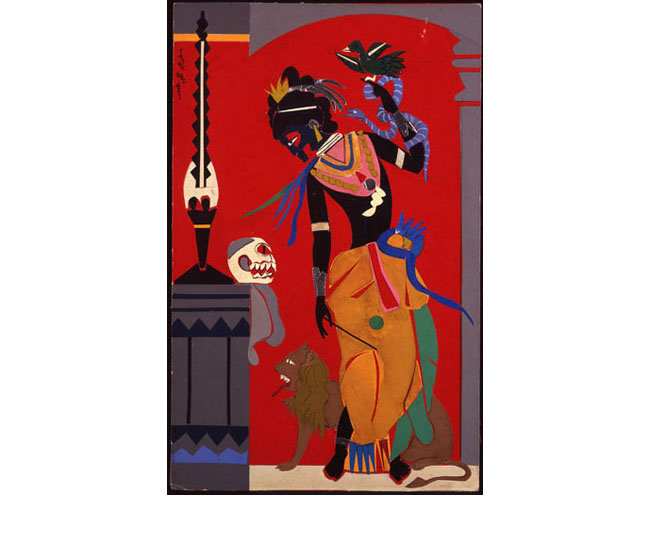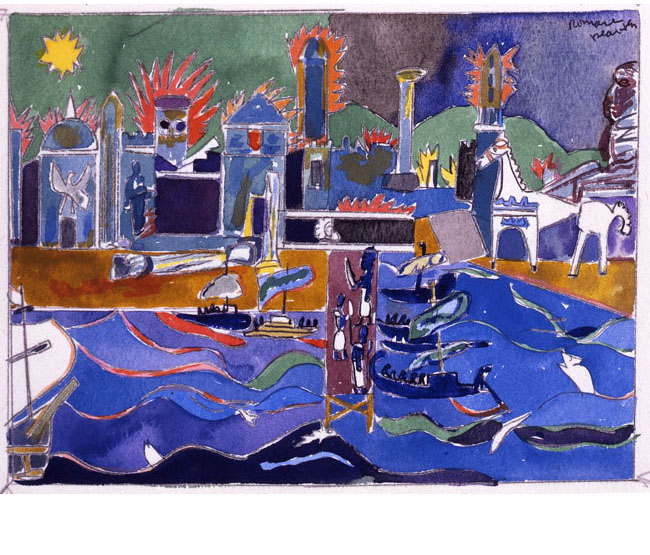 Curated by Dr. Robert G. O'Meally, Zora Neale Hurston Professor of English and Comparative Literature
Organized by the Smithsonian Institution Traveling Exhibition Service in cooperation with the Romare Bearden Foundation and Estate and DC Moore Gallery. The exhibition and its related educational resources are supported by a grant from the Stavros Niarchos Foundation.




In 1977, Romare Bearden (1911–1988), one of the most powerful and original artists of the 20th century, created a cycle of 20 collages and watercolors (miniature variations of his collages) based on Homer's epic poem The Odyssey. Rich in symbolism and allegorical content, Bearden's "Odysseus Series" created an artistic bridge between classical mythology and African-American culture. The works conveyed a sense of timelessness and the universality of the human condition, but their brilliance was displayed for only two months in New York City before being scattered to private collections and public art museums.
The Wallach Gallery showing of Romare Bearden: A Black Odyssey will be not only the final stop of the Smithsonian traveling exhibition, but also the first time these works will be seen again in  New York City since they were created. Romare Bearden: A Black Odyssey underscores the fact that this tale of the dislocated but heroic traveler's search for a way home is Bearden's own most pervasive and important artistic theme. The addition of a collage from Bearden's 1968 series, House in Cotton Field, invites the viewer to consider the artist's Homeric collages not as rarefied explorations of Western antiquity, but as evocations of familiar seekers of a welcoming place to stay.
The exhibition features some 50 works, including collages, watercolors and line drawings as well as additional compositions relating to Bearden's interest in classical themes, such as examples of his mid-1940s drawings based on Homer's other epic, The Iliad. The additional works greatly increase the resonance and power of the original 20 collages and examine Bearden's motivations in creating these works within the context of the "Odysseus Series" and his overall body of work.
For the Wallach Gallery presentation, singular materials will be added from Columbia's Rare Book and Manuscript Library, including a 1935 special edition of James Joyce's Ulysses produced by The Limited Editions Club. The book contains reproductions of 20 preliminary drawings and six etchings by Henri Matisse, who based his illustrations on six episodes in Homer's Odyssey. Several of Matisse's original etched plates will also be displayed, allowing visitors to consider a related but very different artistic visualization of the Odyssey. 

The Limited Editions Club was founded in 1929 by George Macy, who endeavored to match classic texts with fine artists, creating distinctive volumes that became renowned in rare book circles. Visitors to the Wallach will be able to see the continuity of this tradition with the addition of the lush 1983 volume, Poems of the Caribbean by Derek Walcott, selected and illustrated by Bearden. Almost 50 years later, the Bearden-Walcott Limited Editions Club publication offers another yet another example of visual artists engaging the written word.
Born in Charlotte, N.C., Bearden moved with his family to Harlem as a young child, part of the migration of African Americans from the South to greater opportunity in the North. Throughout his career, Bearden created images of the lives of travelers on their way to and from home, a theme no more powerfully explored than in his "Odysseus Series." Bearden had examined classical themes before, but the "Odysseus Series" expanded his exploration of literary narratives and artistic genres by presenting his own personal reinterpretation of the subject.
"In creating a black Odyssey series, Bearden not only staked a claim to the tales of ancient Greece as having modern relevance, he also made the claim of global cultural collage—that as humans, we are all collages of our unique experiences," said O'Meally. "Indeed, Bearden does not merely illustrate Homer—he is Homer's true collaborator, and he invites us as viewers to inherit Homer's tale and interpret it as our own."
Romare Bearden: A Black Odyssey is curated by English and jazz scholar Robert G. O'Meally, the Zora Neale Hurston Professor of English and Comparative Literature and founder and former director of the Center for Jazz Studies at Columbia. The exhibition is complemented by a fully illustrated companion book of the same name (DC Moore Gallery, 2008), written by O'Meally. The book includes full-color images of Bearden's work and an essay by O'Meally. The Smithsonian Institute has also developed a comprehensive website for the exhibition project.

RELATED PROGRAMMING
Free gallery tours Wednesdays at 1pm and Saturdays at 3pm (No reservations required)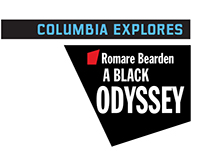 This exhibition at the Wallach Art Gallery is the focal point of a unique yearlong,
University-wide exploration of Bearden's iconic work
. Accompanying the exhibition will be series of symposia, concerts, and readings to explore the Harlem-based artist's translation of the ancient epic into a fiercely modern tale. What does it mean for all of us, as global citizens, to seek our way back home? Online registration is rquired for all Columbia Univesty Programs. For program updates, details, and registration information please fisit
www.columbia.edu/bearden
or call 212-851-9275.
January 19th – 20th
Paris Odyssey: Romare Bearden, Henri Matisse, Homer
Exhibition, Opening Reception, Panel Discussion, and Concert
Columbia Global Centers | Europe
Reid Hall, Paris, France
For more exhibition and program information,
please visit www.globalcenters.columbia.edu/paris
January 28th, 6:30pm
Black Odysseys: Artists in Conversation
A panel discussion with Elizabeth Alexander, Marilyn Nelson, and Rowan Ricardo Phillips
Low Library, Columbia University
MORE INFO | REGISTER
February 3rd, 7:00pm
Improvisation and the Moving Image: Artist on Film
A film discussion with Krin Gabbard and Diedra Harris-Kelley
Maysles Cinema, 343 Malcolm X Blvd
MORE INFO | REGISTER
February 12th, 7:00pm
This Train…A Music Meditation on Romare Bearden
A performance by Geri Allen, Dwight Andrews, and the Vega String Quartet
Location TBA
MORE INFO | REGISTER
February 14th, 3:30pm
The Bessie Smith Salon: From Bessie to Bearden
A panel discussion with Daphne Brooks, Farah Jasmine Griffin, Emily Lordi, and Robert O'Meally; Monica Miller, moderator. Cosponsored by the Barnard Department of Student Life
Diana Event Oval, Barnard College


February 20th, 4:00pm
Bearden and Lawrence: Migrations
An evening of reflections with Deborah Cullen, Leah Dickerman, Mel Edwards, Farah Jasmine Griffin, Robert O'Meally, Clifford OwensJodi Roberts, Robert Stepto, and Lowery Stokes Sims.
501 Schermerhorn Hall, Columbia University
MORE INFO | REGISTER
February 21st, 10:00am
Romare Bearden's "Odyssey" in a Global Age
A symposium with Charles Daniel Dawson, Edith Hall, Kellie Jones, Barbaro Martinez-Ruiz, Dianne McIntyre, Temi Odumosu, and Frank Stewart.
Low Library, Columbia University
MORE INFO | REGISTER
February 27th, 10:00am
Homer: Translation, Adaptation, Improvisation
A symposium with Francesco de Angelis, Ozlem Berk, Graeme Byrd, Karen Van Dyck, Helene Foley, Emily Greenwood, Dionysis Kapsalis, Justine McConnell,
Sheila Murnaghan, Patrice Rankine, Emily Wilson, and Nancy Worman
Low Library, Columbia University
MORE INFO | REGISTER
March 6th, 8:00pm
A Hip-Hop Odyssey: The Improvisatory Genius of Mike Ladd and Jean Grae
A performance by Mike Ladd and Jean Grae with Farah Jasmine Griffin
Harlem Stage, 135 Convent Avenue
MORE INFO
March 10th, 6:30pm
Improvisation in the Sciences
A panel discussion with Martin Chalfie, George Lewis, and Michael Shadlen
Earl Hall Auditorium, Columbia University
MORE INFO | REGISTER
April 11th, 6:00pm
Unweaving the Core: Homer, Bearden & Us
A student celebration showcasing writing, art, music, puppetry, and a Bearden-esque staging of the Odyssey.
Hamilton Hall, Columbia University
MORE INFO | NO REGISTRATION REQUIRED
April 15th – 16th
Blue Voyagers: The Art of Bedri Rahmi and Romare Bearden
Exhibition, Opening Reception, Panel Discussion, and Concert
Greek Consulate, Istanbul, Turkey. Cohosted by Columbia Global Centers | Turkey
For more exhibition and program information,
please visit www.globalcenters.columbia.edu/istanbul

* Online registration is required for program and is being handled by the Department of University Programs and Events. For updates and registration information, please call 212-851-9275. Please note that the Wallach Art Gallery is unable to assist with inquiries concerning event registration.
Past Events
September 19th – 20th
Questioning Aesthetics: A Symposium
Pratt Institute in collaboration with Columbia University
Engineering 307, Pratt Institute, 200 Willoughby Ave. Brooklyn, NY 11205

September 20th – 27th
Morningside Lights:
Odysseus on the A Train
Miller Theatre West, 116th Street and Broadway

September 26th, 3pm
The Sirens' Song:
Women and Gender in Bearden and Homer
A discussion with Anjuli Kolb, Marcellus Blount, Rachael DeLue,
Helene Foley, Farah Jasmine Griffin & Brooke Holmes
Columbia University, Buell Hall, East Gallery

October 22nd, 5pm
Excavation of Homer:
A Poetry Reading by Alice Oswald.
Introduced by Mary Gordon
Stronach Center, 8th Floor Schermerhorn Hall, Columbia University

October 23rd, 6:30pm
On The Question of the Gods*
A discussion with Edward Mendelson, Richard Sacks & Andrew Szegedy-Maszak
Italian Academy, 1161 Amsterdam Ave. and W. 117th Street, Columbia University
November 16th, 3 - 6pm
Columbia Harlem Art Sunday:
MFA Open Studios and Special Gallery Hours
The Miriam and Ira D. Wallach Art Gallery/Various Locations
November 20st, 6:30pm
Acting Homer:
A Staged Readingof the Odyssey
Actors include Richard Habersham, Ty Jones, and Devyn Tyler
Auditorium, Earl Hall, Columbia University
November 21st, 6:30pm
Inspired by the Classics:
A Poetry Reading by Rosanna Warren
Introduced by Mary Gordon
Italian Academy, 1161 Amsterdam Ave. and W. 117th Street, Columbia University
December 2nd, 10am
Improvisation in the Arts: A Symposium*
With Fred Moten, John Akomfrah, J. Kameron Carter, Danielle Goldman,
NourbeSe Philip and Matana Roberts
Low Library, Faculty Room, Columbia University
Special Gallery Viewing Hours for Attendees: 4-6 pm

December 2nd, 8pm
A Recital for Terry Adkins (2014)*
George Lewis with Ensemble Pamplemousse
St. Paul's Chapel, 1160 Amsterdam Ave., Columbia University
Co-sponsored by Music at St. Paul's
December 4th, 6:30pm
From Chios to 125th Street:
Toward a Black Odysseus*
A film screening and conversation with Krin Gabbard
Buell Hall, East Gallery, Columbia University
More Information / Register
December 6th, 10am – 12:30pm
Tell Me a Story: Family Day
The Miriam and Ira D. Wallach Art Gallery/Stronach Center
8th Floor Schermerhorn Hall
More Information /Register

Readings of Bearden themed children books, interactive jazz music performances and family tours every 30 minutes!