Romare Bearden: A Black Odyssey
November 15–December 13, 2014 and January 21–March 28, 2015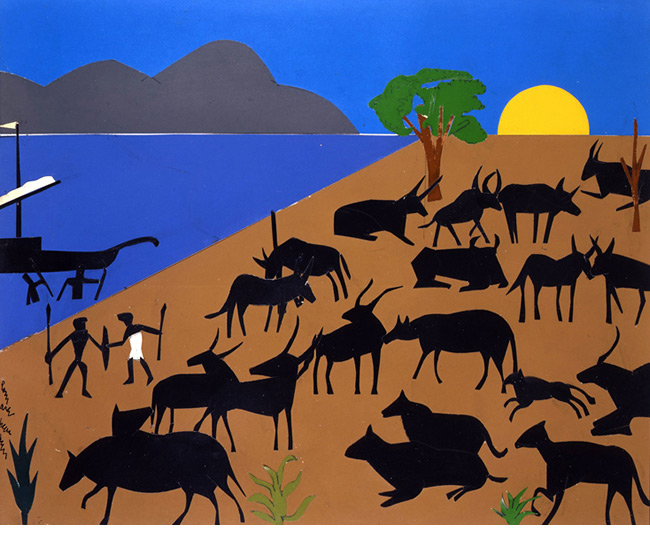 Curated by Dr. Robert G. O'Meally
Born in Charlotte, North Carolina, Romare Bearden (1911-1988) moved with his family to Harlem as a young child, part of the Great Migration of African Americans from the inhospitable South to greater opportunity in the North. Throughout his career, Bearden created images of the lives of travelers on their way to and from home, a theme no more powerfully explored than in Black Odyssey, his 1977 series of 20 collages based on episodes from Homer's epic tale "The Odyssey".
In 2007-08, New York's DC Moore Gallery restaged the original showing of the artist's collages and included his watercolors (miniature variations of his collages), examples of his mid-1940s drawings based on Homer's other epic, The Iliad, and other relevant work. Its show greatly increased the resonance and power of the original 20 collages.
Romare Bearden: A Black Odyssey, a new SITES exhibition of intellectual and artistic heft, further expands DC Moore Gallery's 2007-08 presentation. More emphatically than either earlier exhibition, Romare Bearden: A Black Odyssey  underscores the fact that this tale of the dislocated but heroic traveler's search for a way home is Bearden's own most pervasive and important artistic theme. The addition of a collage from Bearden's 1968 series, Cotton Field, invites the viewer to consider the artist's Homeric collages not as rarified explorations of Western antiquity but as evocations of familiar seekers of a welcoming place to stay.
Dr. Robert G. O'Meally is the Zora Neale Hurston Professor of English and Comparative Literature, Columbia University.
Organized by the Smithsonian Institution Traveling Exhibition Service (SITES) in cooperation with the Romare Bearden Foundation and Estate and DC Moore Gallery. The exhibition and its related educational resources are supported by a grant from the Stavros Niarchos Foundation.