Pictures for Books: Photographs by Thomas Roma
January 20–March 27, 2010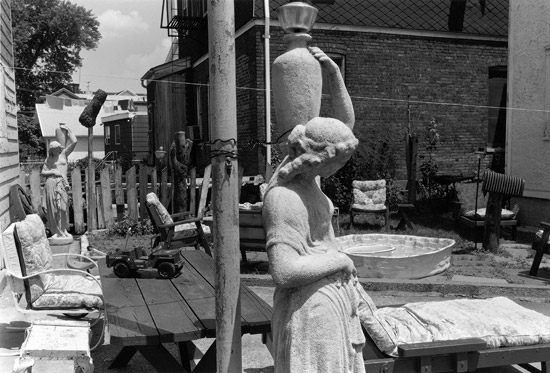 The Miriam and Ira D. Wallach Art Gallery begins 2010 with a rare opportunity to view exhibition prints from Thomas Roma's published works. The exhibition Pictures for Books: Photographs by Thomas Roma is organized by Susan Kismaric, curator in the department of photography at The Museum of Modern Art.
Since 1980, the American photographer Thomas Roma has published 11 books of his photographs, compiled two limited-edition hand-bound volumes, and contributed his pictures to a variety of other publications. Roma has exhibited widely, both nationally and internationally, and his work is in numerous public and private collections. Twice the recipient of a Guggenheim fellowship, he is on the Visual Arts Program faculty at Columbia's School of the Arts.
The new exhibition comprises almost 100 photographs selected from four key publications: Found in Brooklyn, Sicilian Passage, Come Sunday, and On Three Pillars: Torah, Worship, and the Practice of Loving Kindness — The Synagogues of Brooklyn. It presents an opportunity to both view prints from several projects side by side and to view his rare, limited-edition, hand-bound books.
Born in 1950, Roma is a native and current resident of Brooklyn. Many of his photographs depict everyday life in the borough: neighborhood gardens, passengers riding the elevated subway train, facades of storefront churches and synagogues, religious services in small African-American churches, and portraits of people waiting in the corridors of Brooklyn's criminal court. Viewed as a whole, Roma's photographs are a chronicle of urban life as it is lived by ordinary residents, a description of their aspirations and hopes, and a record of their successes and failures.
In several projects, he has extended his concerns to communities outside New York, such as the landscape and life of people in small villages in his ancestral Sicily. In a recent project done across the Hudson River in New Jersey, he photographed the houses of patients visited by the poet William Carlos Williams, when he worked as doctor in the 1950s. A member of the post-Garry Winogrand and Diane Arbus generation of American photographers, Roma extends the tradition of photography's documentary aesthetic with pictures of great formal confidence to reveal what might be called, for lack of a better term, traditional values.
Accompanying the exhibition, the Wallach Art Gallery is publishing a fully illustrated exhibition catalogue with an essay by Susan Kismaric, exhibition curator. The 134-page book includes 93 photographs by Roma and a selected bibliography.