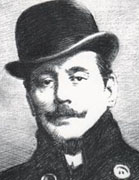 Puccini is of real significance to us today only as an opera composer. While saturated in the Italian operatic tradition, he nevertheless became throughly acquainted with Wagner's principles of music drama and the "total art work," and his operas, from Edgar onward, reflect many of the goals of the latter. The distinction between aria and recitative for the most part disappears, to be replaced by a flexible, lyrical vocal line that moves between dialogue and aria in a fluid way.
Puccini avoids subplots and unnecessary detail. His works are pared to the bone, and acquire, at their best, a sense of inexorability as the drama unfolds. His use of the orchestra is masterly while not being showy; it provides a constant, tightly-woven accompaniment to the drama, making use of Leitmotifs somewhat in the Wagnerian manner.
The categories of his musical output are:
9 operas, including La Bohème; Tosca; Madama Butterfly; and Turandot
+ one triptych of 3 operas
solo songs
small amount of sacred choral music
handful of orchestral, chamber, organ and piano works.
Of the nine operas, the following may be described as verismo works:
La Bohème (1896)
Tosca (1900)
Madama Butterfly (1904)
Il tabarro (1918)