The World Trade System: Trends and Challenges
(2016, MIT Press)
(Edited with Jagdish Bhagwati and Pravin Krishna)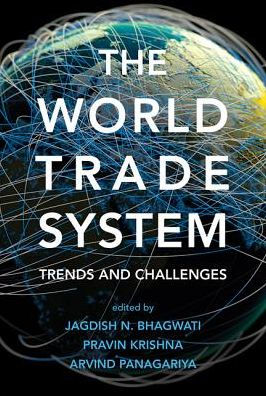 Leading trade experts examine the world trading system today, from the multilateralism of the WTO to explosive bilateralism and the mega-regionals TPP and TTIP.
When the General Agreement on Tariffs and Trade (GATT) metamorphosed into the World Trade Organization (WTO) in 1994, it seemed that the third pillar of the international economic superstructure was finally in place. And yet with the failure of member countries to close the Doha Round of trade negotiations and the emergence of bilateral and plurilateral preferential trade arrangements (PTAs) such as the Trans-Pacific Partnership (TPP), the future of the multilateral WTO seems uncertain. In this volume, leading economists examine issues in trade policy that have arisen during this shift.
The contributors discuss such topics as the effect of trade on poverty and inequality, PTAs and litigation between trading partners, the WTO Trade Facilitation Agreement, and the relationship of food security and trade liberalization. They also offer regional perspectives on the TPP and trans-Atlantic free trade.
Contributors Rahel Aichele, Jagdish Bhagwati, Steve Charnovitz, Gabriel Felbermayr Dimitar Gueorguiev, Bernard Hoekman, Jonas Kasteng, Pravin Krishna, Mary Lovely, Petros Mavroidis, Devashish Mitra, Arvind Panagariya, Tom Prusa, Andre Sapir, Stefan Tangermann