| | |
| --- | --- |
| | ←(Use Google Translate to see an approximate translation into another relevant language) |
[General index] [Index to chapters] [Index to galleries] [Full family history]
New York City
This is a chapter extracted from the
family history
I'm writing for my children.
By the time I got out of the Army I was fascinated by New York City because of what I had been reading, movies I'd seen, etc — the diversity of cultures and languages and social classes, the countless movie theaters and restaurants of every nationality, etc etc. Most of the places I had lived before the Army were pretty homogeneous. I first got to know NYC in 1966, mainly the area around Columbia University in upper Manhattan when it was still pretty gritty, decades before it was wrecked by gentrification. It's where I married, where I worked, and where my children grew up.
Peter = My son.
Amy = My daughter.
You guys = Peter and Amy.
Judy = My ex-wife Judy Scott.
Rick = Rick Levine, Judy's second husband.
Granpa = Judy's father, Ulysses S. Scott.
Granma = Judy's mother, Consuelo Lillian Scott (née Bergen).
—Frank da Cruz <
fdc@columbia.edu
>
Most recent update:
19 March 2023 07:58:43
Moving to New York...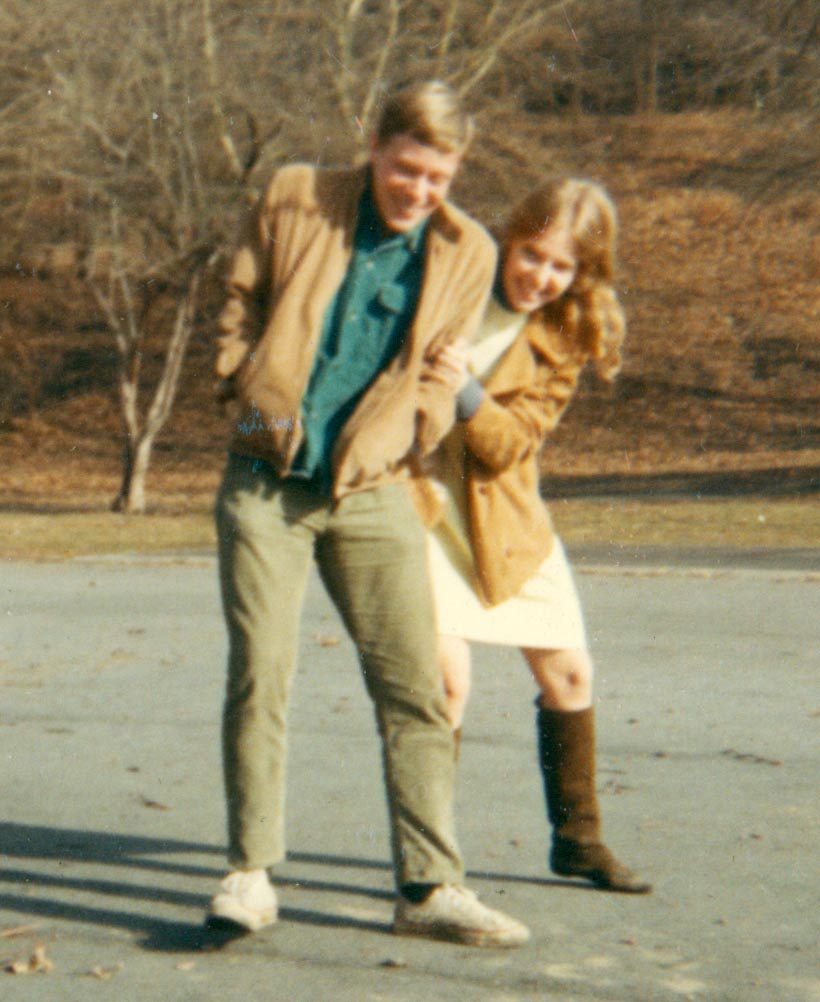 Wendy Sibbison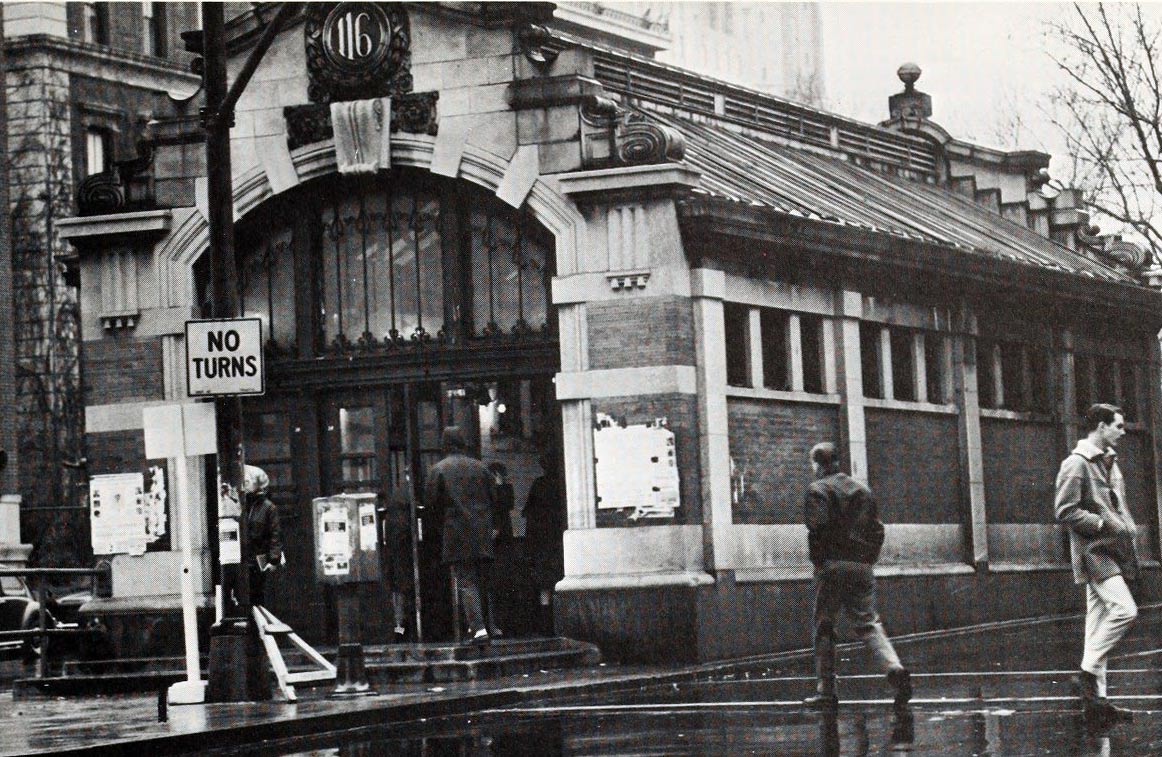 116th Street subway kiosk 1966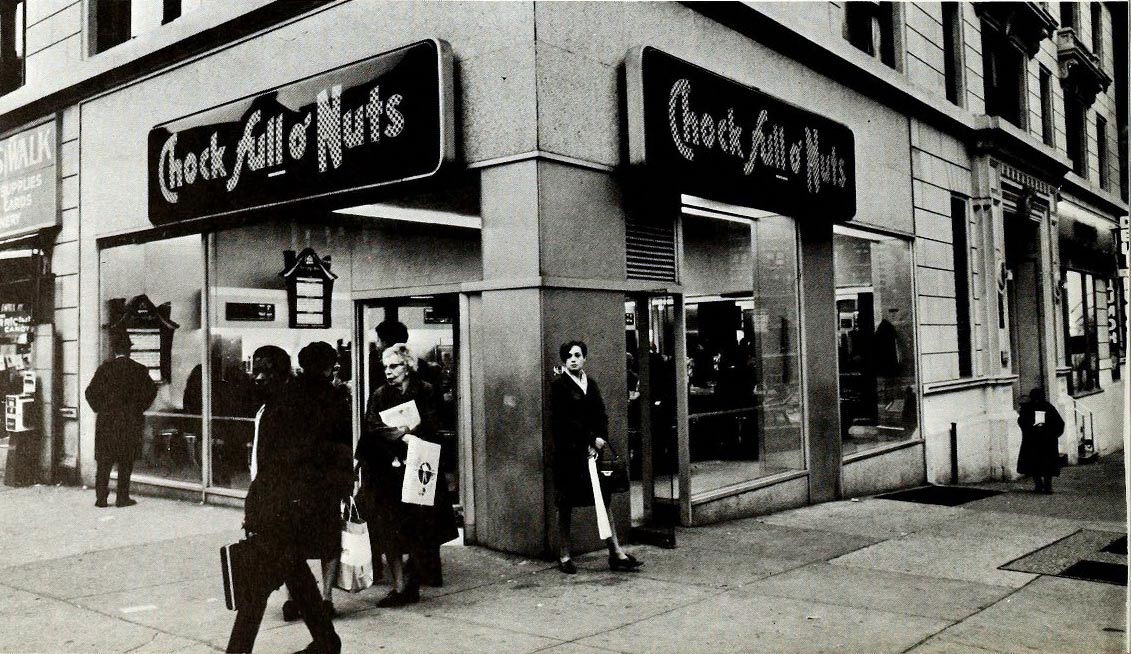 Chock Full o' Nuts 116th Street and Bway 1966
The Yumke Man
Wendy Sibbison
was a Barnard student and she got me interested in going to Columbia, so I filled out an application while I was living in DC with our friend Tandy Martin, where I went to get away from Richard for a few weeks, and mailed it in. I first met Wendy in 1962 when I was going to UVA, before I totally left home. I remember her being at our house and meeting my parents and brother at some point, and me being at her house and meeting her parents. She had written to me the whole time I was in the Army and her letters meant a lot to me, so she was the first one I wanted to see when I got back, and she was. Then while I was living in DC I would go to NYC all the time on a Greyhound bus to see her and Peter and Jude.
In August 1966 I moved to NYC all by myself on a Greyhound bus, with what I could carry. I didn't even know if I had been accepted at Columbia. Here's what the Columbia U area was like when I arrived:
The transit fare was 15 cents.
Everybody walked between subway cars.
The IRT and BMT and IND were separate.
Some trains still had wicker seats and leather straps.
You put coins in the slot to pay for bus fare and if you didn't have exact change, the bus drivers made change.
Chase Bank was Chemical Bank (and before that Chemical Corn).
The neighborhood around Columbia was cheap and diverse; there were bodegas, Dominican beauty parlors, Cuban restaurants, Jewish diners that served matzoh brei, Greek gyro stands, etc.
There was a subway kiosk in the middle of Bway at 116th Street.
Rents averaged about $100 a month.
Newsstands were Jewish and sold the Jewish Daily Vorvaerts and the Daily Worker, penny candy and egg creams and two-cents plain, and proprietors spoke Yiddish.
Taxi drivers were mainly Jewish.
Washington Heights was 100% Jewish.
The Bronx was mainly Jewish, Italian, Irish, and Puerto Rican.
There were still Checker cabs.
The public schools were among the best in the country.
Public housing was a great place to live.
City College was free.
Columbia tuition was low enough I could pay it out of my pocket.
Chock-Full-O-Nuts was on the corner of 116th Street.
There were no chain stores except Chock-Full and Daitch Shopwell.
They still had Italian street festivals in East Harlem.
You could spend the whole day and night at the Apollo for $2.50.
There were tons of movie theaters everywhere with cheap admission.
On Broadway:

| | | | | | |
| --- | --- | --- | --- | --- | --- |
| 103rd St | 100th | 98th | 97th | 96th | 88th… |
| Edison | Metro | Symphony | Riviera | Thalia | New Yorker |

The Thalia and New Yorker were reportory theaters that showed Marx Bros, Bogart, Eisenstein, Kurosawa…
The only places along Broadway in 1966 that survived into the XI century were Columbia Hardware (1939), Mondel's (1943), Tom's (1940s), Amir's Felafel, and the tiny shoe repair. The West End opened in 1911 and closed in 2006 due to astronomical rent increases. V&T's Pizza on Amsterdam opened in 1945 and was still there last time I looked. In the 1980s the West End was a jazz venue.
Columbia made a good first impression on me… In one of my visits while I still lived in DC, there was a Martha and Vandellas concert in McMillan Theater… pretty amazing, right? I went with Wendy and some other people. Eventually I noticed the guy I was sitting next to was an old friend from Frankfurt High School, Dave Kelston. He lived in an apartment in a brownstone in the 80s (in those days, a rough neighborhood) and he had a motorcycle, he took me on some rides and then I wanted one too.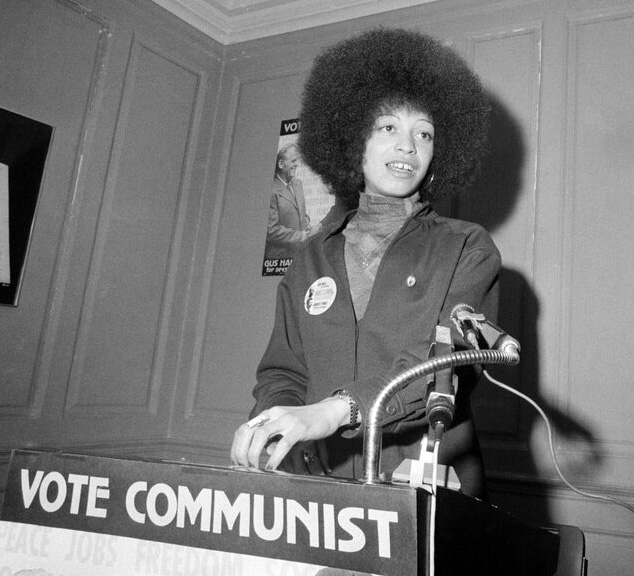 Angela Davis
When I arrived at Columbia and met Columbia students — who in those days were not clueless narcisistic arrogant bubbleheads like today, but socially aware, committed, intelligent, knowledgeable, fast-talking, anti-racist, anti-imperialist, many of them Red Diaper babies — and faculty — half of them Marxists — I started to understand why the USA was invading all these countries. Marxist theory was taught in every sociology course in those days, and International Publishers (USSR English-language press) had a whole aisle in the bookstore. There were also a lot of teach-ins going on by people ranging from Lyndon LaRouche (in those days a Leninist known as Lyn Marcus) to Seymour Melman, an anti-war Columbia engineering professor who had a Marxist-Melmanist analysis of Pentagon economics. I read pretty much all of Marx and Engels except Volumes 2 and 3 of Kapital, hung out at Communist book stores (there was one called Taylors where Papyrus was later on, and another one on 8th Avenue around 155th Street), read Malcolm X, George Jackson, Angela Davis, Sam Melville, Mao, Lin Piao, Fernando Cabral, Regis Debray, Franz Fanon, Sartre, Eldridge Cleaver, etc etc. Subscribed to the Daily World (formerly the Daily Worker) up until the mid-80s; it was delivered right to our door at 118th Street. Read P'alante and the Black Panther newspapers every week, and have a big box of them in Mommie's garage, probably just moldy mush by now.
The same day I arrived from DC I got an apartment and a job. What can I say, life was easier then. There was a sign on College Walk that said Employment so I went in and they gave me a job at Butler Library. Then I went to the Taint (the passage between Hartley and Livingston halls, "T'aint Hartley, t'aint Livingston") where the bulletin board was and found an apartment in the Take-Ome building.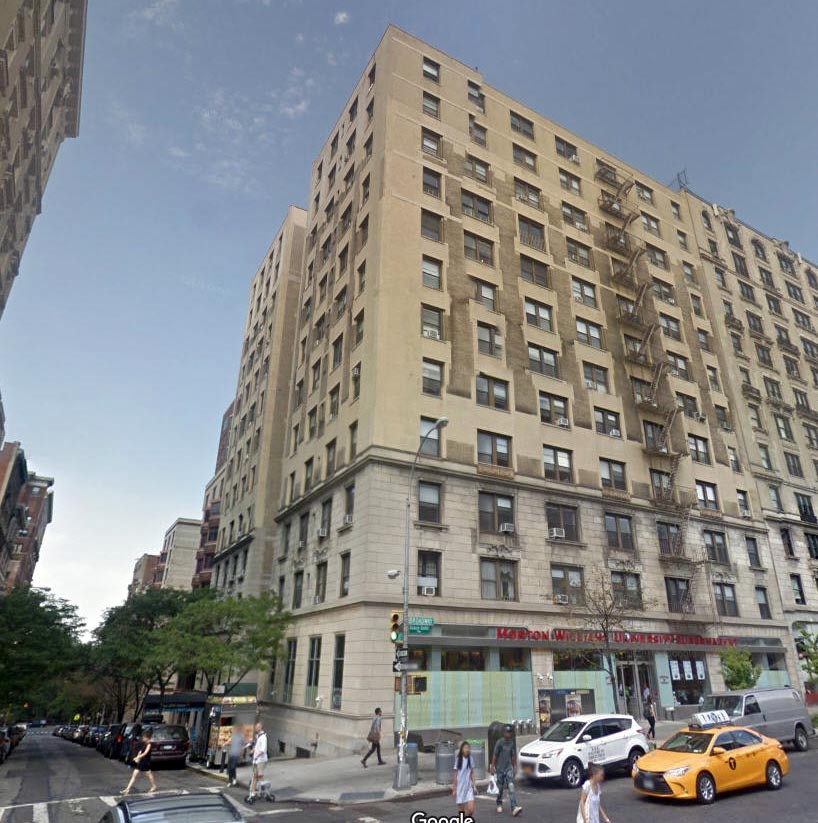 601 W 115th Street 2017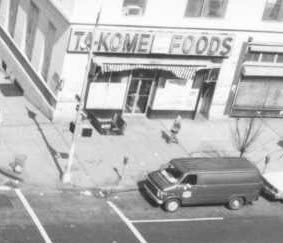 Ta-Kome deli 1957-1984
The apartment I got was a TINY room in the Ta-Kome (University Food Market) building on 115th Street and Broadway, that I sublet from some Columbia professors, FW Dupee and George Stade, who used it as a love nest during the academic year. Little did I know I would spend some 40 years of my life on that block. The apartment was on the top floor (12th) and it had a huge window that looked out over the Hudson, but the room was so small it only had space for a bed; there was a tiny triangular bathroom in one corner with miniature toilet and sink and shower stall and no kitchen or fridge. I was only there for the summer, until school started. New to New York, one night I had such a strange dream that when I woke up, like Coleridge, I
had to write it down
.
The only time I ever got a telegram
Dennis came to stay with me for a week, I went to the Army Navy store on 125th Street to buy a folding cot for him to sleep on. We cooked meals in an electric frying pan on the windowsill, but the view made everything kind of magic, especially at night with the Circle Line and other cruise ships going by with music and dancing; you could actually hear people on the boats talking in their normal voice, some trick of acoustics. I remember taking Dennis to see
Hard Days Night
at the Quad Cinema on 13th Street and stopping at the Ukrainian shops. I also took him to a party at Neil Hurwitz's house at 610 W 115th Street, where he (Neil) still lived 49 years later in 2015, last time I was there.
I checked with GS and found I was admitted, so since my tiny apartment was rented only for the summer, I went to the Taint and found another place to live, a room in the apartment of David Stern and Erna Gold at 419 West 119th Street across from Aki, the restaurant where "The Mean Man Pushed the Lady". David and Erna were very nice and smart and funny and good Communists and Erna played Bach and Scarlatti on the piano. But the place was stinky because they fried frozen fish every day to feed to their cat. And sharing the bathroom was tricky. The building had its own 1930s-era telephone system, with a switchboard in the lobby. David was famous for having turned down a National Defense scholarship, the first person ever to do that, it was in Time Magazine. I always wonder if he is the same David Stern who is now the NBA commissioner but I don't think so.
The Bertha on 111th Street...
The Bertha
Anyway everybody knew I wasn't crazy about living at David and Erna's. Meanwhile Peter Marsh was living in a three-bedroom apartment at 515 West 111th Street, The Bertha, with Paul Brooke and Paul Nyden. Paul Nyden was pretty famous left-wing guy, became a crusading pro-labor journalist in West Virginia. He died in 2018; his kids' middle names are Mandela, Allende, and DuBois. Anyway, he moved out at the end of the first semester so they invited me to take his place. Our apartment (1E) was the first one on the right as you go in the front entrance, with windows looking out on 111th Street at street level.
In the photo, the four windows to the right of the entrance were our apartment in 1966-67. The first two windows were Peter's, the second two were Paul Brooke's. Kitchen, bath, and three bedrooms, about $300 a month split three ways. It was so easy and cheap for students to find apartments that there were hardly any off-campus dorms.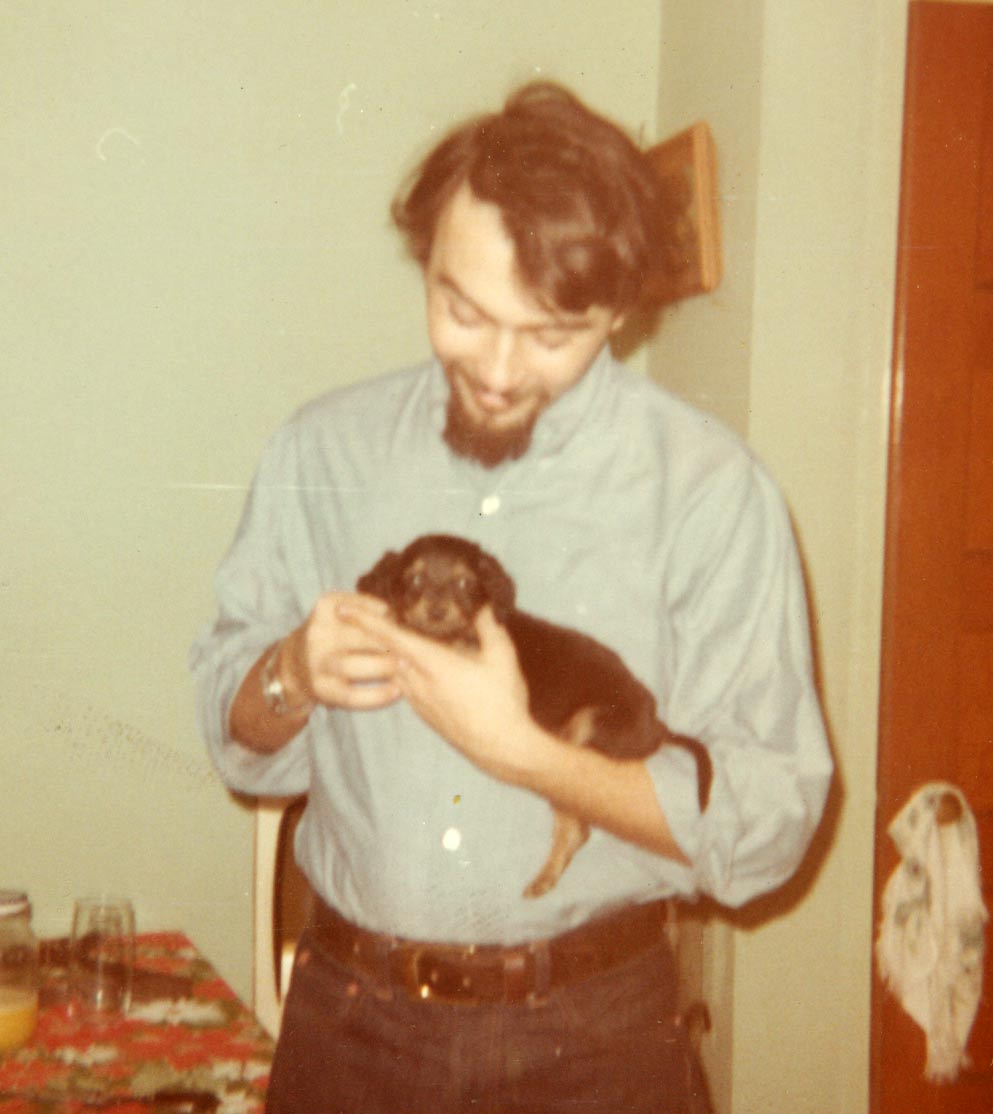 Paul Brooke
Paul Brooke's girlfriend was Mommie. I thought he was kind of arrogant and didn't like how he treated her. This was sort of a mythic place; Jude was always there, Mommy, Wendy, etc, and of course Froggy. Peter Marsh was always playing his Chambers Brothers and Mamas and Poppas and Mothers of Invention records, so those songs always take me back to the Bertha.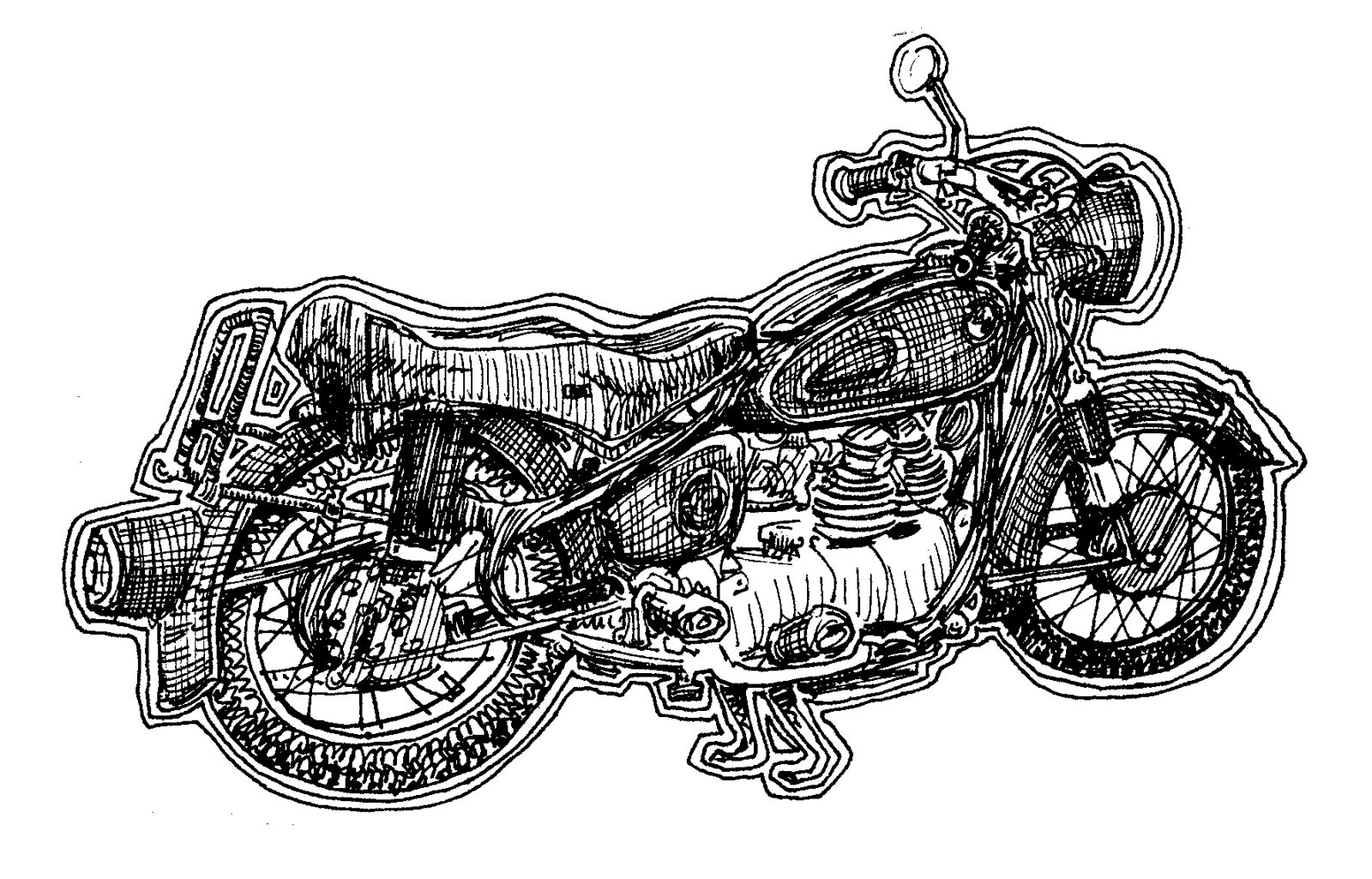 My 1956 BMW R26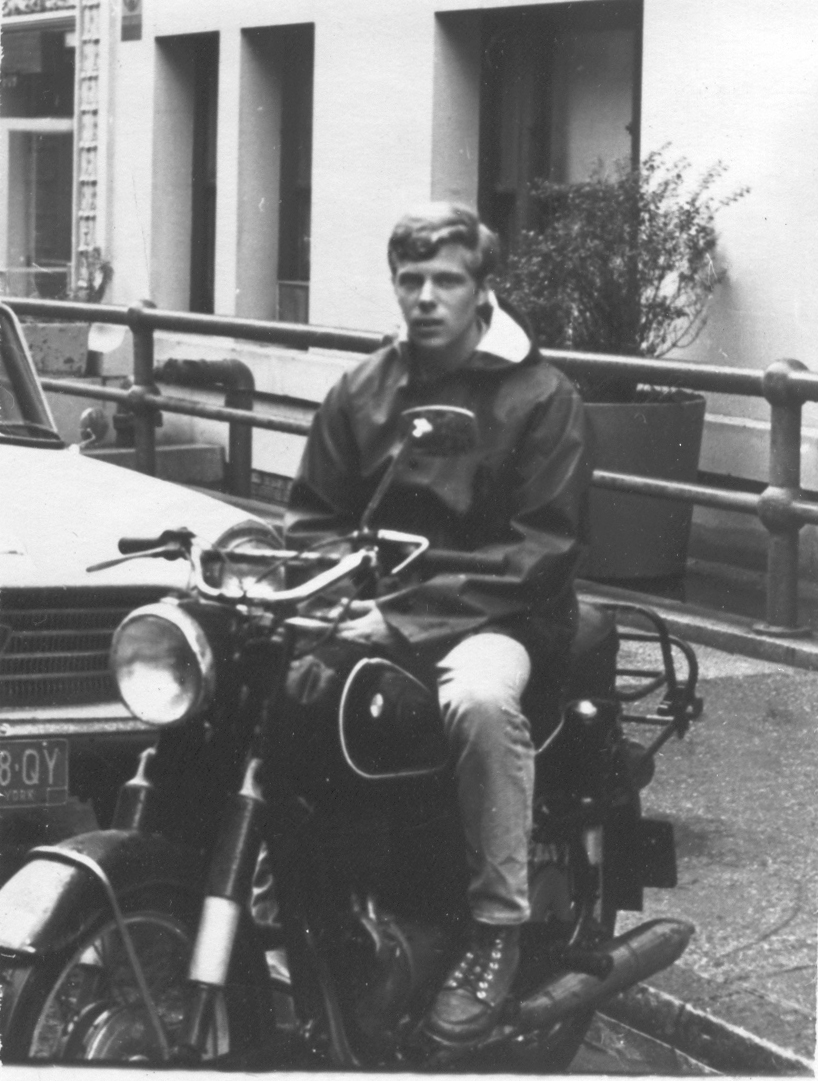 Me on it 1967
It was while living in the Bertha that I bought a 1956 BMW Motorcycle for $300 from a guy in Queens. I registered it in Vermont using Peter Marsh's address because insurance wasn't required there; I never had insurance or even a driver's license. I took the test about 100 times up on Audubon Avenue but in those days they just automatically flunked everybody every time. In the winter I brought it inside the apartment, riding it up and down the front steps. It wasn't fast or anything, but I rode it all over the place, all over Manhattan, especially the Lower East Side (which was like a bombed-out zone in those days), around Central Park (the S-Curve is awe-sim on a motorcycle), up and down Palisades Parkway in NJ and out into the Great Swamp. Sometimes I went to Palisades Park, a big amusement park on the top of the Palisades across from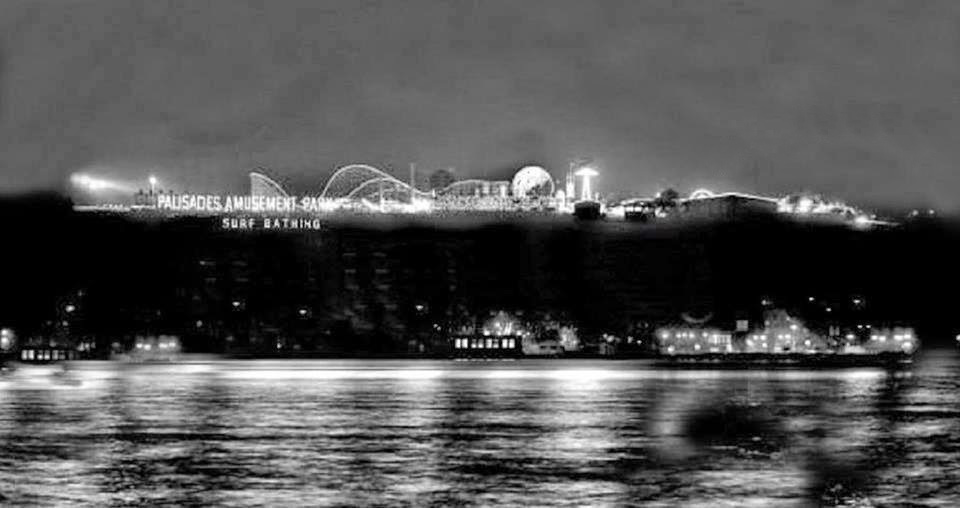 Palisades Park NJ
Washington Heights (you could see it at night from Manhattan, all lit up) to get vinegar-soaked french fries (it closed in 1971). Peter Marsh and I would go on rides together, he had a 500cc Triumph, which was a serious bike, not a slowpoke like mine; once we rode up to the Little Red Lighthouse along paths in Riverside Park in the middle of the night, another time we went to a biker hangout in NJ but that was a big mistake; we didn't exactly fit in with Hell's Angels, they made fun of us the whole time.
You already know my stories about Froggy, but maybe I'll fill them in here too (low priority). The upshot is, Froggy was such a nasty cat there was no way to take him out when we vacated at the end of semester so we just left him there. As the years went by and tenants changed, Froggy stayed, every time I walked down the block I'd see him in the window.
109th Street...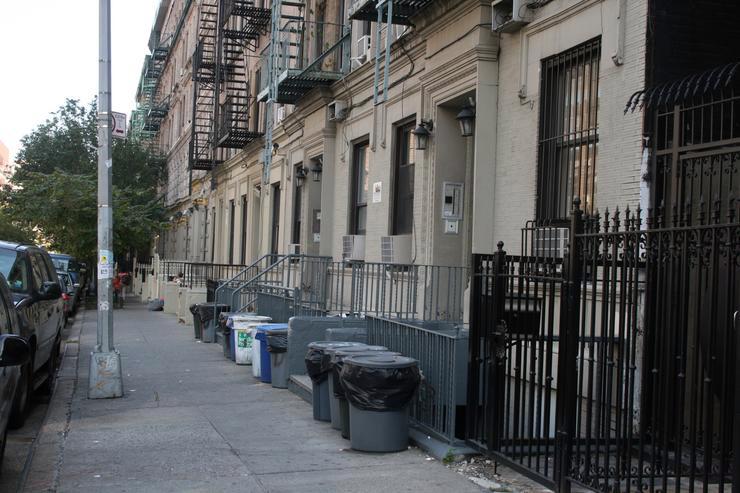 170 West 109th Street 2012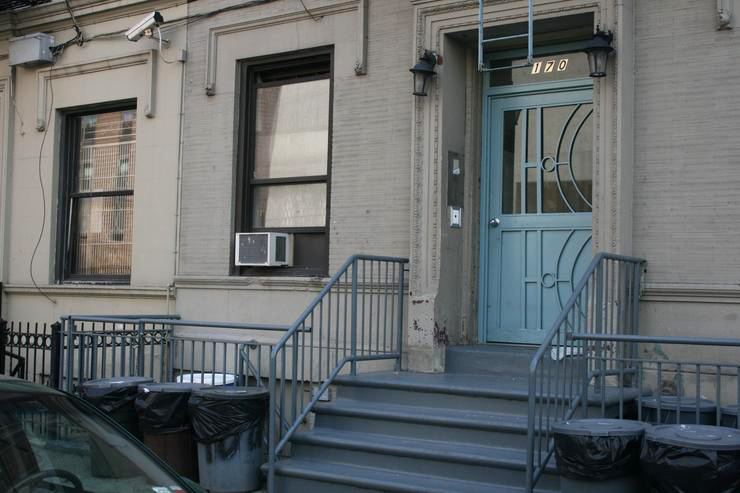 Front door and Pedro's apartment
Basement apartment entrance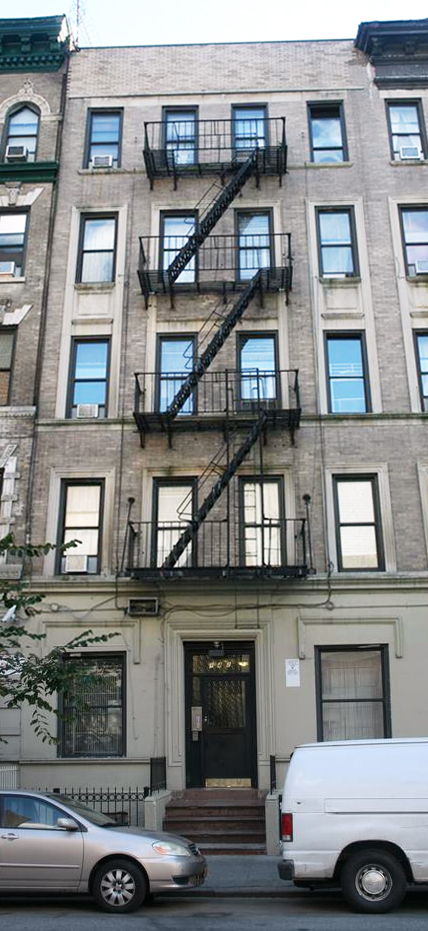 170 West 109th Street 2012
Needing a new place to live, I went to Off-Campus Registry (the same place where I got my first apartment) and found the basement apartment at at 170 W 109th between Amsterdam and Columbus, directly across from the Con Ed substation, just $70 a month (but Peter Marsh would share it and pay half when he came back in the Fall, so $35 each). At the time I was the only person on that street who was not Puerto Rican or Dominican. I lived in the basement in a condemned apartment, four narrow rooms in a row, a classic NY tenement railroad apartment. There was no bathroom but there was a shower stall in the kitchen. The tiny kitchen sink was also for teeth brushing, face washing, etc. The toilet was outside the apartment, near the boiler. The kitchen was the only room big enough to hang out in; it had a table and some chairs. The landlord was an old Irish lady, Mrs. Gavaghan who was exactly like Mrs. Lift in
Throw Momma from the Train
. She lived on 106th Street in a huge apartment with her cat, who had its own bedroom and slept on a king-size four-poster with canopy. My super, Pedro Lugo, and his family lived right above me; he had three kids, Tony, Papo, and Maria; his wife was very shy and nobody ever saw her. (Decades later Ivonne said she knew Tony and Papo, they were much older than she was and famous drug addicts.) I still had my motorcycle then, I'd take the kids for rides. The next door neighbor was Mikey the drug dealer. Every night you'd hear people yelling Mikey, Mikey, Miiiiikieeeeeee… Sometimes they'd come to my place looking for Mikey (the two buildings were twins and he lived in the corresponding basement apartment). I didn't have any furniture so I just brought in stuff from the street (some of it I still have, like the black chair). Pedro gave me a mattress with bedbugs. I was friendly with the people who had bodegas and laundries on Amsterdam and would hang out with them at night.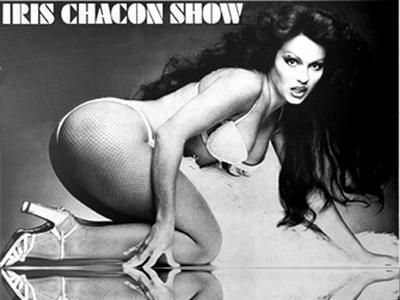 Iris Chacón poster 1967
Willie Colón album 1967
The street had personality, especially in the hot summer. Half the cars were up on blocks with their wheels gone and windows broken out, fire hydrants and
Willie Colón
music blasting, the frío-frío man (a 90-year-old Dominican guy with a rickety wooden cart painted light blue with a big block of ice)… the famous
Iris Chacón
poster plastered all over the neighborhood... Delicious cooking smells coming from the apartments… families barbecuing on the street, kids of all ages everywhere hanging out, dancing, making out… old guys playing dominó…
One morning as I left for work I saw somebody parking a big shiny silver Bentley in front of my building. I thought to myself, that's not good. Sure enough when I got home, it was up on blocks and burnt down to a hollow black shell. I realized that to park my motorcycle on the street was a bad idea too so I moved it to the Royal Garage on 107th Street between Amsterdam and Columbus, $12.50 a month. I sold the bike after about 2 years.
109th Street stories continue below, after Double Discovery.
Project Double Discovery...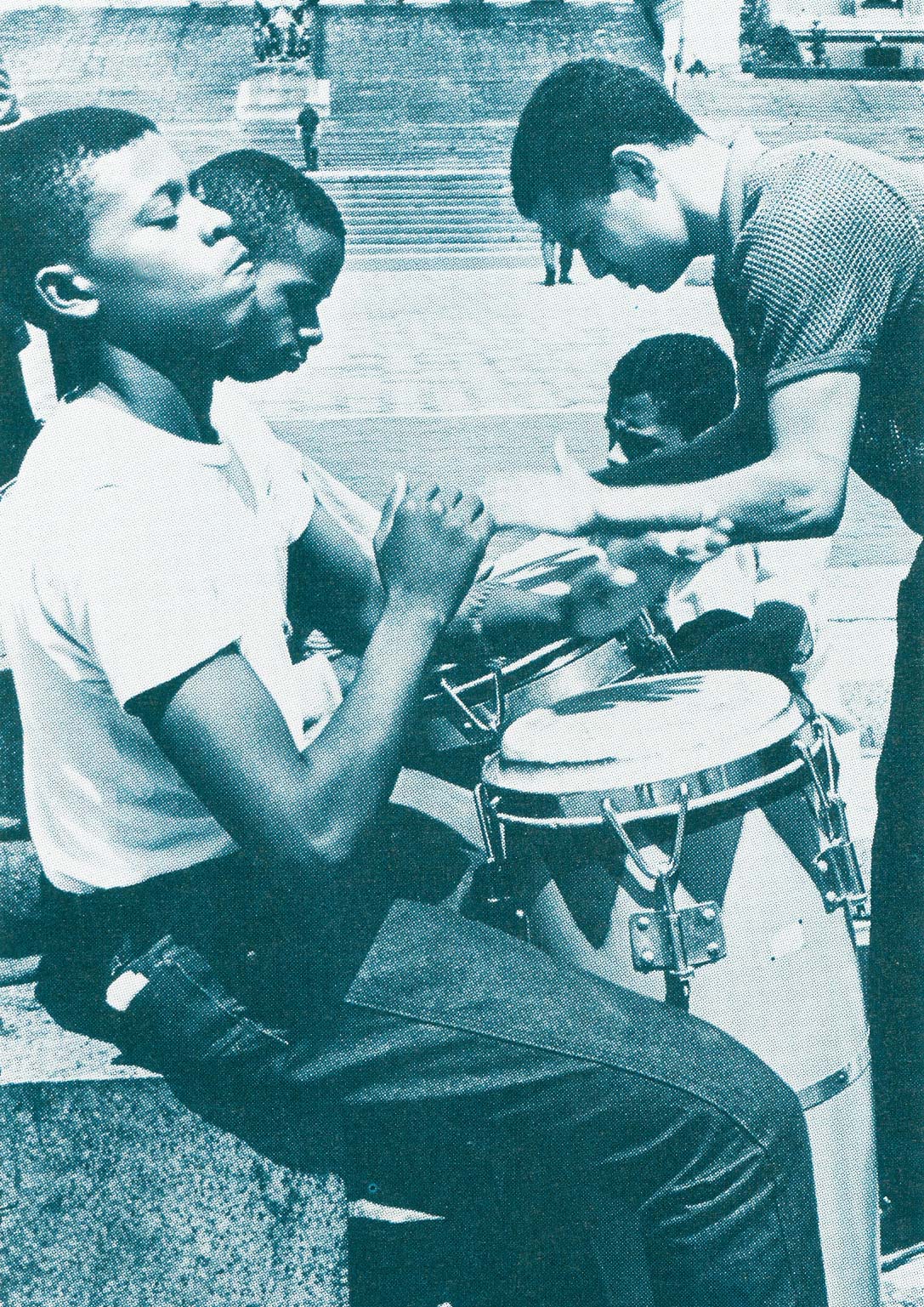 Ferris Booth Hall
patio 1967
The summer of 1967 I worked as a counselor in Project Double Discovery, which was basically a Marxist revolutionary study group (just kidding) (not really) paid for by the US government and
HARYOU ACT
, and it was one of the places where the Weather Underground was born. We lived on campus in Hartley and Livingston. The ostensible purpose was to prepare mainly Harlem high-school kids for college. Mostly Black, Puerto Rican, and Dominican kids but also some poor whites from East 90s and Hell's Kitchen (which were tough areas then) and some kids from Chinatown.
In the morning the kids attended classes taught by top Columbia professors like Jim Shenton, who later directed the program. In the afternoon our kids, in turn, had to tutor elementary school kids in Harlem. I took my kids on the train every day to 145th Street and we walked from Broadway over to PS90 on 147th Street, just east of 8th Avenue. Besides tutoring the kids we did a lot of projects around there, like price surveys in the stores so we could publish lists of which stores had the best and worst prices for essential items like milk (in this, we discovered a little-known dark and dusty relic of the Marcus Garvey days, a nonprofit Hey Brother food market — you can't even find this in Google). We'd spend lots of time in the Communist bookstore on 8th Avenue at 155th Street. And for fun we'd go to Bradhurst Park and Colonial Pool (now called Jackie Robinson). I didn't know it at the time, but that is one of jewels in the crown of the New Deal in NYC, one of 11 palatial public swimming pools and bathhouses built in the City by the WPA in 1936. Anyway just being in Harlem every day that summer was unforgettable, Martha and Vandellas and James Brown blasting out of boom boxes… People making their own music on street corners, usually involving multiple conga drums, everybody out on the street because it was too hot to be inside… Fire hydrants going full blast long before the days of sprinkler caps. Shabazz bean pies, egg creams, orange soda; Sherman's Barbecue… I forget the name of that cheap sparkling wine that came in fruit flavors and cost a dollar… Oh right, Boone's Farm Strawberry Hill.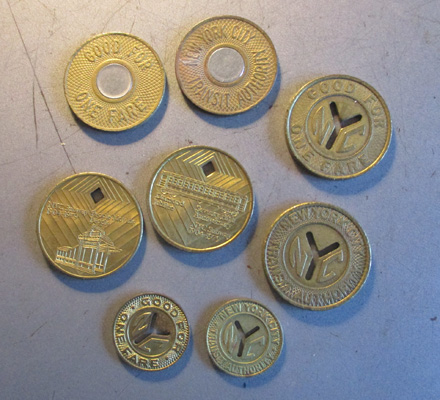 NYC Subway tokens - Click to enlarge
We got almost unlimited amounts of money for activities — cash, big bags full of subway tokens — movies downtown (whatever movie the kids voted on, e.g.
The Dirty Dozen
), lots of times to the Apollo, plus food festivals, trips to all different places, including one to the Cuban Consulate — you could not believe how many camera shutters we heard clicking as we entered. There was also a Kurosawa festival going on in Ferris Booth Hall and we all went see
Yojimbo
,
Throne of Blood
,
Sanjuro
, and
Seven Samurai
. It was their introduction to Kurosawa and they ate it up. Mine too except for
Roshomon
, which I had seen in high school in Germany, where they showed it in the auditorium one day.
And speaking of movies, the kids worked as extras in the (otherwise pretty dumb) Hollywood film Up The Down Staircase, which was filmed at Benjamin Franklin High School on Convent Avenue at 116th Street in the uptown Little Italy (Mommy would teach at Franklin for years, starting about 1970). We went to the NY premiere and the kids were screaming with joy to see themselves up on the huge movie screen. But all of those scenes have been cut from DVD version.
Other counselors in 1967 included Mommy, Wendy, Howie Machtinger, Teddy Gold, Mark Naison, Heywood Dotson (played for NBA), Paul Nyden, Paul Brooke. Eric Foner and Jim Shenton were among the teachers. Just for the record, the kids in my group were Mike Hall, Michael Alston, John García, Tony Delbridge, Hollis Jenkins (who always wore a suit!), and Tim Lee (who took the picture of me on my motorcycle).
109th Street, cont'd...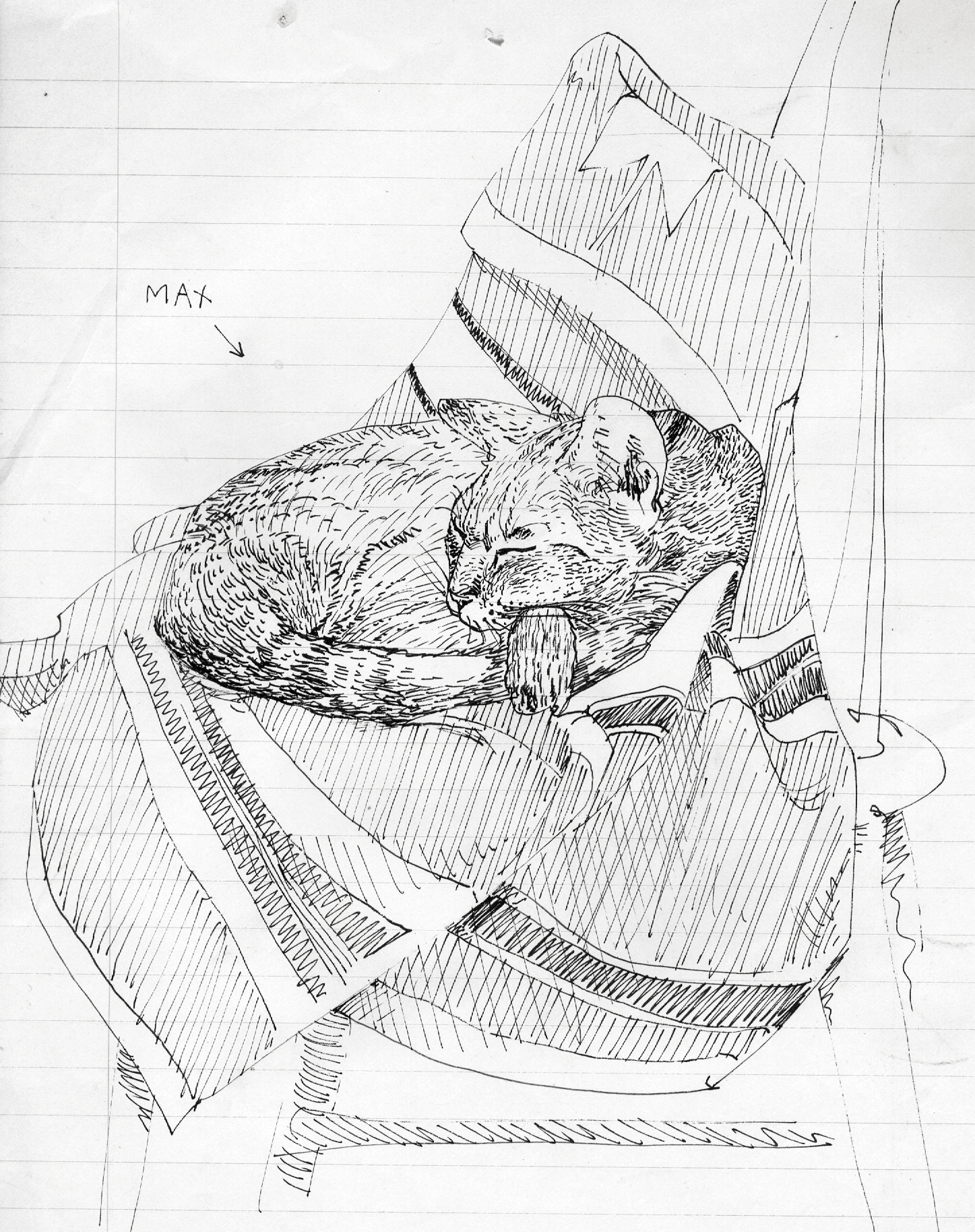 Max 1967
After Double Discovery, Peter Marsh joined me in the 109th Street apartment for the 1967-68 school year, which was pretty tumultuous not just because of the Columbia uprising, but the MLK assassination, the almost-riots in Harlem only a few blocks away, the RFK assassination, the Nixon victory, etc etc. At some point Peter and I found Max, a homeless cat, on the street and brought him (no, her) home.
Peter and I shared the apartment for about a year and had lots of adventures… For one thing, we both had motorcycles. Jude would come over all the time, and would usually stay the night (Peter had the front room, the only room that could be closed). We'd cook stuff but there were constant assaults of roaches and mice. The roaches would literally jump off the walls into the cooking pots. There was one mouse that was kind of a pet, Max didn't bother it, and it would do cute things to entertain us like stick its little head up through the burner ring on the stove (not when the stove was on!)
One Sunday morning we heard a lot of commotion outside. A whole caravan of suburbanite do-gooders had arrived in their station wagons to clean up our block and paint everything bright pastel colors, improving the ghetto for the poor people so they will be in a better mood when they see pictures of flowers and smiley faces everywhere. They did the whole block except my building because Pedro told them, "You touch my building, I kill you."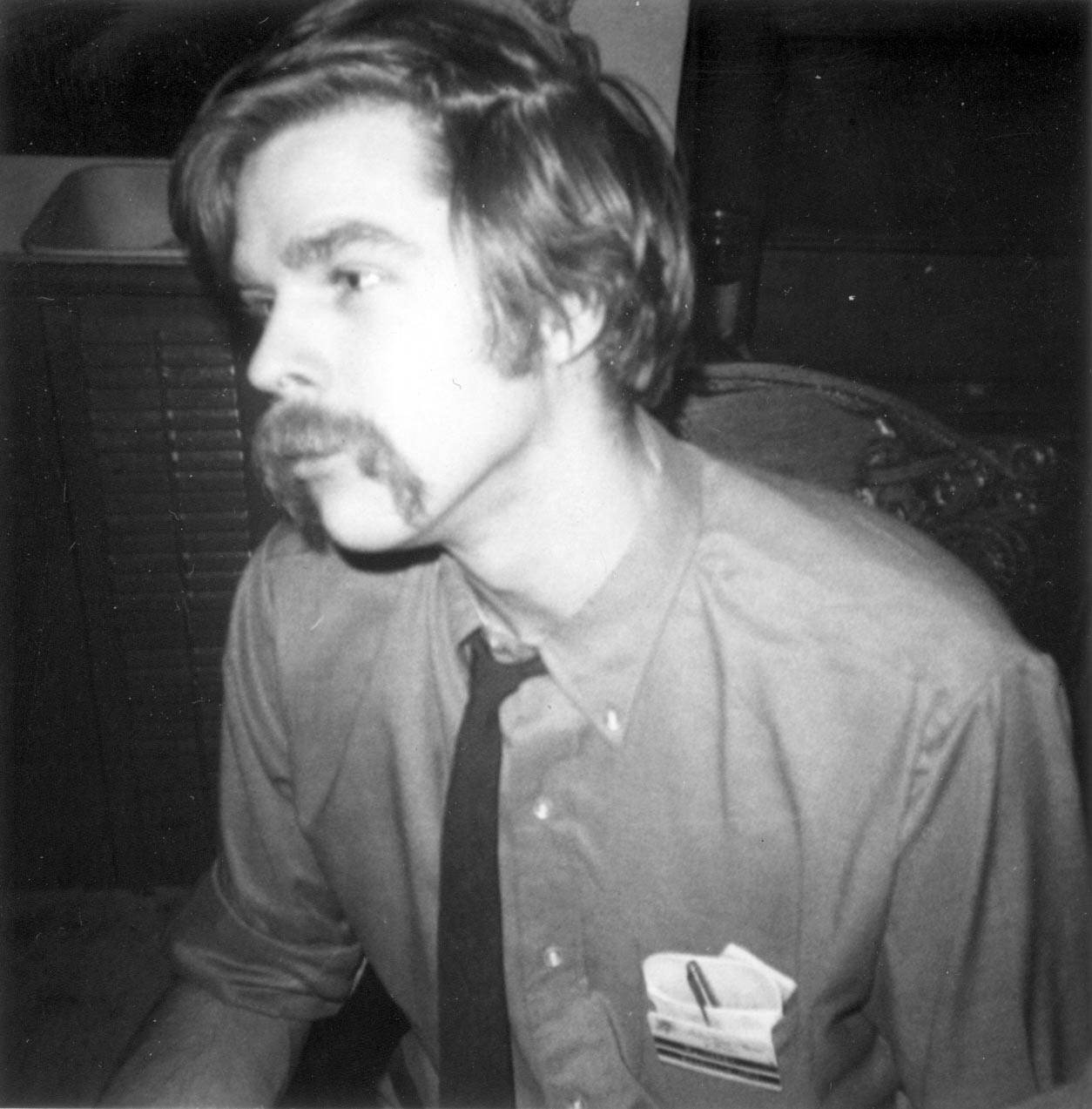 Pharmacist's Mate Peter M
Peter Marsh dropped out and left before the school year was over. His grade point average was not good, and in those days Columbia reported everybody's GPA to the draft board, and if it was below a certain number you were drafted, and that's what happened to Peter. This was when the Vietnam war was at its height, what a nightmare. He did what I did — applied for CO status — and he was luckier than I was; the application was approved and he went back to Vermont at some point after the 1968 strike at Columbia but before the end of the school year (taking Max with him) to do his alternative service, working 2-3 years in a hospital in Burlington, where he was like pharmacist's mate (his work costume in the photo). He and Jude and Max lived on the top floor of Abernethy's at the north end of Pearl Street, in a gothic apartment that was full of turrets and ladders and hatches and secret rooms.
Patty Chen 1968
And I had the 109th Street apartment to myself again. That summer I worked in Butler Library and since I was in the doghouse for being in the strike, they had me move the entire College Library stacks by myself, I don't know how many tons of books, and it was like 120 degrees in there… This was long before the library was air conditioned. I'd come home in the evening exhausted and drenched in sweat, take a shower, go spend the evening with Wendy, Jude, and Patty Chen (they shared an apartments in a townhous on 91st Street and then another on 101st Street); we'd cook dinner, drink wine, and listen to music: Wendy's
Stax Review in Paris
LP, the Miracles
Goin' to a Go-Go
LP, etc.
One night when I came home from work, the entire stoop was covered with what looked like congealed bacon fat, but a LOT of it, it was several inches thick and covered the whole stoop. Pedro was scraping it off with scraper, filling up big garbage cans. He said it wasn't just the stoop, it was the stairs all the way up to the top (fifth) floor. He'd been scraping all day. He told me what happened. A guy who lived up there, I never knew his name… he was huge. He must have weighed 400 or 500 pounds. Every morning he'd come down and sit on the stoop all day, smoking cigarettes. I always said hi to him but we never had anything to actually talk about, he never really talked with anybody. At the end of the day he'd hoist himself back up to his apartment and, it turns out, drink and smoke himself to sleep. Apparently he was smoking in bed and the bed caught fire and melted him and all his fat ran out the door, down the hall, down the stairs, and out the front door, probably 400 pounds of it.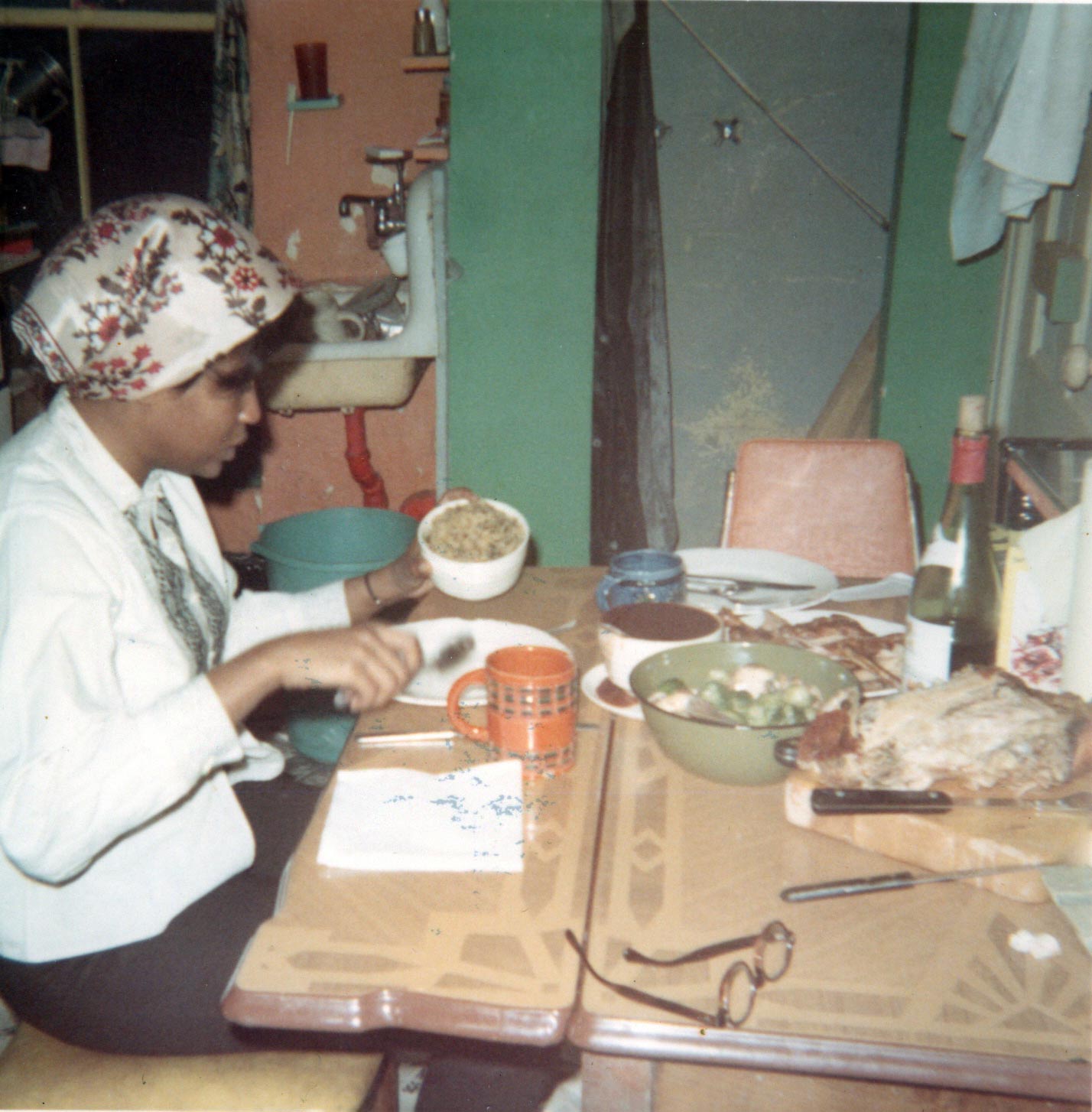 Judy at 109th Street
Judy at 109th Street
Judy at 109th Street
I kept the 109th Street apartment until Mommy and I got together, which was in May or June of 1968. She stayed with me there about week but that was all she could take (vermin, no bathroom, no closets...). The picture on the left shows some things about the place: the no-view window at the foot of an airshaft, the kitchen sink that was also the bathroom sink, the adjoining shower stall right in the kitchen, the bright colors I painted everything. I wish I had photos of the toilets out in the hall with mushrooms growing around them. Or all the crazy makeshift gadgets we had for locks and doorbells, made with ropes and pulleys and two-by-fours and hinges and buttons.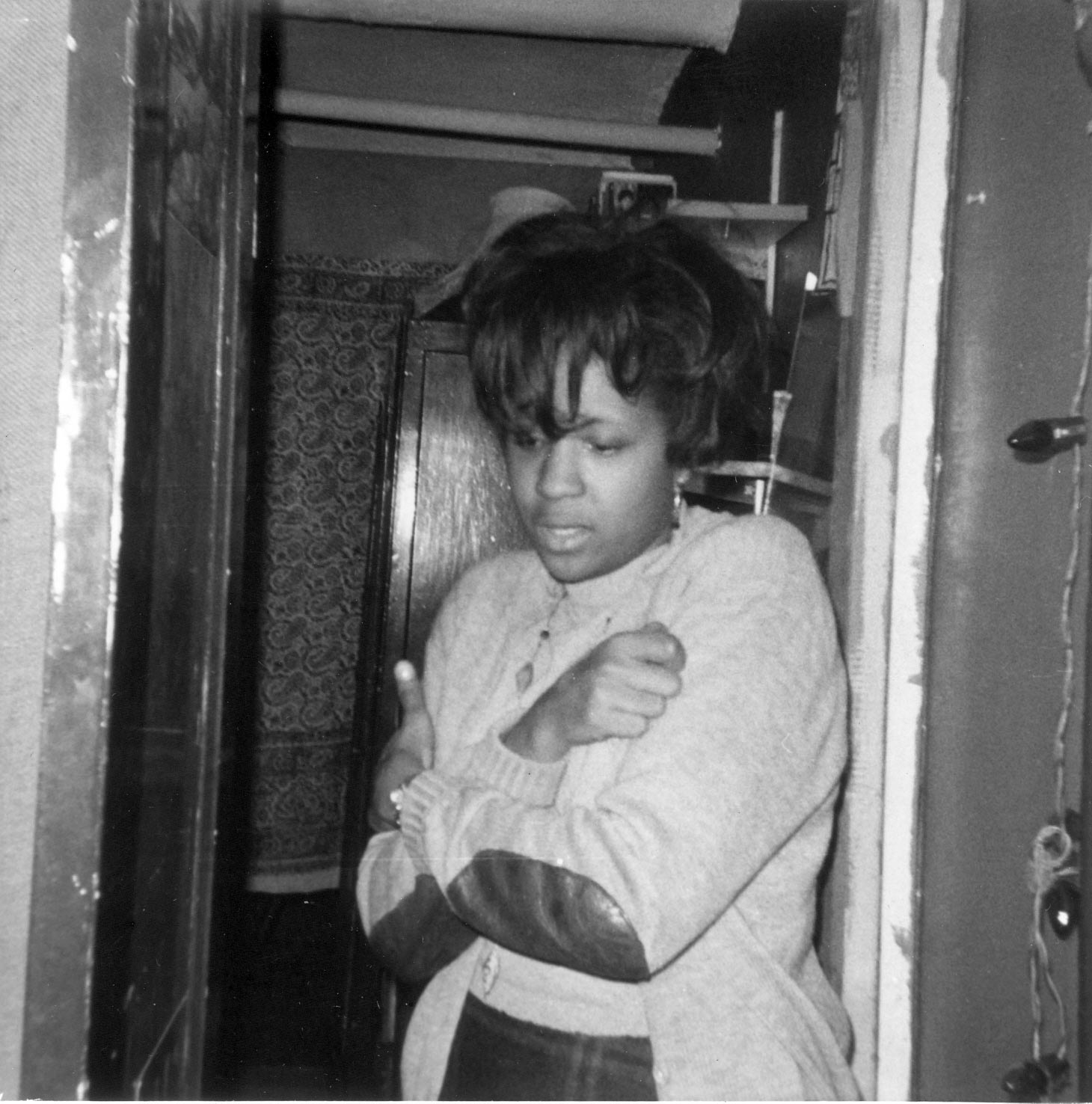 French New Wave pose
In the kitchen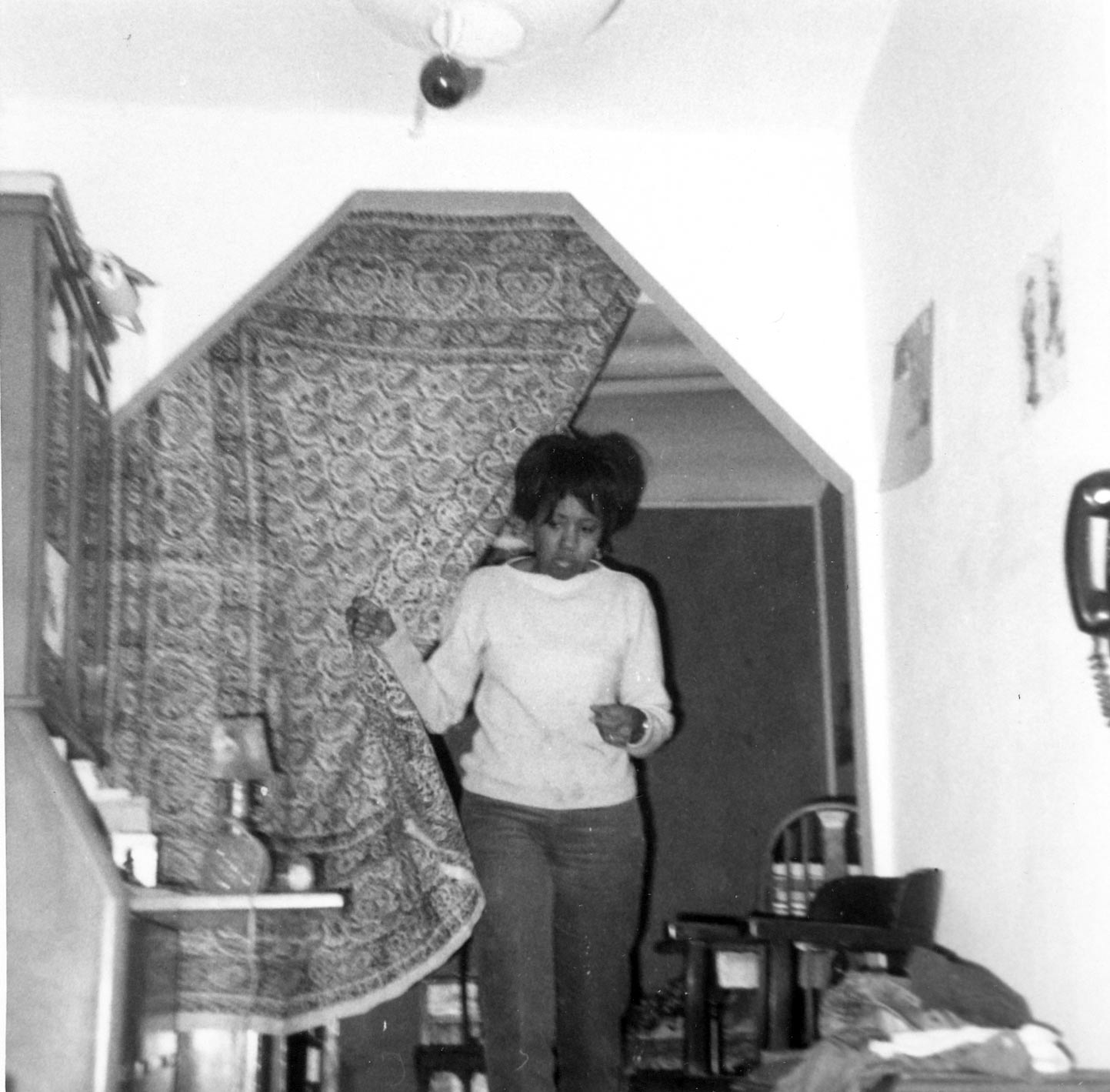 Judy at 109th Street
Judy and I decided to move to a better apartment, even though it would cost four times as much. I gave my apartment to Mike Hall, one of my kids from Double Discovery, just to piss off racist Mrs. Gavaghan. Mike had a pretty horrible life, he grew up in the Bronx, once his mother locked him in a closet all summer, later he saw his brother murdered, etc… After PDD he hung around Columbia for the rest of his life, homeless, usually sleeping on the Broadway center strip. In later life he had huge dreadlocks, no teeth, and hobbled around with a cane. He was very smart and a very nice guy but he just couldn't take care of himself… All the old PDD people at Columbia watched out for him. Oh right, I almost forgot, once we got him a job as a kind of "security guard" at Amy's Own Broadway Presbyterian Cooperative Nursery School when Amy was going there. He was still around when I moved out of Manhattan in 2012.
Before leaving 109th Street, let's have some more pictures. In the second one, I still have those two mugs. The left one I brought from Germany. The right one Jerry Jacobs sent me from Frankfurt but over the years the Henninger Bier logo wore off, now it's just plain grey.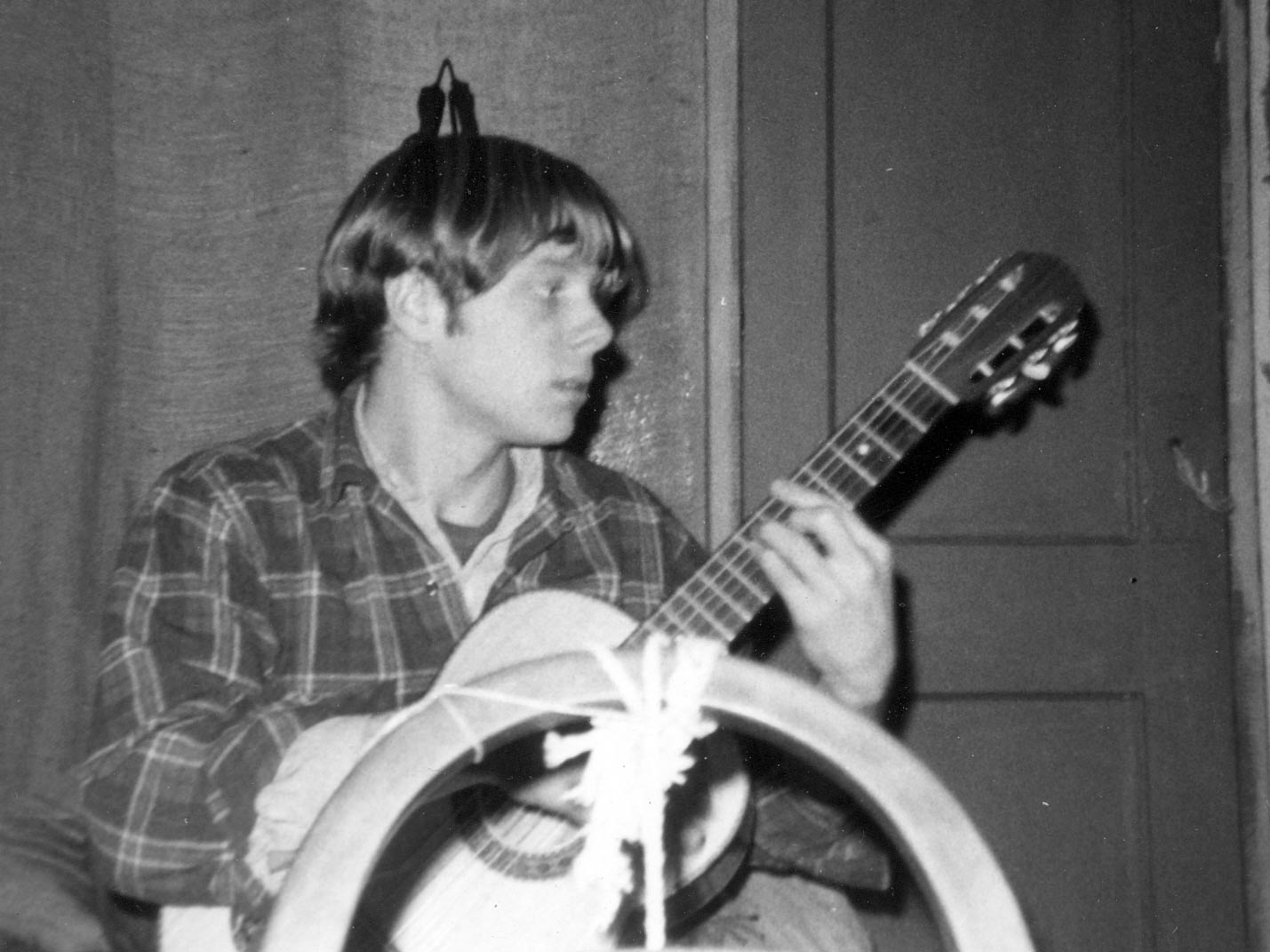 Me at 109th Street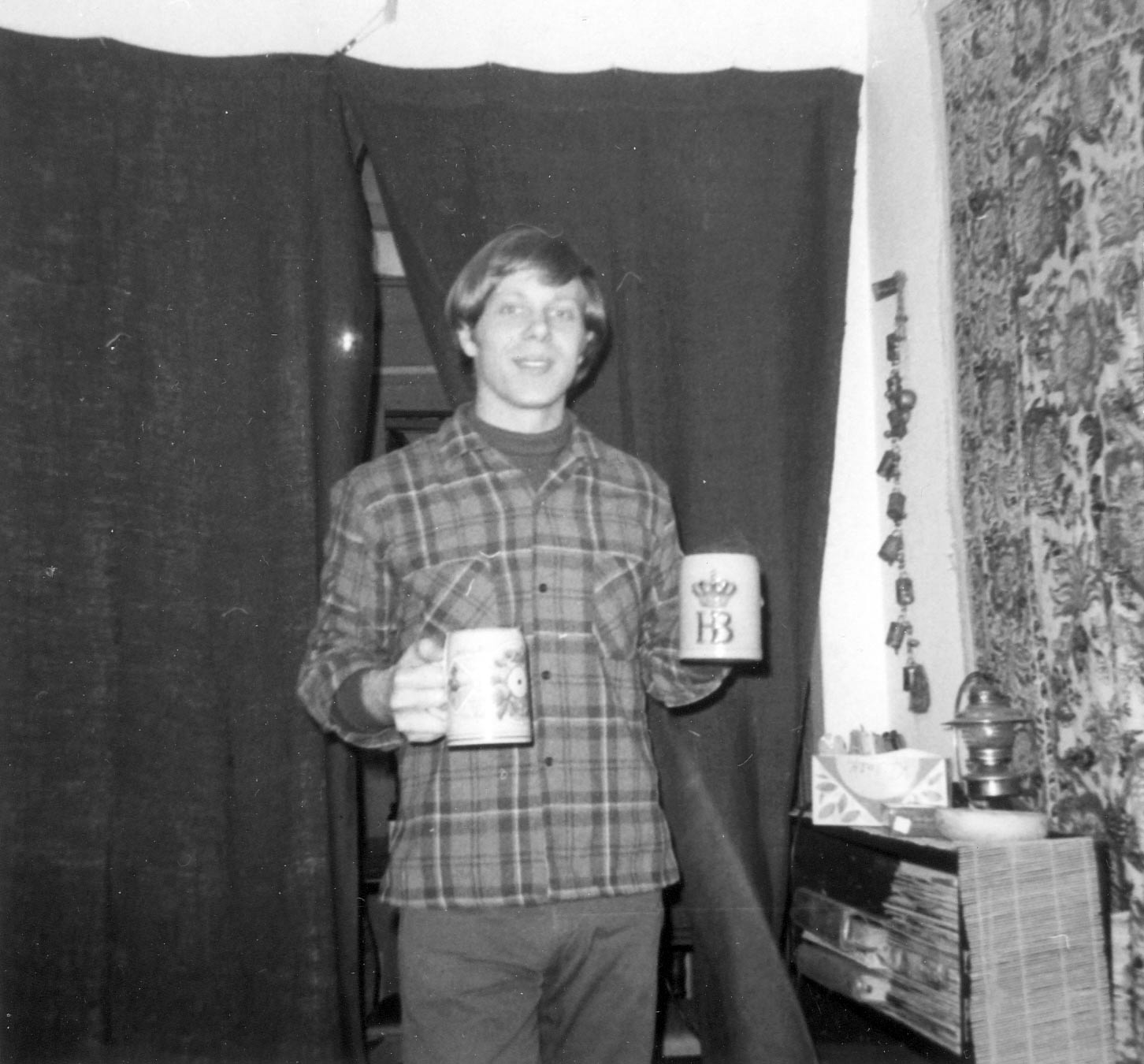 Me at 109th Street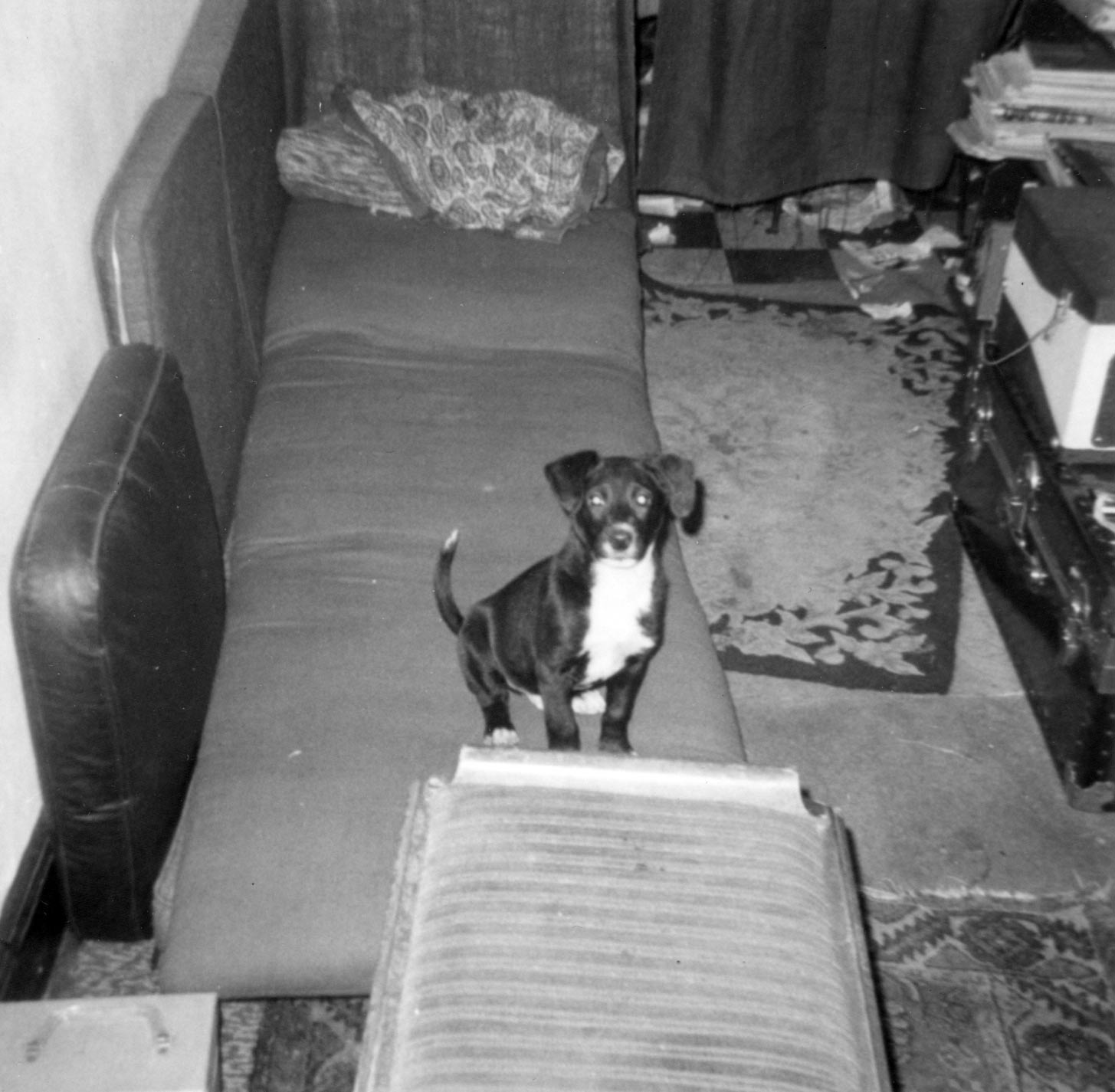 Herbert at 109th Street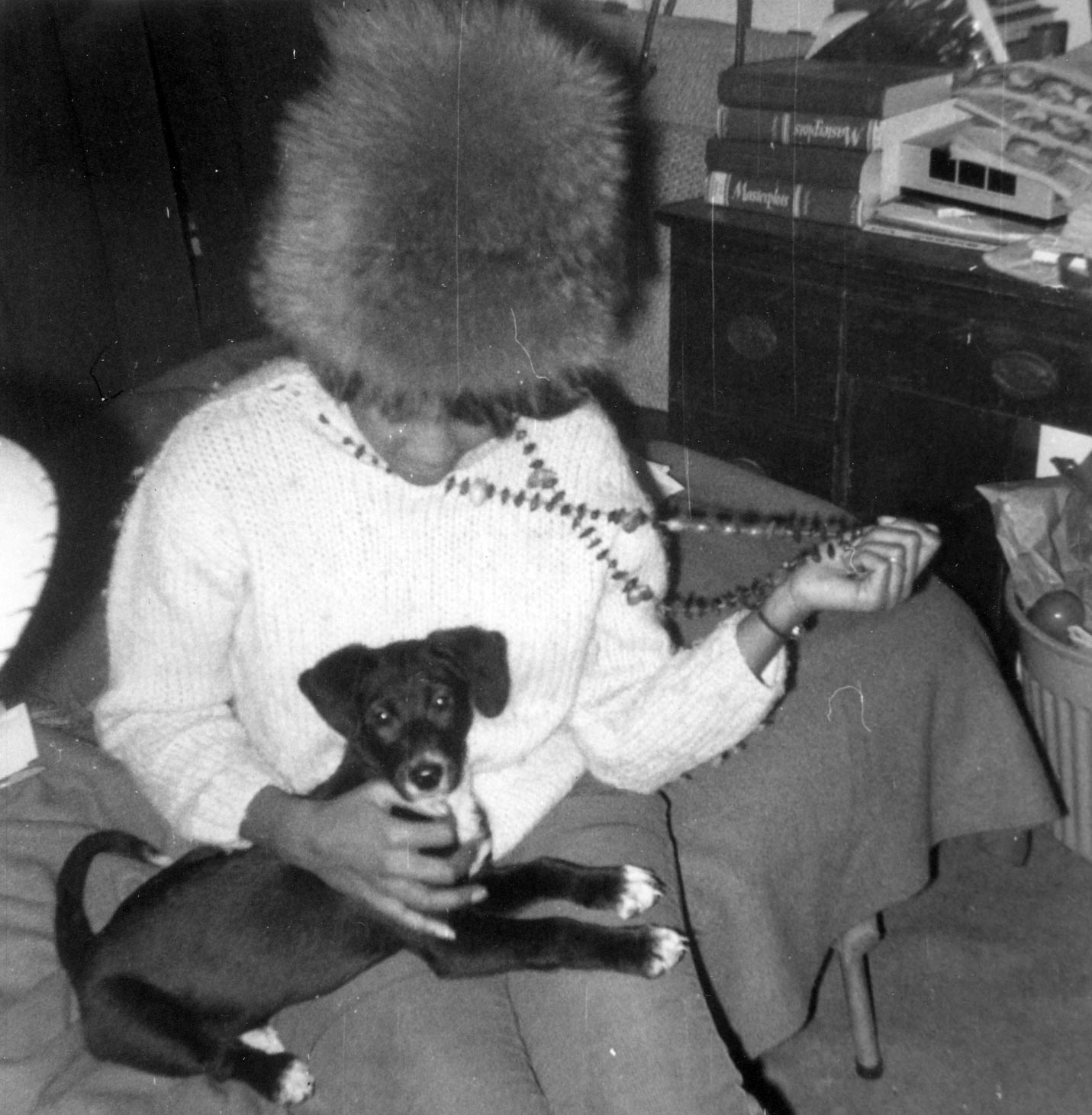 Judy and Herbert
Who ate the mattress???
Amsterdam Avenue 1968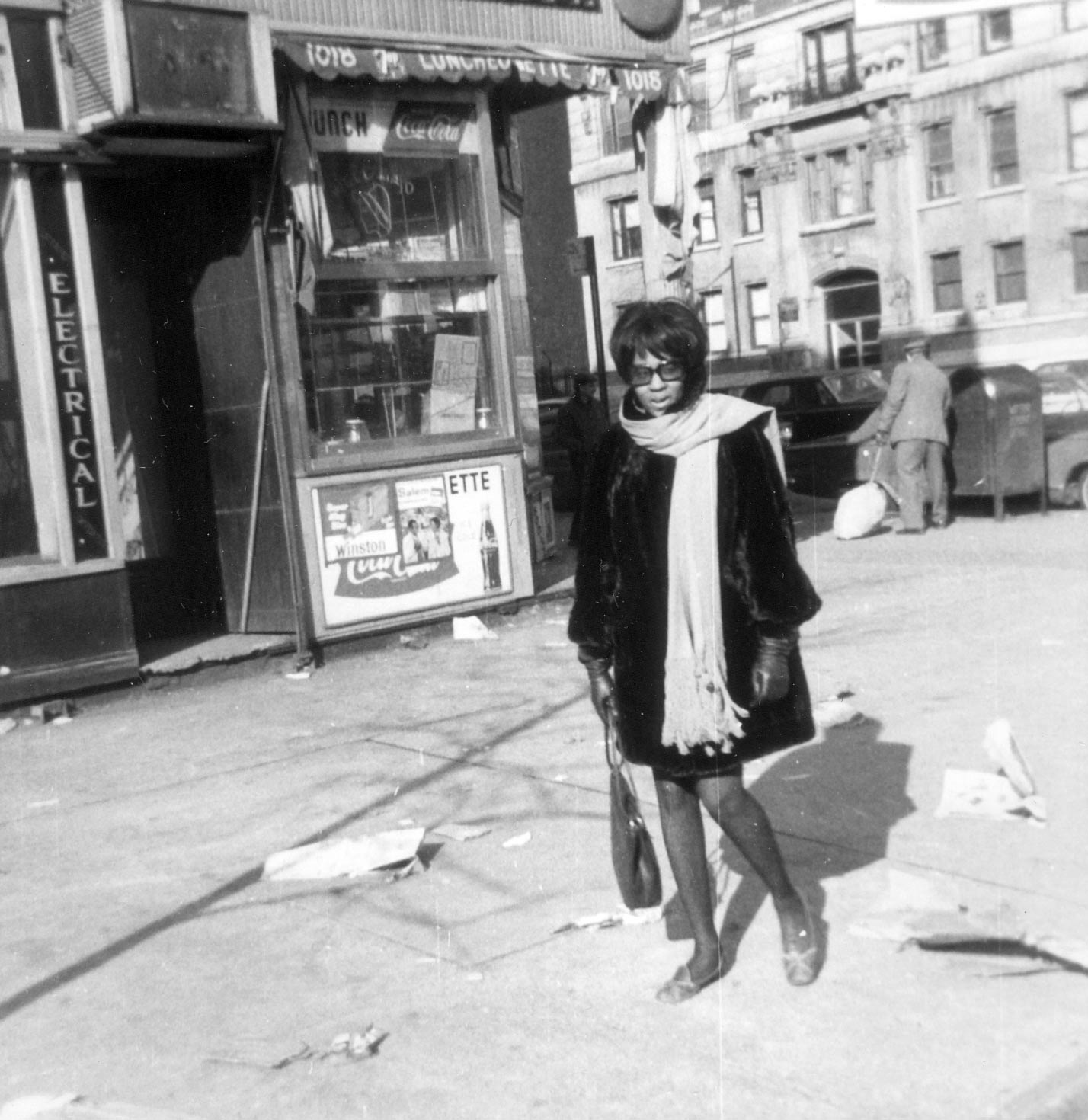 110th & Amsterdam 1968
Judy gave me a puppy for Chistmas, I called him Herbert. Actually she and Paul Brooke gave me a different puppy first (Paul is holding him in the
picture back in the Bertha section
) but it got sick and died within a couple days, so then they gave me Herbert. I had him for six months or a year, but it was a real bad idea. I was in school or working almost all the time and he was locked up in the apartment, so he'd get crazy and start wrecking things. One day I came home and the entire apartment was up to the ceiling in feathers; I'm not kidding, when I opened the door all I saw was white. He had also eaten all my books, including a hand-typed manuscript of my grandfather's. So eventually I took him to the ASPCA, whose job (I thought) was to find him a new home. Anyway, in some of these photos you can see the secretary that I had until I moved to the Bronx; Peter Clapp gave it to me when he went underground.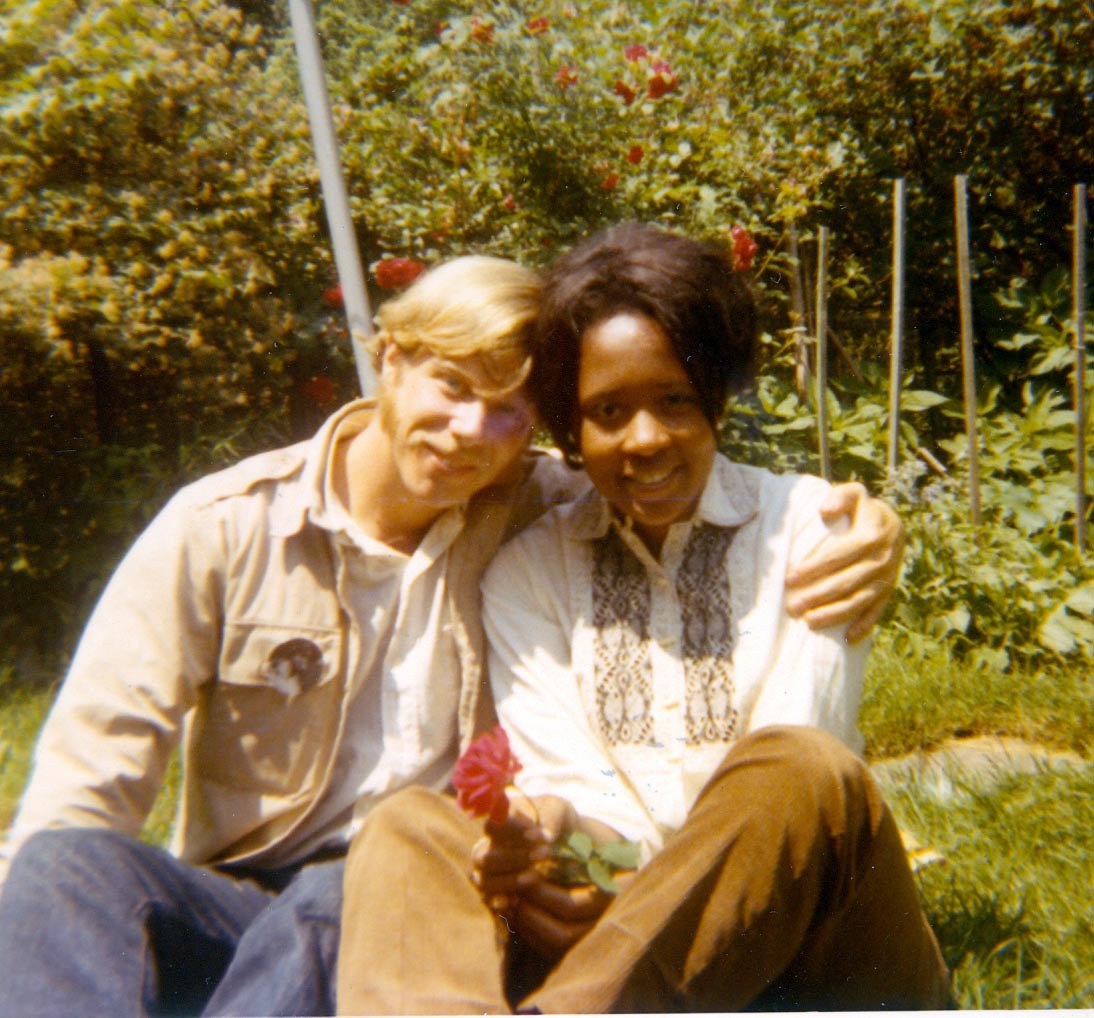 Judy and me 1968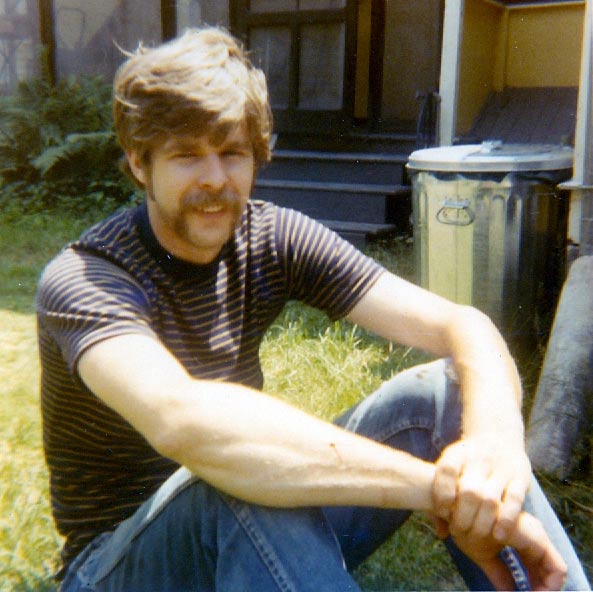 Peter Marsh 1968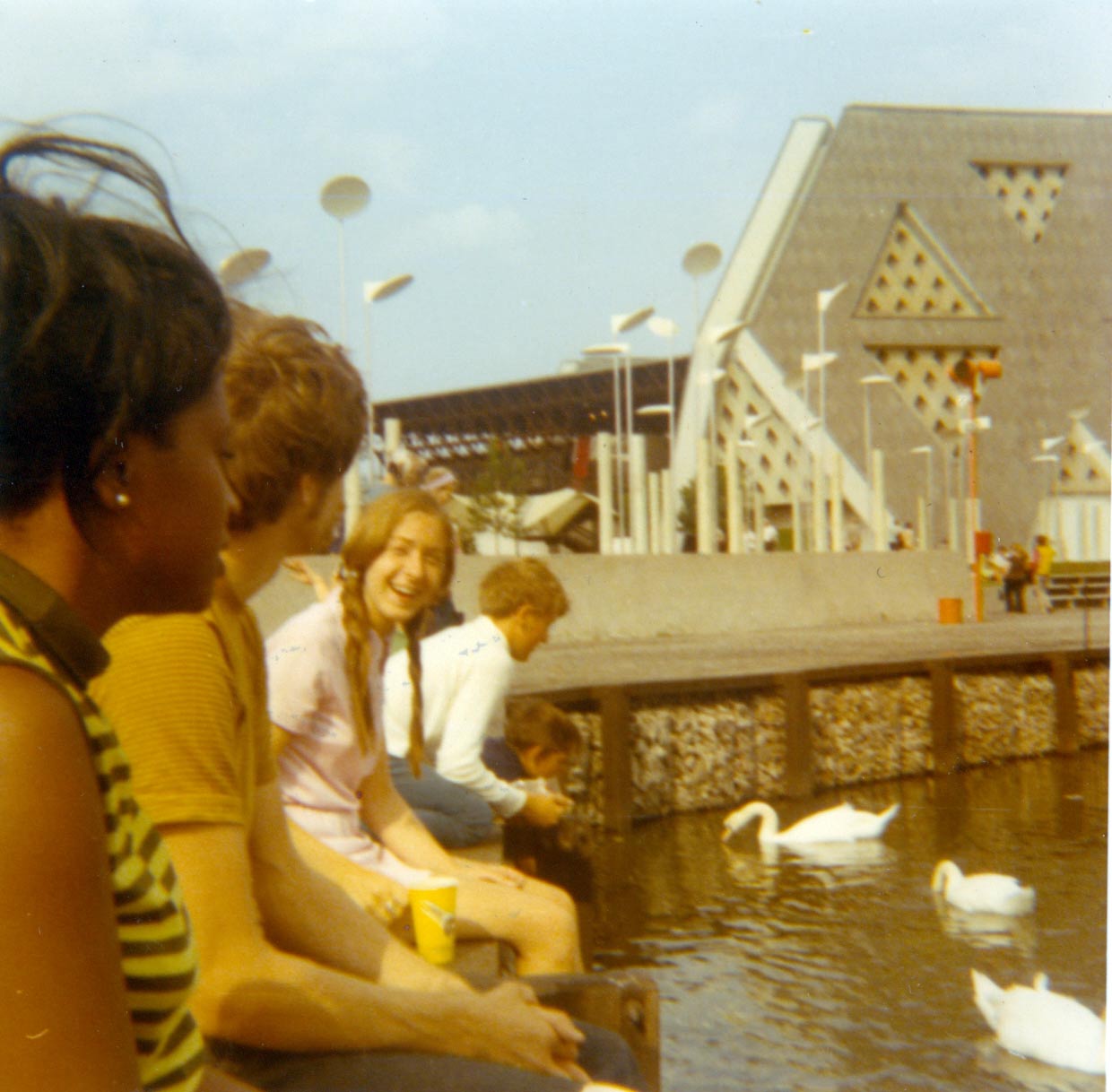 Expo 67 Montreal (1968)
These are from a trip we in 1968 took to Vermont and Expo 67 in Montreal (the Expo supposedly ended in September 1967 but it was still there). Peter and Jude were already living in Vermont in a little house they rented in Burlington for short while, which is where the first two photos were taken.
103rd Street...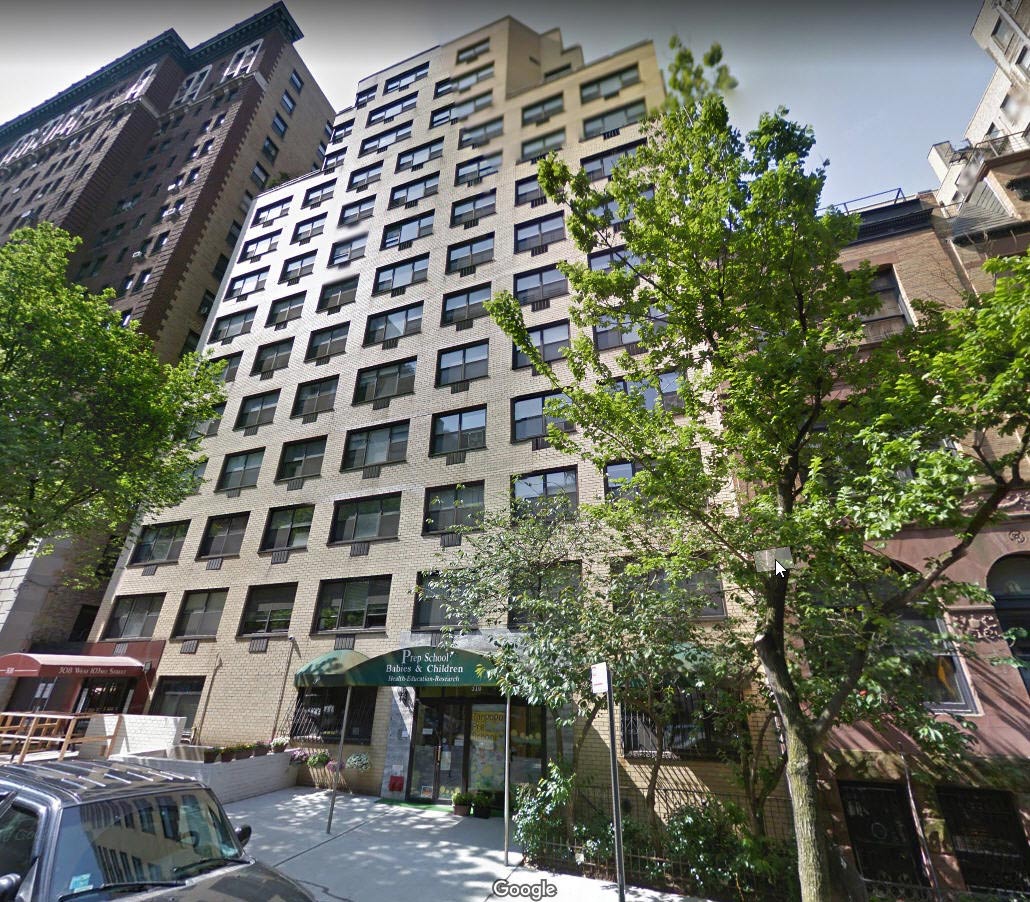 308 West 103rd Street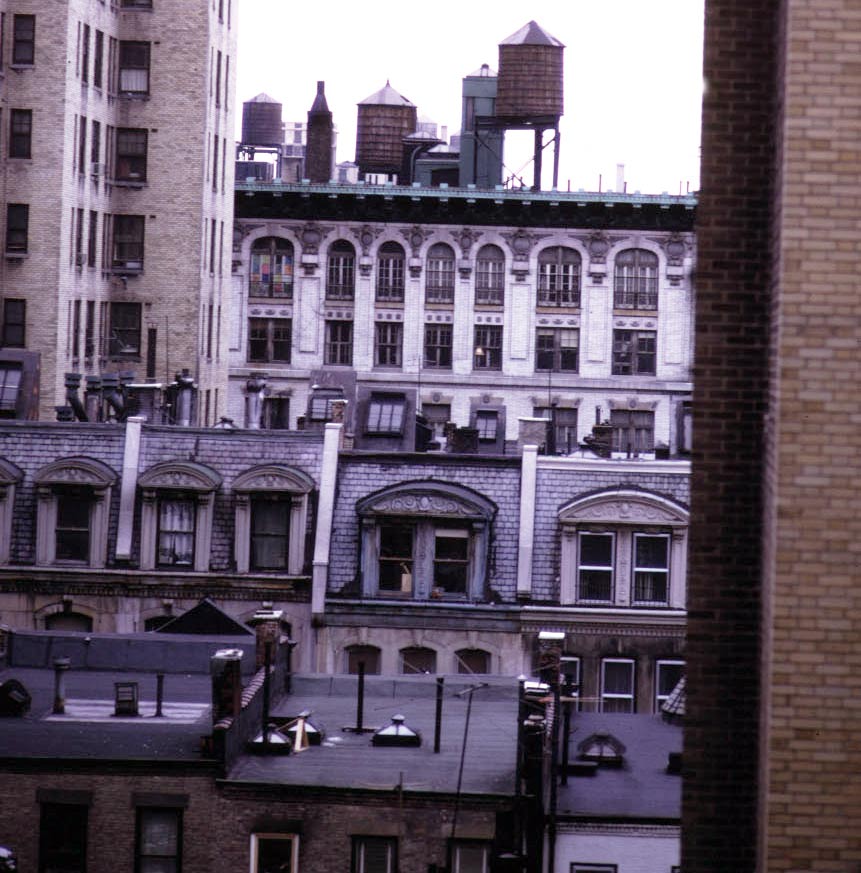 View from 103rd St.
Mommy and I sublet a studio apartment of a friend of hers at 308 W 103rd Street, 9th floor, for a few months in 1969 and when her friend wanted the apartment back, the one next to it was vacant so we rented that; it was a fairly modern building; we had a separate but tiny kitchen, and one bedroom. There was an Orthodox synagogue on the first floor. We looked out over its back yard, where they sounded the ram's horn, conducted various ceremonies, and pitched their Succot tent in the Fall. We stayed there for about 7 years, during which time I was working and going to school full time, earning my BS and MS, until 1976, when she was pregnant and we needed an apartment with more bedrooms.
118th Street...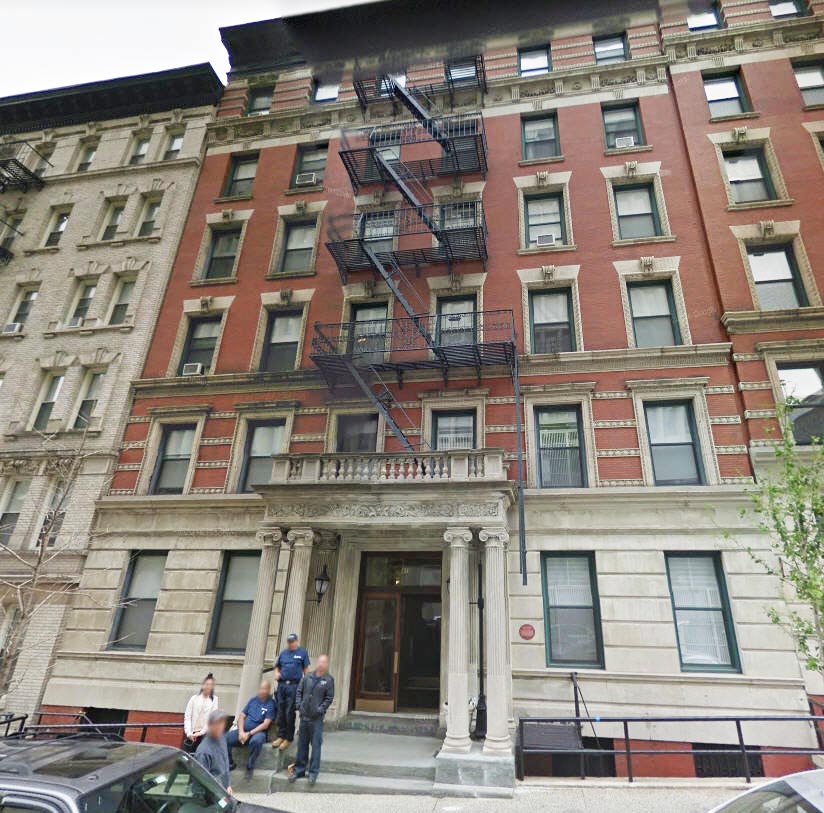 419 West 118th Street
In 1974 Mommy and I decided to get married and have children. We were married at the end of 1974 in Mama Lori's house in Queens. All the family was there, plus Peter and Jude and some of my engineering school friends. Mommy has the wedding album but I looked really stupid in the 70s with big stupid hair and beard and 1970s suit.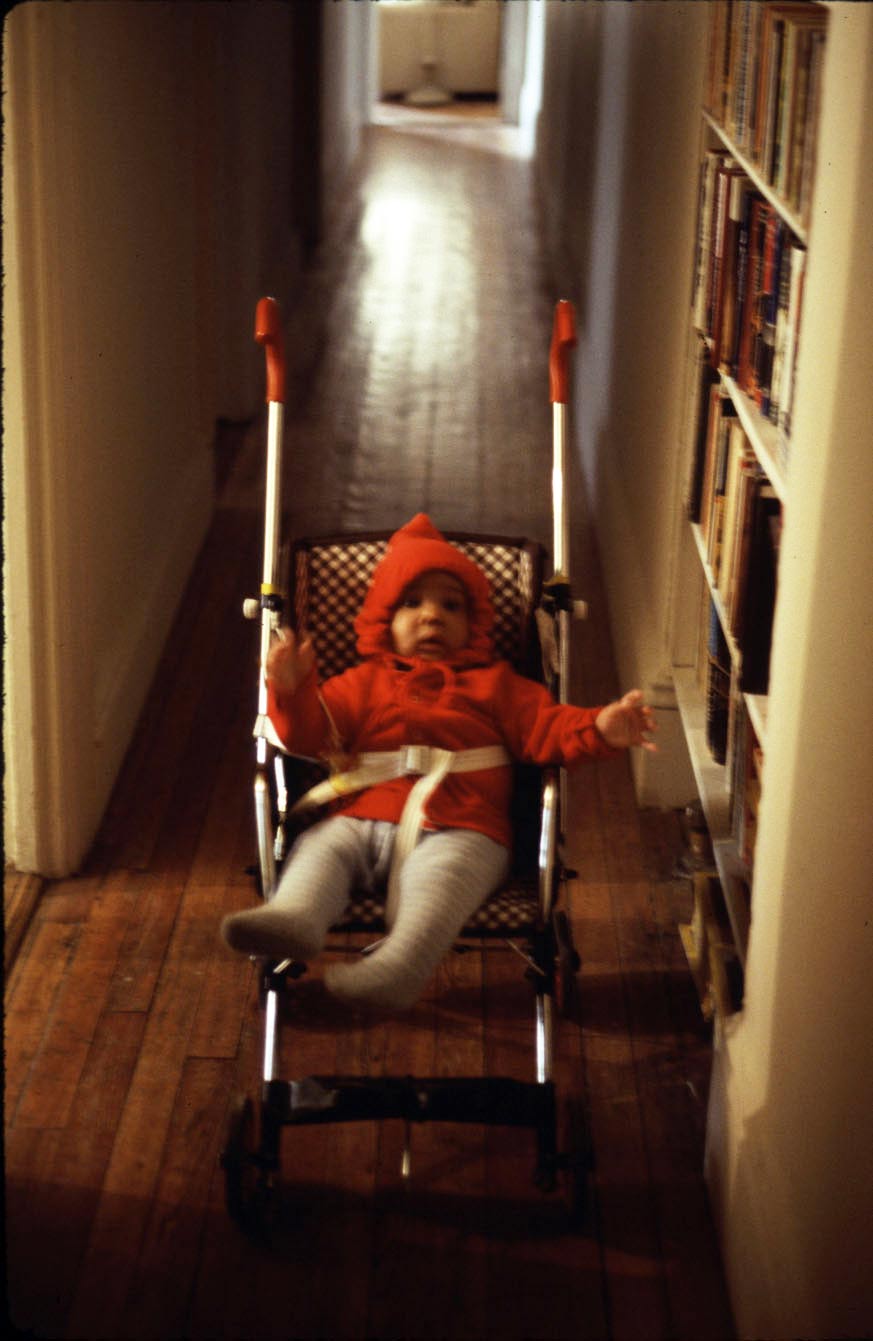 Long dark hallway
In 1976 we rented the place at 419 W 118th, apartment 51 on the fifth floor, a 7-room apartment that had a pretty nice living room and study but the rest was a long, long, long hall with little tiny rooms off it that looked out on a dark airshaft: the kitchen, bedrooms, and 1930s-era bath, and there were so many cracks and crevices it was impossible to keep the cockroaches and mice out. The original rent was $350 and gradually rose to about $850 by the time you guys vacated in 1994.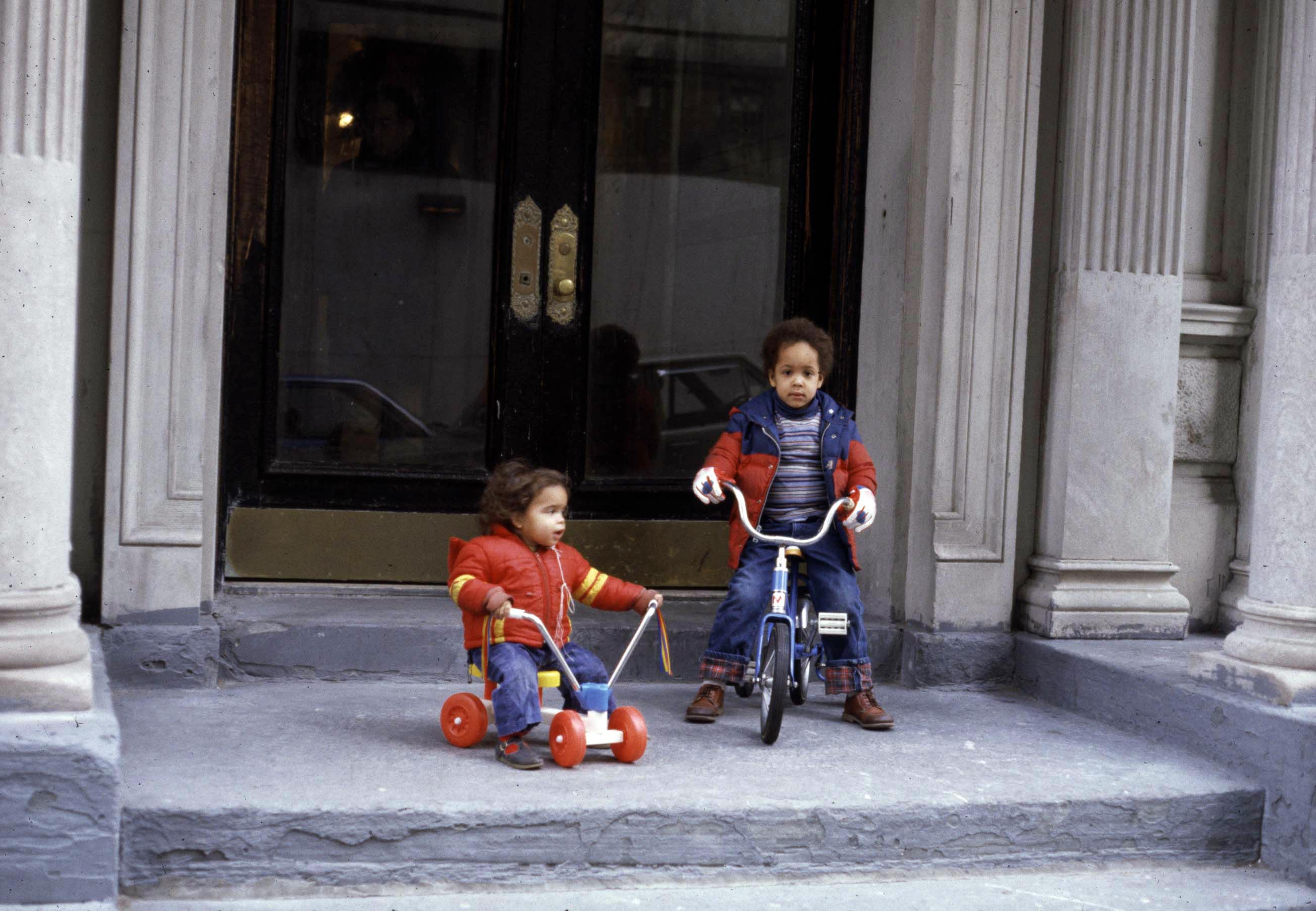 419 West 118th Street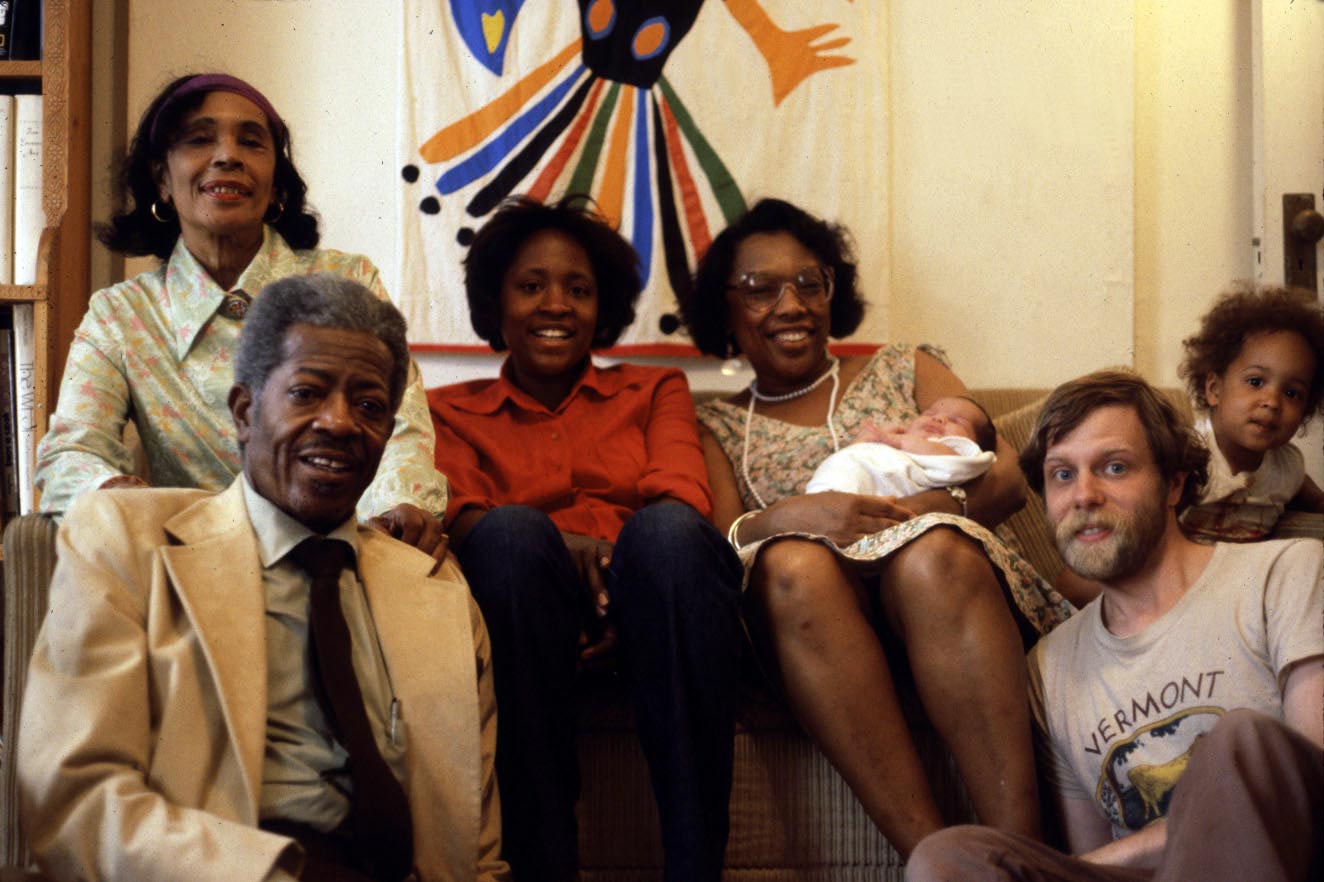 At 118th Street May 1980
The first baby miscarried at 5 months, but the next two came out OK: Peter October 7, 1977, and Amy on May 26, 1980. We all lived there until 1988 when Mommy and I split up, and you guys and Mommie stayed there until 1994. By that time Columbia had found out I wasn't living there any more (somebody ratted us out) and had issued an eviction notice and we had to go to housing court, but Mommy and Rick found the house in Riverdale just in time.
The 118th Street years are documented in the photo CD I made in 2001. Our next-door neighbors were the Garcías, Marshall (Mariscal?) and his wife whose name I forget, and their grandson Max (Peter's good friend) and Max's mother, whose name I also forget. Peter told me Max died in 2017 of one of several conditions he was born with.
Hungarian Pastry Shop 1978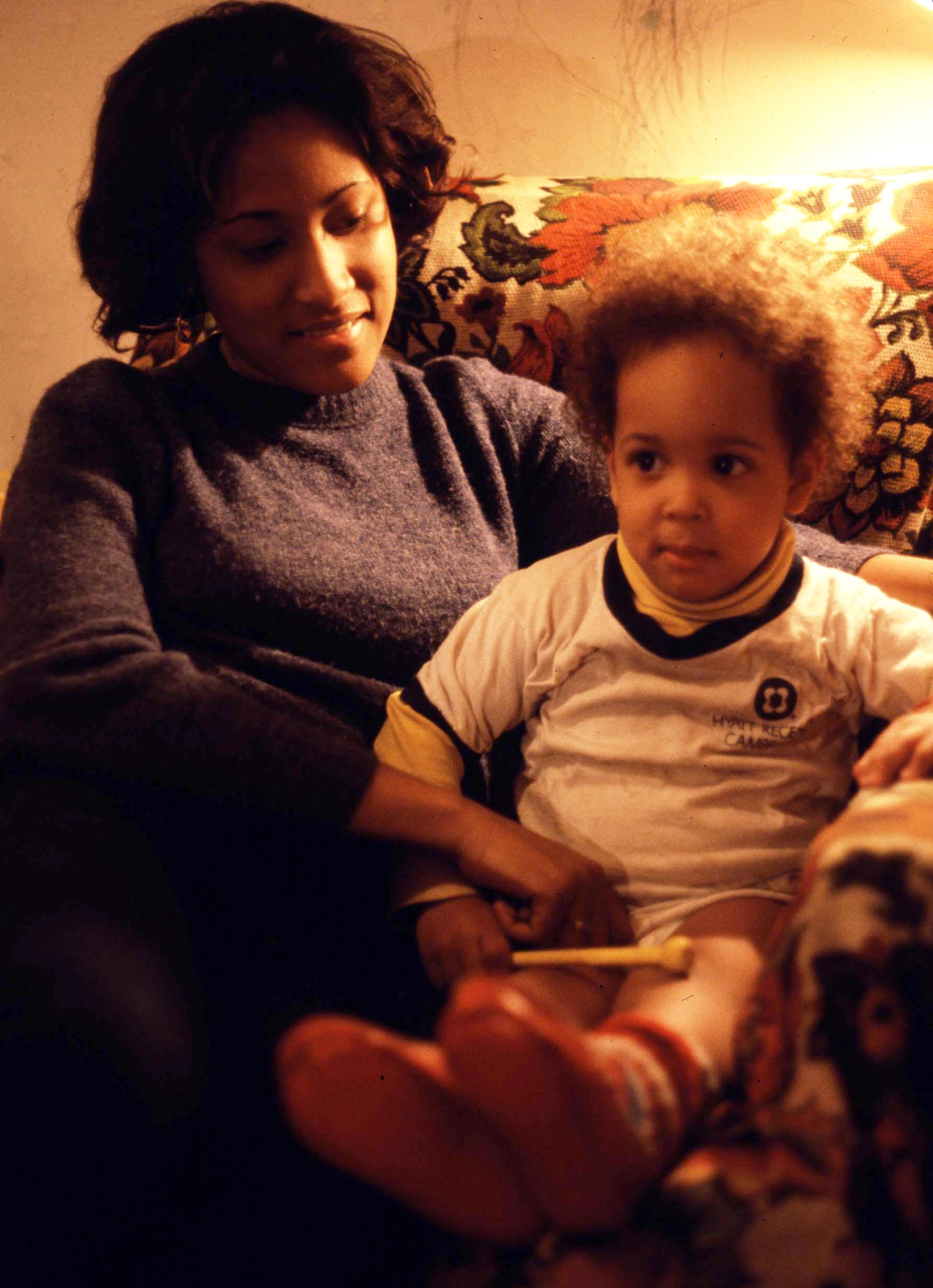 Ludi and Peter 1980
This is where you guys both spent your first years: Peter 17 of them and Amy 14. Your baby sitter was Lourdes (Ludi) Charles, and your "nanny" was Holly Papas (in a neighborhood of white children cared for by black nannies, you guys were the notable reverse exception). You had all your birthday parties there except for the time we had one of Peter's at a bowling alley on Broadway and 230-something in the Bronx very close to where he would live one day. You played at St John the Divine ("Peacock Park"), the Columbia campus, Riverside Park, and Morningside Drive. We normally cooked meals at home but also ate out pretty much, often at Mama's Place (the Greek diner on the corner), sometimes at V&T on 111th and Amsterdam, Moon Palace on Broadway at 112th. The Hungarian Pastry Shop was right across Amsterdam Avenue from Peacock Park and we always stopped in there for treats; it's still there as of 2020. Around the corner was Green Tree, an old-fashioned Hungarian restaurant, long gone.
Going to school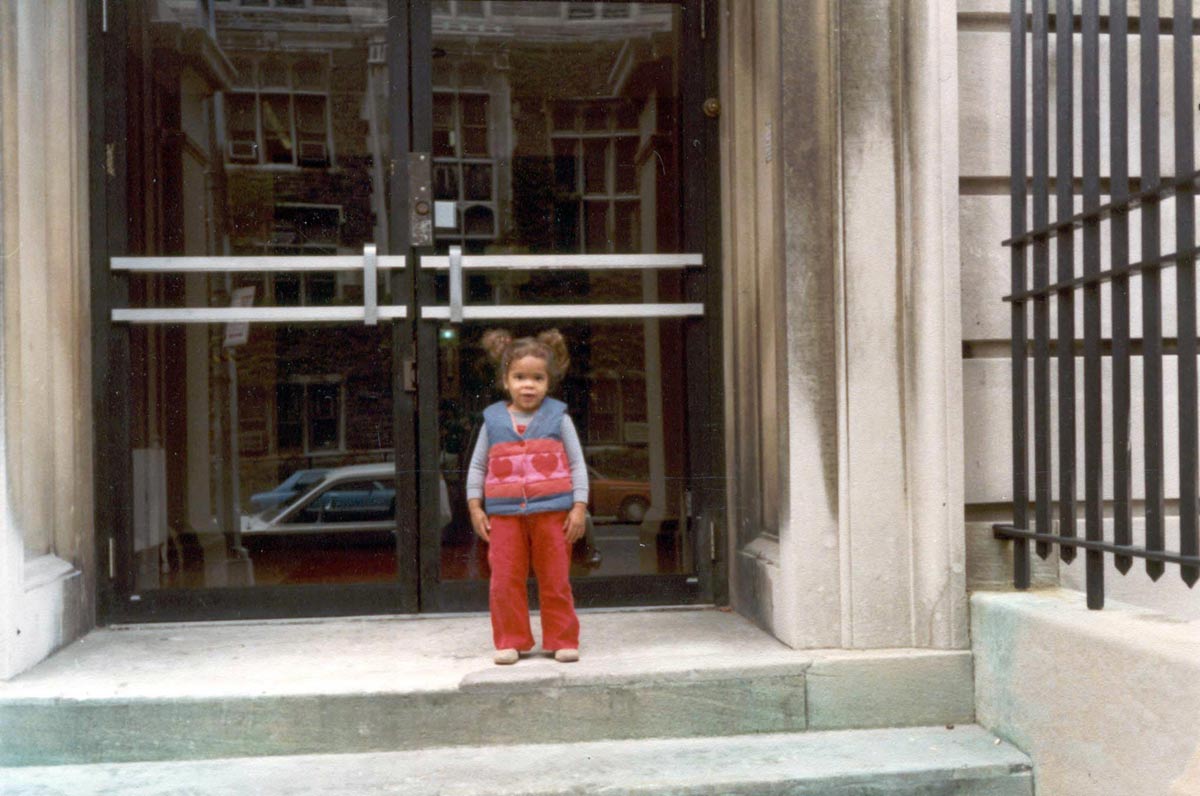 Barnard Toddler Center
Both of you started your schooling at Barnard Toddler Center on 120th Street, even before you turned 2. Then Peter went to Tompkins Hall Nursery School on Claremont Avenue where Lita Eskin worked. Amy went to Greenhouse School on 116th Street, then Broadway Presbyterian preschool on 113th. Then you both went to PS87 on 78th Street between Amsterdam and Columbus for elementary school. I was pretty strong on sending you guys to public school, but Mommy would have sent you to private schools if she could have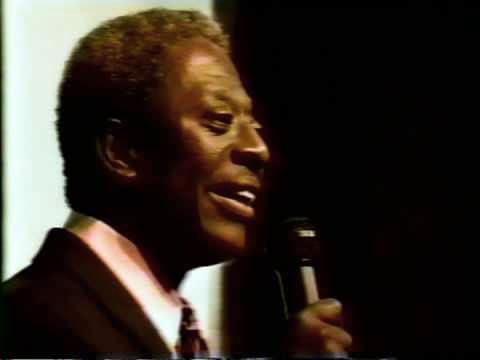 Earl Carroll
(she applied to one on Fifth Avenue for Peter, Manhattan Country Day School, but luckily wasn't accepted). I would have wanted you guys to go to PS36 on Amsterdam and 122nd Street; it was the neighborhood school but Mommy wanted something more downtown. PS87 had a famous janitor, Earl Carroll, who was lead singer of the Cadillacs who had a huge hit in 1955, "They often call me Speedoo but my real name is Mister Earl". After that he was in the Coasters for 20 years. He died in 2012 at 75. Also Chaka Khan was a school mom, we saw her all the time (did you know she had been a Black Panther?)
Then you both went to IS44 on 77th Street (which was one of the early schools that was broken up into mini-schools, like the Science School, the Computer School, and which was unceremoniously shut down by mayor Bloomberg in 2009), also between Amsterdam and Columbus. Famous parents or grandparents there included Peter Boyle (he was the monster in Young Frankenstein) and Fyvush Finkel from Picket Fences.
Day camp: Ramapo, 1980s. Sleepaway camp: ECCC, Episcopal Camp and Conference Center, Old Saybrook CT, formerly Camp Incarnation, because Mommie had started hanging out at St John the Divine some time after 1988 (actually I think it was after Granpa died and she got religion). In 1993 at ECCC Peter snapped his ACLs in one knee while Mommy was away on a trip and unreachable. I rented a car and drove there (like 100 miles) the next day to pick up him up, arranged for surgery, and kept him in my 112th Street apartment, took him to hospital, visited him each day while he was there, brought him back to my apartment on 112th Street, and even bought an air conditioner so he wouldn't suffer in the heat. This was over a week or two, it was super traumatic. The first doctor who saw him (at camp) told him he'd lose the leg. In the end, he was in a leg brace and in rehab for six months and recovered OK, but with a huge scar.
Vermont...
Peter and Jude's house
Peter Marsh and Judy Bryant have been my friends since 1966, just off the boat from the Army in Germany. They've been together since high school and have a daughter Hannah. Peter is a fanatical Vermonter, with good reason: it's a beautiful state and the people are almost universally good-natured, open, kind, and friendly. He grew up in Arlington (near Bennington), where Norman Rockwell lived and so the Marsh family appears in some of Rockwell's paintings and Saturday Evening Post covers. As noted earlier, Peter left Columbia and NYC because of the Vietnam war and the draft and returned to Vermont to do his alternative CO service in Burlington. Not long after, Jude joined him there and after a few years they bought a fairy-tale log house in the woods in a high valley over Starksboro (pop. about 1000). We went to stay with them every summer for 30-some years, it was a big part of our lives. The visits diminished after Mommy and I broke up in 1988 because I didn't have a car, although a few times I rented one so we could go. In recent years Amy went there with a former boyfriend and Peter went with Sophia before they split up in 2019. And I went there with Pam in September 2019; they had sold their fairy-table cabin and moved to a house in Bristol right near Cubbers.
Peter and Jude's house
Creek scene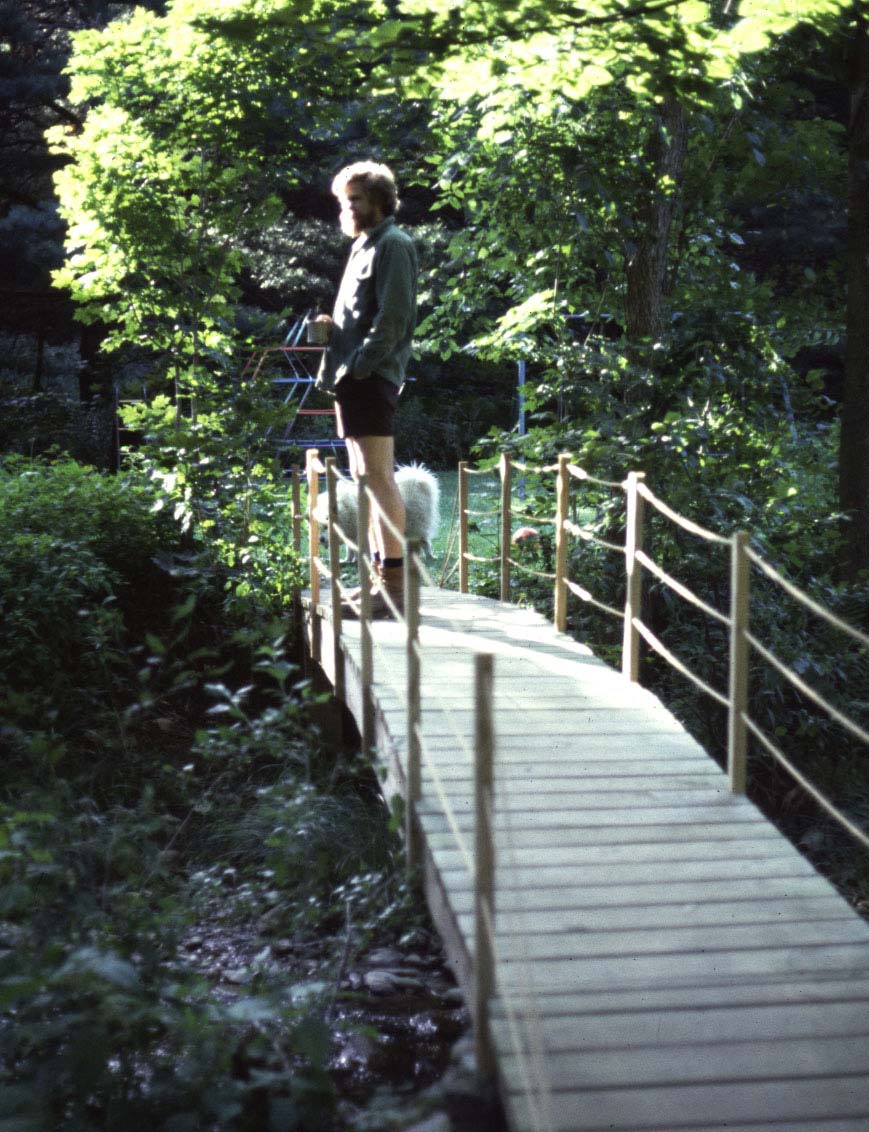 Bridge over creek
Peter and hammock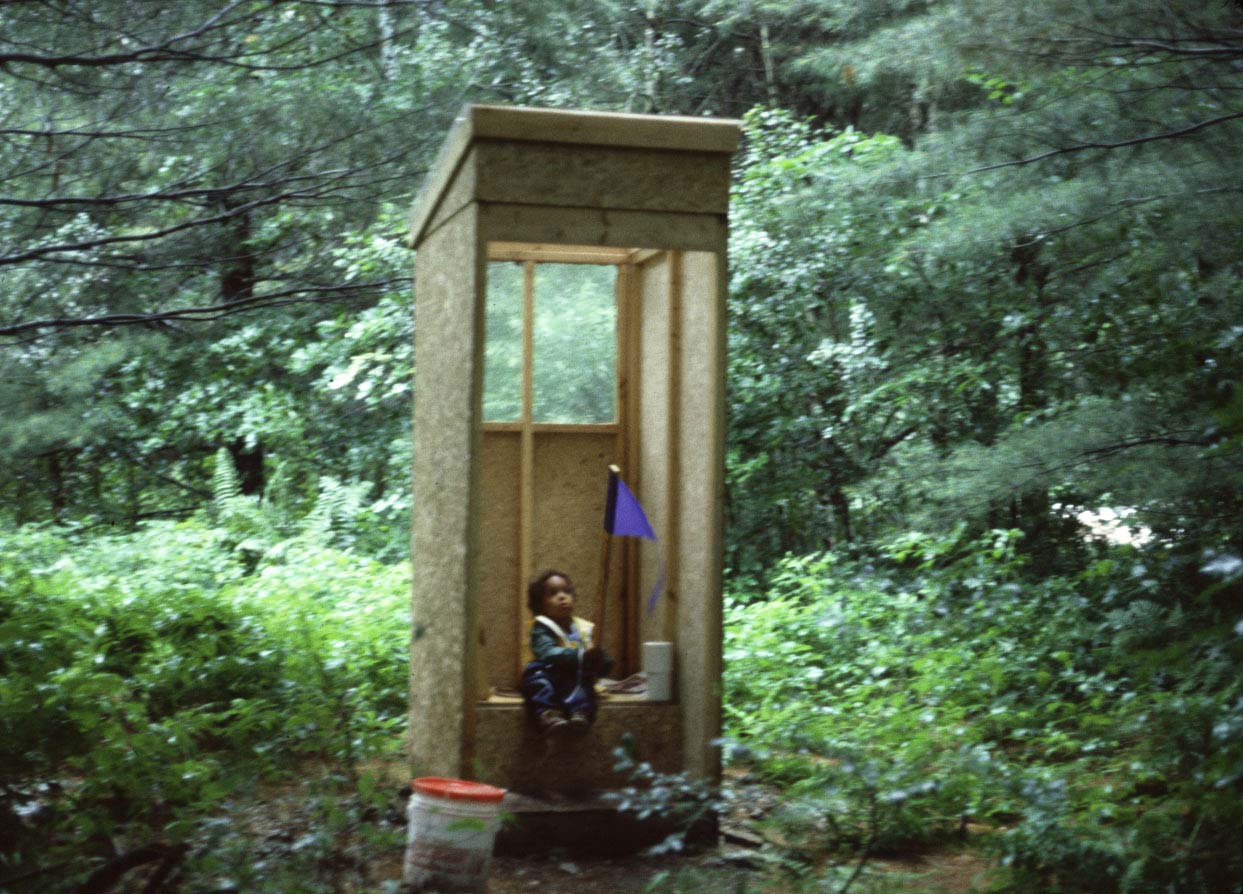 Outhouse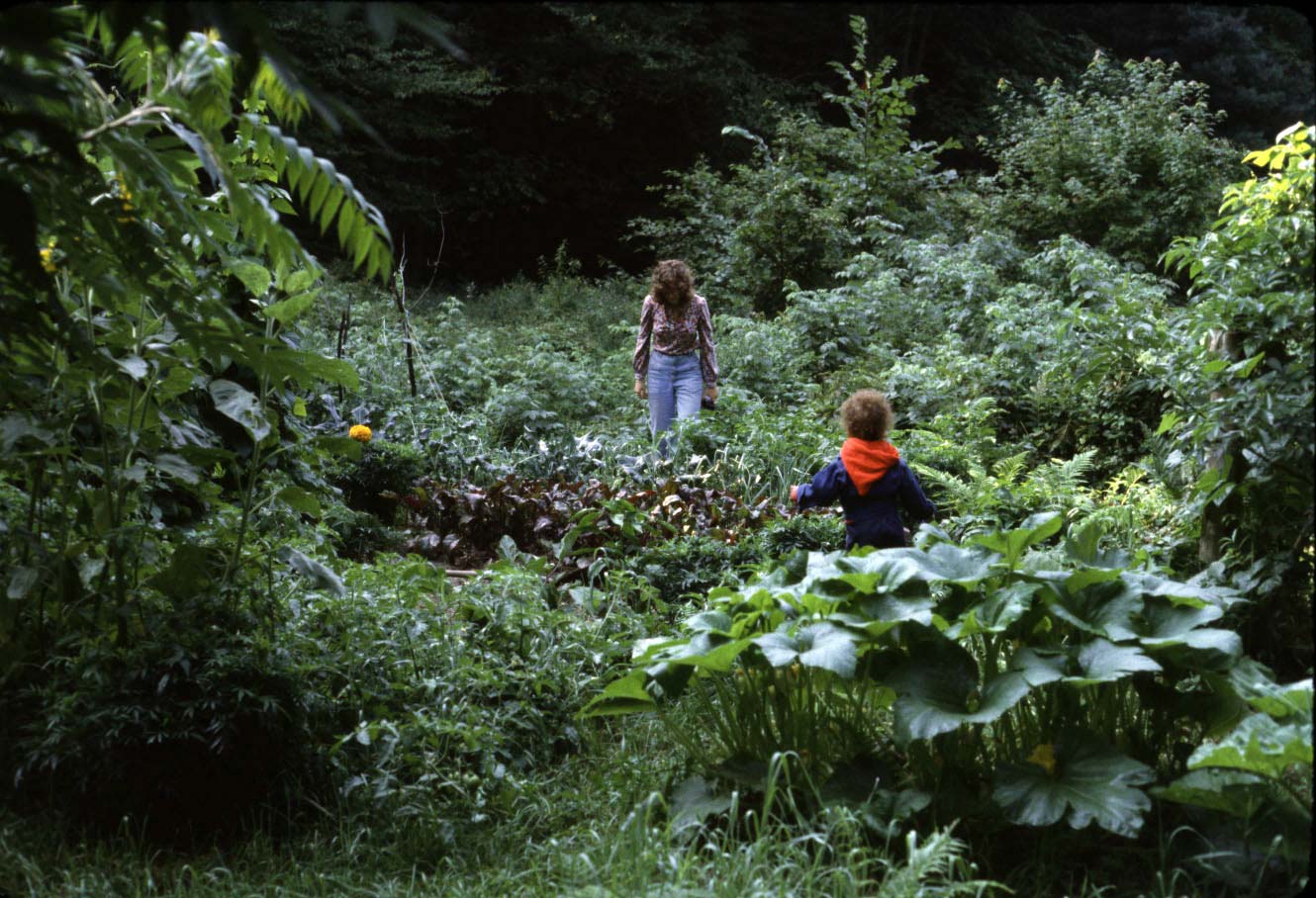 Vegetable garden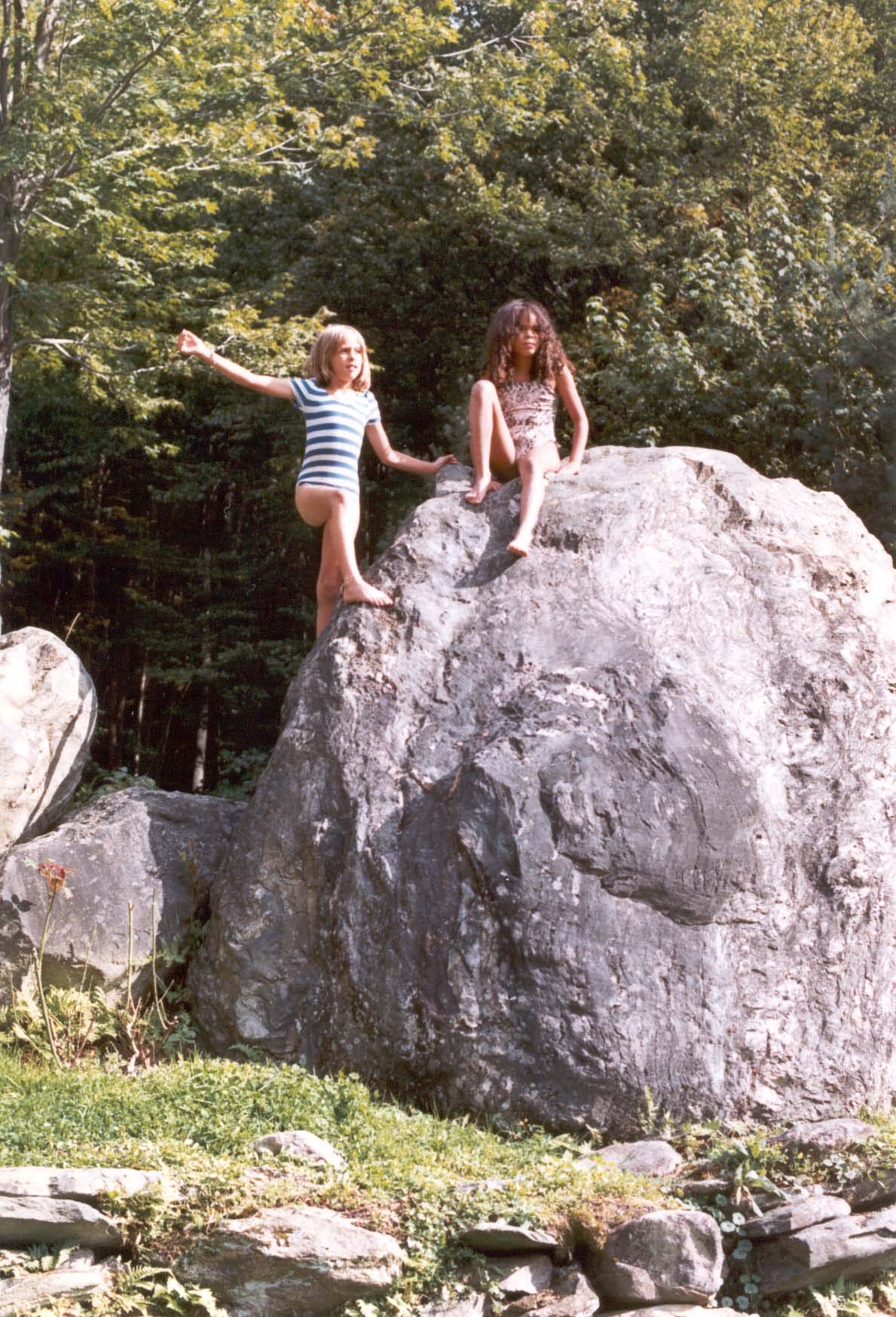 Big Rock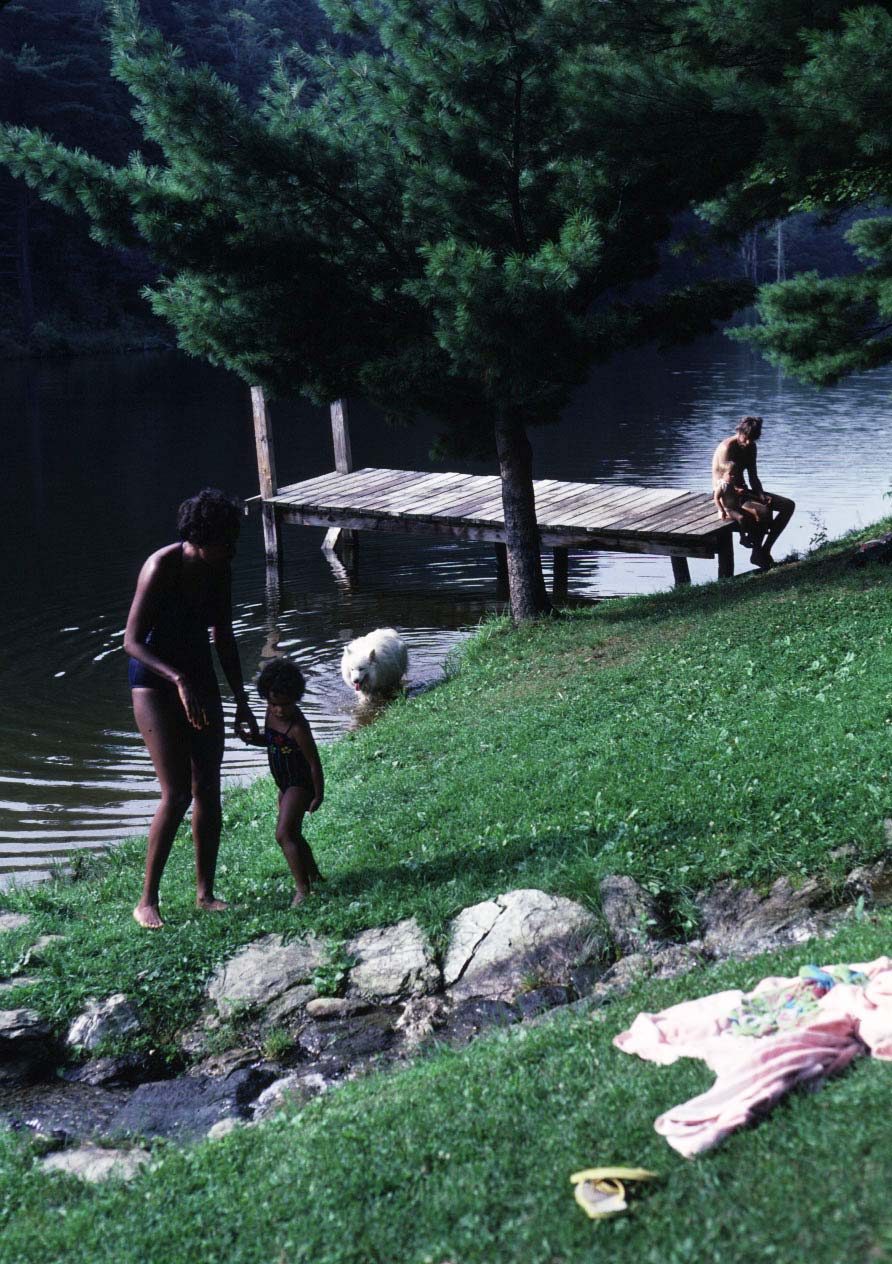 Clifford's Pond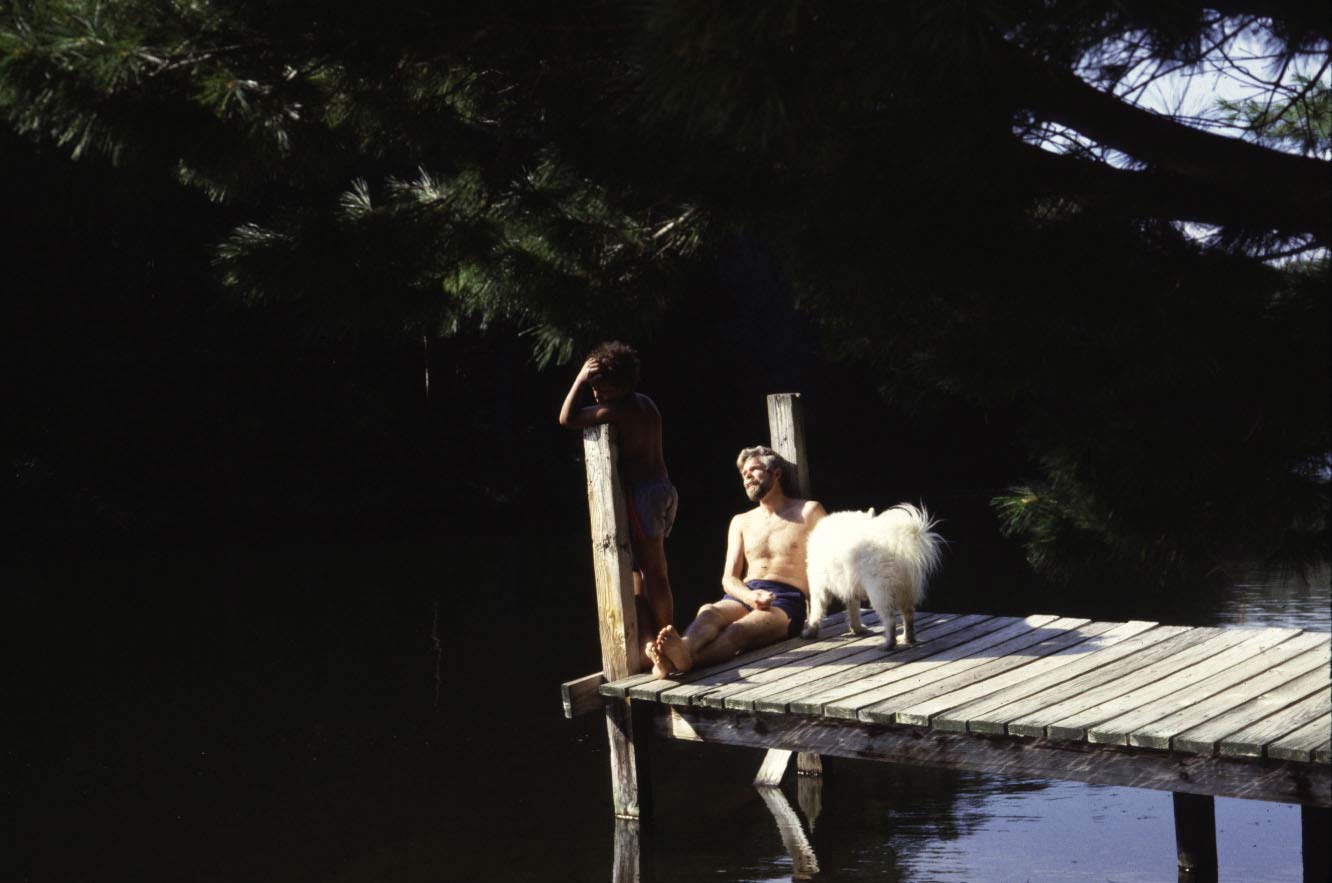 Clifford's Pond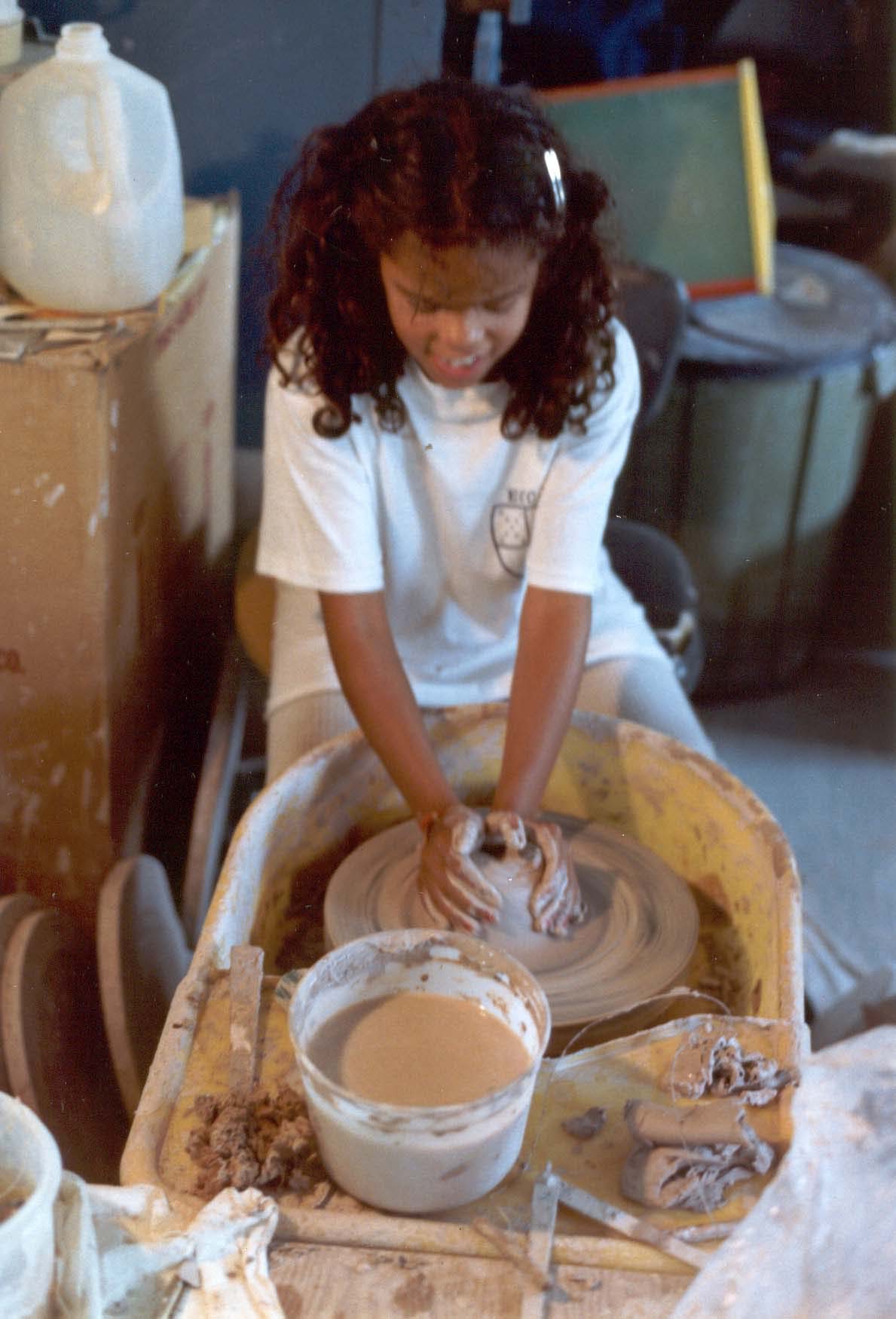 At Jude's studio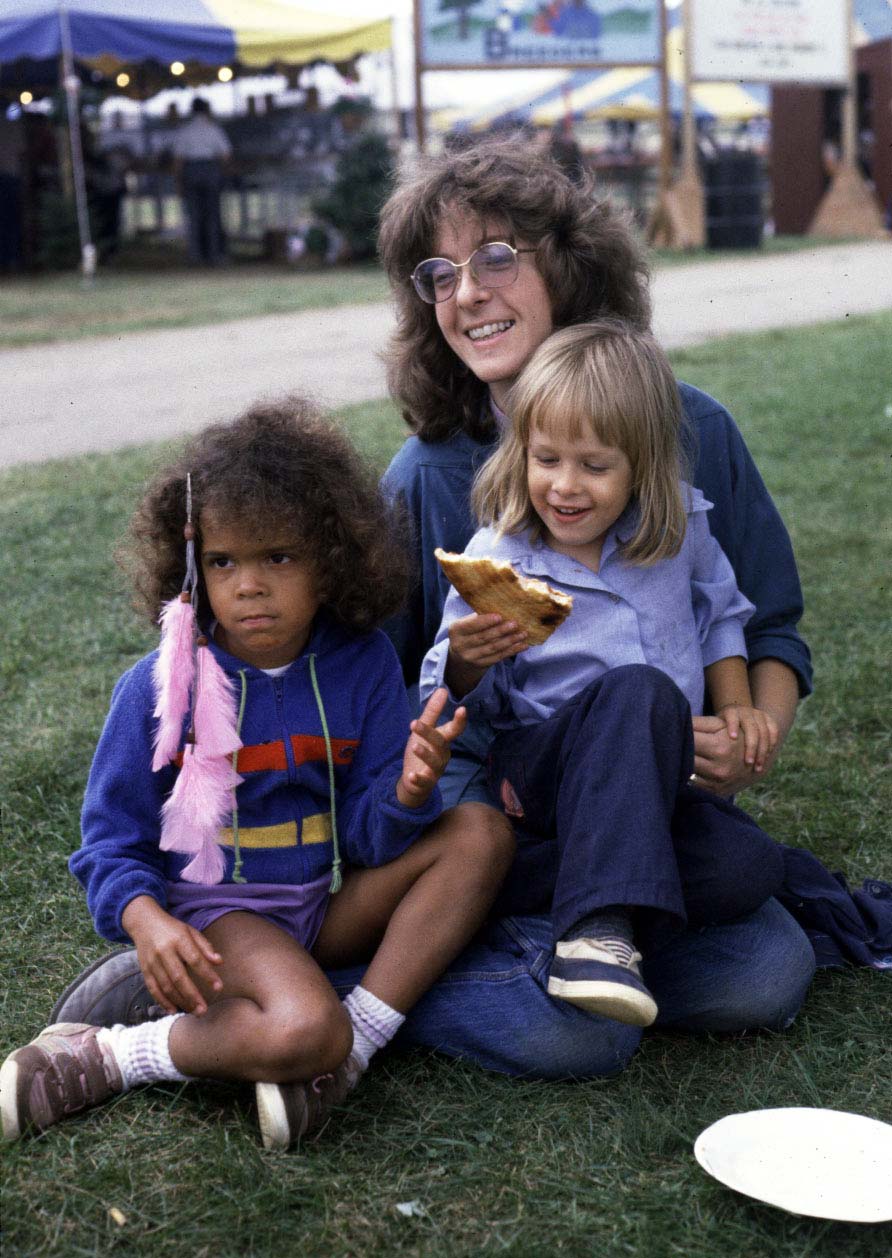 Country fair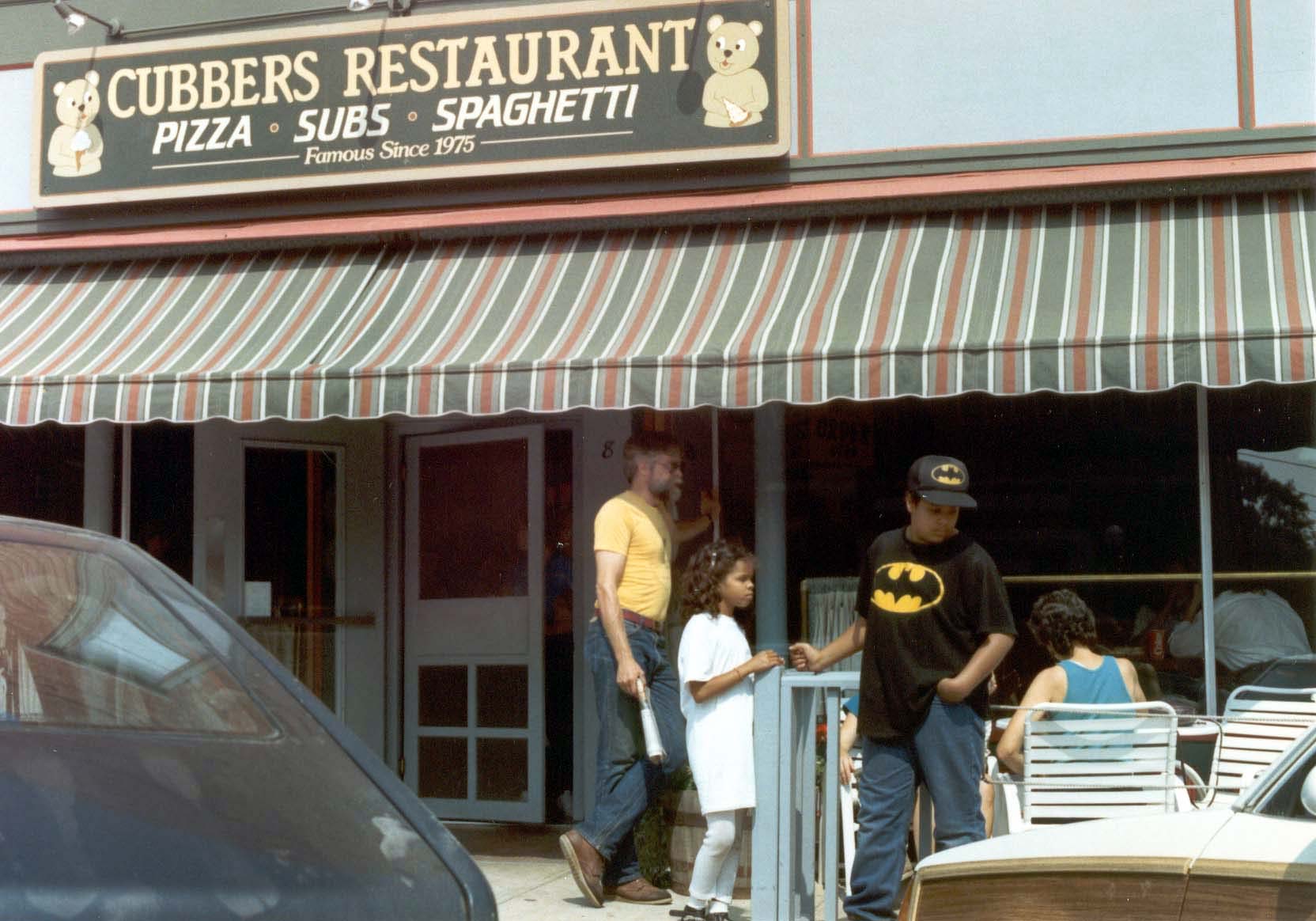 Cubber's in Bristol
For the record Peter has been a carpenter (and I think also a woodworking instructor at the Shelburne Craft School), a house builder (his own business for many years), a restoration carpenter at the Shelburne Museum, and most recently a house inspector. And Jude has a been a potter all this time, and also a pottery teacher at the Craft Center.
Kinapic...
Kinapic is the name of a little colony of "housekeeping cottages" on lake Kezar, about 5 miles outside of Lovell, Maine, owned by the family of my ex-sister-in-law Christine's husband Henry. Starting when Peter 8 months old in 1978, we went there every summer until 1988 (and Mommy continued to take you guys there after that, right?). Lovell is a tiny town whose only store (an old wooden house) is a combination diner, convenience store, and gas station. Steven King lives there, but I don't think we ever saw him. At first we stayed for a week, but it was so nice that the next year we stayed two weeks, and after that three weeks. THEN we'd drive across New Hampshire to Vermont and stay with Peter and Jude another week. Yes, it's hard to believe but I had FOUR WEEKS of vacation in my job (and of course as a teacher, Mommy had the whole summer off).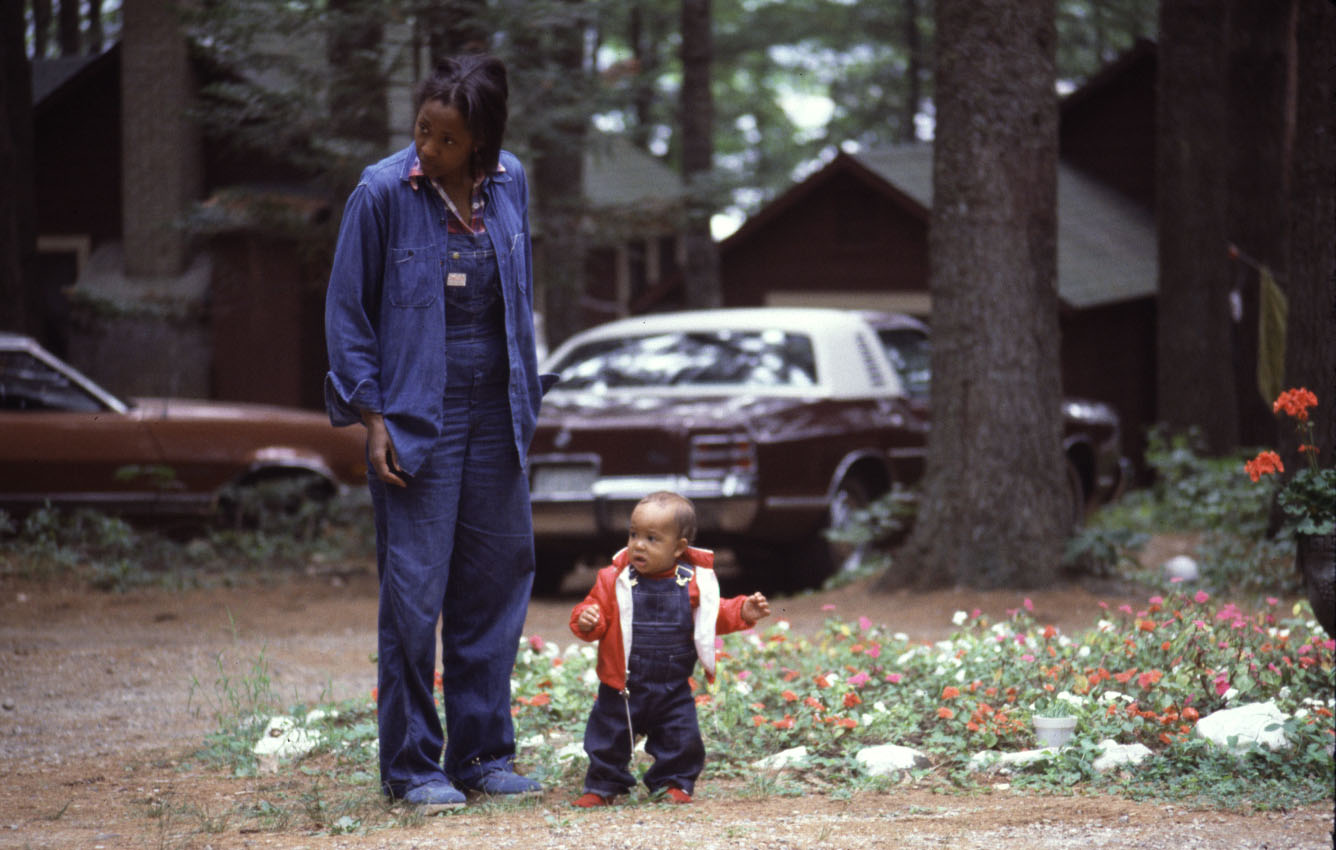 Judy and Peter at Kinapic 1977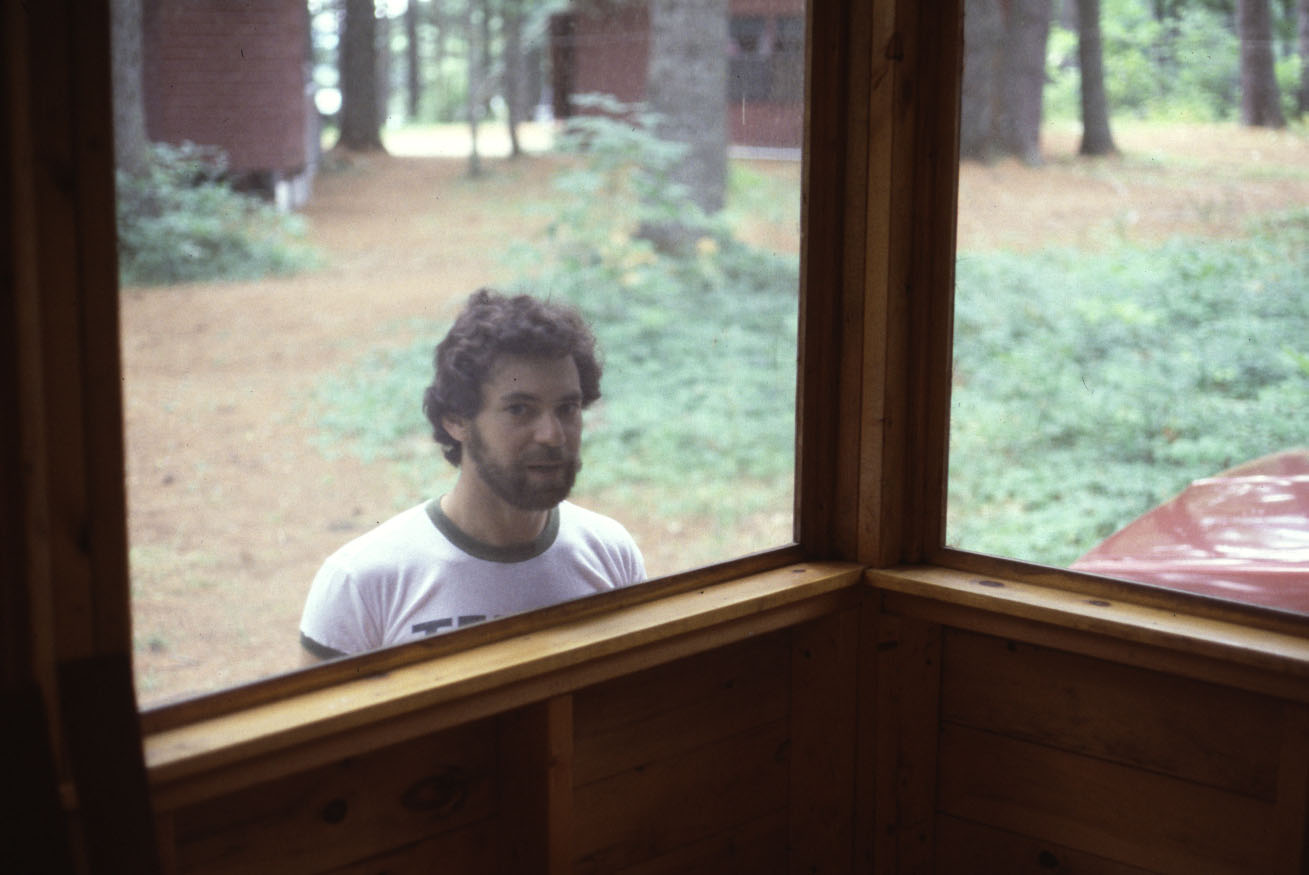 Uncle Henry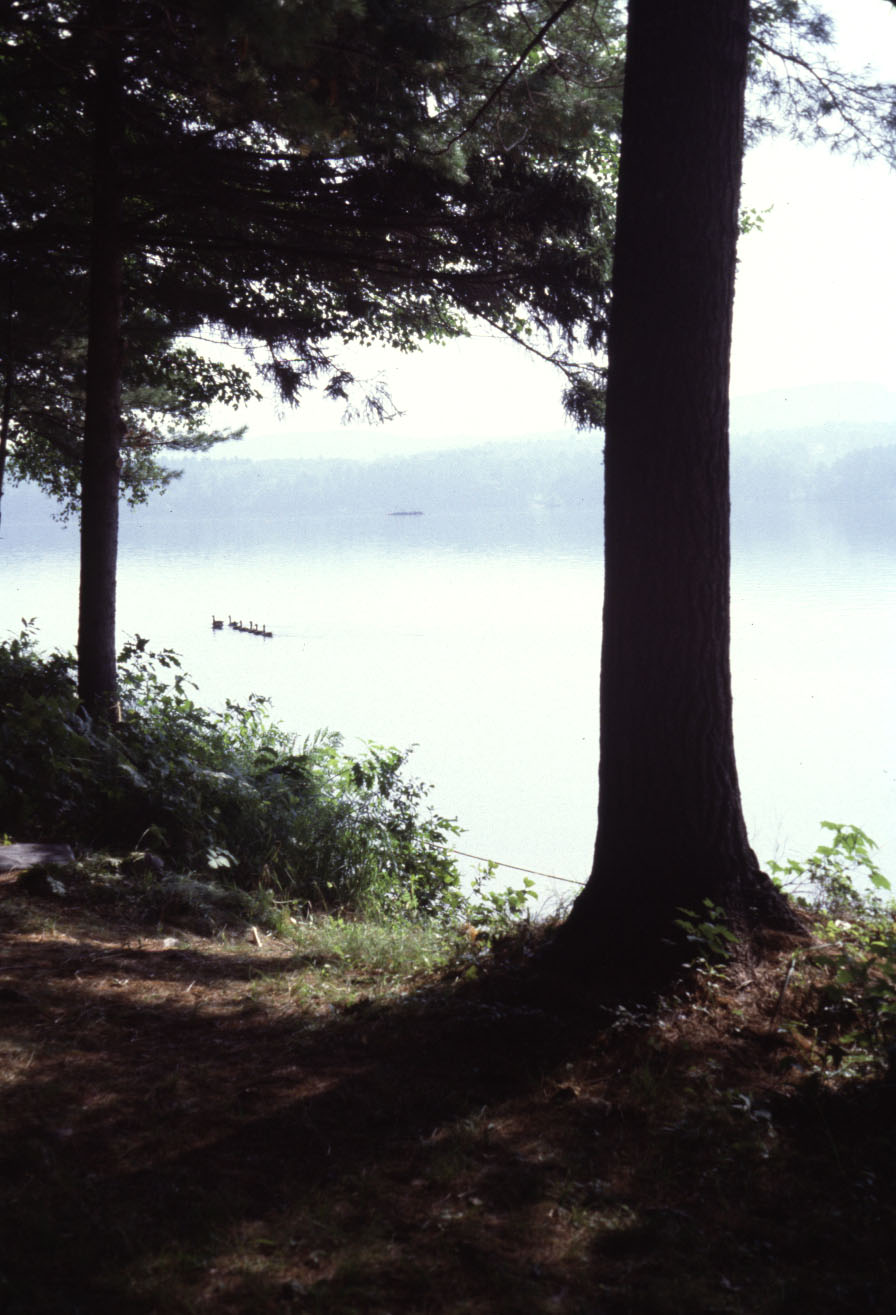 View of Lake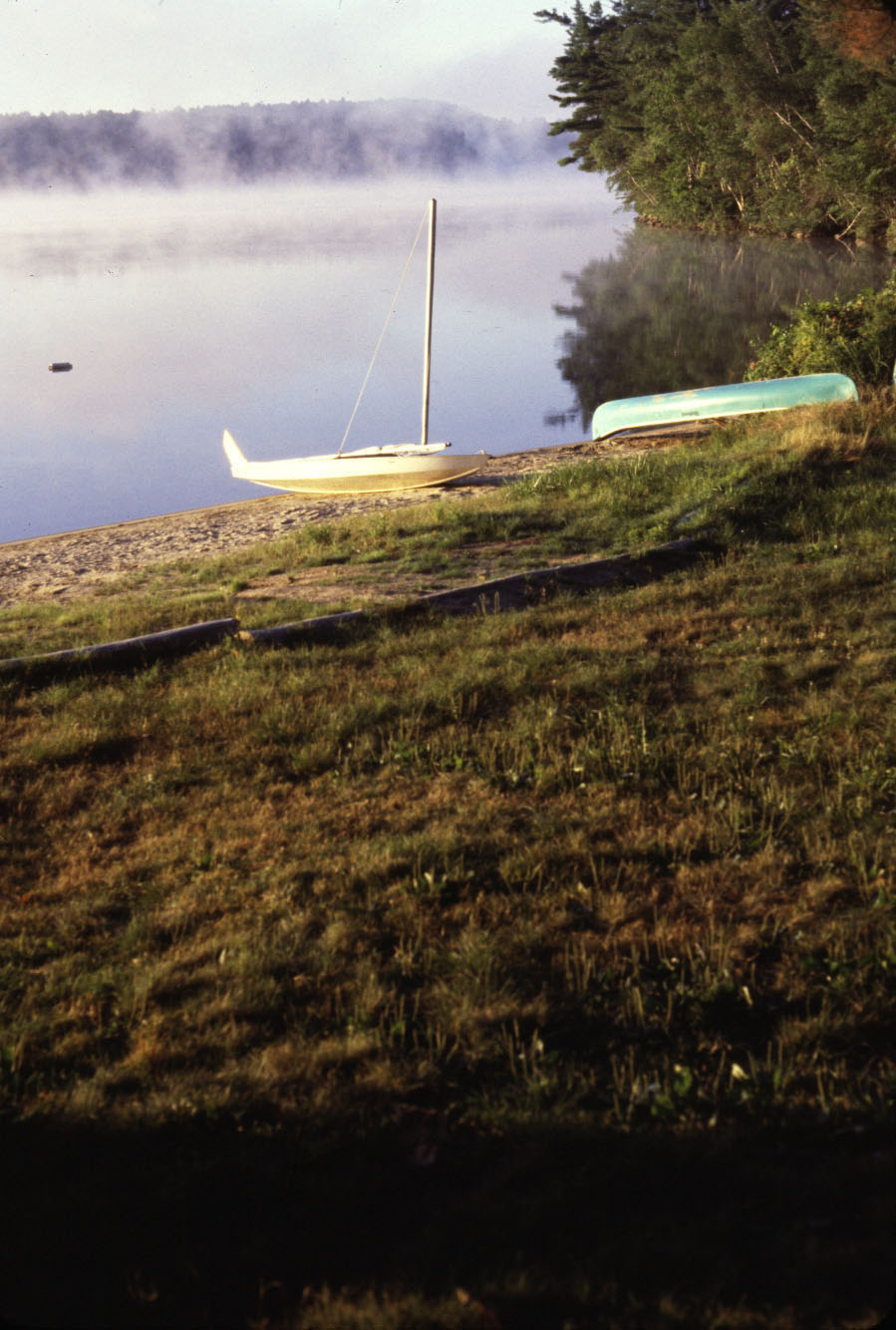 View of Lake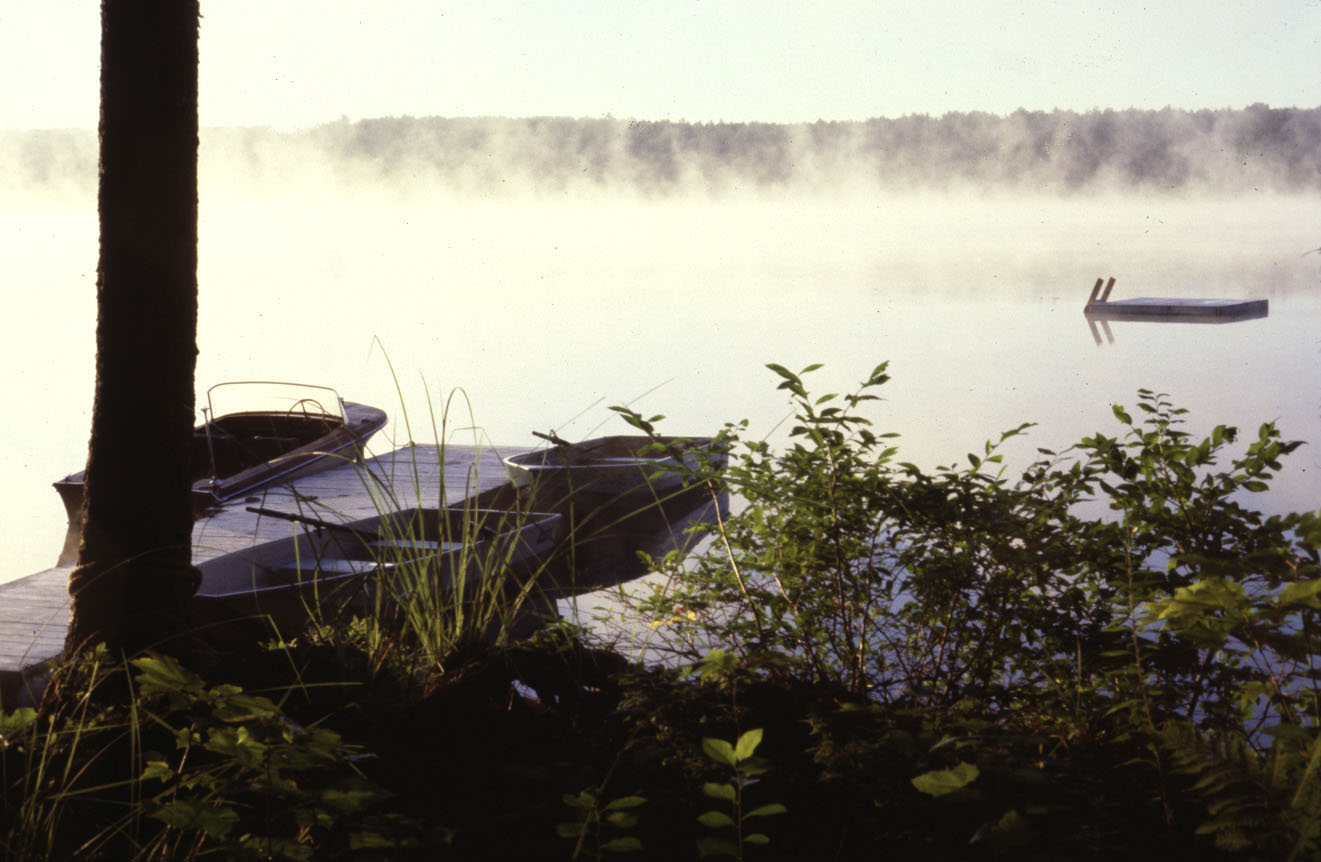 Dock, boats, diving platform
The voyage to Blueberry Island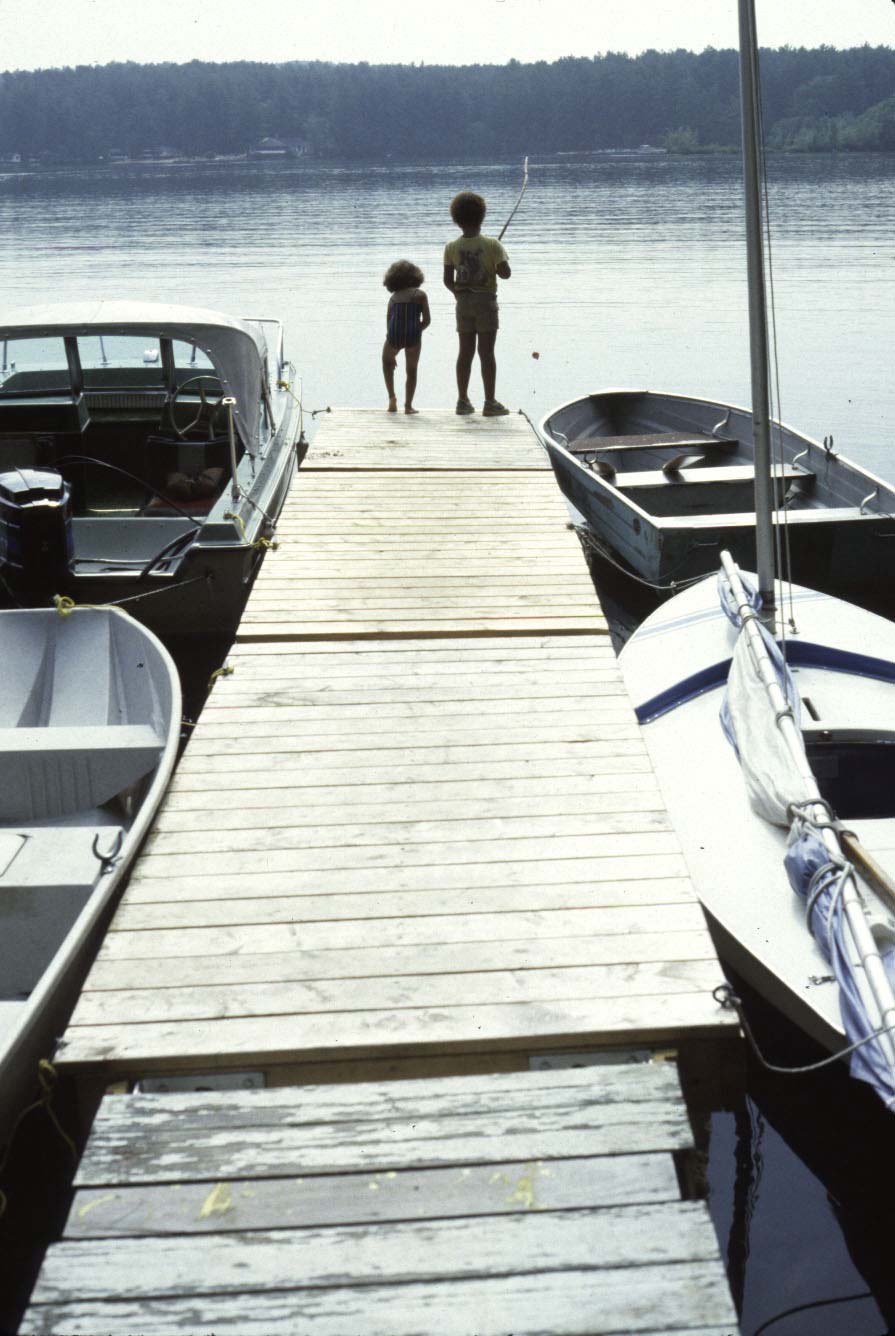 Kinapic scene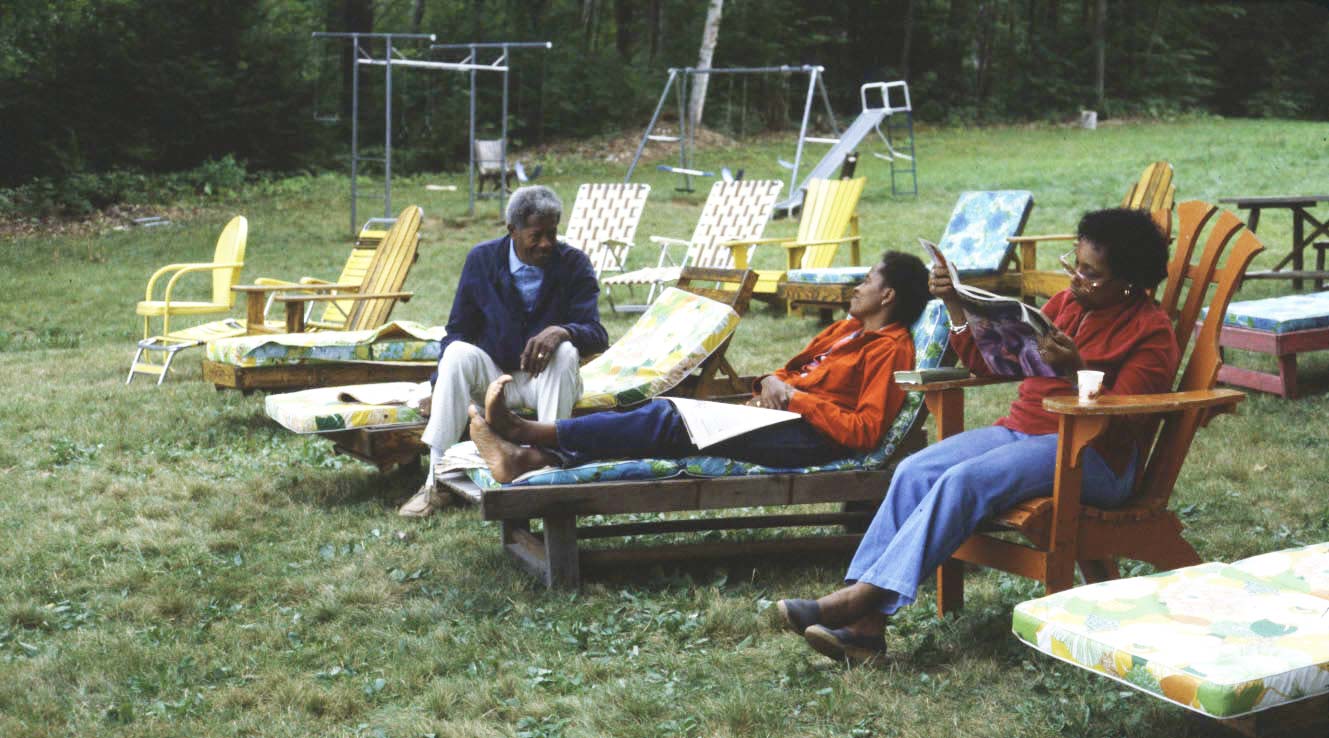 Granpa, Christine, Granma at Kinapic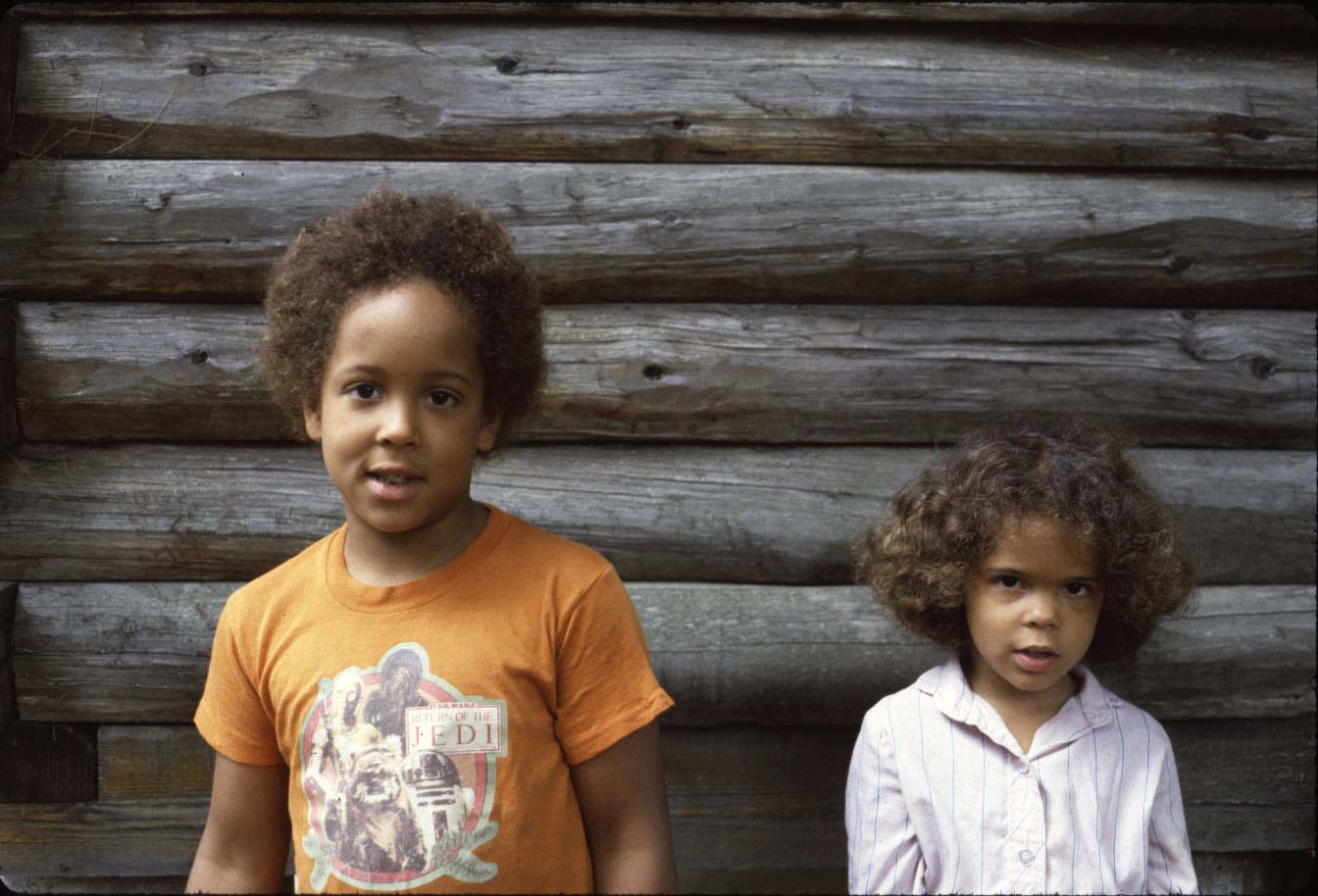 Kinapic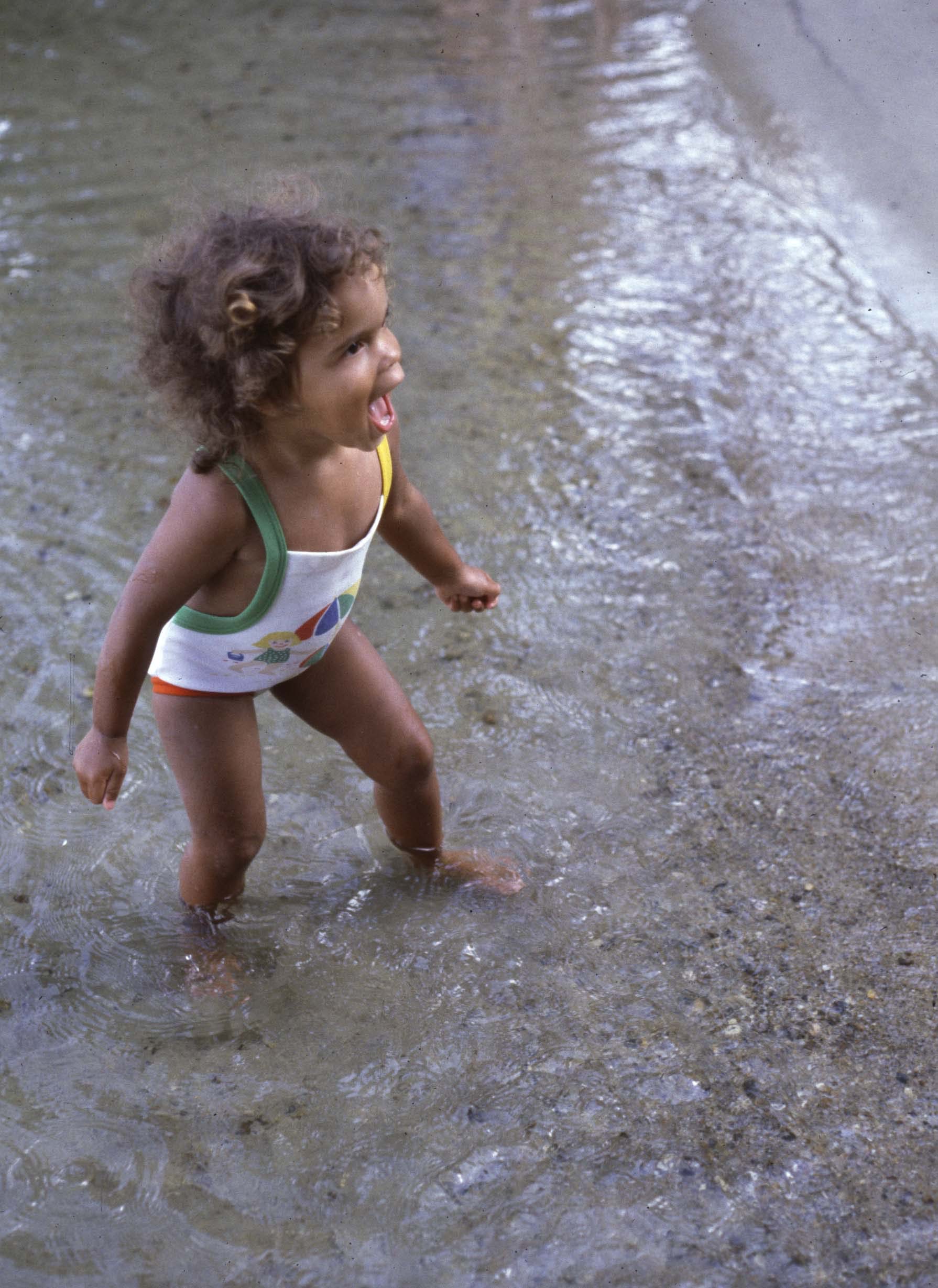 Amy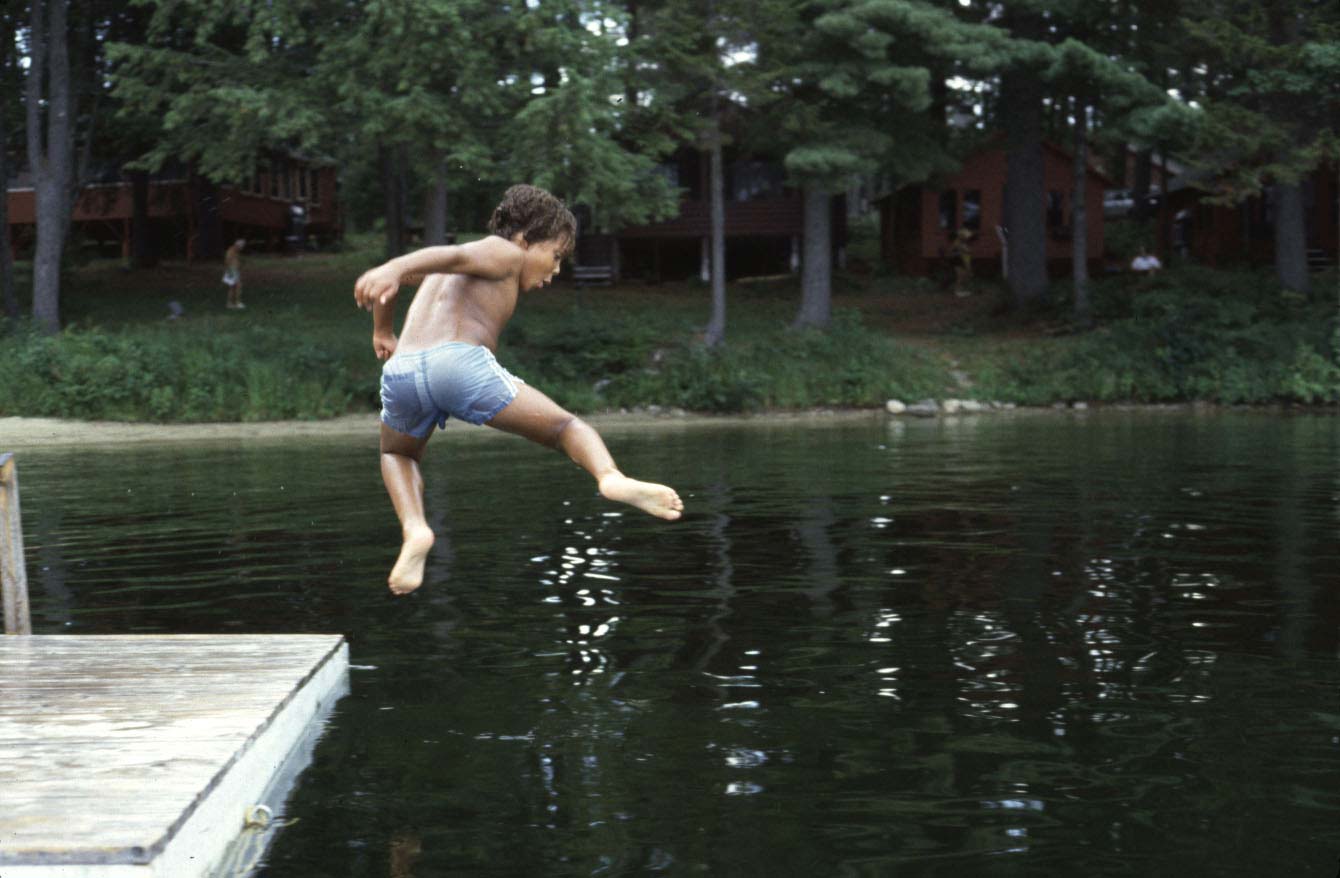 Peter jumping off the dock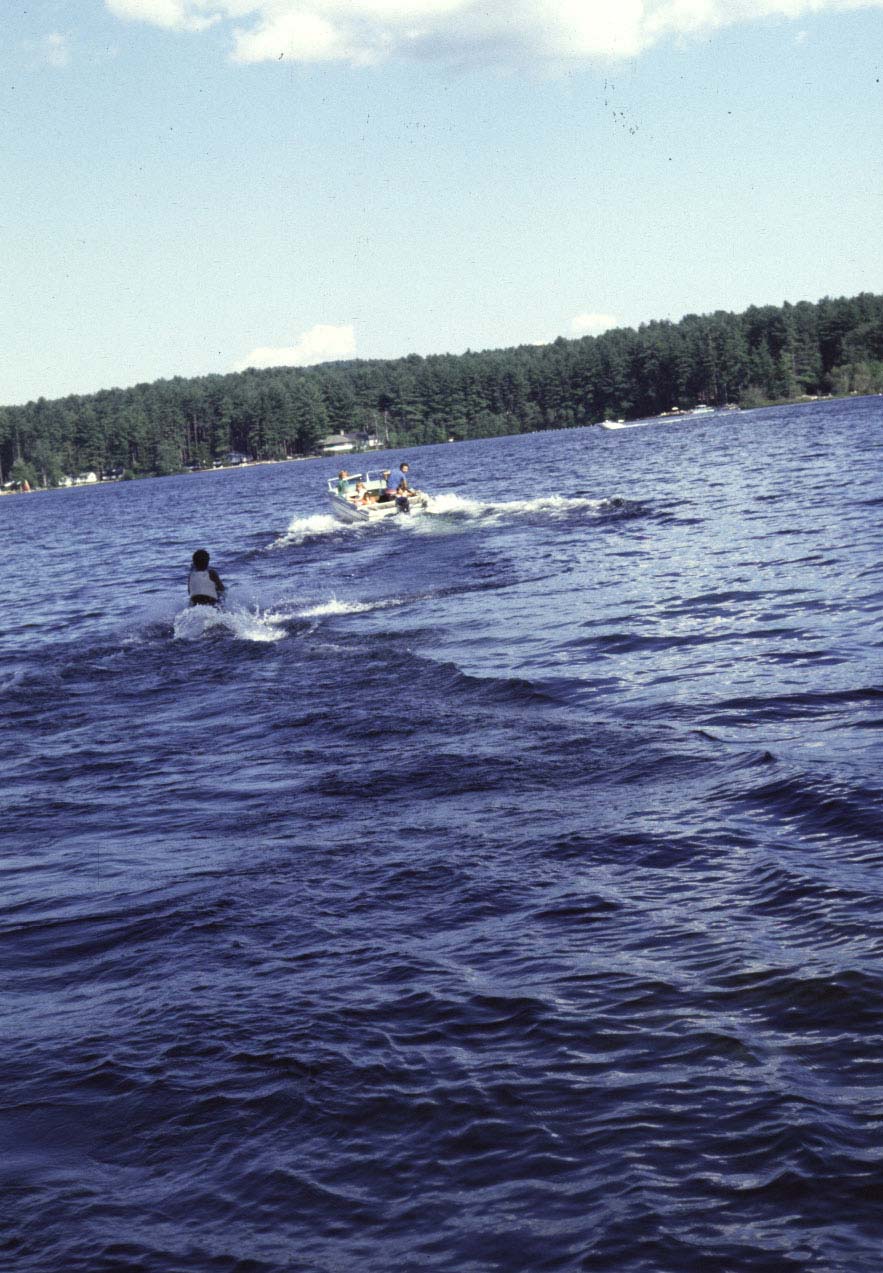 Kinapic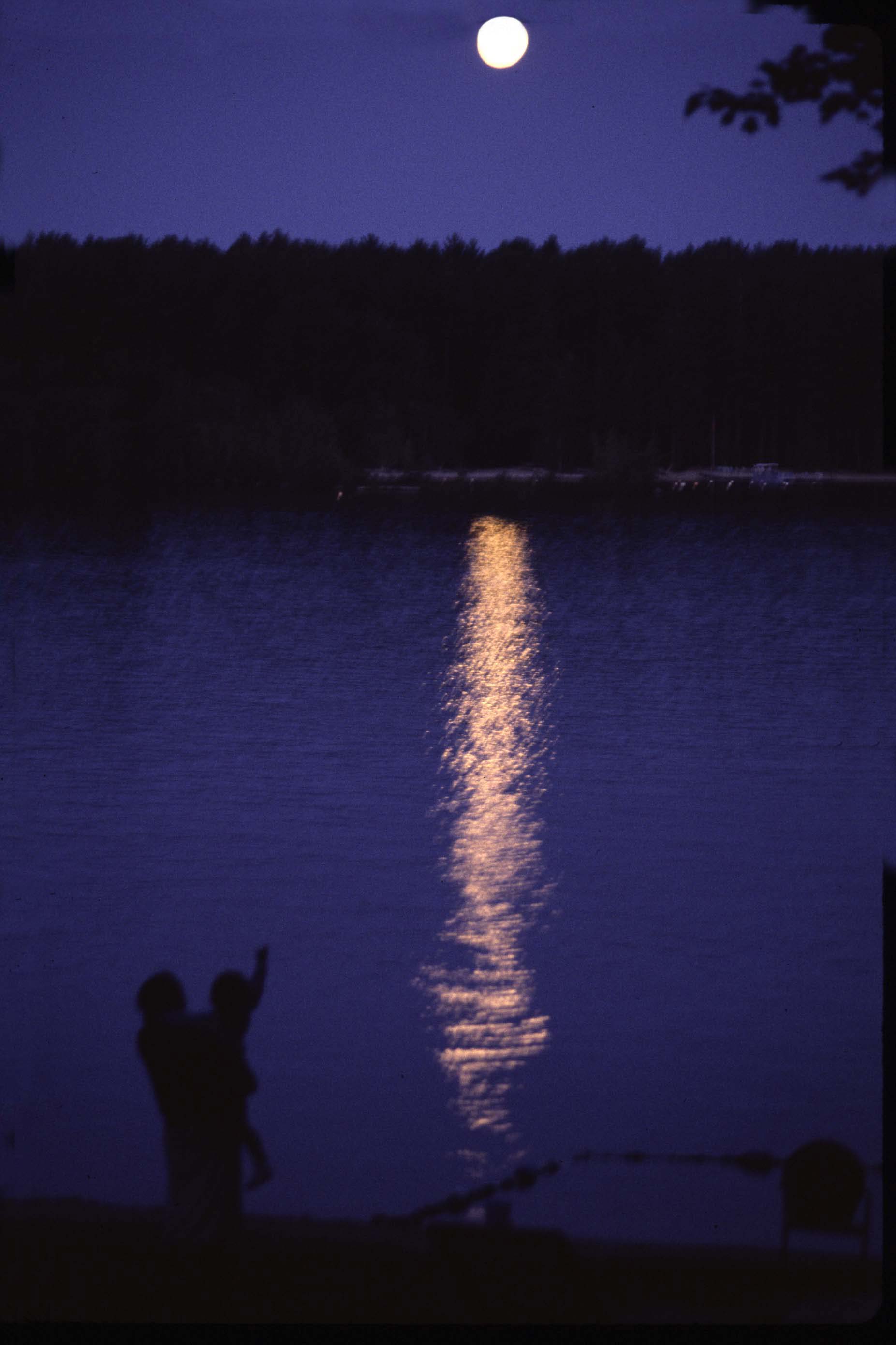 Goodnight Moon
112th Street...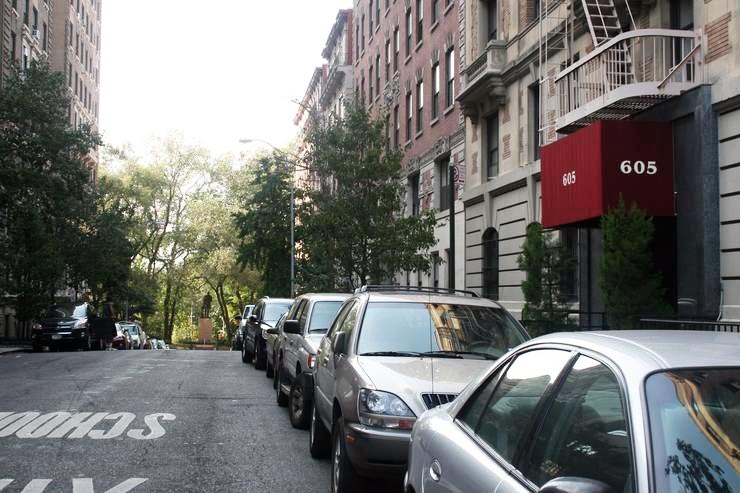 605 West 112th Street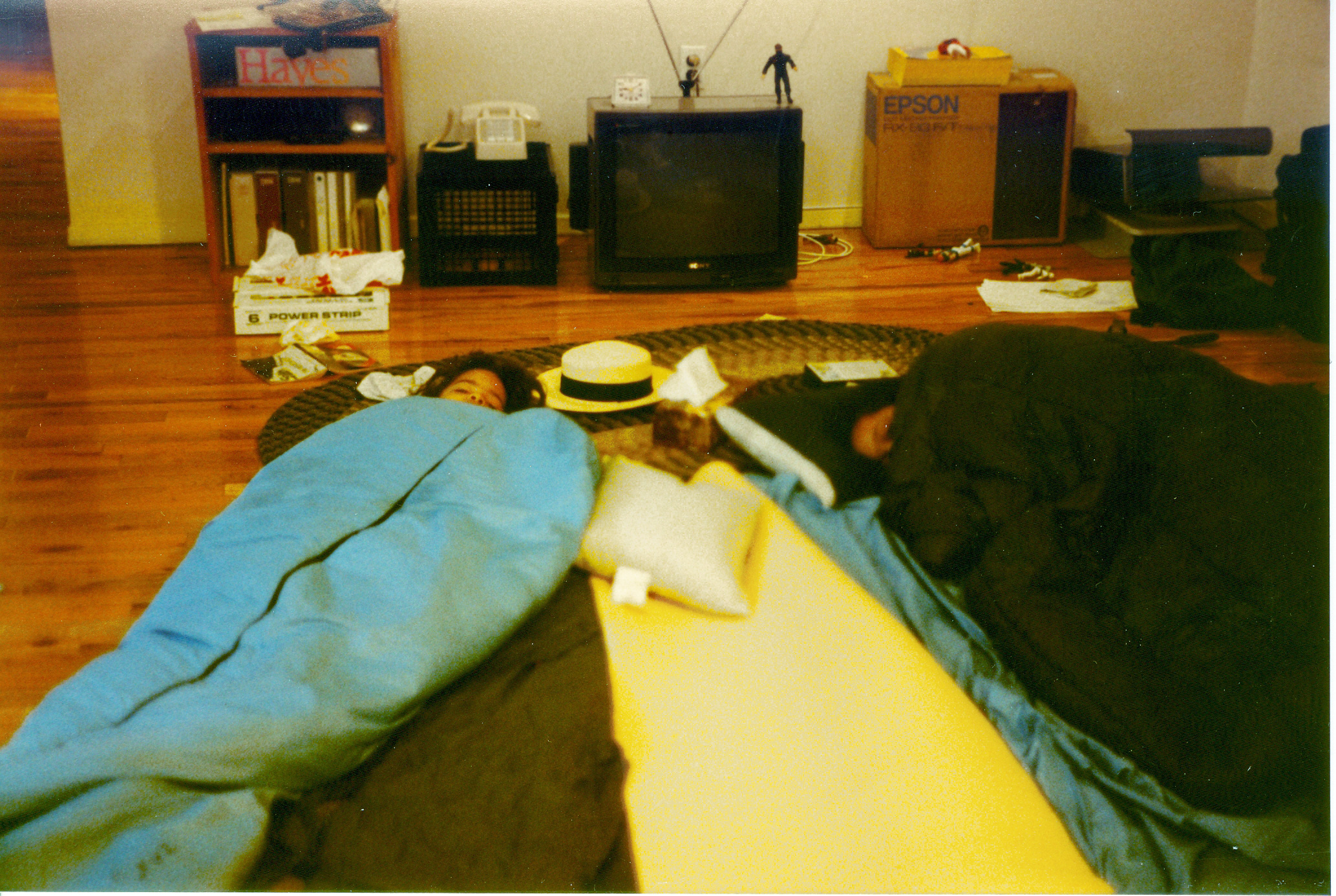 No furniture yet - 1988
Mommy and I were together for 20 years (1968-1988) and were also married for 20 years (1974-1994). I moved to 605 West 112th Street in 1988 (not a Columbia apt) and stayed there until 2012, 24 years, the longest time I ever lived anywhere. At first you guys came over every weekend, and I would come back to 118th Street every morning to get you off to school. Eventually you got older… And summer camp… And college… and Brazil… and South Africa.... Amy also went to Spain and to Italy on class trips in middle or high school. (You guys can write your own bios!)
Ivonne García about 2000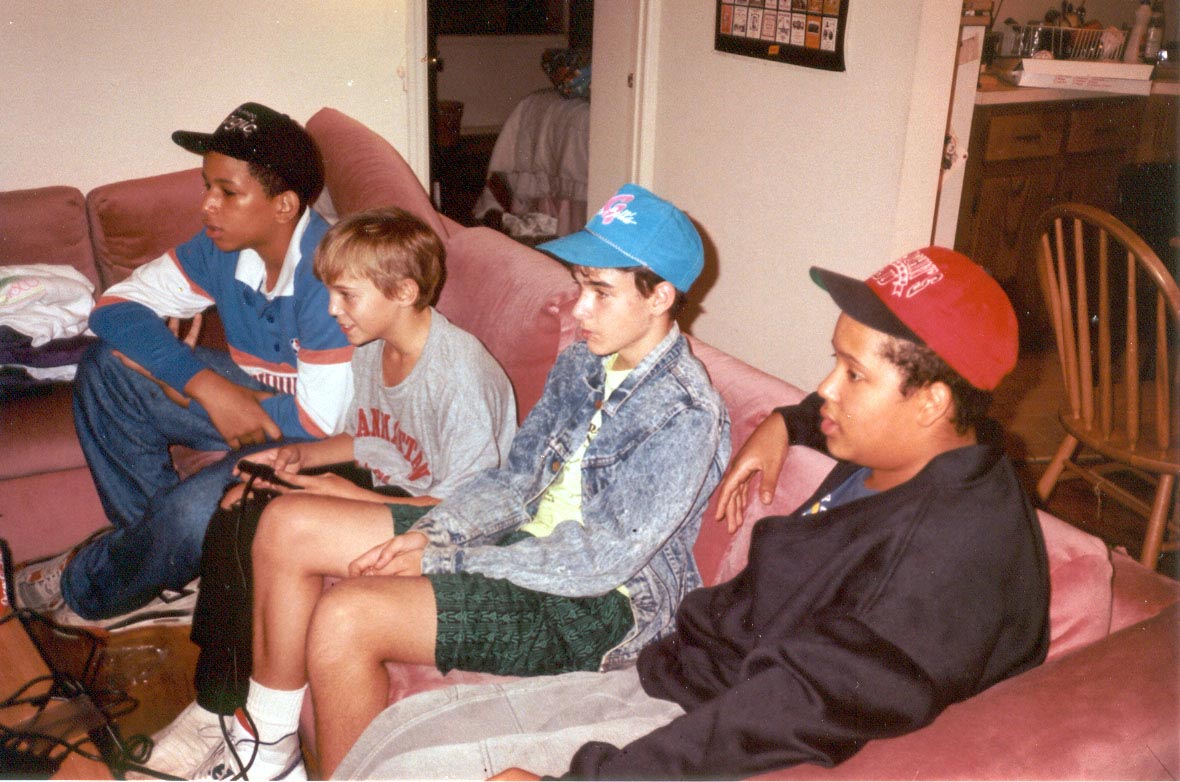 Peter's 12th birthday at 112th Street
But we had a lot of fun in those years… You guys would come over for the weekend and we'd always go to a movie, usually at Leows 84th, and then eat in a restaurant, usually Broadway Cottage II on 94th Street. Sometimes we'd go the West Village or the East Village or the Feast of San Gennaro or Chinatown or other places reachable by subway. Once (twice actually) Amy and I went to Staten Island on the ferry. After about 10 years, Ivonne García became part of the family, so there would always be 4 of us at the weekend gatherings. I used to cook a lot... super salads, eggplant parmagian, lasgana, various chicken-cutlet extravaganzas, plus every Friday night we always had a large pizza with spinach and mushrooms from Pizza Town, which was right around the corner.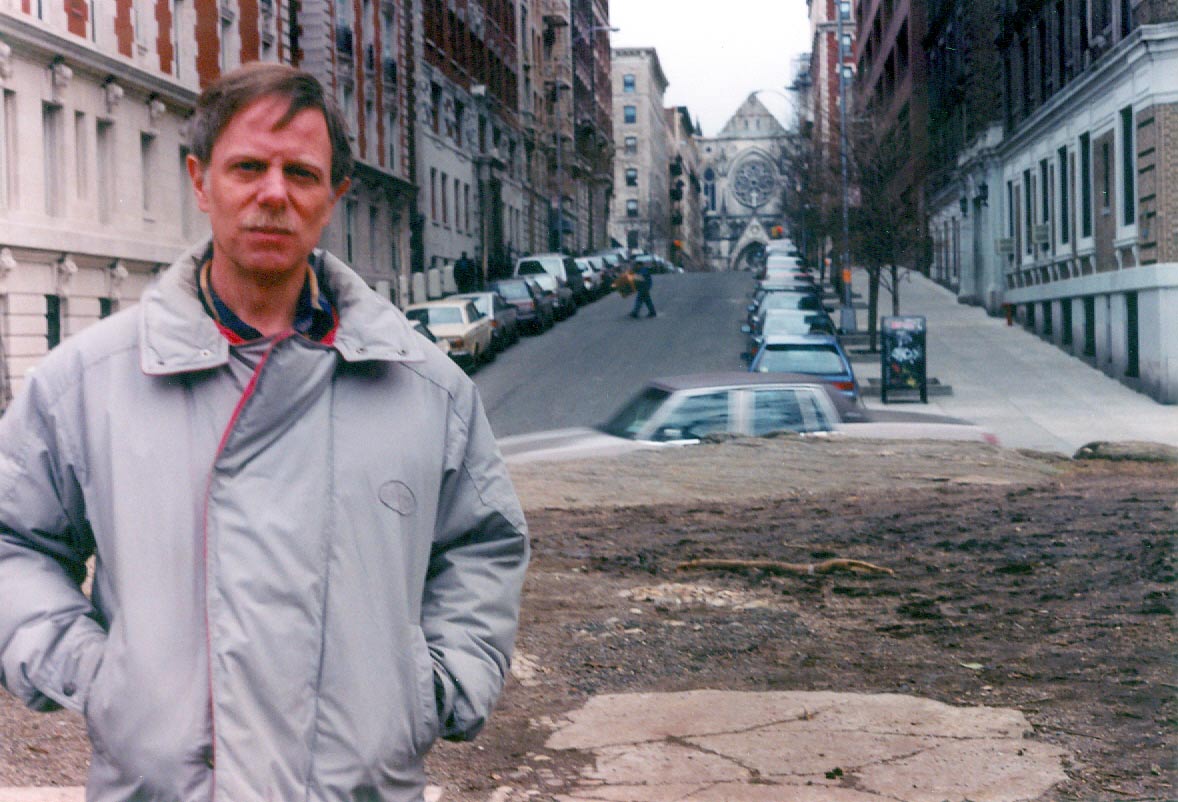 Me at the foot of 112th Street
View from 112th Street
On Saturdaysnbsp;we'd always make sure to be home in time for Hercules and Xena, and then Peter would stay up till all hours watching Headbangers Ball, then we'd wake up early to watch the Smurfs, while eating our traditional breakfast of grits, toasted bagels, and soy sausages. The three of us (or sometimes just Amy and me or just Peter and me) went on some good trips too… Misquamicut, Cape Cod, Howard and Lita's and Saratoga Springs (the stinky water), Vermont, a little diner in rural Canada, a zoo somewhere in Quebec with drooling giraffes… I remember on one trip we had big black fuzzy dice hanging from the rear-view mirror of the rental car. If I did that now I'd be arrested.
The Bronx...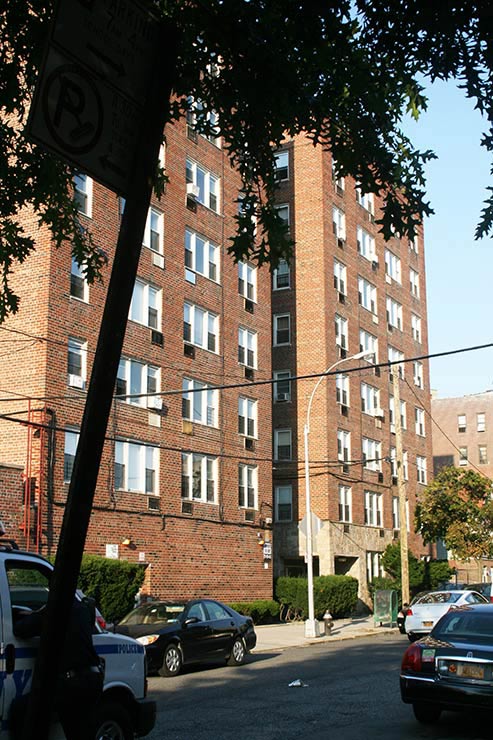 277 East 207th Street

Oval Park seen from my window
The purpose of living at 112th Street was so I could walk to work but once I lost my job, there was no reason to stay there. The rent in my 112th Street place was $1100 in 1988. It stayed in the low-to-mid 1000s for about 20 years but then a new management company took over and was raising it 20% every year; it was $2400 in 2011 and it was about to go up again. I was sick of the neighborhood and the whole borough of Manhattan so I decided to look for an apartment in the Bronx. At first I wanted to live on Sedgwick Avenue along the reservoir in Kingsbridge and I looked at some places that were pretty nice, but it was not near any stores or transportation, and walking there from Broadway was like climbing a mountain. So I "settled" for the place on 207th Street overlooking Oval Park. Turns out to be the best place in NY I ever lived.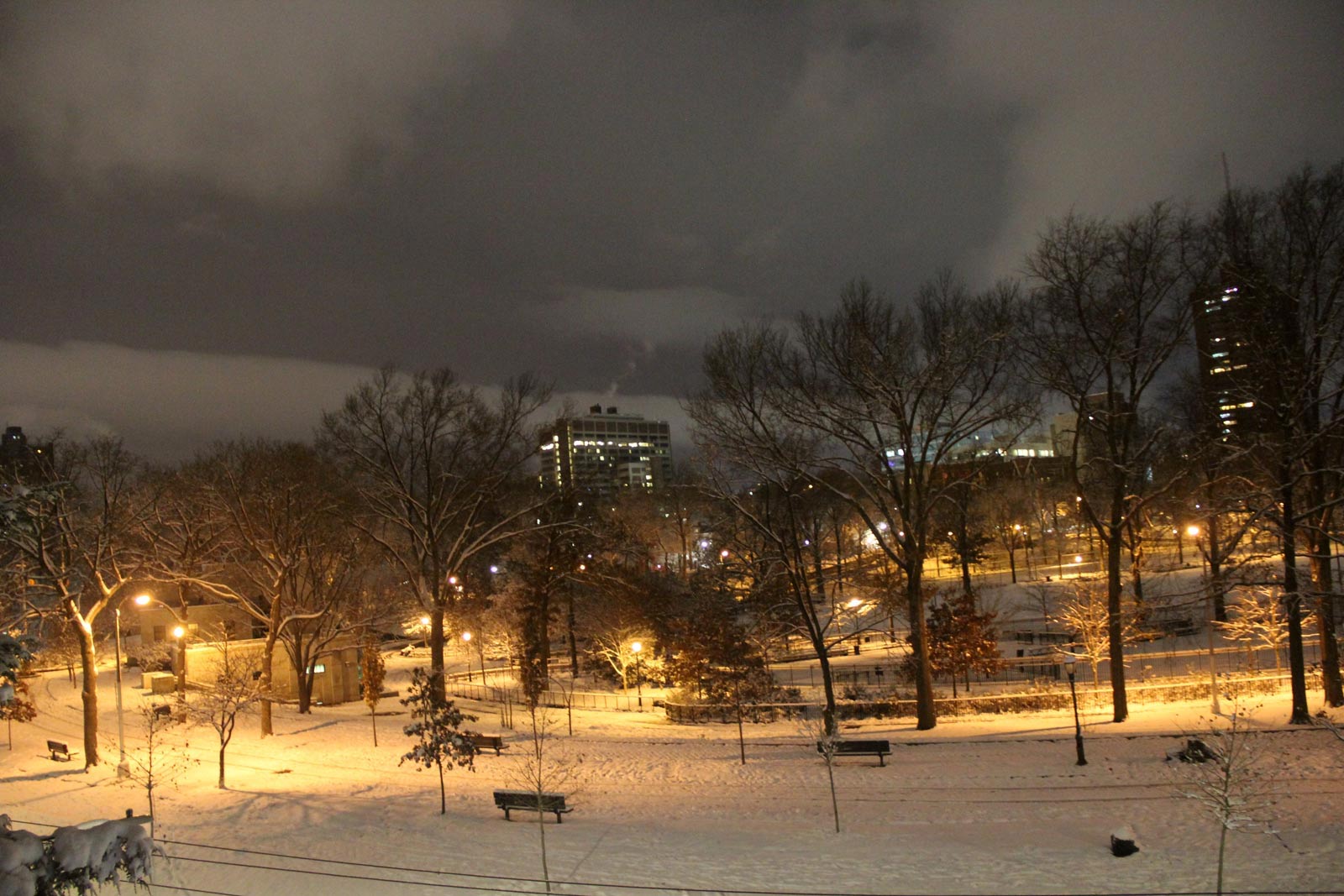 Oval Park view on a winter night
Once I moved I realized that I was never comfortable among Columbia people (except janitors, AA's etc, like Freddie Cocco and Terry Thompson)... privileged, entitled, arrogant, competetive, and increasingly clueless. Now I'm back among working people, like my whole life up until I left the Army, and it feels right. I love it here. It's the most diverse place I ever saw except maybe Woodside, Queens. Everybody is so nice, the total opposite of Manhattan. Not just nice to me, but also nice to each other… Dominicans, Black Americans, West Indians, Bangladeshis, Puerto Ricans, West Africans, Mexicans, Albanians, Yemenis… And a few very old Italian, Irish, and Jewish holdovers from decades past. No arrogant yuppies, no masters of the universe, everybody working hard to get by, mostly families with children, but they're not angry and hateful like the people who voted for Trump, because unlike them, these people have always been on the bottom. When they come home from work, they forget about the job and live their lives. Nobody is an outsider or foreigner here because everybody is.
This is the first place I've lived since high school that is like Frankfurt, where there is a common gathering place — Oval Park — where all the kids go after school and all the families take their children and everybody walks their dogs.
Then in 2017 you guys moved here too... All three of us living in the same building! (until COVID, when Amy lost her job and had to move back in with Mommy).
Aleida
En la República Dominicana...
Aleida en el campo
Con familia en Sabana Cruz 2004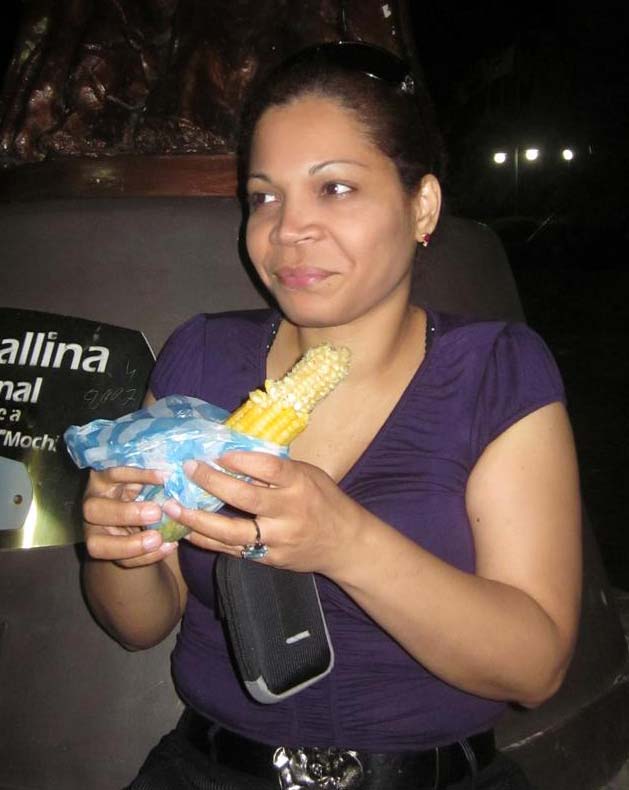 Aleida en Santiago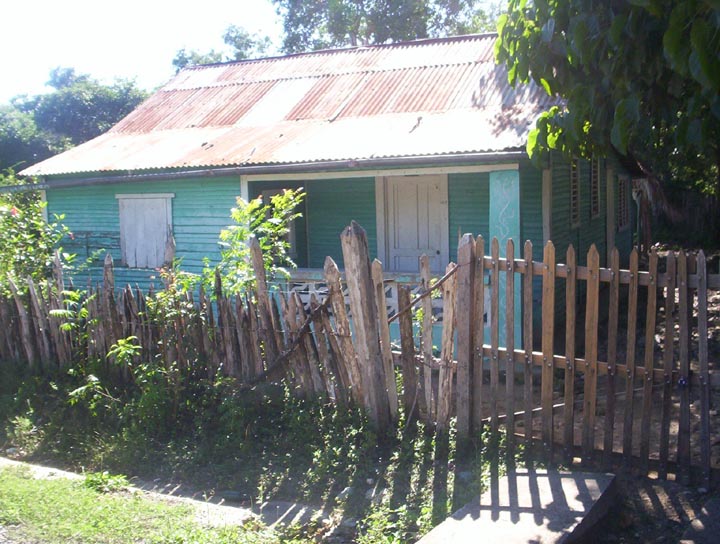 Casa en el campo
Aleida and I have known each other since 1998 when she came to work as a cashier at University Food Market, across from Columbia University and right on the corner from my work. We became close when the market was sold and she was going to lose her job. She didn't speak much English and I didn't speak much Spanish; over time we both learned. She grew up in a tiny village in the Dominican Republic near Montecristi on the north coast near Haiti, 7th of 8 children in a family of subsistence farmers. They lived in a "rancho" (light blue house shown above) with no electricity, no running water, no sewage, no paper, no pencils, no nothing.
En Nueba Yol...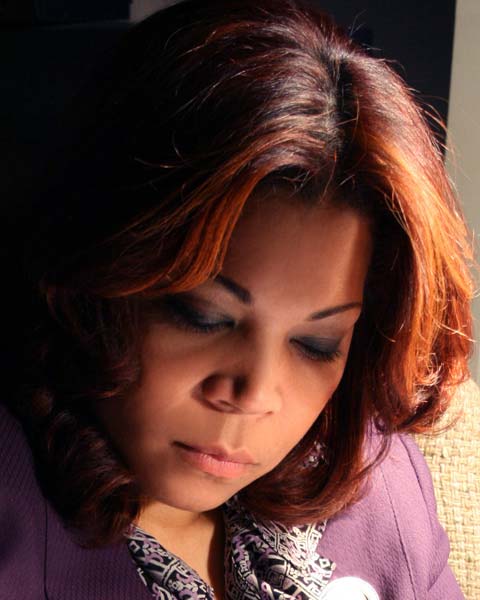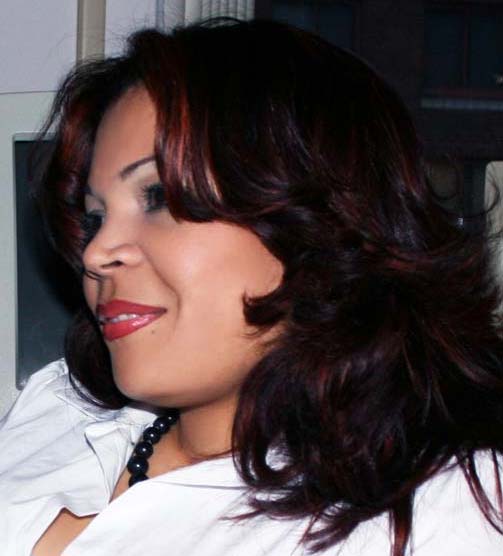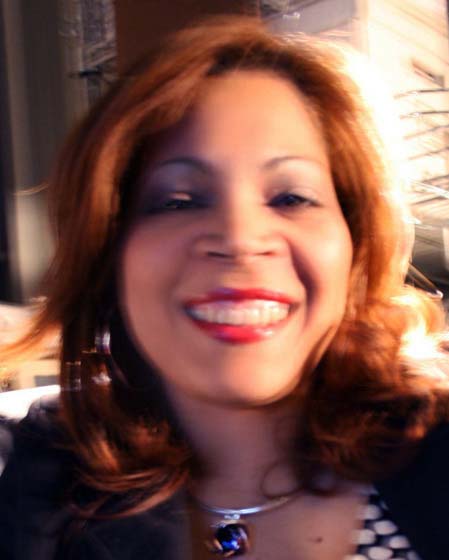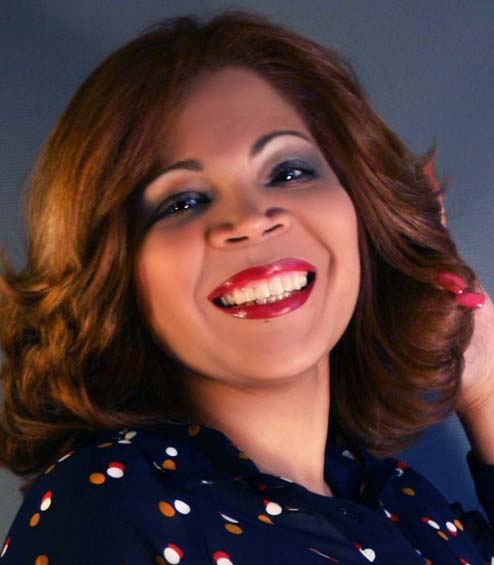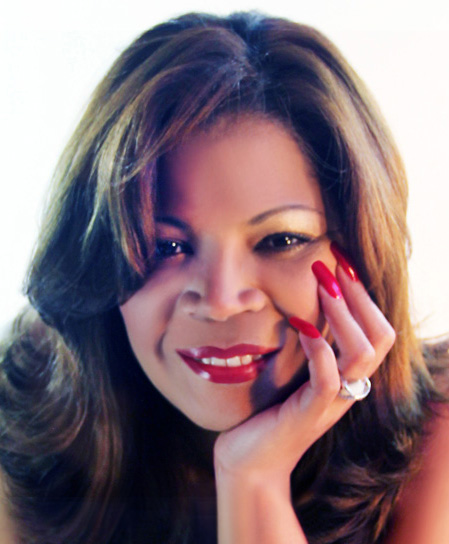 When the food market changed hands, she followed her two older sisters into Mary Kay and became a beauty consultant. I helped her by making a website, which was pretty successful. But after three years it became obvious that it was impossible to make enough money to live and support her children (and her parents) zooming around all over creation in her free Mary Kay car; she never saw her family and she was always falling behind. So, since she was already involved in the "beauty industry" I converted the website into a bilingual Amazon Associate site where Hispanic and Black women could find information and advice and order beauty and hair products. This made sense because Dominicans are famous for their hair-straightening technique that uses no chemicals or direct heat, and therefore doesn't destroy the hair. We did quite well for about five years but our audience (mainly poor people) just kept getting poorer and poorer and orders went down and down, so about 2010 she went to work at a livery taxi company in Long Island and since then I saw her less and less and finally, never. She works seven days a week, twelve hours a day and that's all she does as far as I know. So she kind of drifted away into a life of toil. We still touch base occasionally; last I heard the taxi company closed and now she's a gig worker. The pictures above are ones that I took for her website, which closed in April 2019.
Christmas 2008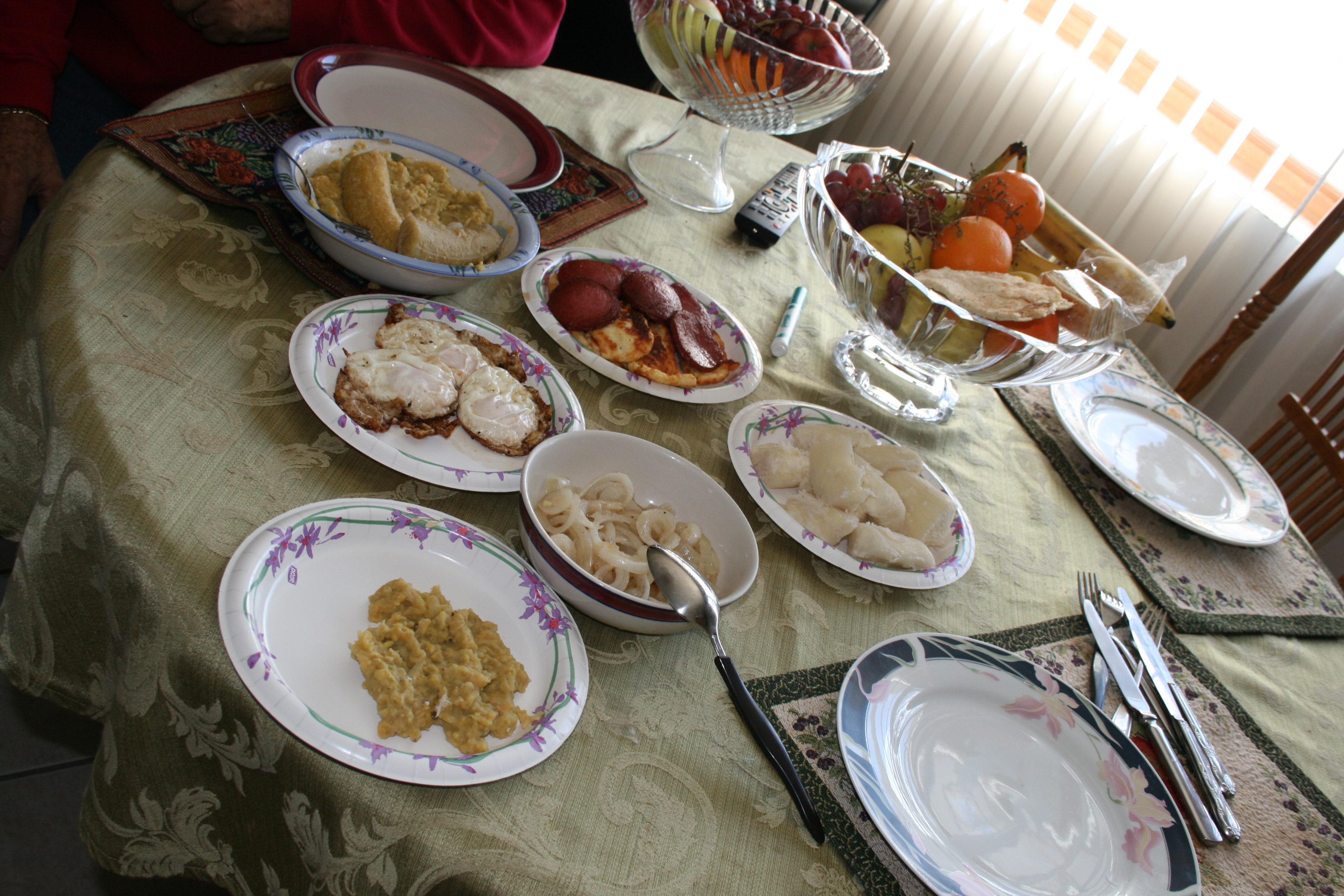 Dominican breakfast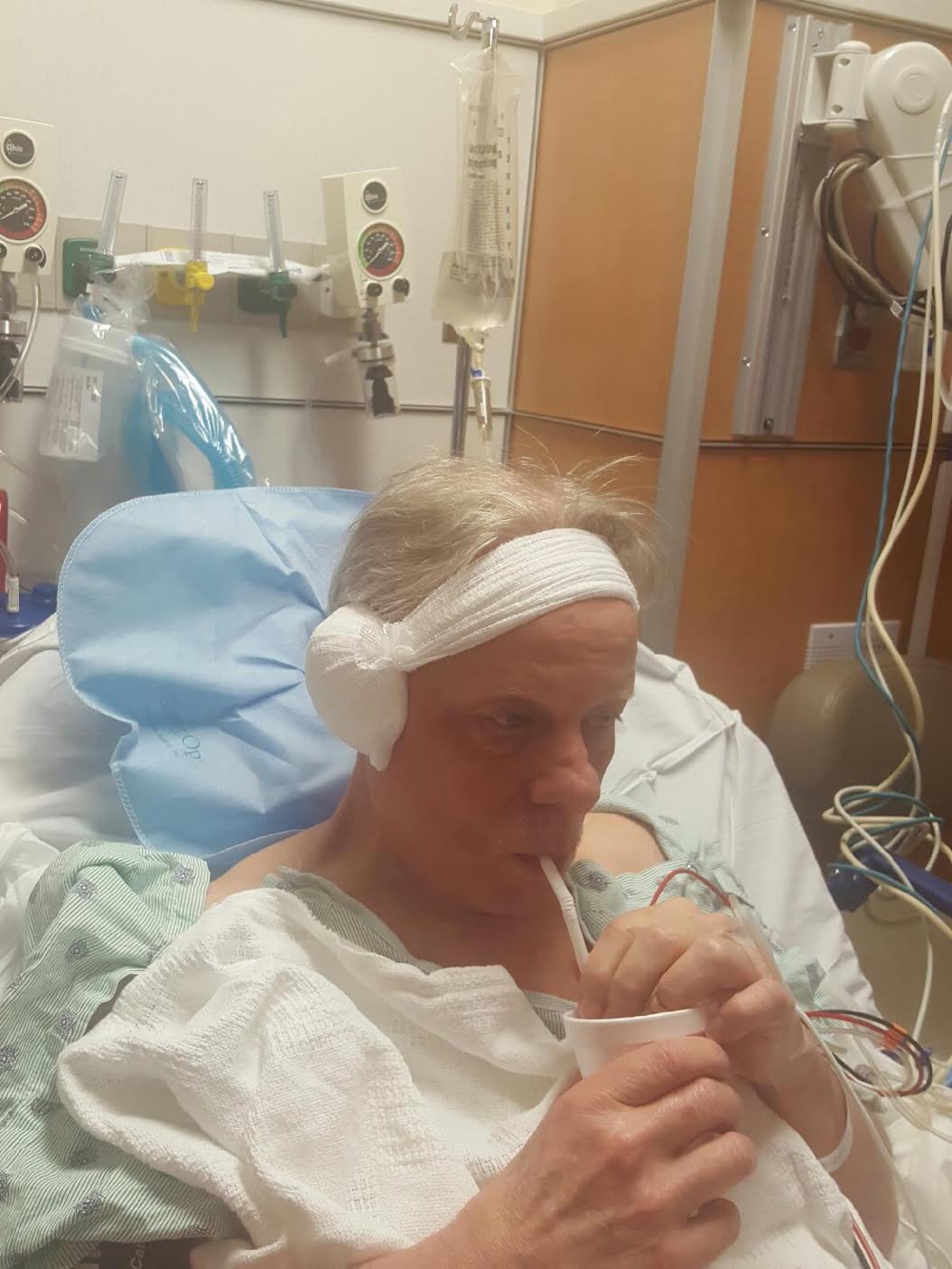 Ear operation
The Chistmas photo is by me of her big extended family; her dad and mom are the second row. Her father died January 5, 2021, age 97. Dominican breakfast: Mangú (mashed boiled plátano), vinegared onions, yuca, fried eggs, salami, casabe, and queso frito (fried cheese). The ear operation photo is of me after surgery to repair a puncture, taken by Aleida, who drove me to the hospital and home again in 2017.