| | |
| --- | --- |
| | ←(Use Google Translate to see an approximate translation into another relevant language) |
[General index] [Index to chapters] [Index to galleries] [Full family history]
This document is about my ex-wife, Judy, and her extended family. This is just one part of a much larger family history addressed to my own (and her) children. Some personal information of living people is omitted for obvious reasons. Also there is nothing about relationships; it's more like a travelogue plus a summary of what I know about the family, written with a lot of help from Judy's sisters Christine and Lori. I'm putting what I have so far online so Judy, Christine, and Lori can send me corrections, missing material, details about themselves, whatever they want. In this document:
Mommie, Mommy = Judy (Judith Scott).
You, you guys, Peter, Amy = Judy's and my children Peter and Amy da Cruz.
—Frank da Cruz <
fdc@columbia.edu
>
Most recent update:
23 January 2023 08:53:47
Mommy and the Scotts
[
SEE GALLERY
] [
SEE ANOTHER
]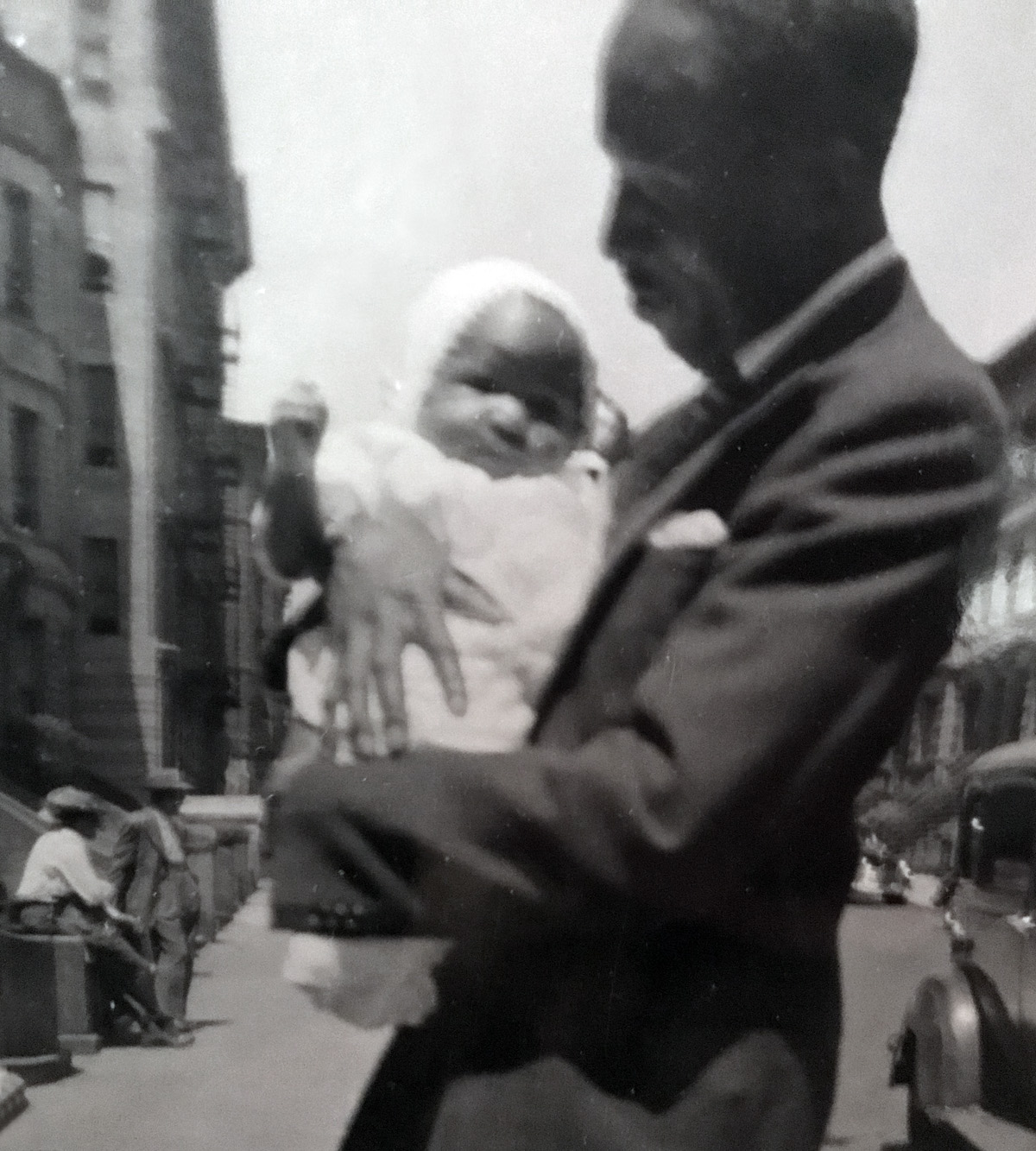 Judy 146th Street 1947
Judy in high school 1964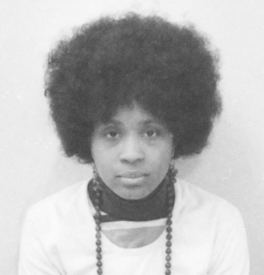 Judy in 1970
Judith Maria Scott, born in New York City March 16, 1947.
Judy's mom: Consuelo Lillian Bergen (Granma), born NYC January 17, 1922; died in the Bronx Saturday, June 22, 2019.
Judy's dad: Ulysses Samuel Scott (Granpa), born Lockhart SC February 12, 1917, died July 5, 1996.
Mommie grew up in the Bronx, went to public schools in the Northeast Bronx — PS 78 in Williamsbridge and PS 113 Olinville Junior High School (now MS 113 Richard Green Middle School), also in Williamsbridge (it's a New Deal site, I showed it to Amy; the reason Judy went there instead of JHS 135, which is closer to the projects, is that she still lived at 1047 when she entered 7th grade and 113 was the local junior high school, and didn't want to transfer). Then to the High School of Music & Art when it was next to City College on 135th Street and Convent Avenue (instrument viola and violin), then Barnard College where she was when I met her, then Columbia grad school, then Columbia Teachers College, and much later also Bank Street, and Union Theological. For all I know, also Manhattan School of Music and Jewish Theological! She probably has 3 or 4 Masters degrees by now plus a PhD or two. Was a public school teacher since about 1968 mostly in NYC but also in Newark and Engelwood Cliffs, and more recently a principal, retired around 2006? We separated in 1988 and divorced in 1994 at which time she married Rick Levine (your stepfather) and moved to 2708 Netherland Ave (a house) in the Bronx (Riverdale). Rick had previously lived on 157th Street in Washington Heights, in the big triangular building ("The Grinnell") just west of Broadway, married to Maura with one daughter, Maya (your stepsister).
1047 E 216th Street at Loconia Ave 2018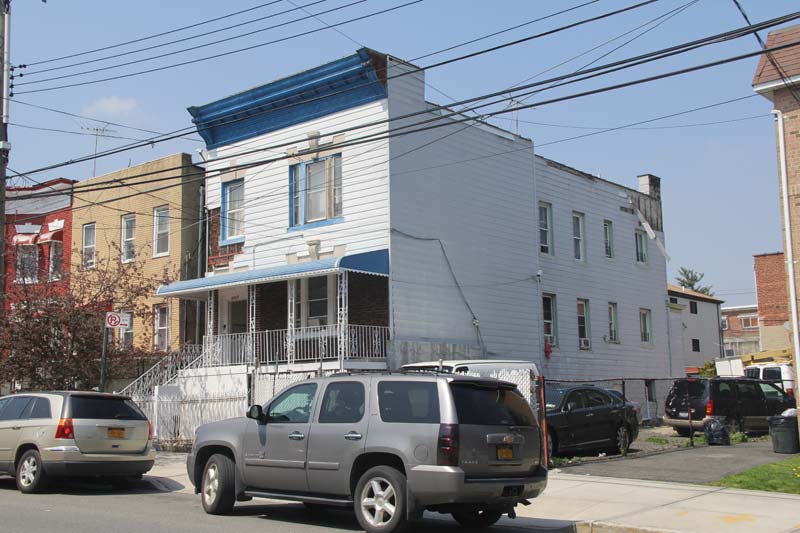 Ten-Forty-Seven, closer view
As a baby Judy lived in Harlem on 146th Street (in the picture above, that's her step-grandfather Carrington Lewis ("Papa") holding her). Then in the late 1940s, Mama Lori and Carrington bought the house at 1047 East 216th Street off Laconia Avenue and lived on the first floor with their German shepherd Bruno. Granpa, Granma, Judy, a German Shepherd, and eventually also Christine and Lori, lived on the second floor (which had only 2 bedrooms) and, as Christine says, "Mrs. Chambers and her tortoise lived on the third; we had a pear tree in the back yard and a sunny kitchen window over the sink, 2 bedrooms, 1 bath."
Judy at the Projects 1970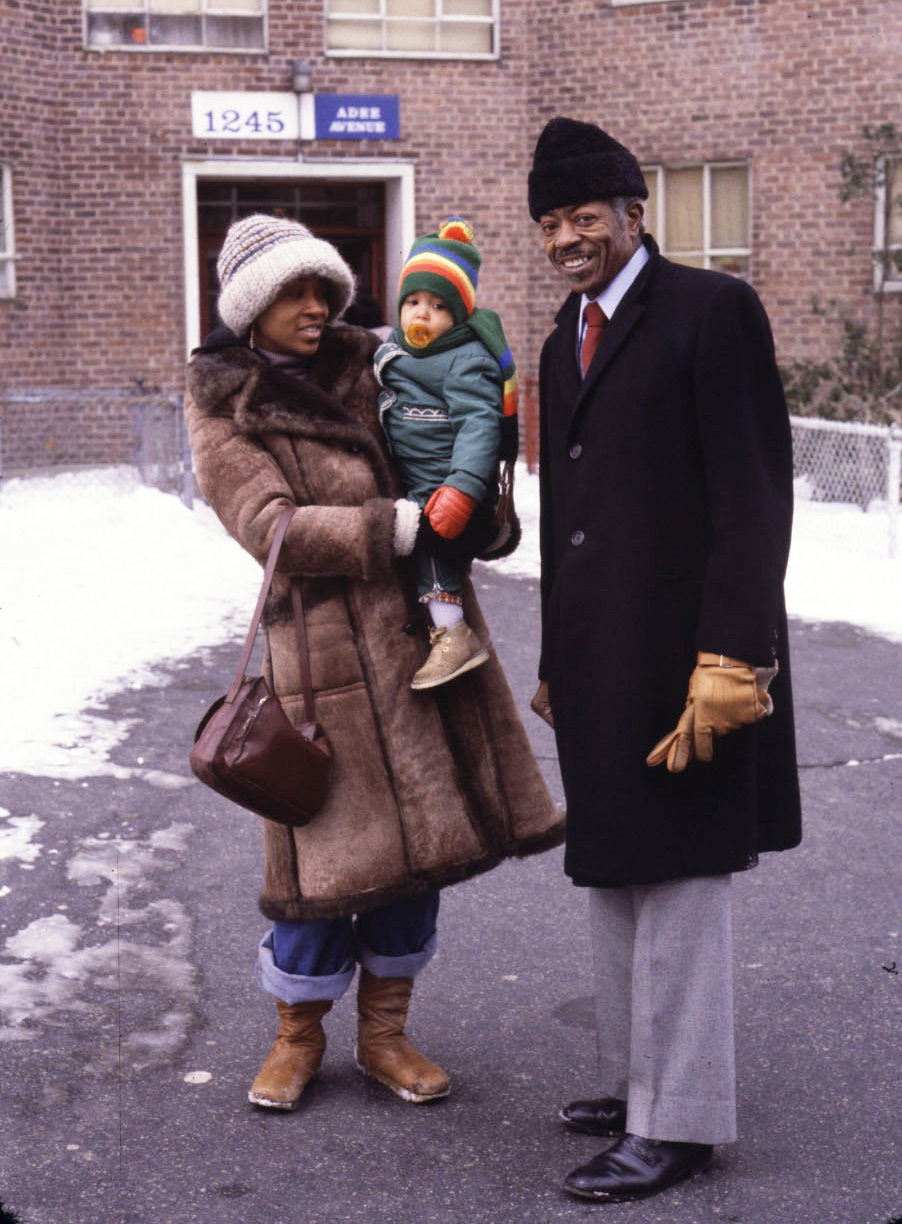 At the Projects 1979
About 1958 the Scotts (minus their dog, which they had to give up) moved to the Eastchester Projects near Gun Hill and Boston Roads, the building at 1245 Adee Avenue, a 3-bedroom unit on the 8th floor facing front, above and to the right of the main entrance. Before Judy and I got our first car, we used to go there on the train: The #1 to 96th Street, the #2 to East 180th Street, and then the #5 to Gun Hill Road, about 2 hours each way. After Judy, Christine, and Lori grew up and left, the housing authority made Granpa and Granma move to a smaller unit on the 3rd floor, which they didn't like as much.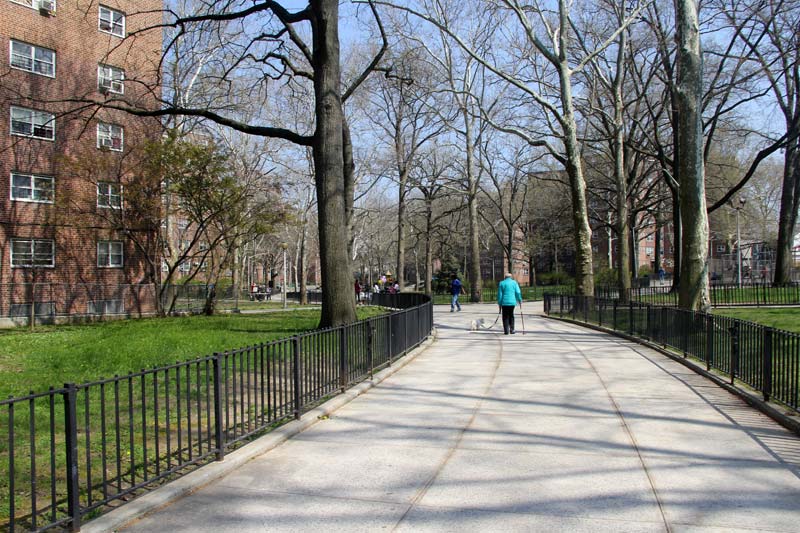 Eastchester Projects grounds 2018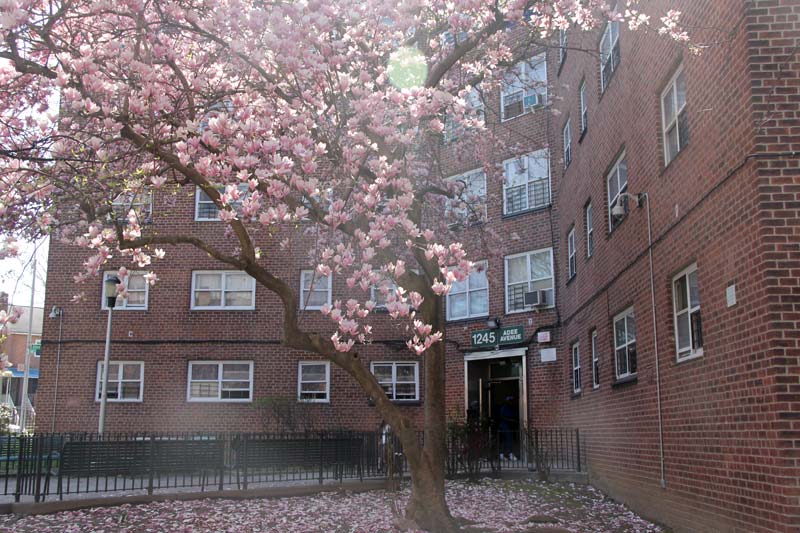 Eastchester - 1245 Adee Avenue 2018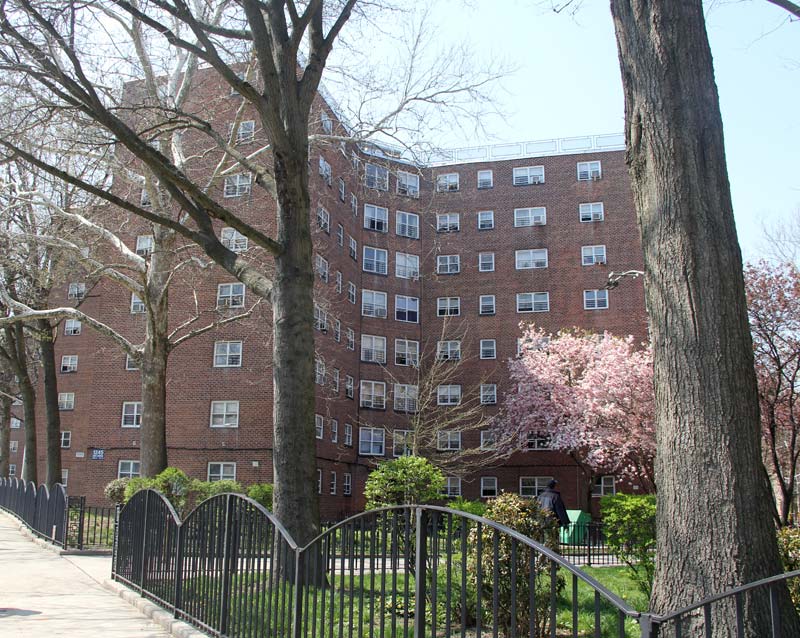 Eastchester - 1245 Adee Ave 2018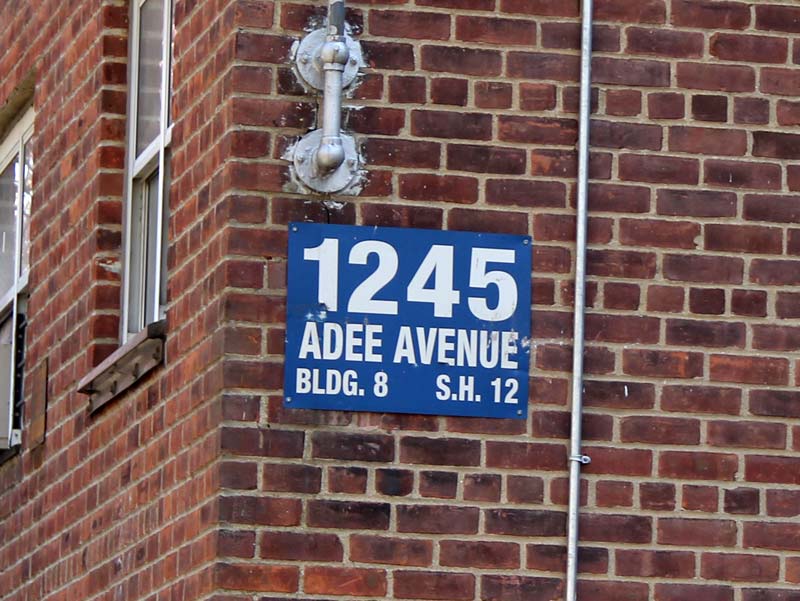 1245 Adee Avenue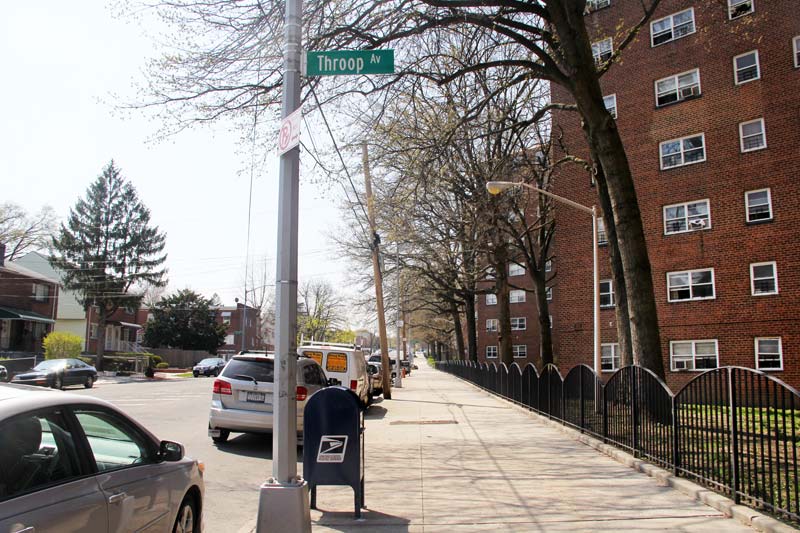 Adee Avenue 2018, at Throop Avenue
In those days the projects were wonderful places to live and for kids to grow up. Solid, well maintained, with lots of green space and play areas, and people of all races living there. Granma and Granpa's friends in the Projects were not only Black but Jewish, Puerto Rican, and Italian, many of them old lefties. But when Co-Op City opened in 1973 everybody who could afford it moved there (eventually including Granma and Granpa) so only desperately poor people were left in the projects and this made it easy for public housing to be totally defunded and neglected until now the projects are nightmarish hell-holes. If you live there and you have no heat or hot water and your ceiling falls down and your walls buckle and sewage is gushing out of broken pipes and your kids have lead poisoning and rats are running wild, the only way to get NYCHA come and fix your apartment is to get
News12 The Bronx
to come and do a story on it, which they do every single day. Even the Sotomayor Houses, named after the sitting Supreme Court judge who grew up there, are like that.
Judy's first teaching job in the early 1970s was in Newark, which was pretty rough then. After that Benjamin Franklin High School in East Harlem at 116th Street and Pleasant Avenue, right across the street from Rao's, in the days when the surrounding neighborhood was still Italian (and mobbed up) and there were still Italian street festivals. Puerto Rican kids from west of Third Avenue had to walk through hostile Italian turf to get to school (one of my Bronx friends now, José at the Foodtown Deli counter, was one of those Puerto Rican kids). How did Mommie get to work, you might ask... We lived on 103rd Street and West End; just 3 blocks away, on 106th and West End was a magic bus — the M116 — that went direct to Benjamin Franklin. Meanwhile, on the NW corner of 116th and Pleasant was a pay phone that nobody was allowed to use, it belonged to the drug dealers. She taught there for many years, then moved to JFK in Spuyten Duyvil and stayed there a long time too. After we separated I lost track of her career but she wound up as principal of a school in Englewood NJ, or Englewood Cliffs, and then retired and devoted herself to getting more and more degrees and playing violin as she had done all her life, probably starting in junior high school, which got her into Music & Art, and ever since then has been in one orchestra or another.
Mommy and me
The Bertha
Yearbook photo 1967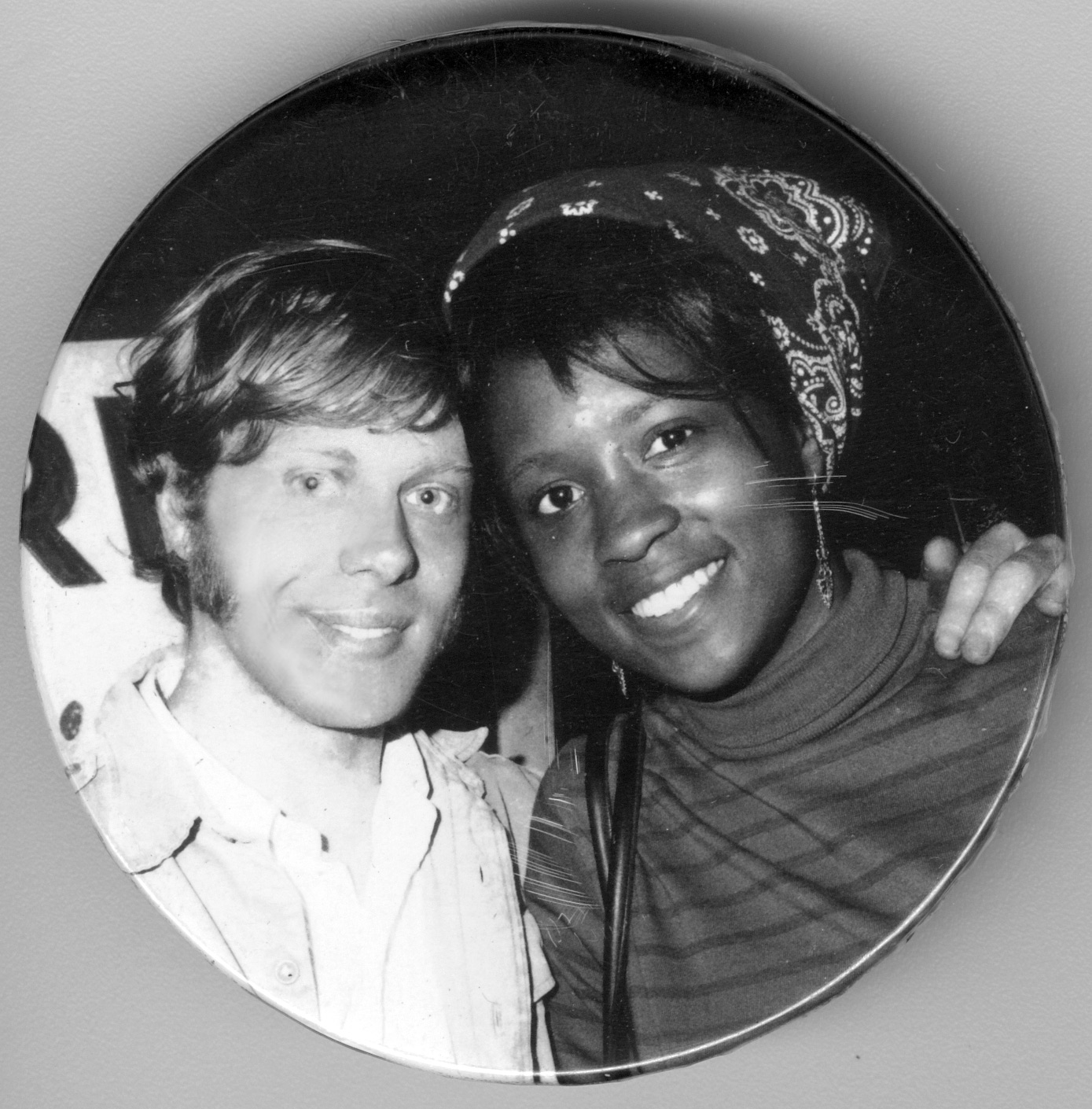 Button, 1968
I first knew Judy in summer 1966, Double Discovery (slightly), and then in 1967 in
the Bertha
and in Double Discovery again. She graduated from Barnard in 1967, one of only four African-Americans in her class. We got together in 1968 a couple months after the Columbia uprising. At first it was a secret and we went on a trip to Mexico that nobody was supposed to know about, but we bumped into somebody there who knew us and and when we got back to New York it was the talk of the town.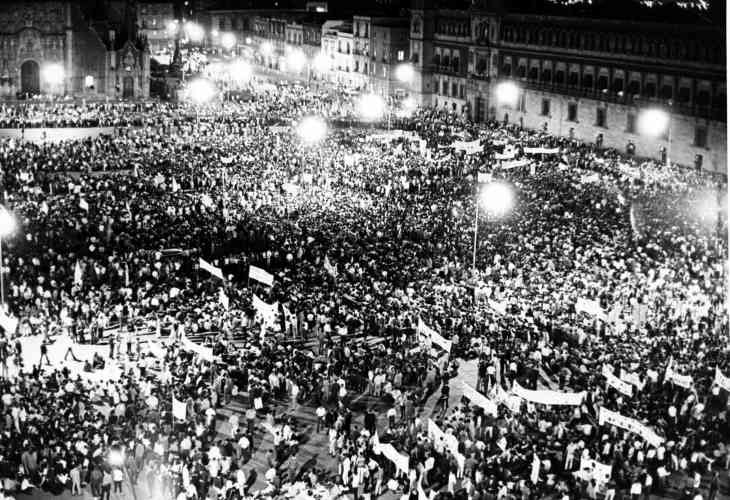 Zócalo July 1968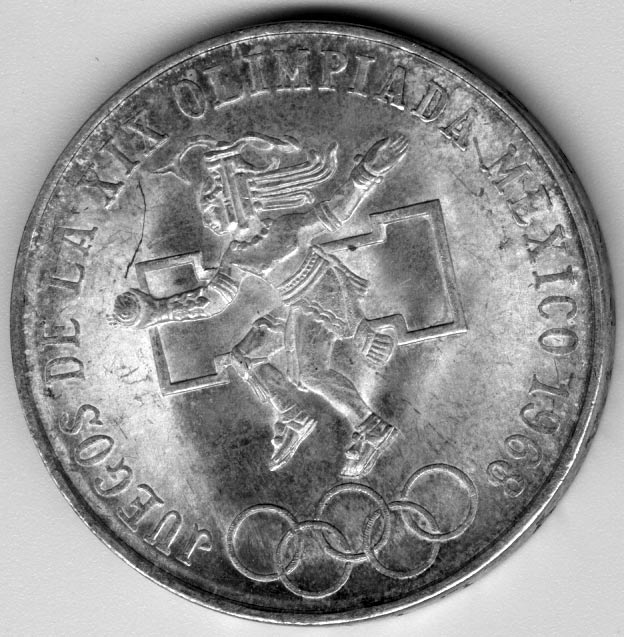 1968 Olympics coin
Mexico City was pretty amazing. The whole country seemed to be designed around its cultural heritage, from Aztecs and Olmecs to Orozco and Diego Rivera. At the city's huge central square, the Zócalo, there was not only a 500-year-old cathedral, but also an Aztec pyramid. We went all over the city, saw a lot of armed police and troops. Once we peeked into the courtyard of some public building and there were hundreds of fully armed soldiers hiding in it. This was shortly after the Olympic games when the big demonstrations were starting. We went to one in the Zócalo and met some Mexican students; we had a date to meet one of them for a march the next night but he didn't show up, so we didn't go because we didn't know where it was going to be. It turned out the police fired on them and killed lots of people (this was not La Noche de Tlatelolco, that came a few months later); we saw it on the TV news that night in our hotel room. Anyway we were in Mexico City for about a week with side trips to places like Toluca, I forget where else [trips to tiny places in the mountains where we ate some of the most delicious foods ever, like elote — corn on the cob with gigantic kernels rubbed with spicy hot fresh-ground cinnamon and lime juice]. No photos, I didn't take a camera.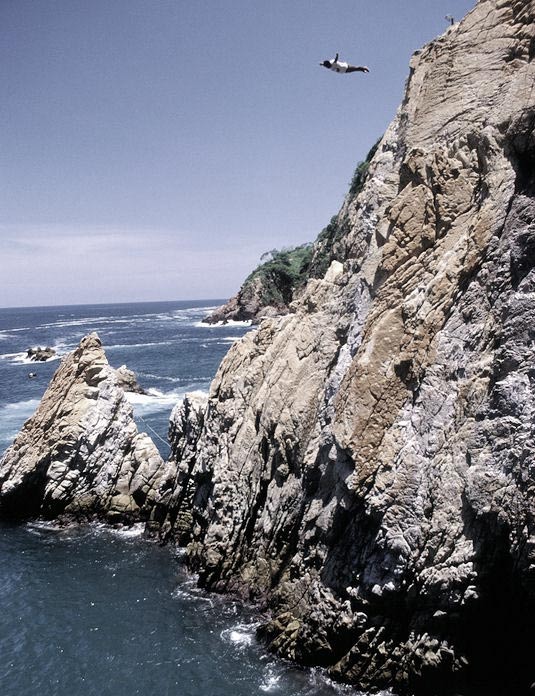 La Quebrada - I did that
Then we went to Acapulco on a bus that was full of chickens, goats, and people who kept giving us things to eat like cactus fruit. In Acapulco we stayed in a family hotel (i.e. a house) in the Mexican section, $4 a night for a room, three delicious home-cooked meals a day, lizards on the wall, and a ceiling fan hanging from a frayed electrical cord. Right on the beach, but it was the Mexican beach, not a tourist beach. The famous diving cliff was there: La Quebrada, 35 meters, that's like a 10-story building. After watching the divers for a while, I tried it myself, pretty stupid because I didn't know how deep the water was or how it sloshed back and forth so you have jump at exactly the right time so it's not too shallow, but lucky for you guys I didn't kill myself.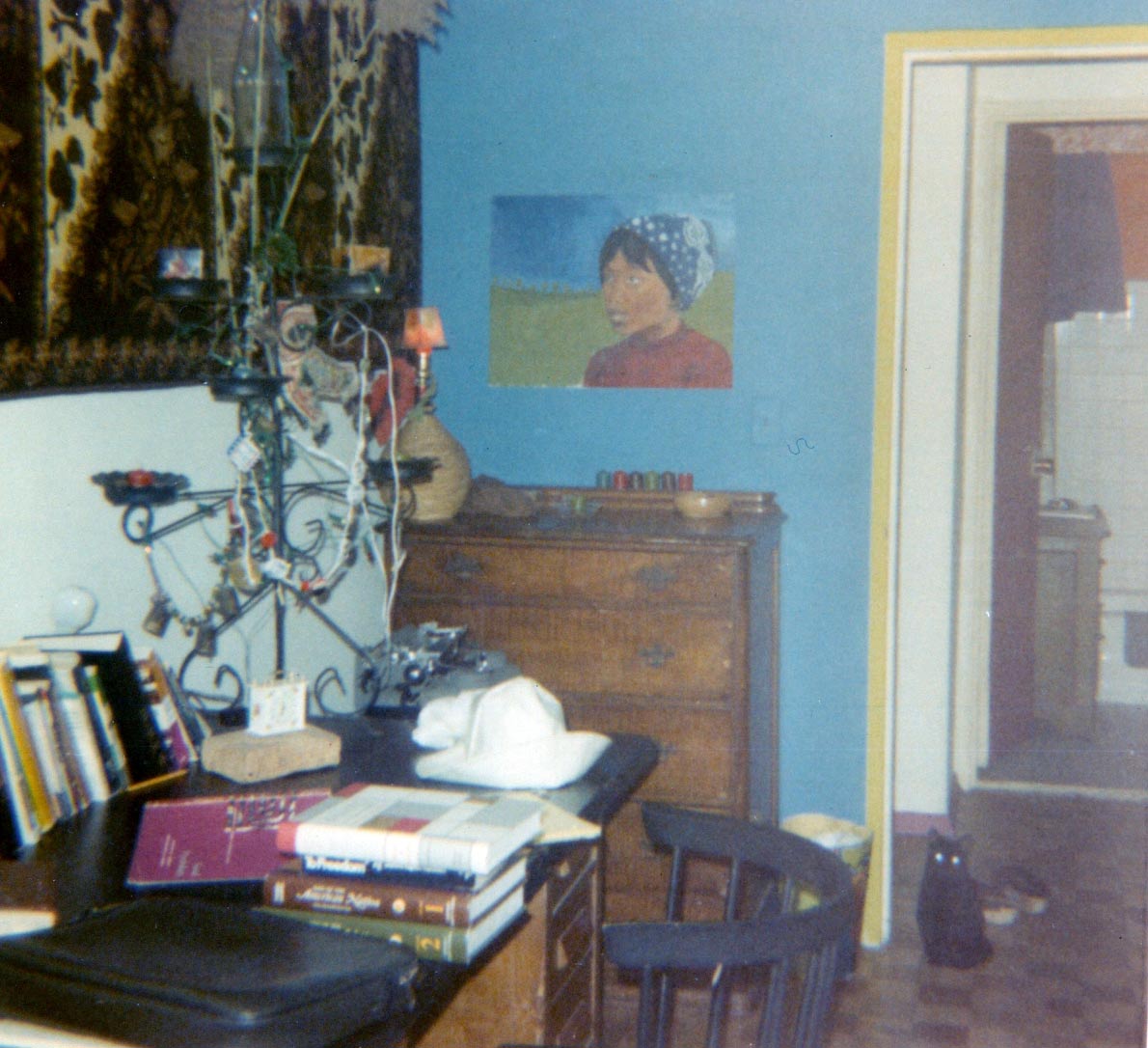 103rd Street apartment
Judy at 103rd Street 1972
Judy at 103rd Street 1972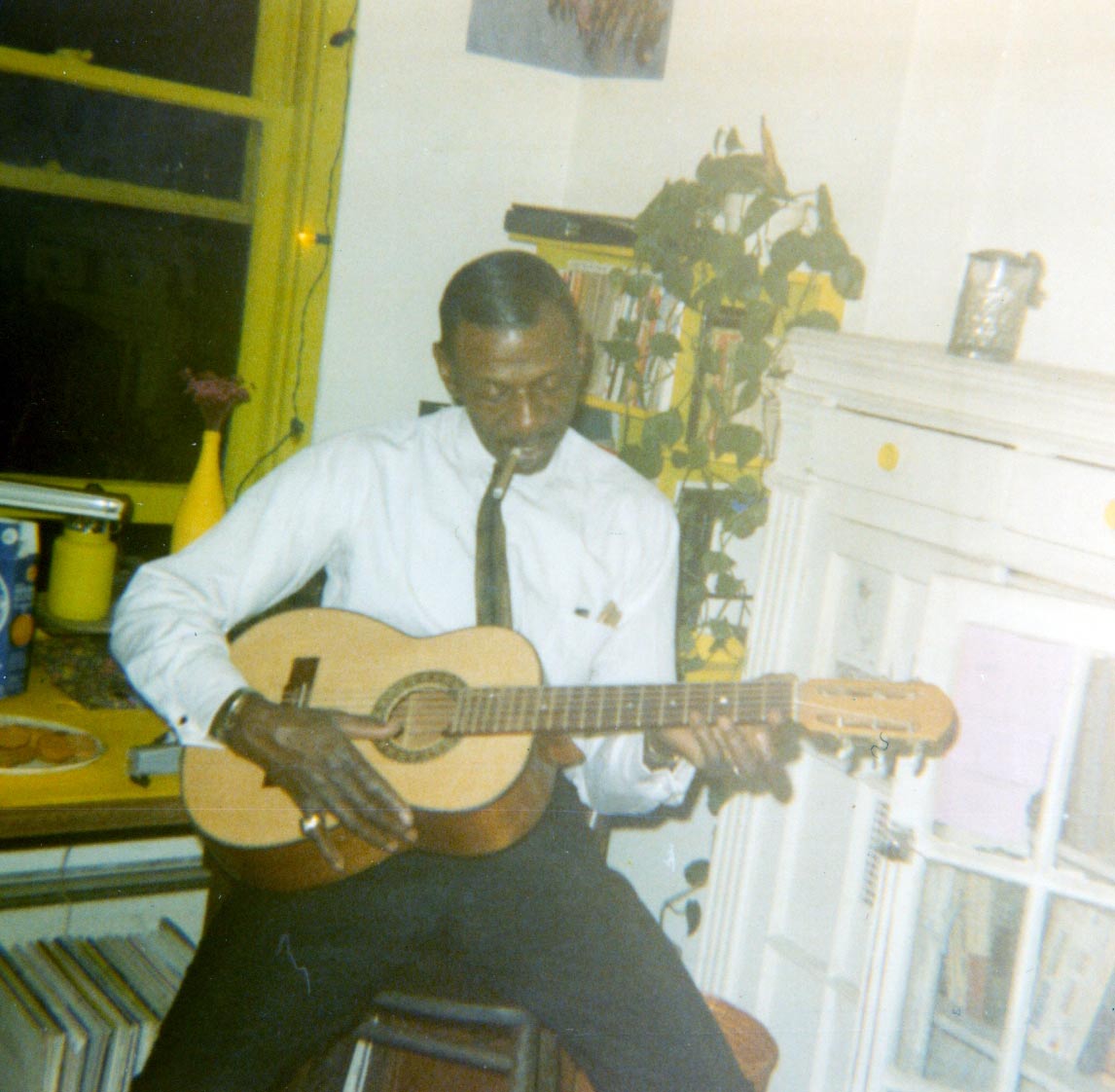 Floyd at 103rd Street 1972
Soon after that we got an apartment together at 308 W 103rd Street, near Riverside Drive, a studio sublet from a friend of Mommy's, and when the friend wanted her apartment back, we got our own 1-bedroom apartment right next to the sublet, described above. This was still in the days when every time I moved into a new apartment, I painted it in bright colors, and this was probably the most colorful. Also note my painting of Mommy on the wall in the first picture — the only oil painting I ever did, not very good.
Puerto Rico 1970
Puerto Rico 1970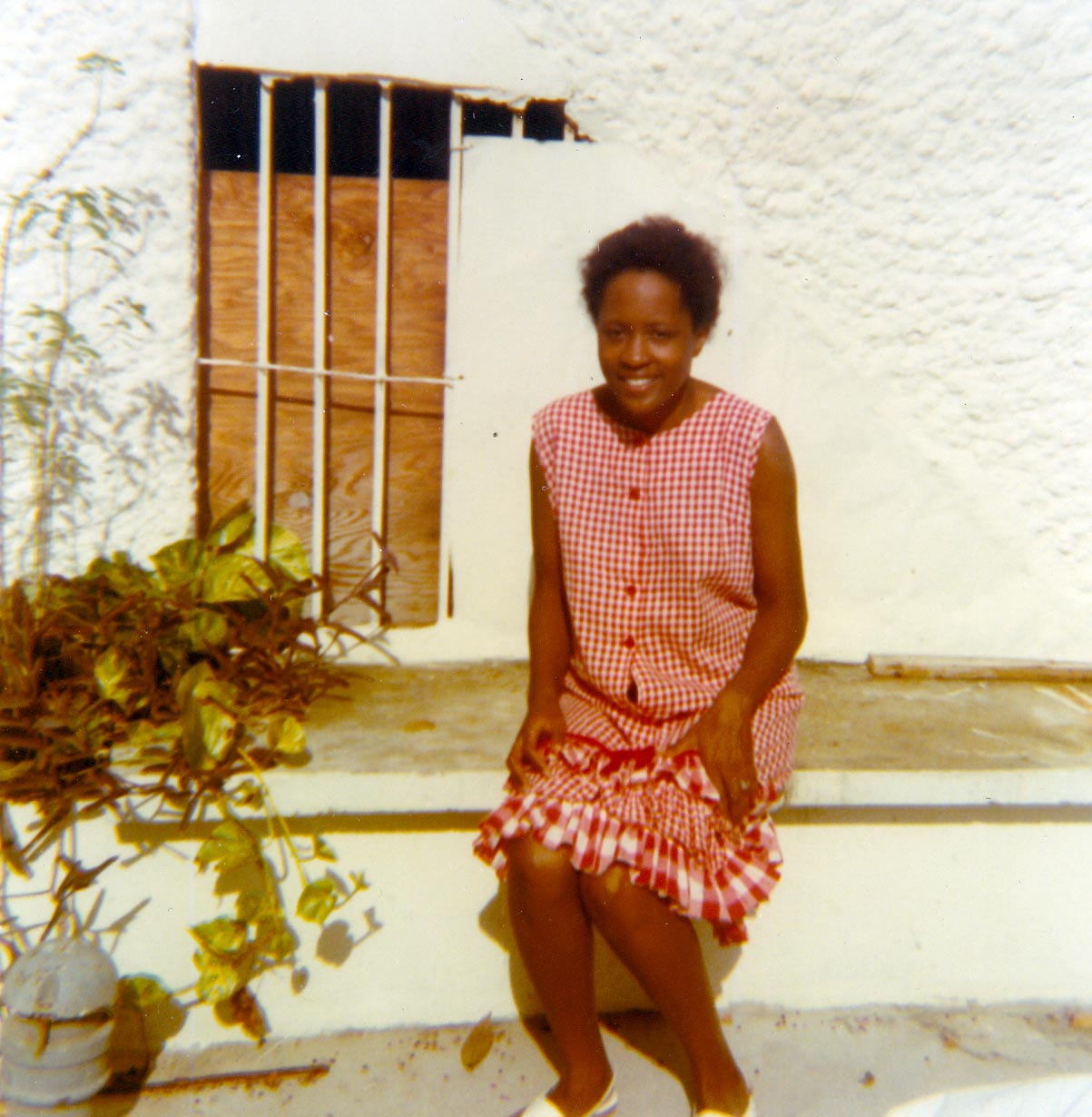 Puerto Rico 1970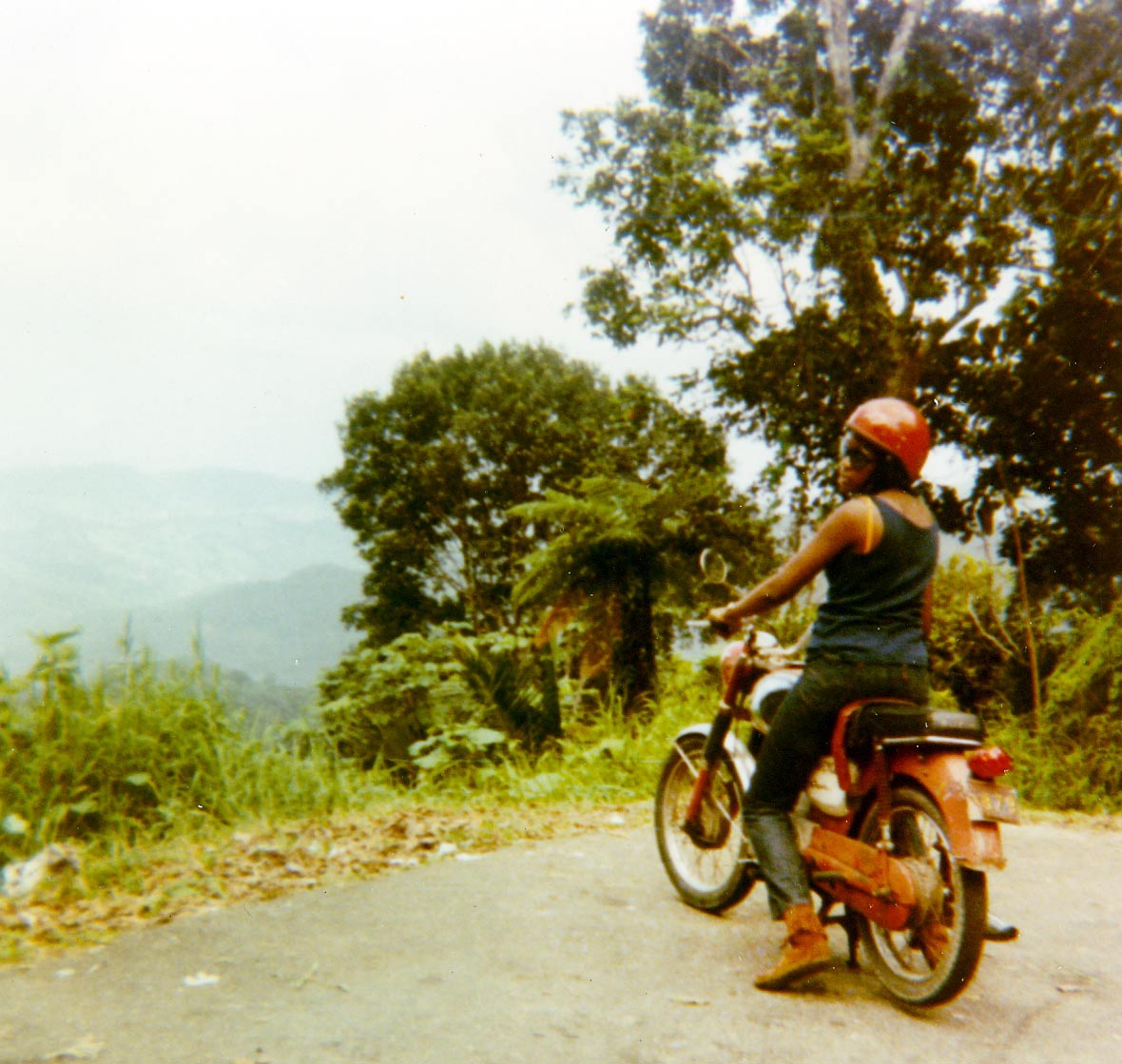 Top of El Yunque 1970
The next year we went to Puerto Rico, not just San Juan but we rented an old VW and went all over the eastern half of the island, up in the mountains, down to Ponce. Also we went to El Yunque on a rented motorcycle, the only time I ever got Mommy to ride on a motorcycle with me. El Yunque (the Anvil) is a mountain about 30 miles from San Juan, and the twisty road up the mountain goes through a huge jungle with waterfalls and exotic birds.
The next year (or maybe it was the same trip) we went to St. Thomas, rented a car, drove on the left side even though it's the US Virgin Islands, stayed in a guest house. The part I remember is buying conch, a huge chunk of pure white meat for a couple dollars, and trying to cook it. Another lady who was shopping asked us if we knew what we were doing, and advised cutting it into thin strips, breading and frying it, which I did. It was good, but really tough, there was some tenderizing step I didn't know about. Our jaws were so sore we could hardly chew again for a week.
(By the way, all these places were very nice, very safe, very friendly; now, by all accounts they are pretty dangerous with drug wars, kidnappings, etc. The only problem I had on all these trips was getting my pocket picked on a bus in Mexico City, losing the military driver's license I had been using since I got out of the Army.)
The next year we went to Guadeloupe, which is like Haiti but without the neverending disasters, stayed in a tourist hotel but also went out into the town, Point-à-Pitre, and ate in little family restaurants.
Announcement
In December 1974 Mommy and I were married in Mama Lori's house in Queens Village by a minister picked out by Mommy's family, from Holy Rosary Church at the far (east) end of Adee Avenue. I don't think anybody had any connection with this church, it's just that you could see the steeple off in the distance from the Projects… Turns out to be Catholic, I never knew that until just now when I looked it up. Just goes to show, nobody in the family was much interested in church at that point, except Lori who sang gospel. From the reception (which was in a bar in Queens) we went straight to East Stroudsburg PA in the Poconos for a few days… by Greyhound! We had had a car for several years already, I can't remember why we didn't use it.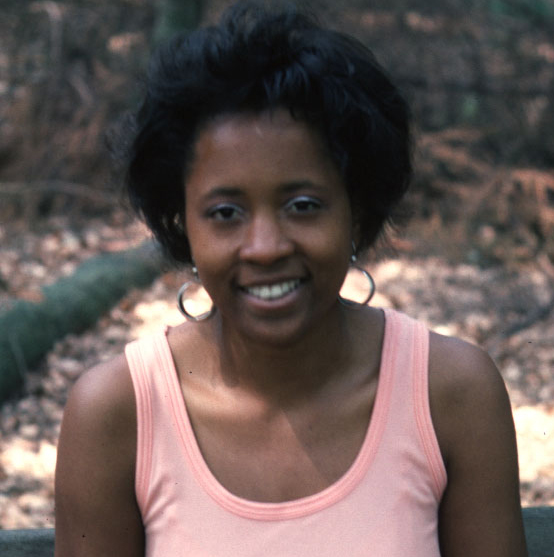 Judy, Germany 1975
Judy und die Oma 1975
In 1975 we went on a delayed honeymoon trip to Europe: Germany, France, Switzerland — Frankfurt, Taunus, Heidelberg, Kaiserslautern, Bad Dürkheim, Trier (Karl Marx's house)… Luxembourg, Paris, Verdun, Dijon, Beaune, Lyon, Valence… Berne, and then some place in the Italian part of Switzerland… We were close to Italy too but I don't think we went there. On that trip we went on the wine roads — Rhein and Mosel in Germany and Meursault in France. Driving and drinking wine all day! The second photo is of Judy with die Oma at the
Gasthaus in Hohenecken
that was my second home when I was in the Army.
The next year we went on a kind of tour to Spain: Madrid, Toledo, a bunch of cities. You had to fly from Madrid to each city and back. It was still a Fascist country. At the time I didn't fully appreciate the horror of the Spanish Civil War; Franco seemed like a cartoonish tin-pot dictator, I had no idea he was a mass murderer (I don't mean just the battles, but also the bombing of civilian populations, the sieges, and that after he won he had everyone shot or imprisoned who was on the Republican side; since Franco was anti-communist the American public never heard about what he did). On a separate trip we stayed a week in Torremolinos on the Mediterranean coast. On another (I think) separate trip we stayed a week in Mallorca, and the whole time I was there I didn't realize that they were speaking Catalán and not Spanish (which I learned much later). On one of these trips we also took the ferry to Morocco, my only time in Africa, although Mommie spent the summer of 1972 in West Africa in some kind of program and brought back all of those masks, country cloth, etc — Ghana, Sierra Leone, Ivory Coast, maybe other countries around there too.
After you guys were born we only went to Maine and Vermont, and sometimes drove from there to Canada. And a few times to California to see my Mom, including one visit to Disneyland just after Amy was born. And then later to Oregon to see Mom and Frank Rider for the last time. And later, Amy and I drove to Cape Cod to stay with Peter Marsh and Jude, and once the three of us drove to to Misquamicut, Rhode Island, where we stayed at a beach motel for a week.
Peter and Amy
Peter inside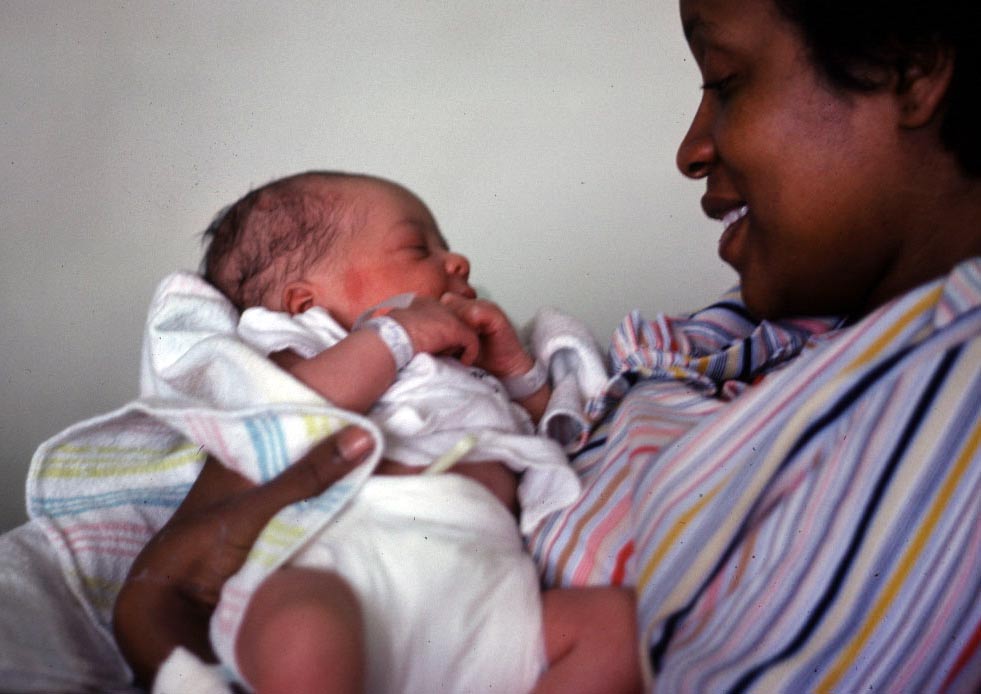 First photo of Peter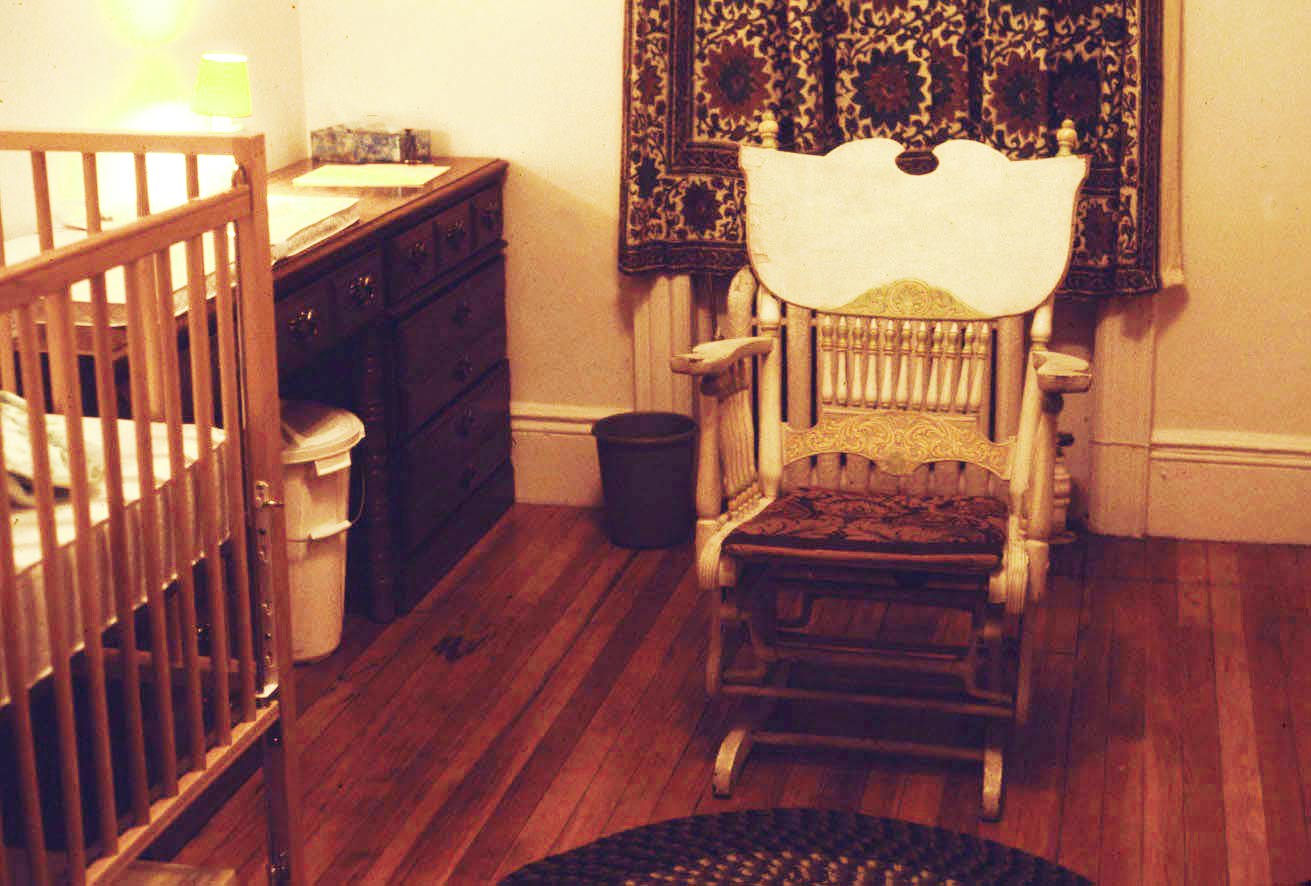 Peter's room 1977
Peter was born October 7, 1977. We already had his room ready for him in the 118th Street apartment. Mommie had wanted natural childbirth and we went to the Lamaze classes and all that but Peter just didn't want to come out and her labor dragged out to 25 hours. Finally the obstetrician, Dr. O'Leary (he's the one who got me hooked on Guinness after he prescribed it for Mommy, one small bottle every day), gave Mommie spinal anaesthetic and delivered Mr.P with forceps; see red marks in picture. It was still a major job to get Peter to come out, nurses were actually kneeling on top of Mommie to squeeze him out, I'm not kidding. When I got home very late that night (strangely enough the M104 goes straight from NYU hospital to Columbia) I drew a picture of it. Ever since I moved to the Bronx I've been looking for it. The first couple weeks Peter was home we actually used cloth diapers but Mommie got disgusted and switched to Pampers. By the way when I came back to the hospital the next morning, it was still Peter's birthday so we sang happy birthday to him.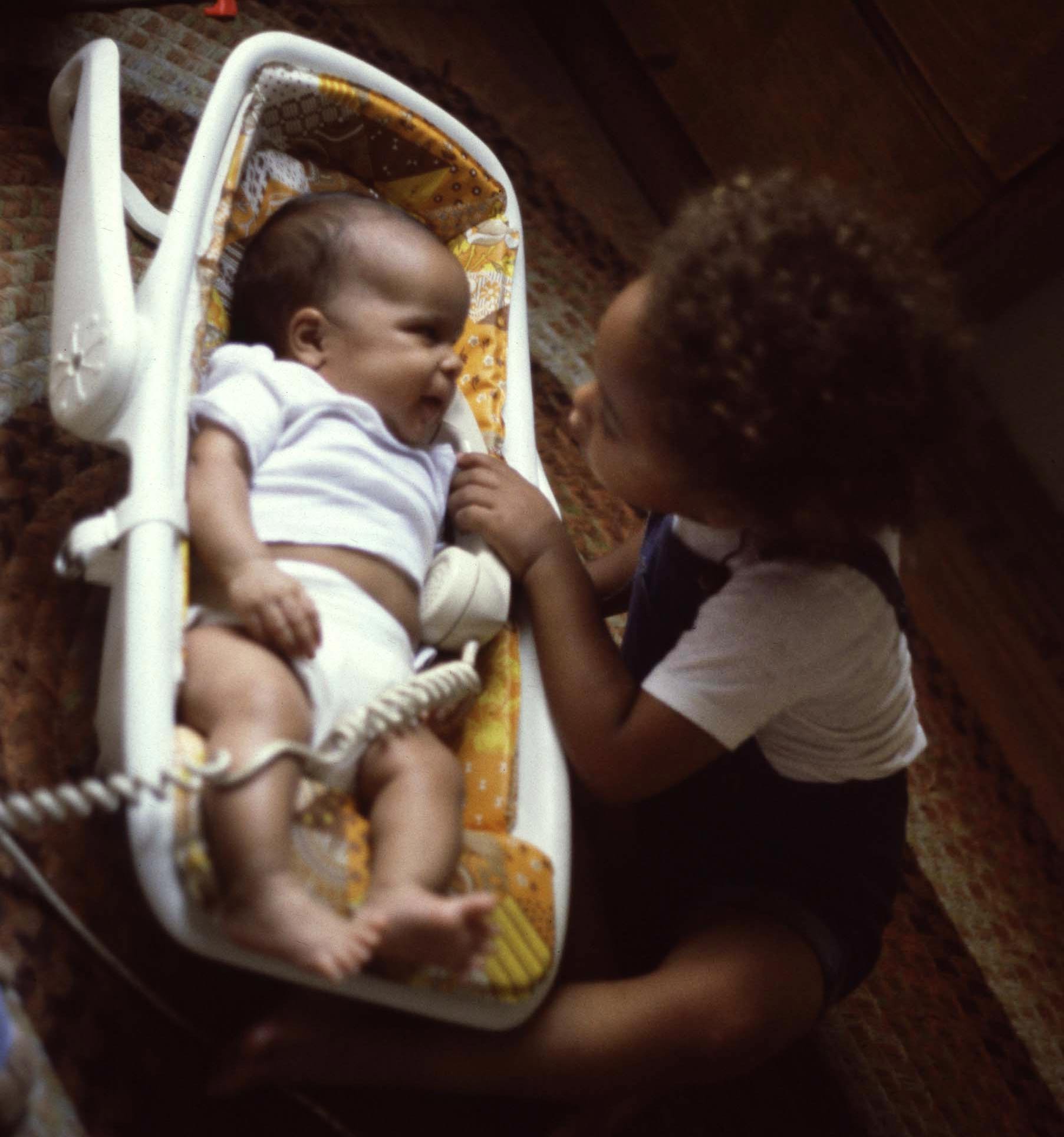 Amy's first phone call
Amy in baby room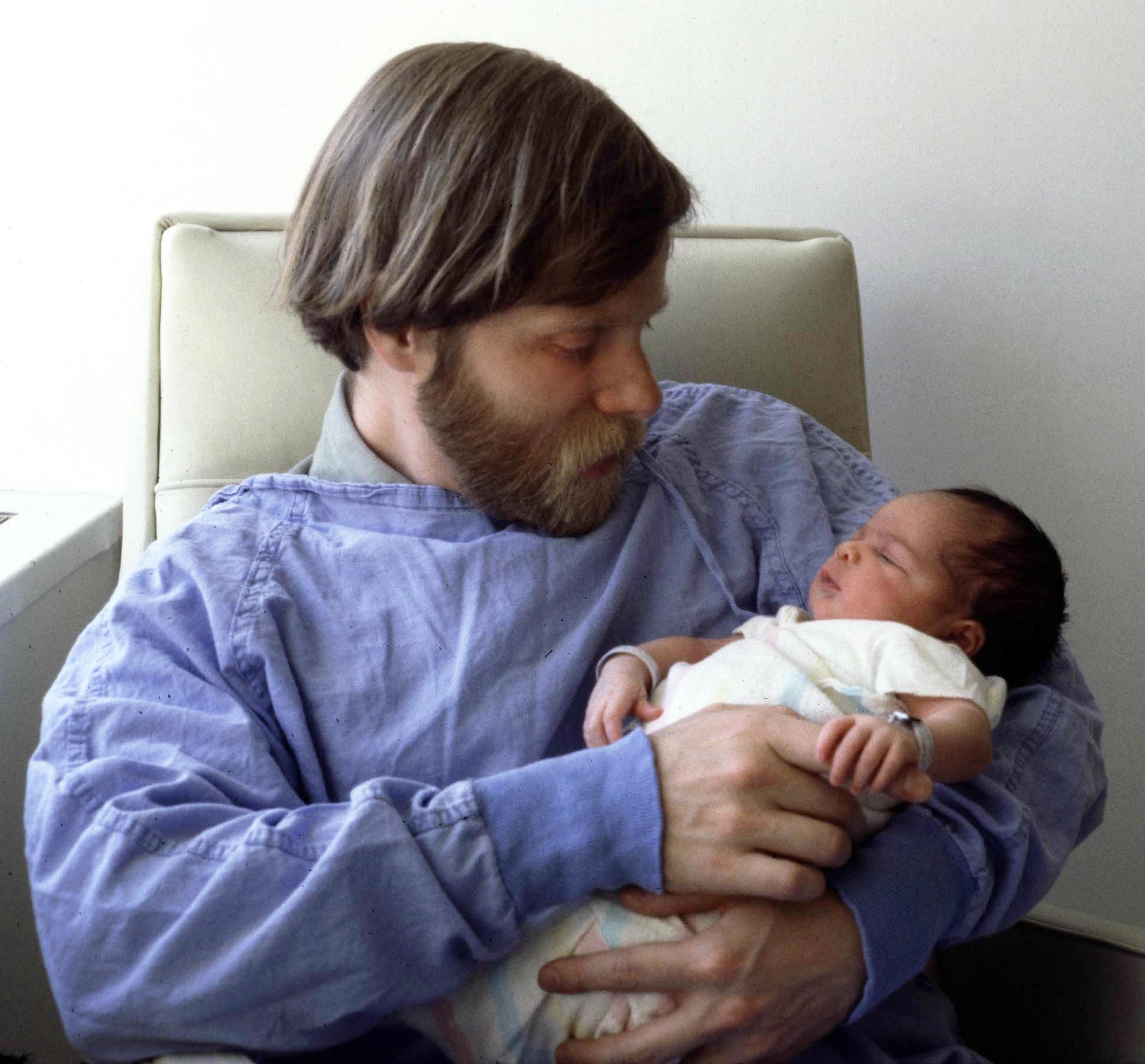 First photo of Amy
Amy was born May 28, 1980 — also at NYU — with no drama at all; she just slid right out... She and the backback she brought for Peter. Everybody came to see her in the baby room at the hospital, Granma, Granpa, Mama Lori... When we took her home everybody came to see her there too. The first time she started to fuss, Peter pulled the wow out of his mouth and stuck it in hers.
This section is kind of skimpy because it's all covered in the Family Photos CD I made in 2002, now new and improved, which you can see if you CLICK HERE
Judy's sisters
[
SEE IN FAMILY TREE
] [
SEE IN FAMILY TREE
]
Sisters: Christine Joyce (1949), Lori Ellen (1954).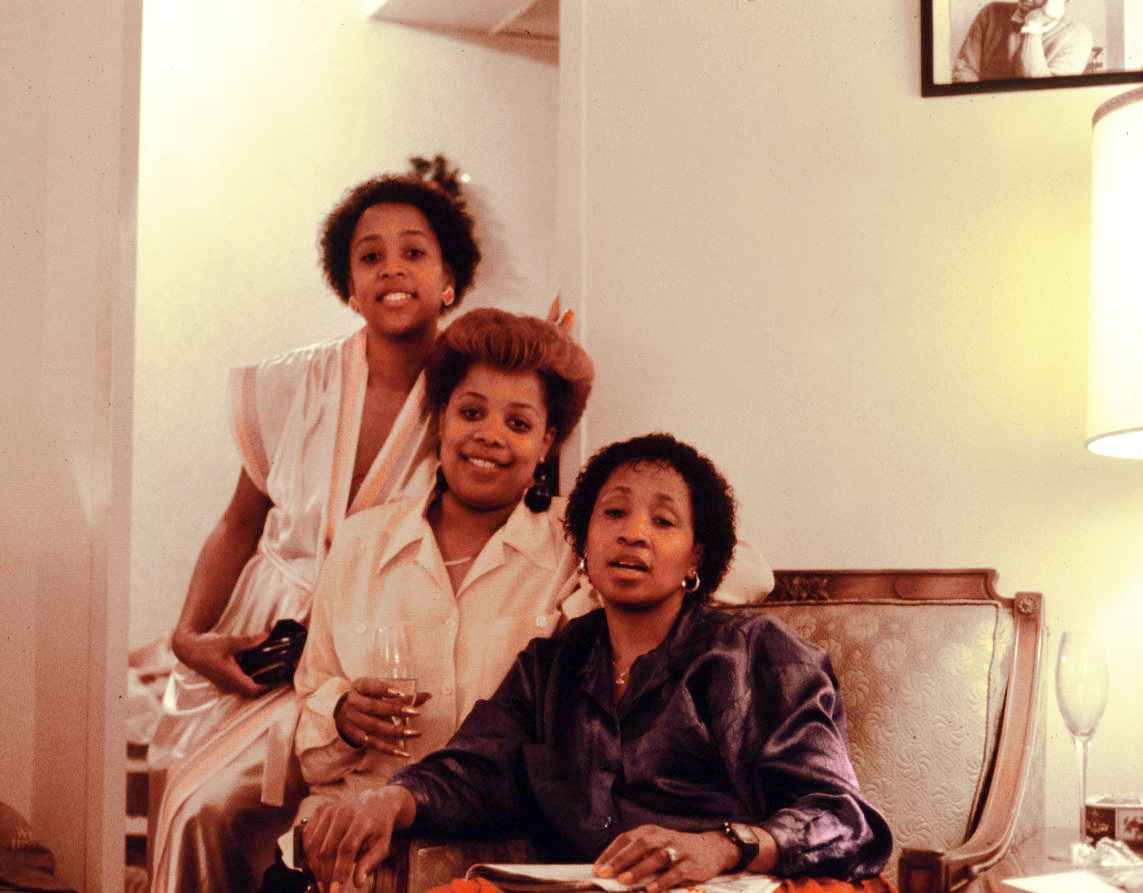 The three sisters 1986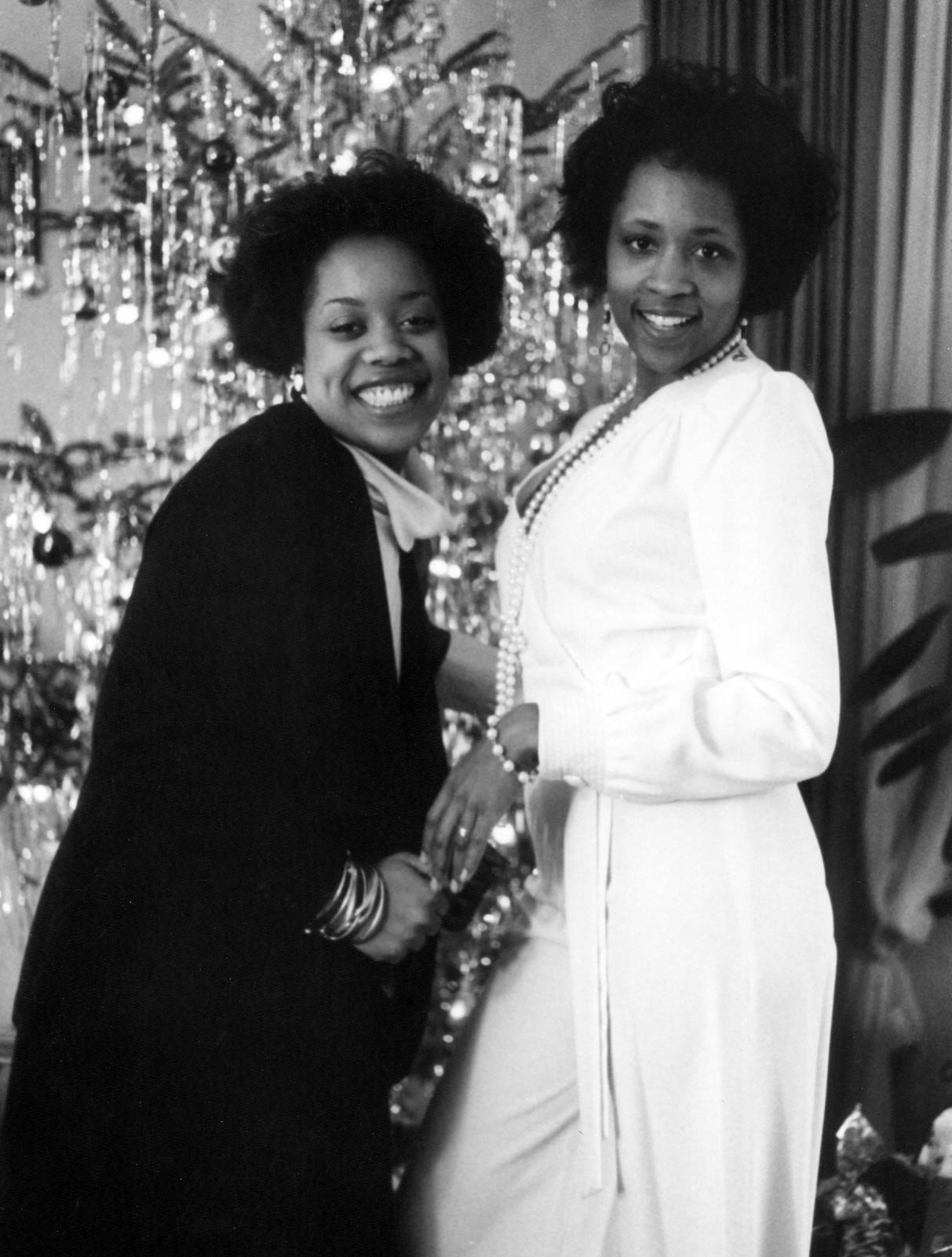 Lori and Judy 1976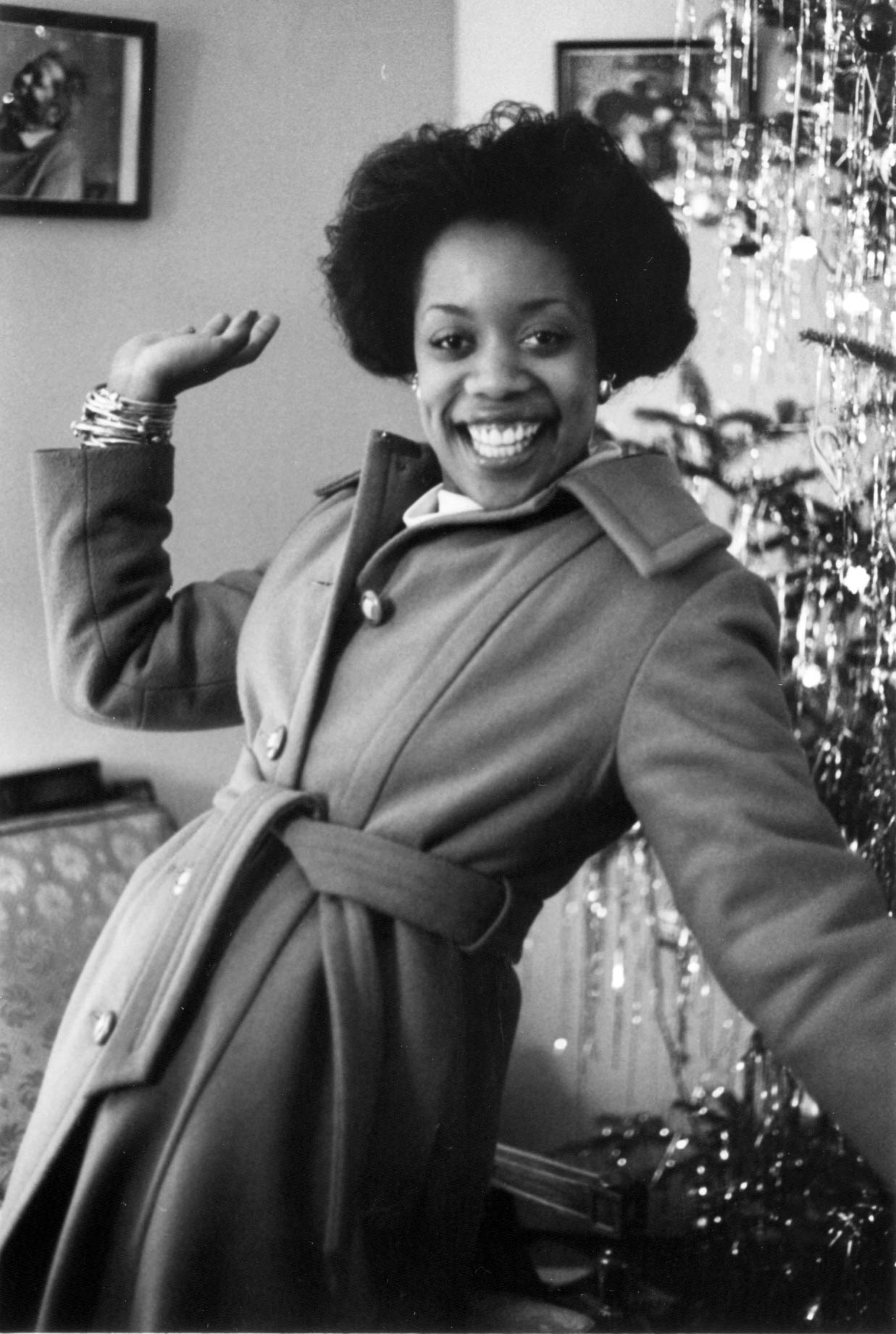 Lori 1976
Lori is the youngest. She went to elementary school at PS 121 on Throop Avenue (2 blocks from home) and to PS 135 (which has disappeared) for middle school. Like both her sisters she went to the High School of Music and Art, her instrument was the cello. She went to Springfield College in Massachusetts for a while and then transferred to Lehman in the Bronx, where she graduated. Then she had a career in fashion, following her dad's flair for style and elegant clothing, ending up traveling the world (e.g. Hong Kong) as a top buyer for famous NYC department stores, and eventually moved to Chicago to work at Sears headquarters (world's tallest building at the time), making her the only daughter who ever moved away. Years later she married Mel Funchess, who I have not met yet.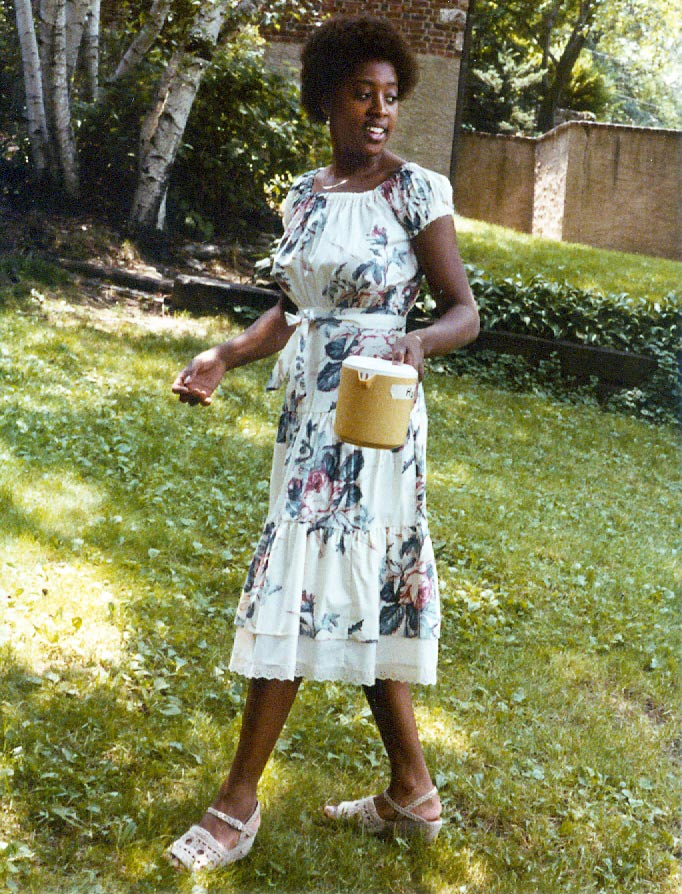 Christine 1978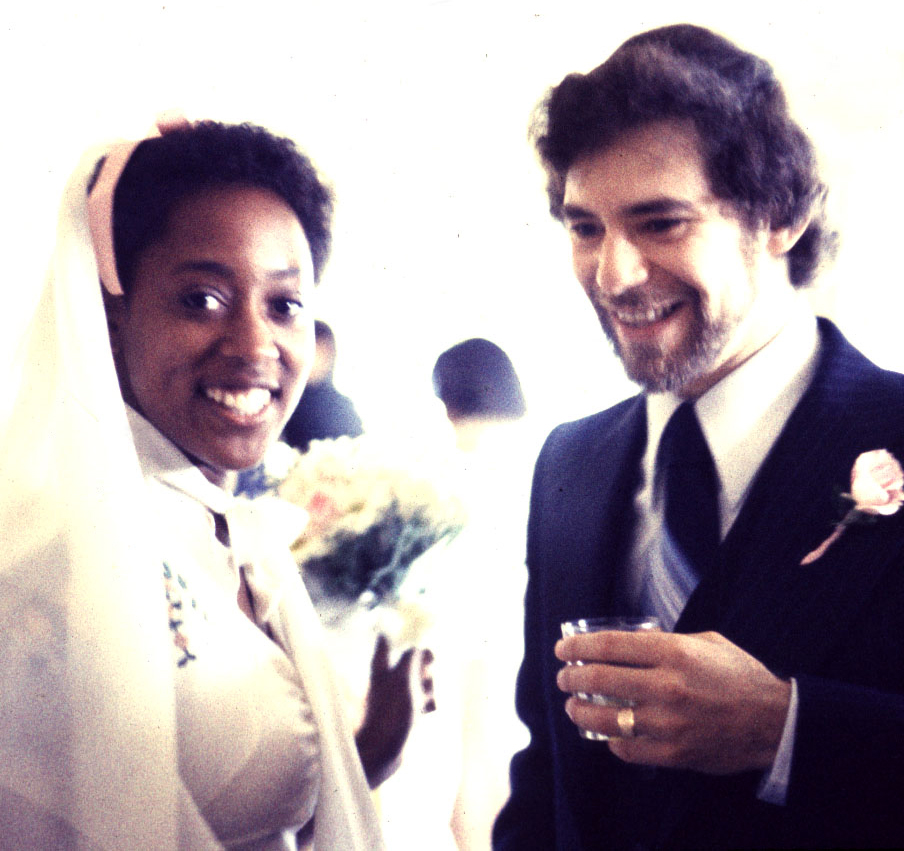 Christine and Henry Wedding
Christine is the middle sister. Short bio (her words): "I graduated from [SUNY] Cortland. Was a media Assistant at [SUNY] Oneonta. Then taught at LaGuardia [Music and Art] then at Truman [in the Bronx near Co-Op City]. AP at August Martin [high school in Queens] then Bronx Science. Summer school principal at August Martin and Science. Summer school AP at Stuyvesant." Retired in 2017, saying: "I'm loving my oboe- Have you seen me in
Mozart in the Jungle
on Amazon Prime- It's a new career- got my SAG card! I'm in three orchestras and two bands- I even play in the band in Maine!!" Wants us to come to Kinapic. Like Lori, Christine went to PS 121 and PS 135 and then Music and Art (oboe).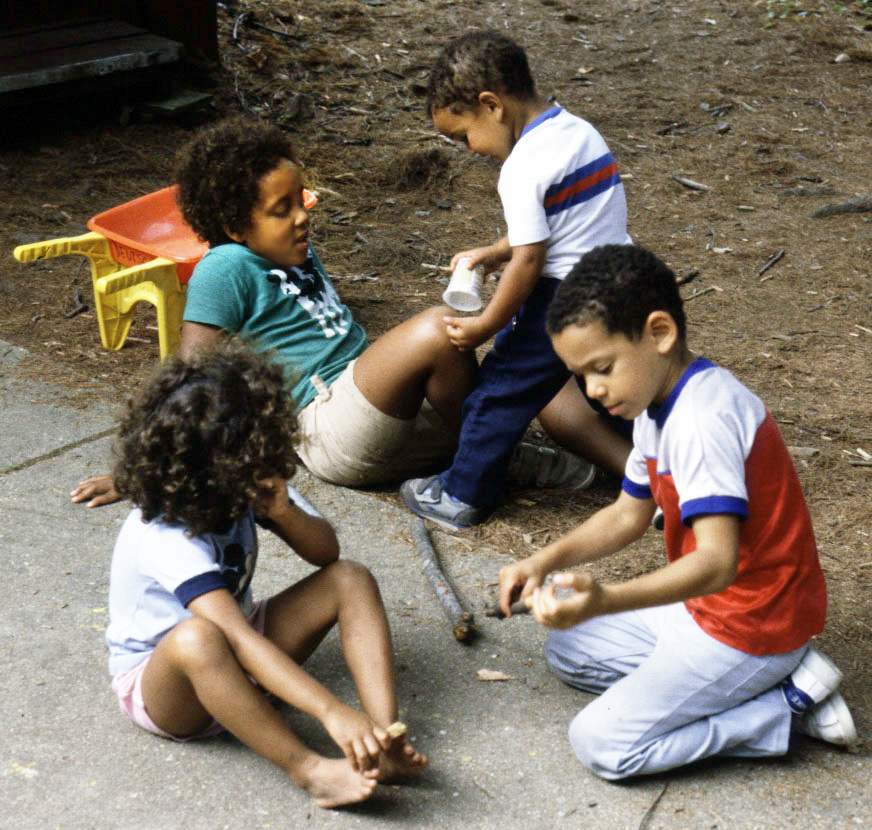 The four cousins 1984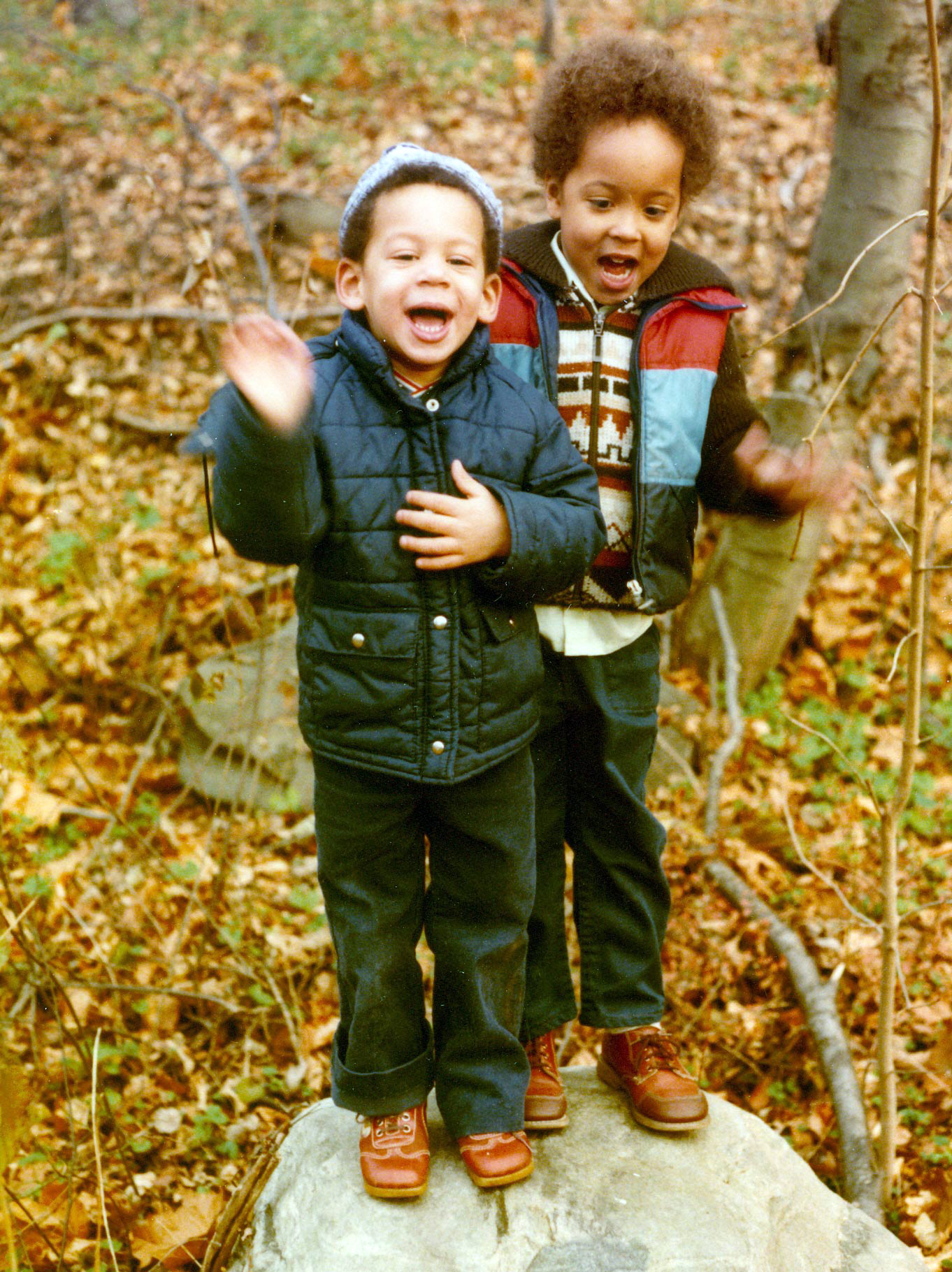 David and Peter 1982
Christine was married to Michael (forget last name) in the 70s, then married Henry W. Deutsch (born two days after me) in 1976; they have 2 sons, David (1979) and Philip (1983), your 1st cousins. Henry is named after FDR VP Henry A Wallace, who ran for President in 1948 on the Socialist line; Henry's sister Eugenia is named after Eugene V Debs. Eugenia is married to Bernie Cohen; they have 2 daughters, Lori and Debra. Henry's parents were Irving and Miriam (b. Fuchs), who ran the Kinapic housekeeping cottages on Lake Kezar outside of Lovell ME in the summer, where we used to go for summer vacations from 1977 until 1987 (and I guess you guys kept going there after that). I think Henry (and maybe Eugenia and/or Bernie) own it now,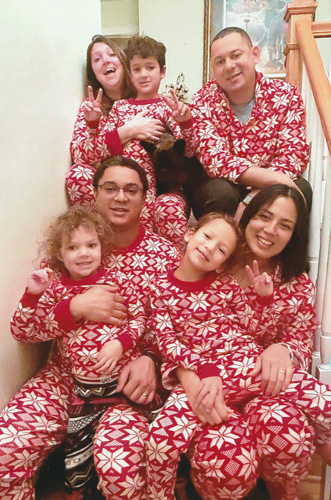 Deutsches 2023
and probably sold some or parts of it off, you know this stuff better than I do. My impression is that Kinapic started out as a kind of socialist Jewish commune in the 1940s but by the time I knew Irving he was a capitalist through-and-through.
In late news... David married Tabetha Pate, have a new (2017) baby Carolina, and live in Houston, where they were flooded out by Hurricane Harvey. Philip married Jessica Klug and they have a new baby William (2017); they live in Baltimore. Carolina and William are the first (and so far only) members of the newest generation on the family tree. The photo at left, taken New Years 2023, is from Christine, who writes "David's family is on the right. Carolina and Tabetha, are in front of him. Jessica is top left and is holding William. Philip is in front of her holding Katherine (Katie). Roo- the french bulldog is between William and David. William: May, 5½, Carolina: May, 5½ (2 weeks younger than William); Katie: October, 4".
Granma
[
SEE IN FAMILY TREE
]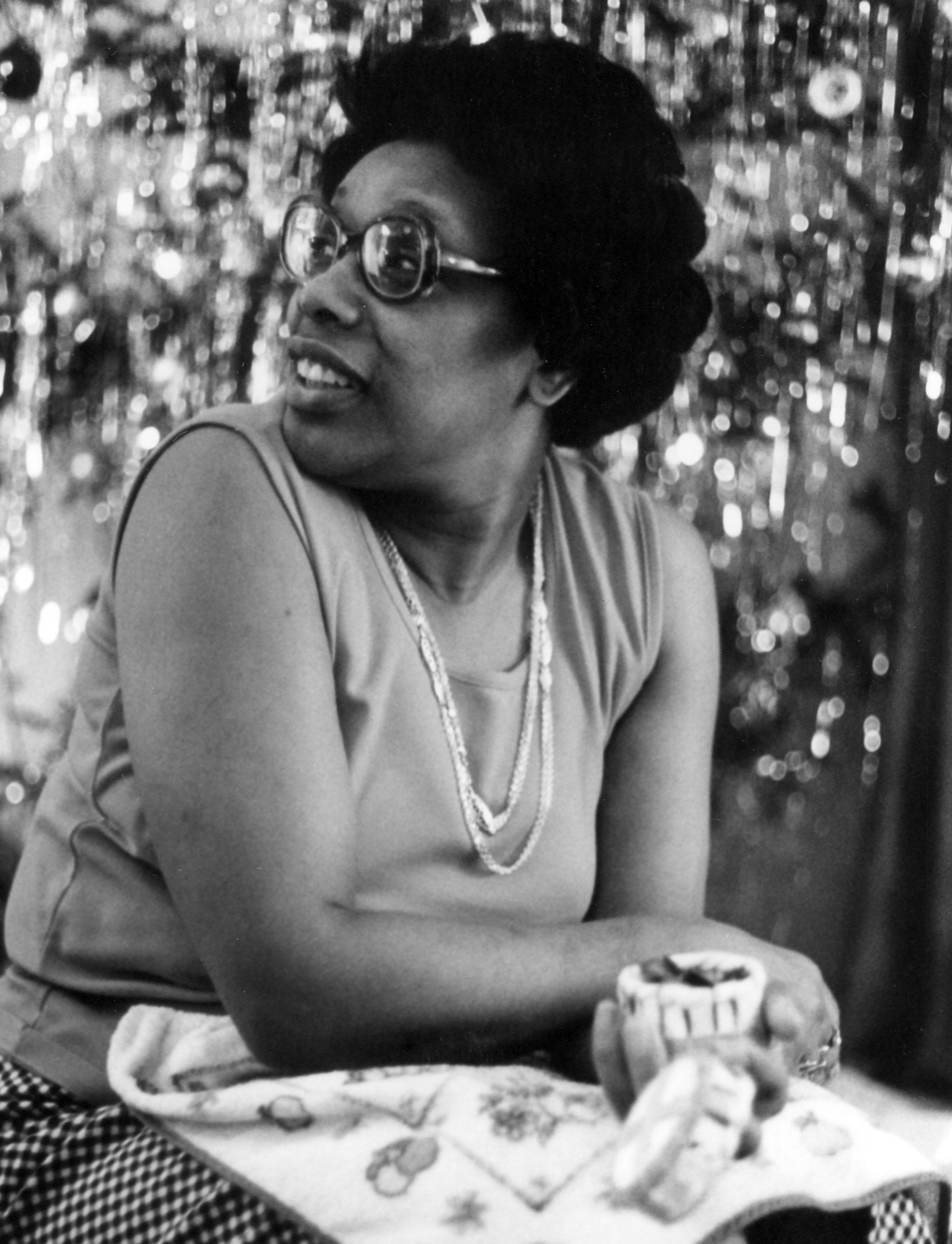 Granma 1975
Granma in 1977
Consuelo Lillian Scott, née Bergen (Granma or Consie), was born in New York City Friday, January 27, 1922 (just a few weeks before my own mother) and died in the Bronx Saturday, June 22, 2019, age 97.
Consuelo's dad: John Bergen, a.k.a. Alexander Bergen.
Consuelo's mom: Laura Wilson (Mama Lori), b.1906 in St.Eustatius (Sint Eustatius, Statia). Died just short of her 100th birthday in 2006. Mama Lori was a Dutch citizen. Was she also an American citizen? Who knows!
Grandma was born when Mama Lori was only 15, so they were more like sisters than mother and daughter. Her father was rarely present, though she saw him from time to time. He was supposed to provide child support but never did; he spent all his money on his car. They lived in Harlem. For many of these years she lived with and was raised by her aunt Louise (Lou). Grandma went to PS ??? and ... I forget the name of the high school (Julia Richman?) — it was a trade school for seamstresses. Then she was a housewife, then she worked as a school aide at various public schools in the Bronx including Evander Childs on Gun Hill Road.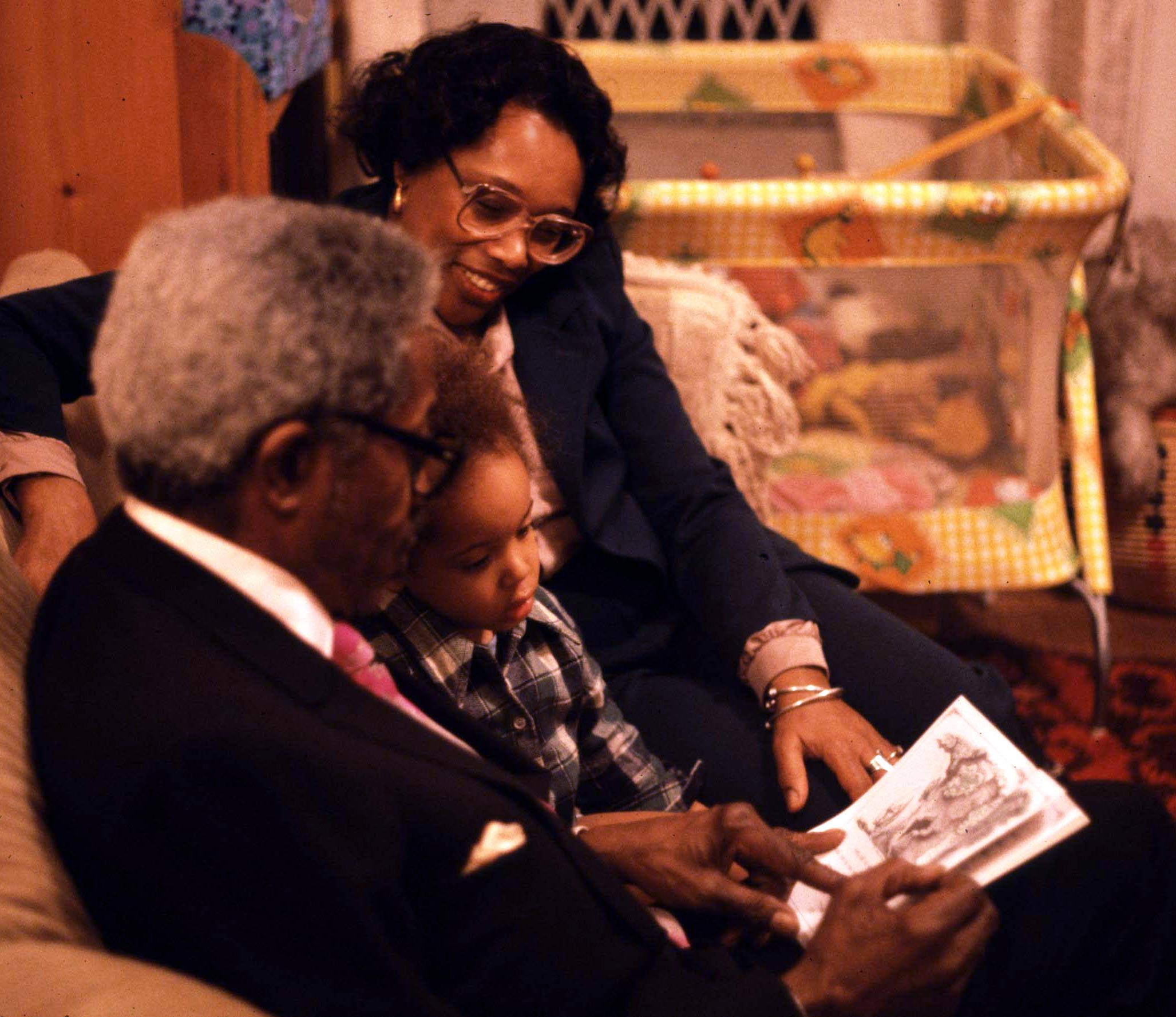 Reading to Peter about 1980
Like my parents, Granma and Granpa were married in 1944. They lived on 146th Street and Judy was born when they lived there. Mama Lori was married to Carrington Lewis then, and shortly after Judy was born in 1947, they bought the house at 1047 East 216th Street off Laconia Avenue and lived there until about 1958, when the moved to the Eastchester projects near Gun Hill and Boston Roads: the building at 1245 Adee Avenue, a 3-bedroom unit on the 8th floor facing front. After the kids grew up and left, the housing authority made them move to a smaller unit on the 3rd floor, which they didn't like.
In the early 1970s Granma went to back to school and got a BA from Lehman College, 120 points plus tons of make-up courses in math and science, which she had never studied. She retired probably around 1987.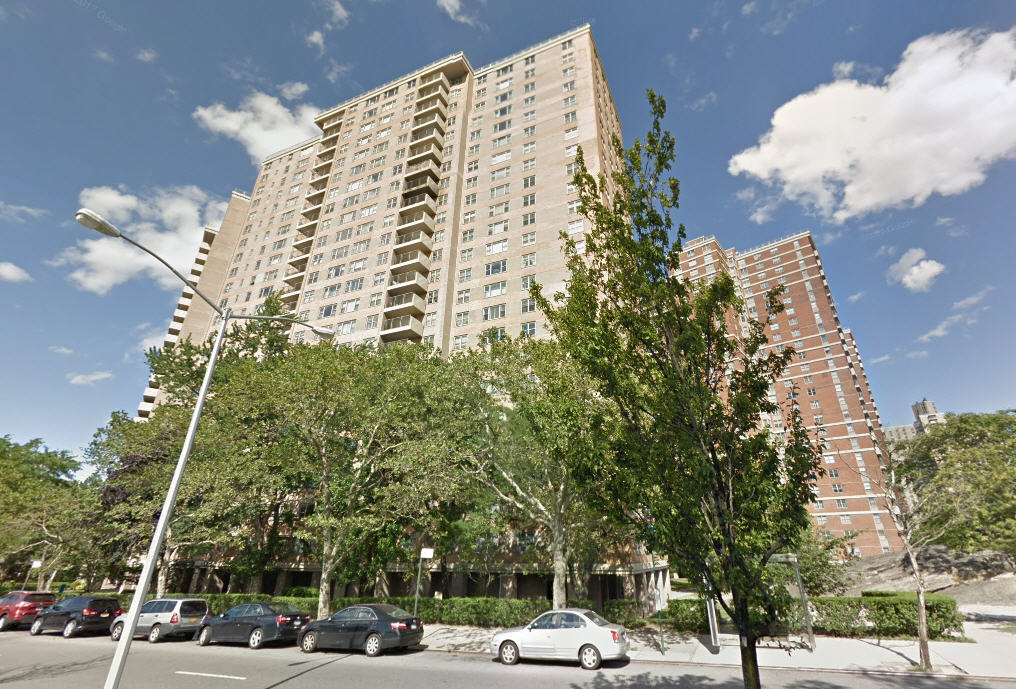 Granma's Co-Op City building
About 1990 Granma and Granpa moved to a very nice apartment in Co-Op City, 920 Baychester Avenue, Building 1A (i.e. the first building), sixteenth floor, Apartment 16D, with a terrace and a spectacular view all the way to the distant horizon. When Granpa died in 1996 Granma was alone and was losing her eyesight, so Lori moved in with her for some years, but then went back to Chicago. After that Amy stayed with her for about a month. Eventually her sight was totally gone.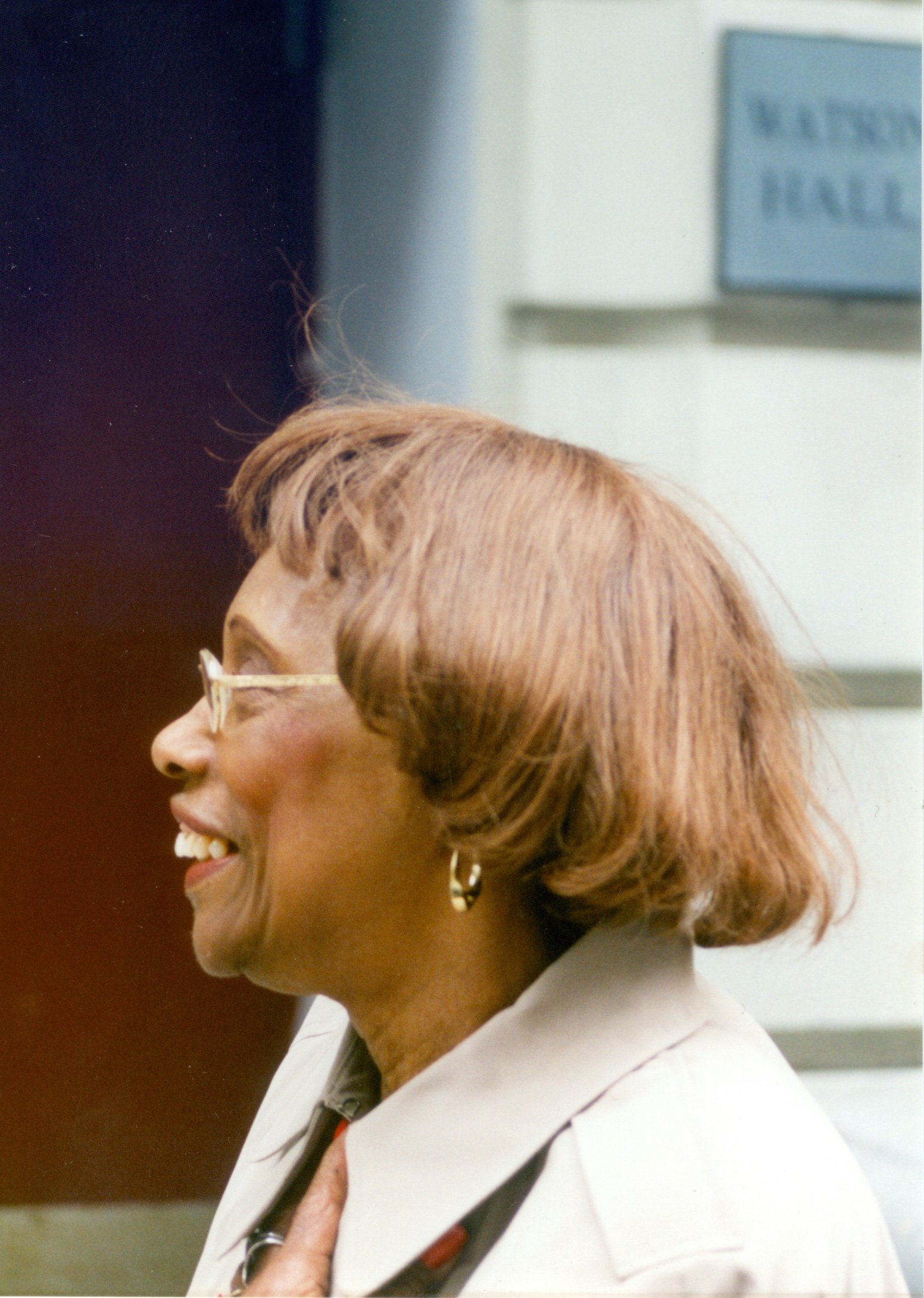 At my work in 2000
Amy and I went to see her in November 2012 and again Xmas 2013. She was 90-91 years old and still totally lucid and in much better humor than when she first started to lose her eyesight around 2000. She had a series of ladies who came every day to keep her company, cook and clean, and take her places (shopping, doctors appointments, and to City Island for manicures and pedicures; also one of them did her hair). She looked much younger than she was. When she didn't have anybody with her she "watched" News12 The Bronx or listened to audio books. Her living room is exactly the same as the one in the Projects, with the same piano, sofa, upholstered chairs, and paintings. The same pictures of Judy, Christine, and Lori on the piano, plus framed pictures that I took on the walls including the famous
triptych of Granpa bursting into laughter
, and of Granma with a loaf of bread she had just baked (at first she hated that picture but eventually grew to like it).
Granma could tell family stories all day, she remembered everything both times Amy and I saw her. For any given event, she had an uncanny ability to remember not only who was there and what happened, but also what everybody was wearing and which day of the week it was. But when Peter went with David and Philip to see her in Fall 2017 she was seriously diminished, stooped, thin, fading away. But in mid-February 2018 Christine said, "Saw my mother today!! She is well and was quite alert, I couldn't write fast enough!" (because she was asking her questions about the family history).
I was in New Mexico when she died in June 2019. There was a service in Manhattan at a funeral home somewhere around 145th Street on Thursday June 27th; I wish I could have been there. Christine sent some videos: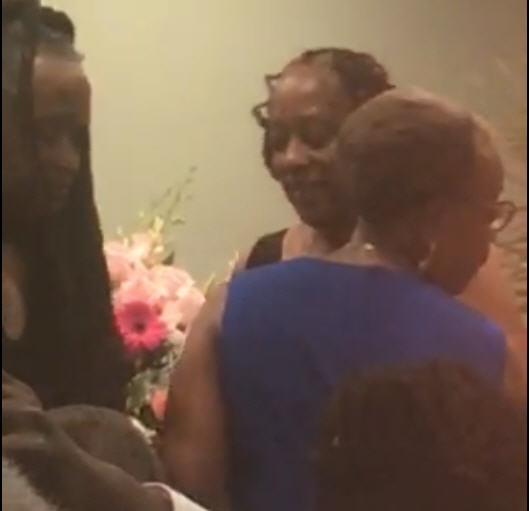 Judy, Christine, and Lori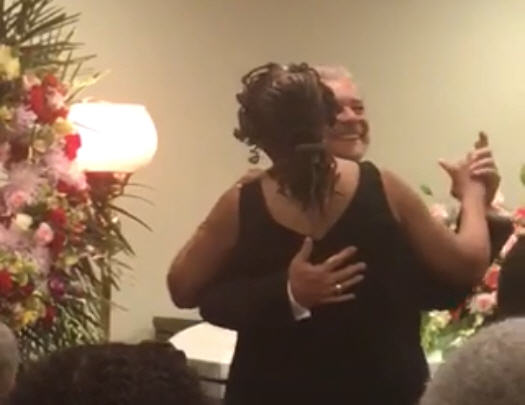 Christine and Henry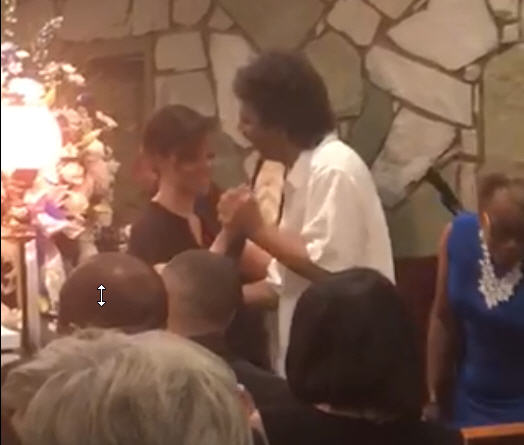 Amy and Ronnie Gray
Christine says "The first song was Ella Fitzgerald- The Man I love. The three sisters 'danced' to that. The last was Tony Bennett- For once in my life. We all sang "Somewhere over the rainbow" with the minister. Lori, Mel, Henry and I attended Mayme's 100th birthday party. She was too upset when Donna told her that Mommy was very ill. They did not tell her that she passed. Donna and Howard and Deborah were there [and] Annette, Maria, Linda (from Boston), Shirley, Yvette, Renata (and Brock), Suzon, Aundonielle. Harold passed a few months ago- Lori and I attended the funeral in SC. Huck is very ill in DC. From the WIlson side- Leah and Chicky and Butchy..."
Mama Lori
[
SEE IN FAMILY TREE
]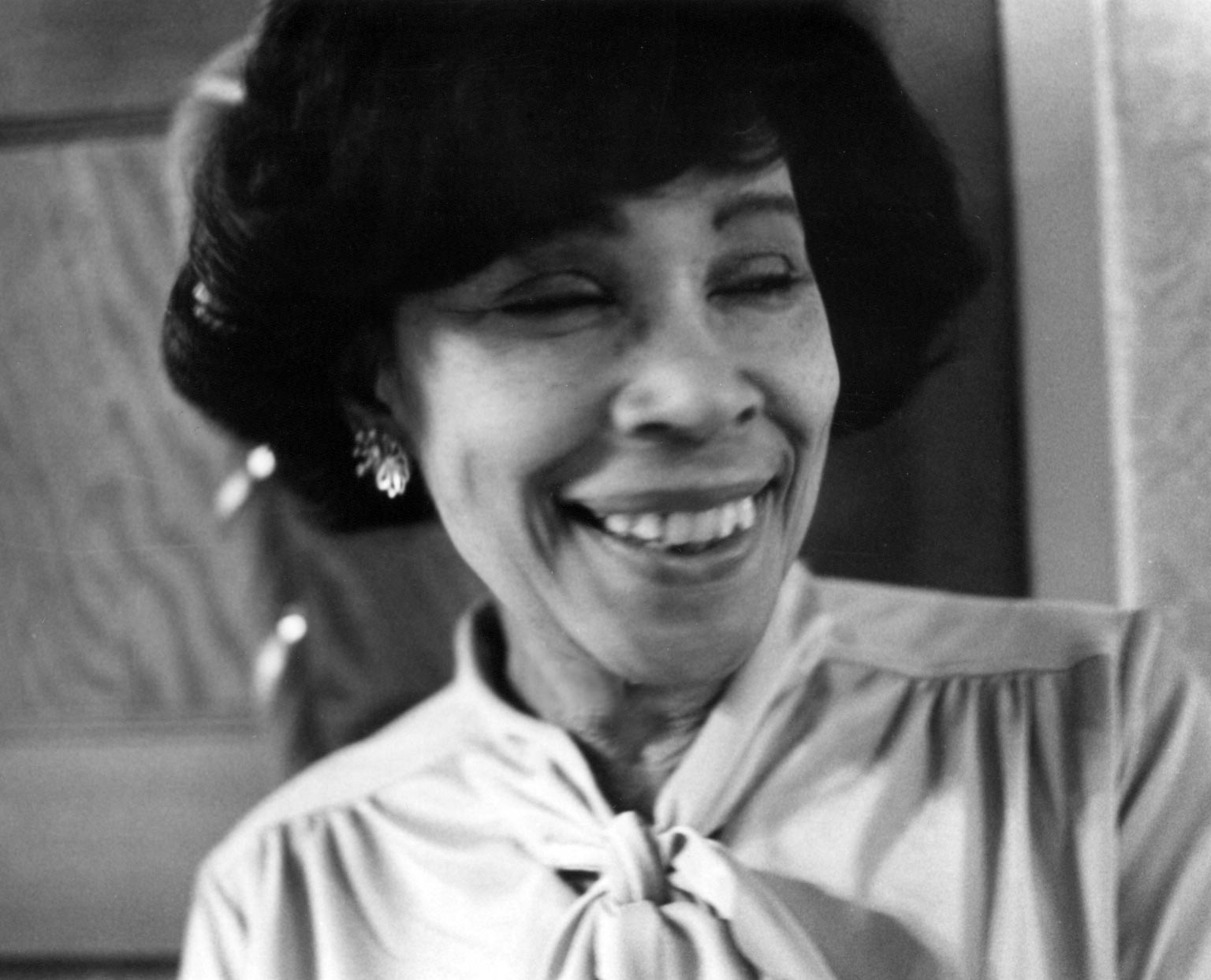 Mama Lori 1976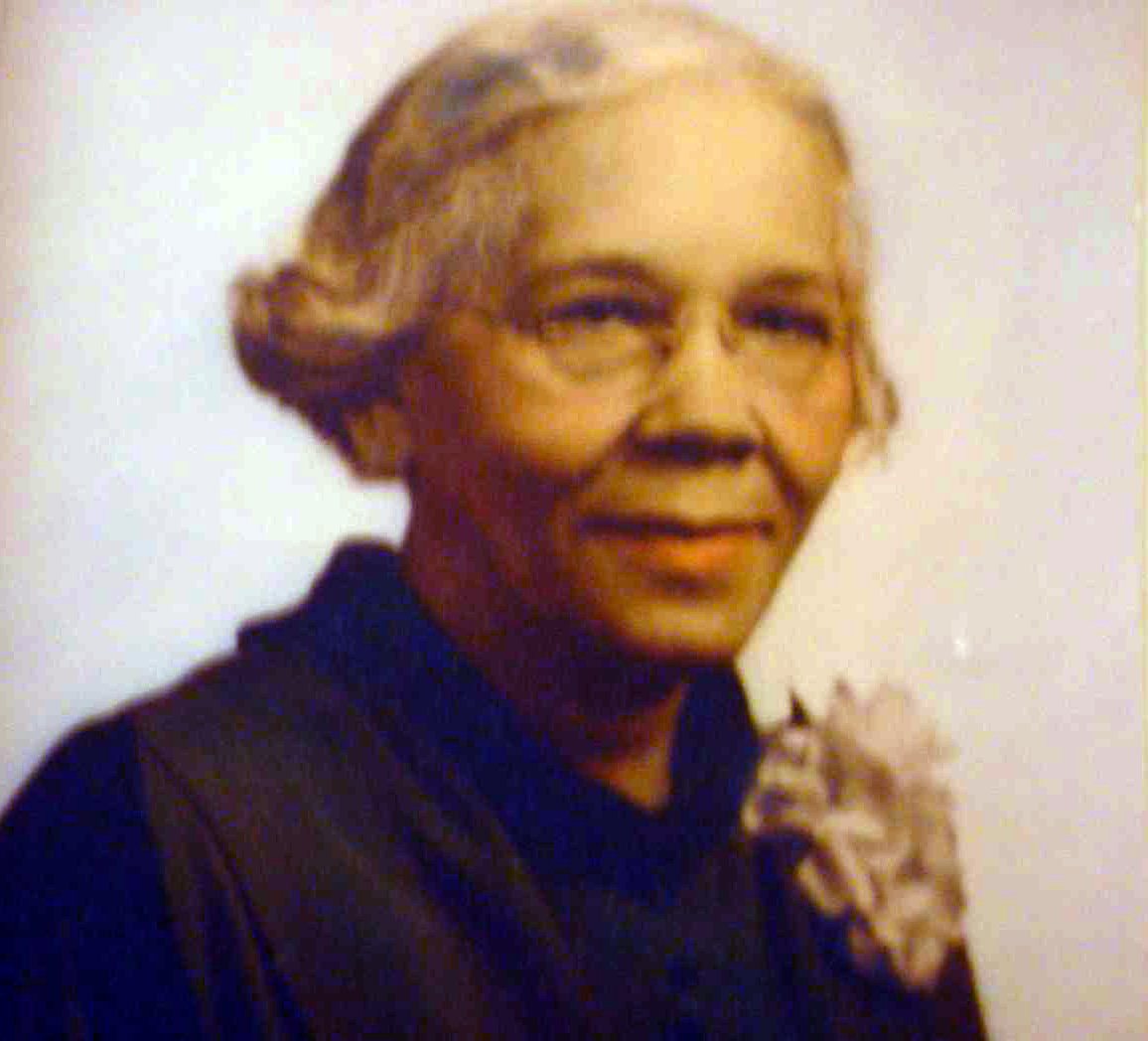 Mama Lori's mother, Ella Schmidt
Laura Wilson, born 1906 in St.Eustatius, Netherlands West Indies. Died 2006, Bronx New York, just short of her 100th birthday. In the family she is known as Mama Lori or Mamilori.
Mama Lori's parents: Ella Schmidt and Donald Wilson (dates unknown but probably born in the 1880s).
Mama Lori's siblings in birth order (dates unknown): Alice, Donald Jr., Louise, Mama Lori, Lillian, Myrtle, Harold and Arthur, all born in St.Eustatius except Harold and Arthur, who were born here.
Since Mama Lori was born in St.Eustatius she must have been a Dutch citizen. Christine remembers when she was little and the family went to Canada, Mama Lori had to show a passport but nobody else did. Mama Lori was unbelievably sweet and loveable. People said she was like a little girl, with a giggly musical laugh and a big irresistible smile. When I first met her in about 1968 she lived alone in an apartment with her dog in some building in Bronx that was near Boston Road, but nobody can remember the details.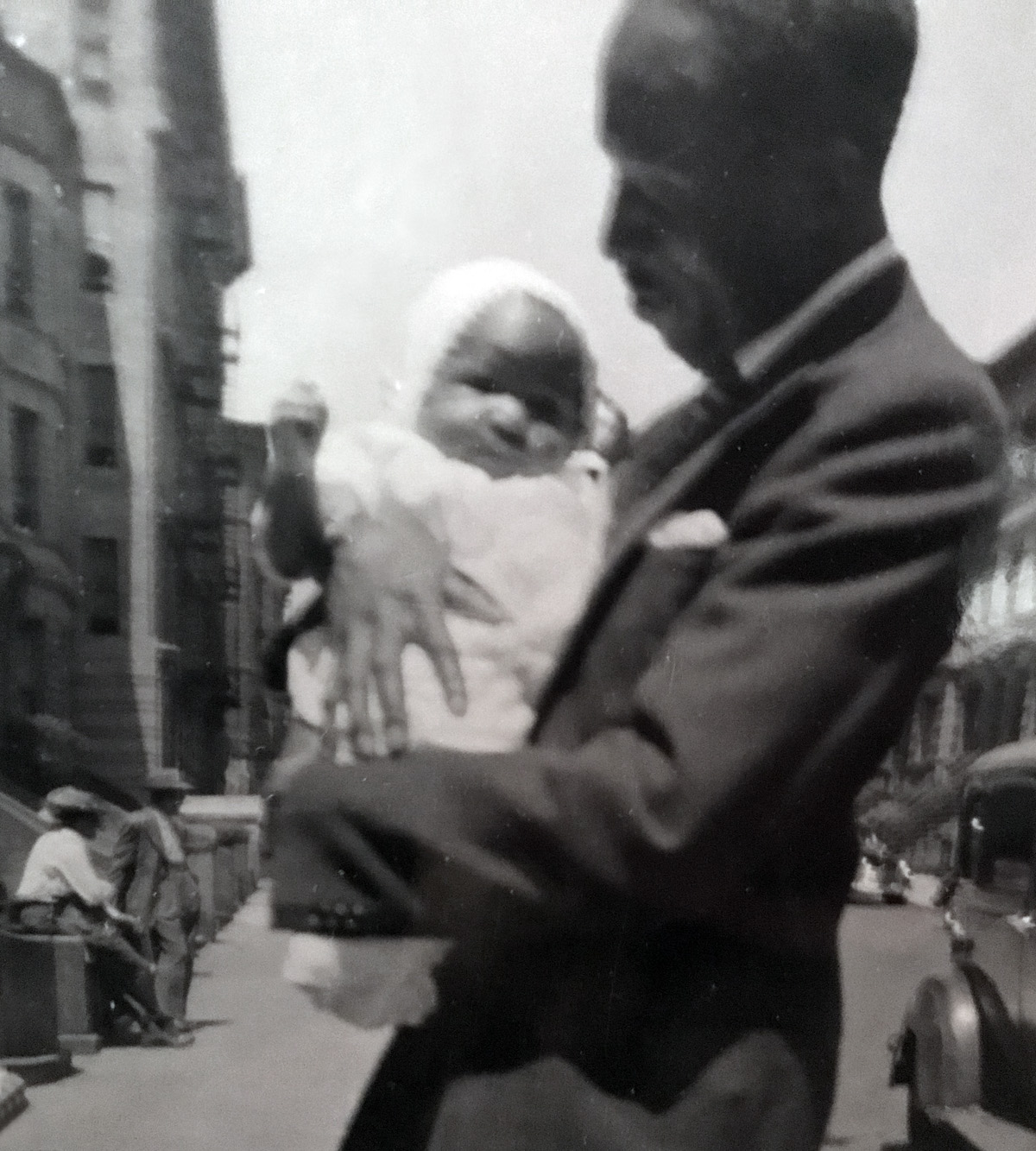 Judy, Carrington Lewis 1947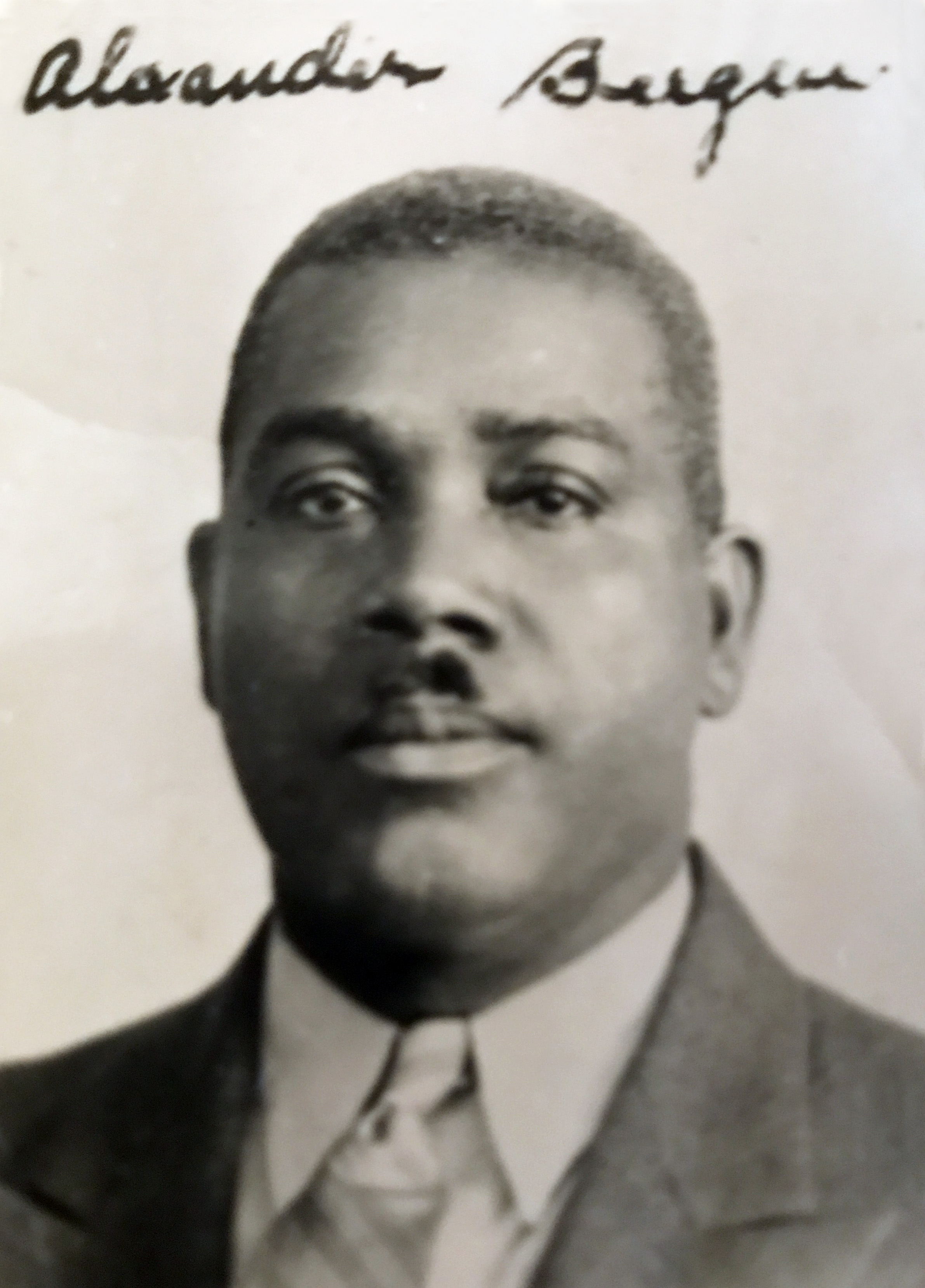 John Bergen
Mama Lori's first husband was Alexander John Bergen, born in St. Kitts, British West Indies, date unknown but probabably in the early-to-mid-1880s. One of 15 children. In the USA he was in the Army and fought in World War I, then he was a taxi driver, then a chef, and finally a gardener at Pilgrim State Hospital in Brentwood, Long Island. At age 15 in January 1922 Mama Lori gave birth to her only child, Consuelo Lillian Bergen, your grandmother.
John had another marriage, wife's name Ethel; they had a daughter Marjorie, who would be Granma's half-sister. Christine says, "John's sister (georgiana) had three children; one, the son Earl, was a first-class mechanic and my father (and I) spent a lot of time with him and my dad learned much about cars from him. I recall a feeling and a sense but can't pull up a face. (I was always dispatched with my dad on Saturday afternoons and we usually went to garages and such)... Great Aunt Ada, John's other sister, married a cook who was one of twins. My mother believes his name was Elvin. She kept her house immaculate and the pots hung on the wall as shiny as ever."
By 1947 Mama Lori was married to Carrington Lewis, but I don't know when this marriage started or when it ended. Carrington was in show business like Mama Lori was herself, and at least two of her brothers, Donald and Harry, who both had orchestras in Harlem. Donald's orchestra was a regular at the Renaissance Ballroom, and brother Arthur was in it too, on sax. Another member was Clyde Eric Nourse who is remembered on the Local 802 website Requiem section, which says "he played with Donald Wilson at the Renaissance Ballroom in Harlem". As Christine says (quoting her Mom), "Donald played the violin and occasionally sang (he was only Okay)". "Don Wilson's Orchestra" turns up constantly in the New York Age, a Harlem daily, from 1931 until 1958. Christine adds:
Donald's oldest daughter moved to CA and stayed there. Phyllis called my mother recently and said she saw her? SHe must be near my mother's age. Lois (loyce- she was sometimes called) lived with us for awhile, I do not recall that, but I knew her well. Henry and I used to take her home to Hartsdale from my mother's house. Married 3 times- I don't think any children Her last husband died in the doctor's office on the pot in the men's room. Donald married a 16-year-old woman when he was 65 or so. They had about 6 children and moved to Long Island. They were all tall and slender, like him. They must be in their 50s. Bert's brother Stanley was a VERY handsome man — he took my mother to her prom. Bert was also handsome but he messed around with the wrong WI woman and she cut him. He had a scar from his forehead between his eyes, down the side of his nose to his lip.
Speaking of ballrooms, I don't know if Granma and Granpa ever went to the Renaisssance (they must have) but I know for sure they went to the Audubon Ballroom on Broadway and 165th Street, because when Peter was in the hospital across the street with his knee, it looked right out on the ballroom; Granma and Granpa stood there looking at it and reminiscing about all the times they used to go there.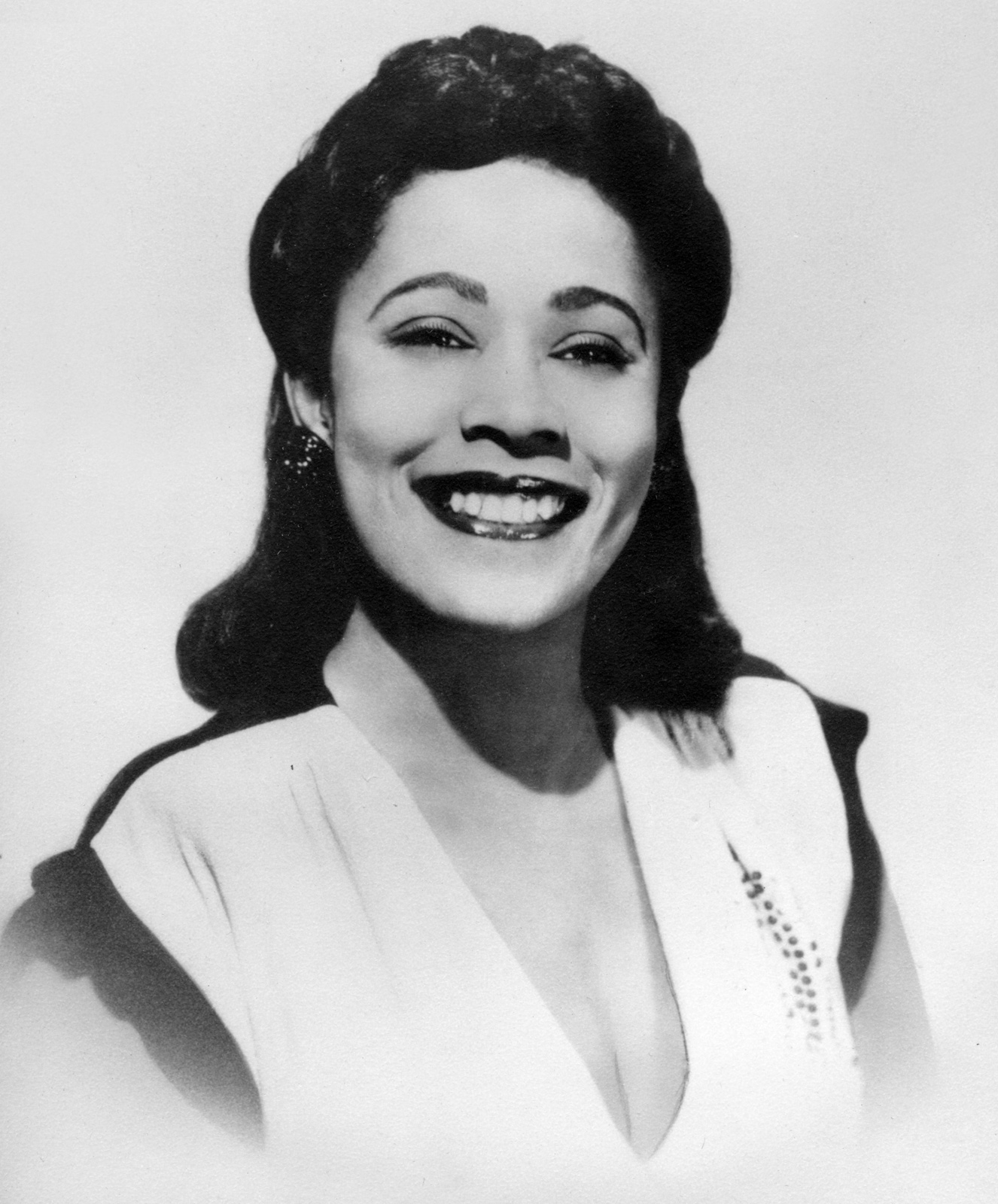 Mama Lori 1940s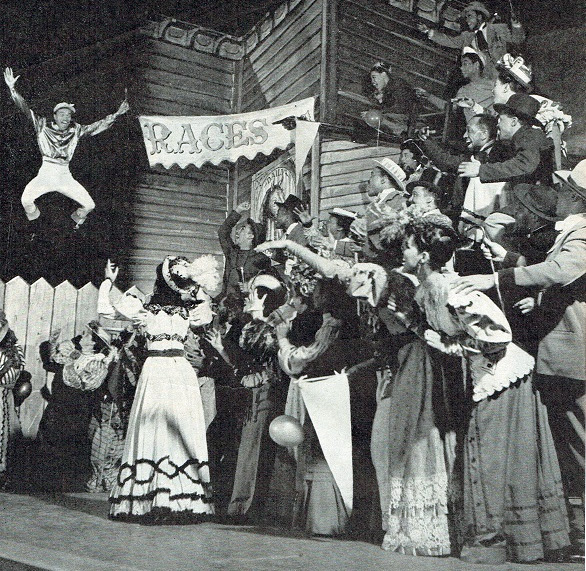 St. Louis Woman scene 1946
Carrington Lewis was a featured actor in the racially integrated play "Stevedore" at the Civic Repertory Theater in NYC in 1934. In 1938 he was in the integrated cast of the George S. Kaufman / Moss Hart revue
Swing Out the News
at the Music Box Theater on Broadway, in which Hazel Scott also appeared. In 1939-40 he was a member of the singing group
Josh White and his Carolinians
which made a number of recordings on the Columbia and Harmony labels (
some can be found on Youtube
), and which was featured in the 1940 Broadway musical
John Henry
with Paul Robeson. In 1940 he was also in the radio drama
Green Pastures
on
The Cavalcade of America
.
Mama Lori and Carrington Lewis were in the cast of the Harold Arlen / Johnny Mercer / County Cullen musical St. Louis Woman in 1946, starring Pearl Bailey, Ruby Hill, and the Nicholas Brothers. Lewis is listed in the cast (as "Waiter") but not Mama Lori; I suspect she had a nonspeaking singing-dancing role. She might be somewhere in the second photo. She probably did more than just this one play but I don't have any more information and there's nothing on the Internet that I found so far. Anyway, since she was a singer I would be surprised if she did not sing with the orchestras of her brothers Donald or Harry. Christine said of the Wilsons, "EVERYONE sang AND played an instrument, it was the Wilson way!" and that Mama Lori was "a regular on the chittlin' circuit". I think "Harry Wilson's Orchestra" had a regular show on WAAM in 1931 (it's listed in the NY Daily News radio schedules).
Christine says of Carrington, "He was around during all of our childhood. Momilori put him through school and when he graduated, he walked out on her. I don't know why he left but it might have been because of her gambling or maybe that started after he left. He was tall, proud, spoke well and was a fastidious eater. He never touched food with his hands and I cannot recall his ever being anything but impeccably dressed. You sat to the table when you ate and behaved much like Downton Abbey."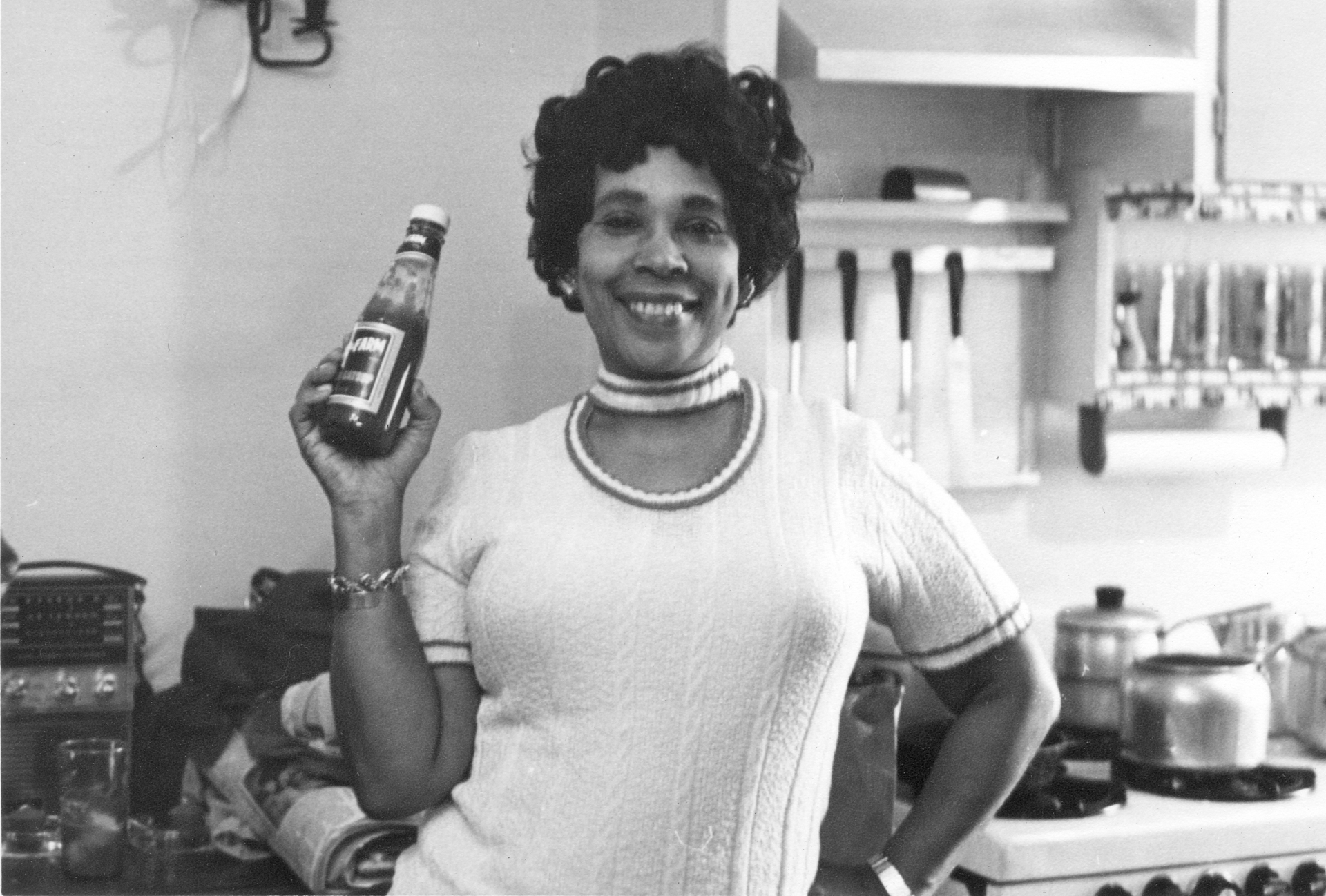 Mama Lori 1970
About 1969 Mama Lori married Floyd Jackson, an extremely nice guy who was the night manager at a parking garage on Sixth Avenue and 46th Street, and who looked remarkably like Ike Turner, and they bought a house in Queens Village. Like John Bergen, Floyd loved cars but he also loved Mama Lori and the family. She would always come to help him with the accounting at the end of his shift, late at night. She was a genius with numbers, she could add up big columns of figures in her head and count huge piles of cash at superspeed. Aside from whatever jobs she had (e.g. as a waitress at IHOP on 34th Street) she was also a numbers banker in Harlem; I used to drop her at a storefront on 146th Street on the east side of Broadway.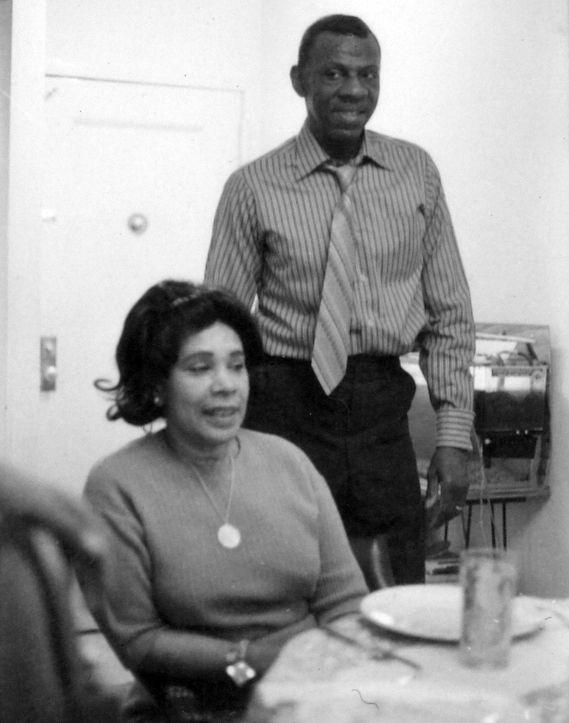 Mama Lori Floyd 1970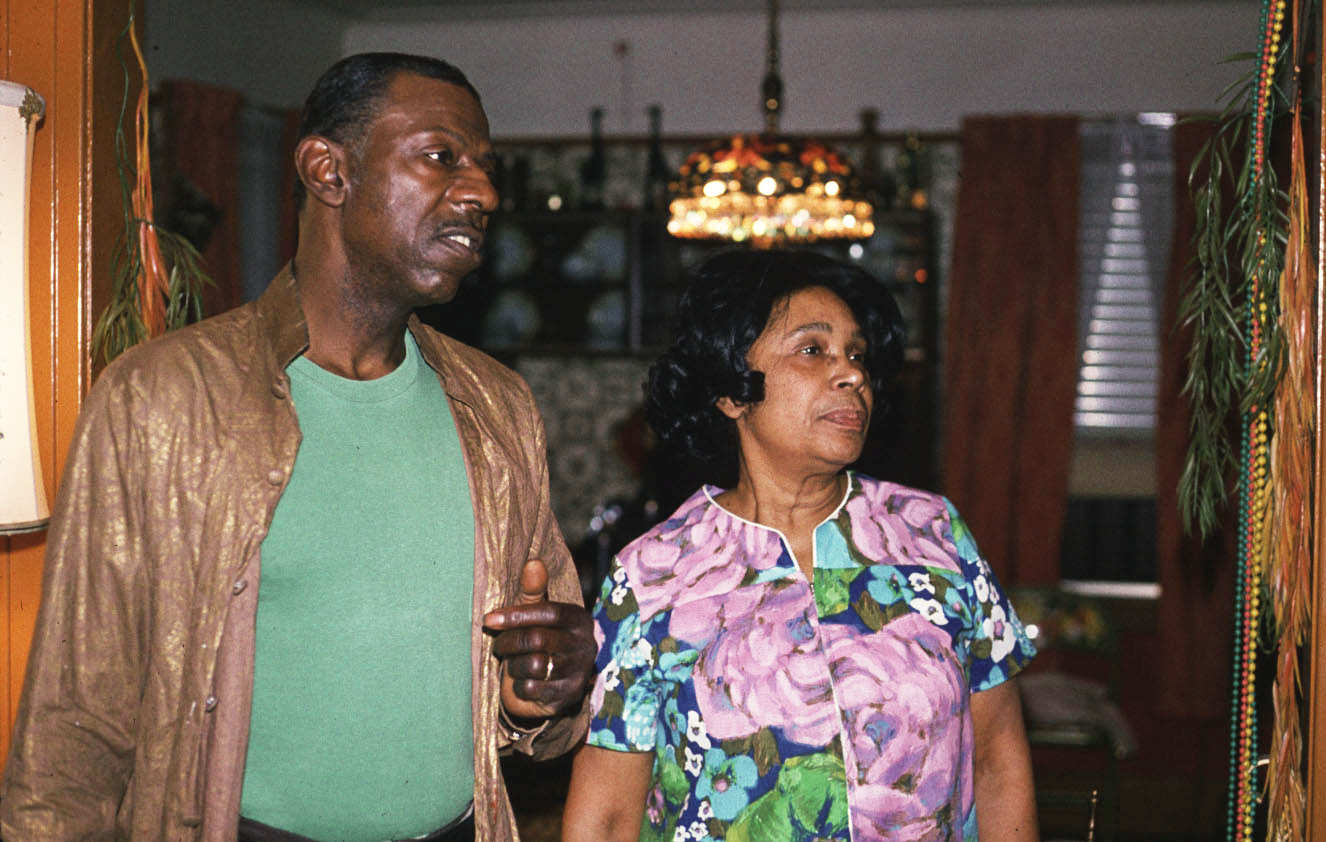 Mama Lori and Floyd at their house 1974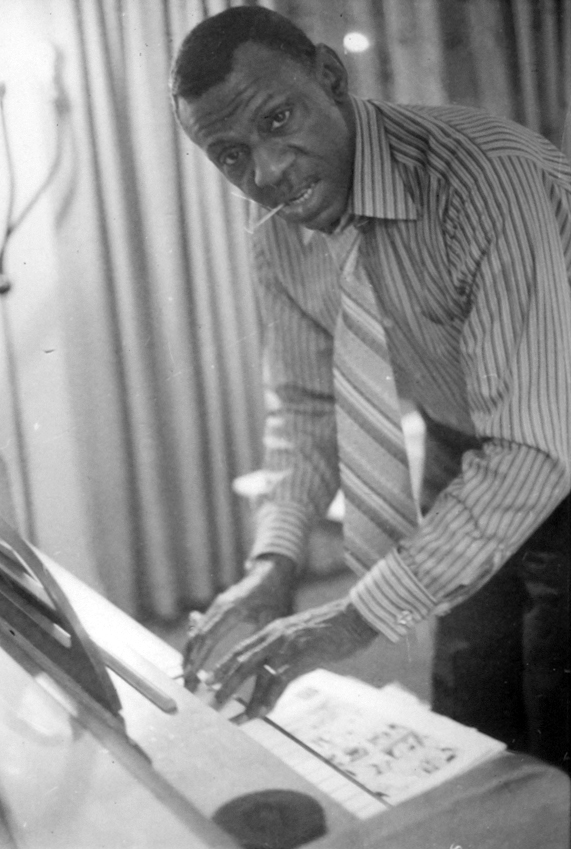 Floyd in 1970
Mama Lori and Floyd's house was at 208-15 110th Avenue in Queens Village, Zip 11429, near Hollis Avenue and Francis Lewis Boulevard, a huge sprawling area of modest brick single-family homes with yards, 100% Black. The house is still there but many of the other houses in the area have been replaced by newer ones that aren't brick. Mommy and I were married in that house December 21, 1974. Mama Lori sang "Danny Boy" at the reception, she had a voice like an angel.
We knew tons of people on Mama Lori's side of the family; there were big get-togethers at her house most weekends, especially Uncle Harry and his wife Lily and daughter Barbara. Aunt Lou, cousins Sylvia and Pearl, Phyllis, Sharon. Sylvia's husband Willie Netter, who was another former jazz musician; he could play the piano just like Teddy Wilson. I don't think I ever met Donald or Arthur. But when I knew all these people they never talked about their adventures in the old days, they just barbecued and played cards. That's why it's hard to put it all together 30-40 years later.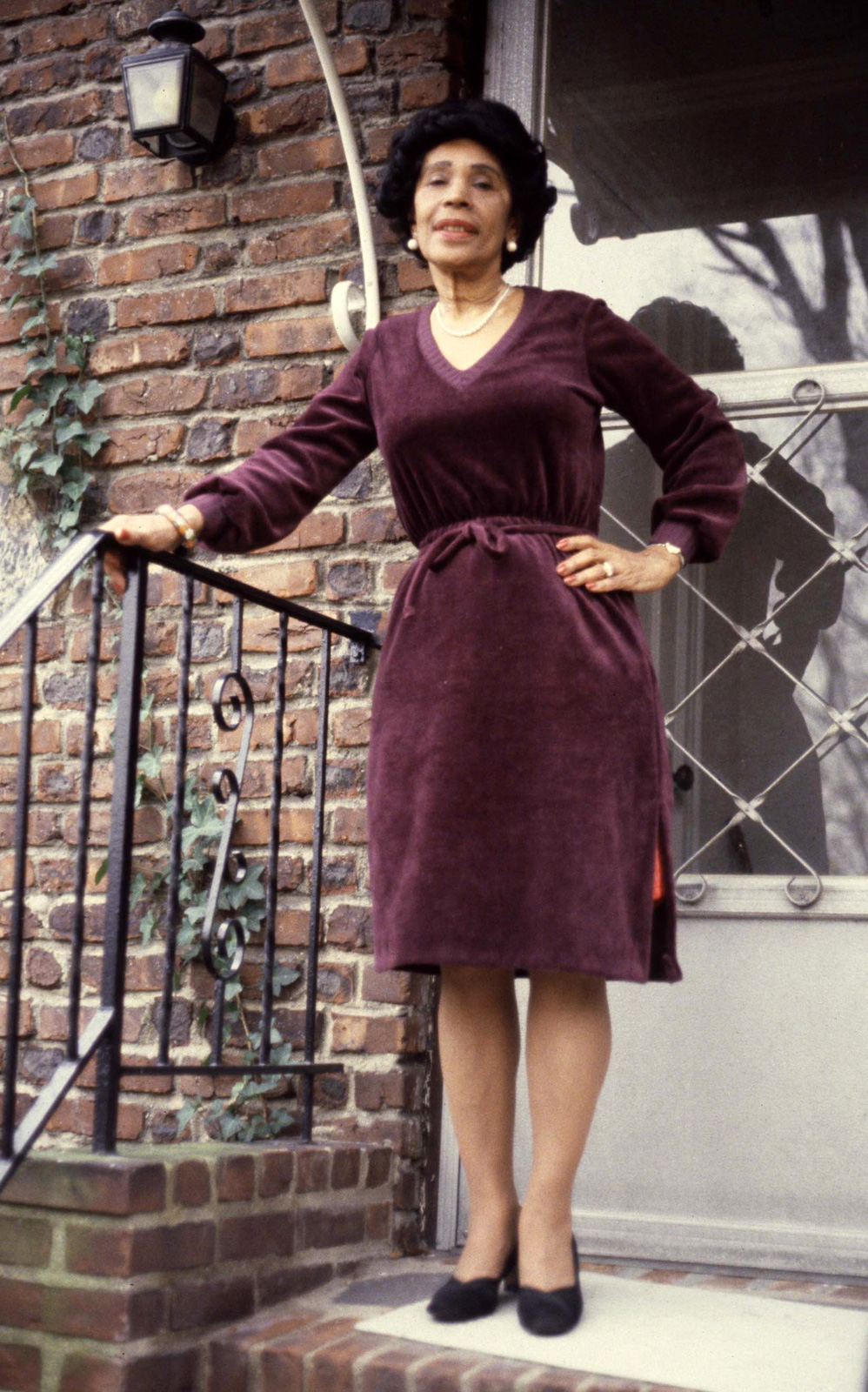 Mama Lori 1979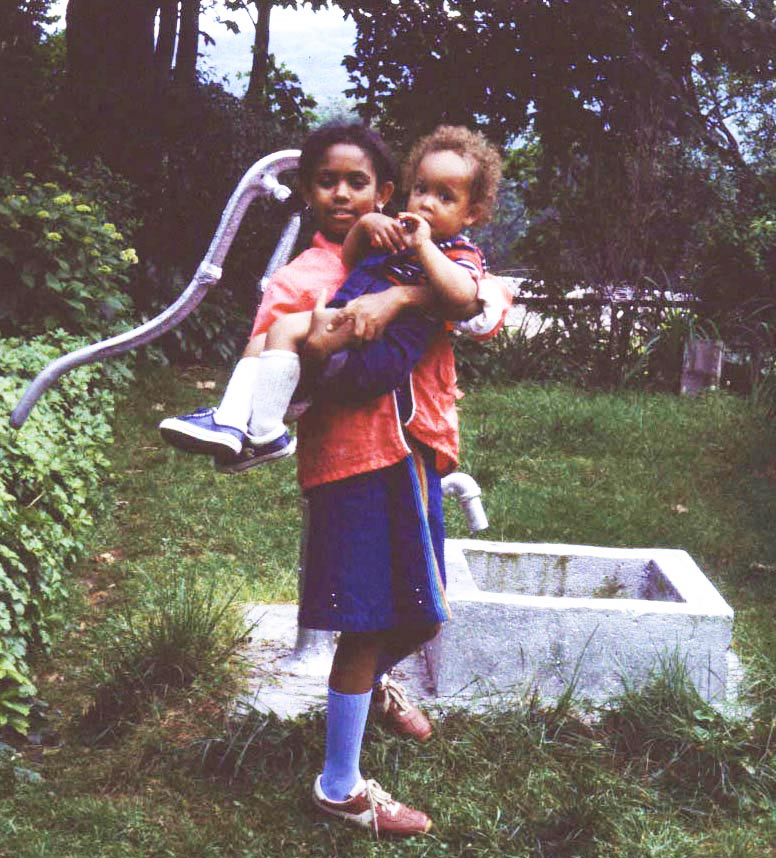 Sharon and Peter 1979
Mama Lori was so beautiful that even in her 70s and 80s, young guys were hitting on her (I saw this happen). Her older sister Lou pretty much raised Grandma because Mama Lori was too young, and Lou's daughters Sylvia and Pearl were like her sisters. They were all very pretty. Sylvia married Willie Netter and had a daughter Phyllis who adopted a little girl Sharon and later got married.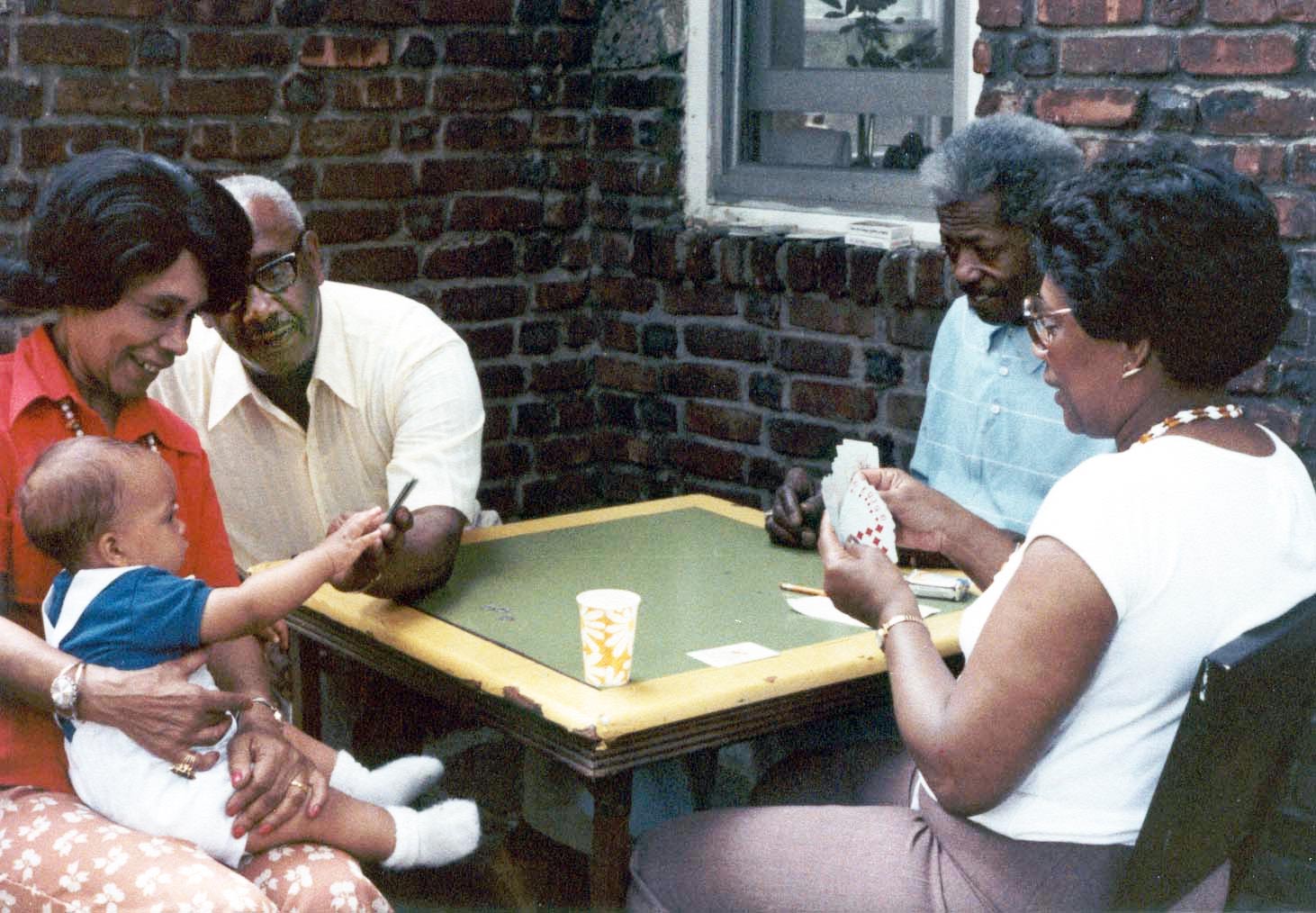 Uncle Harry at Mama Lori's 1978
Anyway the inside of Mama Lori's and Floyd's house was painted bright colors and the furniture was elegant. Floyd had fixed up the basement. There was a big extended-family cookout in the back yard almost every weekend, even when it was pouring; Floyd had a huge tarp. About half the big holidays we'd go there for dinner, Mama Lori cooked huge dinners (the other half we'd go to the Bronx and Granma cooked huge dinners). We saw the first moon landing live on TV when we were at Mama Lori's house. They lived there for many years but Mama Lori had a gambling problem and eventually lost all of their money, so Floyd left her. She moved to the building at 3438 Fish Avenue, just off Boston Road, a few blocks from the Eastchester projects where Granma and Granpa lived on Adee Avenue. There were no elevators; Mommy and I used to drop her off after family gatherings and I'd help her up the dark stairs to her small apartment that was crammed with all the elegant furniture and the giant mirror from Queens (she gave us some of her furniture that she couldn't squeeze in, like a nice red velvet chair; we had it in 118th Street).
3438 Fish Avenue in 2018
It turns out that Mama Lori's apartment on Fish Avenue was in the first large-scale New Deal low-income public housing project, originally called Hillside Houses or Hillside Homes, now called Eastchester Heights. It's enormous, covering about 12 city blocks between Eastchester Avenue and Wilson Avenue, Boston Road and Hicks Street. It was financed by the Public Works Administration, completed in 1935, and opened in a huge ceremony with Governor Lehman, Mayor La Guardia, and a contingent of New Deal officials to a cheering crowd of 5000 because rents were a uniform $11.00 per room and the buildings were very nice, with ample courtyards, gardens, playgrounds, and wading pools. Mama Lori's building is a bit hard to find because even though her address was 3438 Fish Avenue, the entrance is on Seymour Avenue!
About 2000, in her mid-90s, Mama Lori had to go live in an old-age home. Granma would go to spend time with her every day (sometimes with Amy), even though Granma was blind and Mama Lori didn't remember anything and thought everybody was trying to poison her. She left very little, if anything, behind besides Granma and her descendents, and now here we are trying to piece together the details of her remarkable life after it's too late to ask anyone about it.
Granpa
Granpa 1972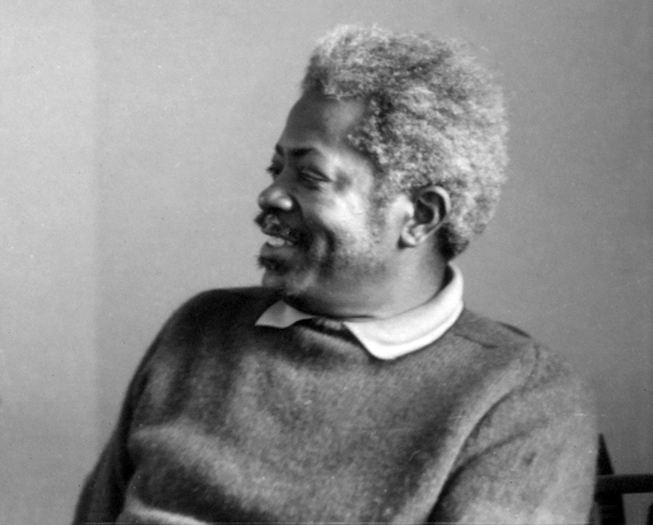 The famous triptych
...
Granpa 1924
Ulysses Samuel Scott, born Lockhart SC February 12, 1917, died NYC July 5, 1996. Grandpa was one of 13 children, including himself, James, Charles, John, J. Roy, Port Royal, Pauline, Kate (Katie Lee), Elizabeth — the others died young. To a lesser extent we saw Granpa's side of the family, which also had a large number of uncles, cousins, nephews, etc. Some of them were at his funeral but I can't remember any names. Dorothy? Supposedly Max Roach and Diahann Carroll are in the same family but we never met them (Wikipedia says Diahann Carroll's father, John Johnson, was from Aiken SC, which is not far from Lockhart, where Granpa is from; Diahann herself was born in the Bronx and went to Music and Art when it was next to City College, just like Judy, Christine, and Lori). Look her up, she did a lot of amazing things, for example the 1961 movie
Paris Blues
, a song "Cantarice" with the Modern Jazz Quartet, and she starred in a 1962 Broadway show "No Strings" about an interracial couple, pretty daring for the time. Also she was the "first African American actress to star in her own television series in a non-stereotypical role". She's also in one my favorite movies,
Claudine
(1974), with James Earl Jones. Coretta Scott (King) is also rumored to be a relative.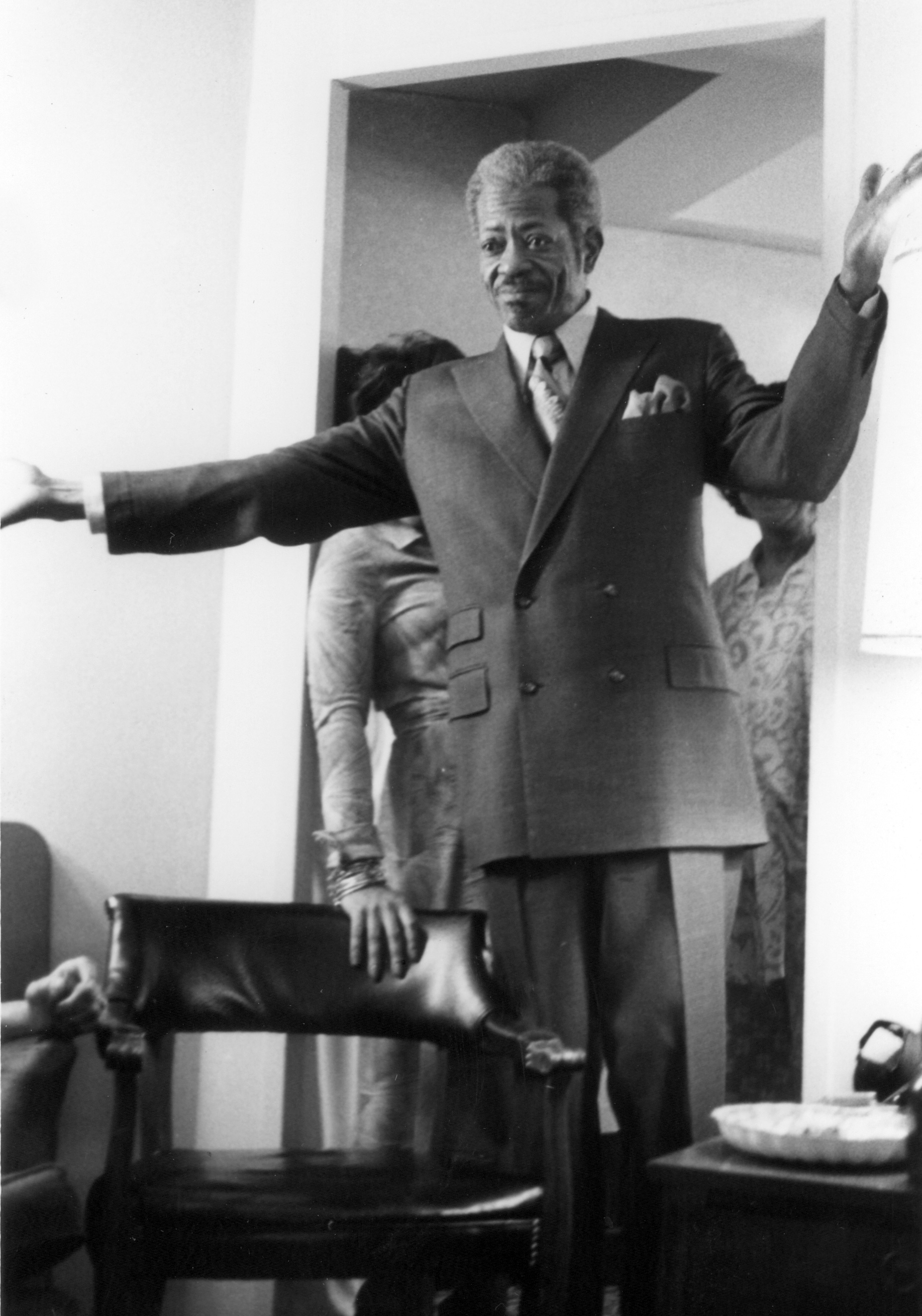 Granpa Xmas 1975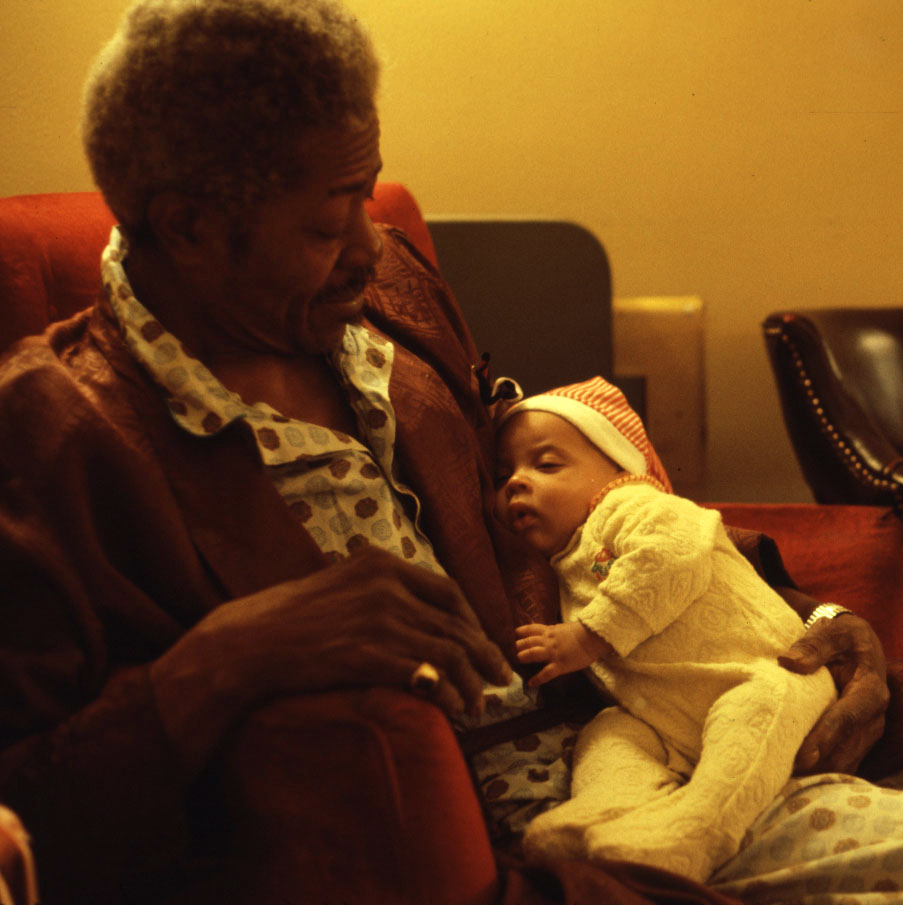 Granpa, Peter Xmas 1977
Granpa with brother Port Royal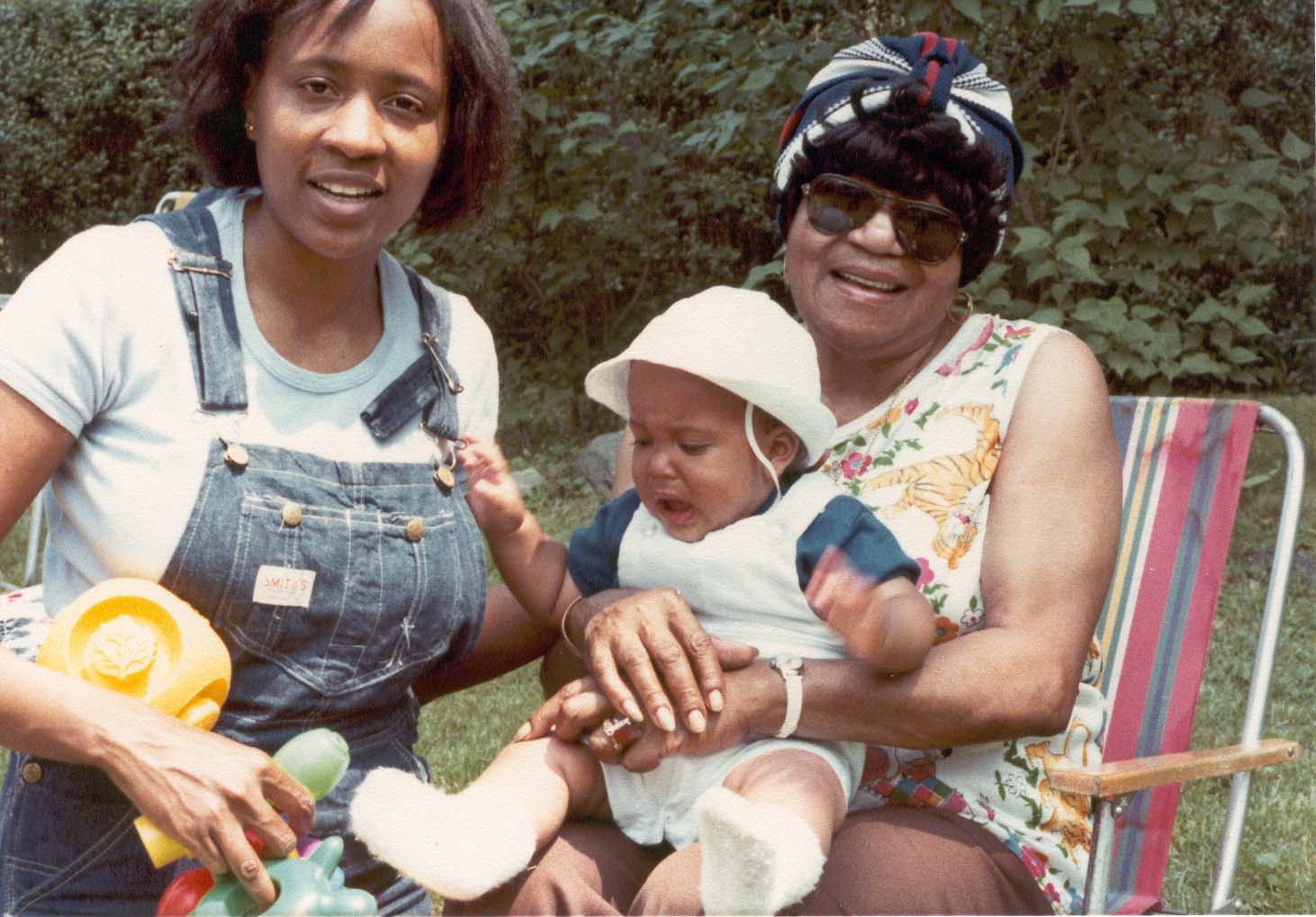 Judy, Peter, and Aunt Kate 1978
Granpa went to Benedict College in Columbia SC and played varsity sports including baseball and football. After that he played professional baseball in the Negro National League, traveling all over the USA and Latin America including the Dominican Republic and Cuba. This was a pretty big deal; at one point I bought a book for him as a birthday or Christmas present, Only the Ball Was White, a history of of NLL, but was disappointed not to find his name among the team rosters. Now we know why (see Christine's explanation just below). I'm not sure about the time span, probably about 1935 to somewhere in the 1940s. He had no interest in World War II, it was a white man's war.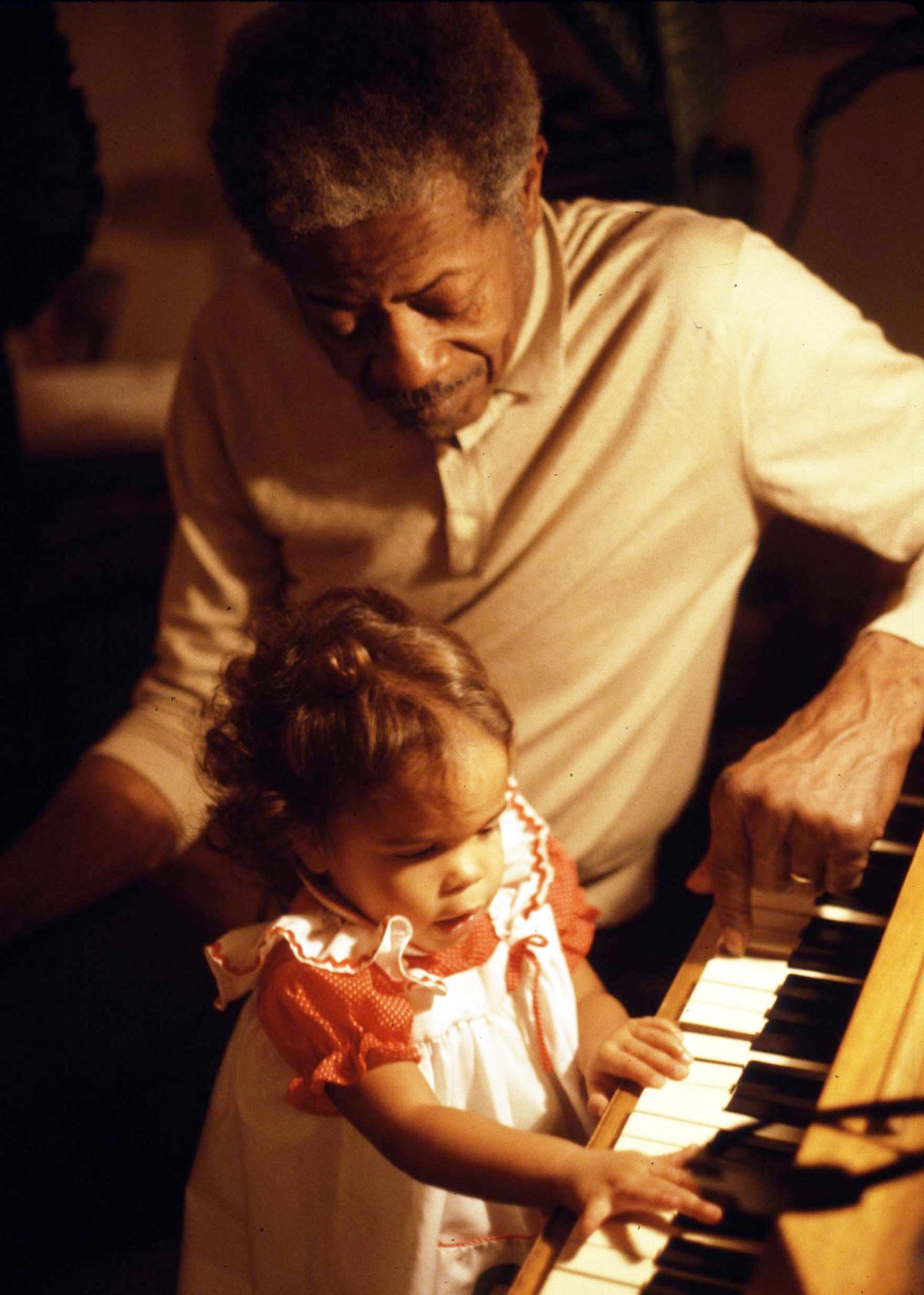 Amy and Granpa 1981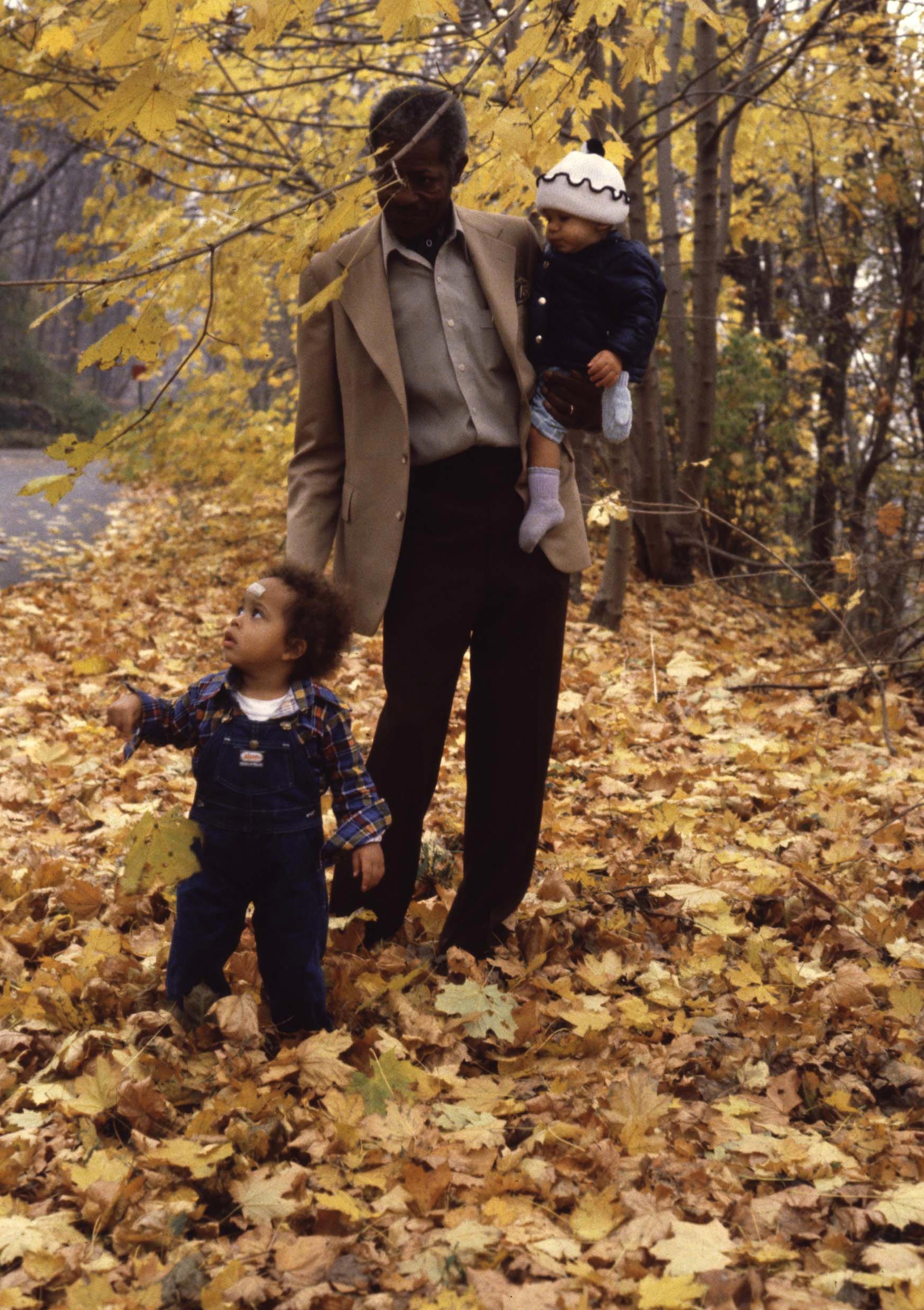 Granpa, Peter & David 1979
I don't know the story of how he met Granma and how they got together, but eventually (after many years working in Manhattan's garment district, where he picked up enough Yiddish to get by) he became "tailor and cleaner to the stars" at an exclusive establishment around East 35th Street in Murray Hill (as I remember) and later at Bergdorf-Goodman. He was very particular about clothes; only the best would do — he was an elegant dresser. Rich Park Avenue ladies would come in with a gown that had a stain or other problem; he'd tell them it would cost $500 to fix it, which was nothing to them. About once a week he'd come home to Granma with a huge wad of cash. There was an article about him once in GQ magazine. The Beatles were among his customers. About his early life, Christine writes:
My father's parents owned a boarding house, it was a stop for Blacks traveling through the south; they could not stay at hotels, so they had rooms and took them in* (the kids bunked together when there was company). So, he met a lot of people, Blacks who traveled in the south to preach, teach and leech! He became more worldly than many of his friends and folks in similar towns. Whenever a guest of any significance came by, the preacher came for dinner and took the best parts of the chicken first. My dad met doctors, lawyers and entertainers and determined then that his children were going to college.

He played for the Black Yankees, the Homestead Greys and the Kansas City Monarchs. He played under the name Smitty because folks were looking for him. He also played football. He spent a year in college as a chem major before word got out that his brother had killed a White man — true or not, he had to leave town and change his name. He supported himself and stayed safe by playing sports and moving from town to town.
Granpa's dad: John Scott.
Granpa's mom: Janie Lee Johnson.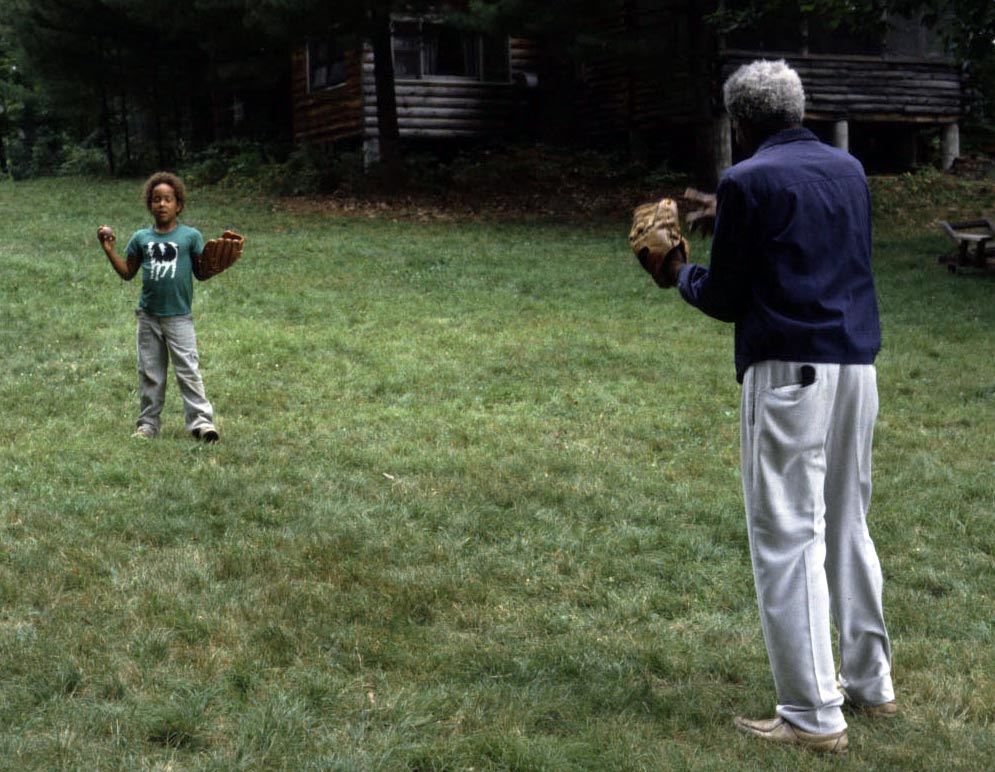 Playing catch at Kinapic 1984
According to Christine (now the family historian), John's grandparents were slaves. I seem to remember that Janie Lee was said to be either all or 1/2 Cherokee, but Christine didn't put that in the tree. In her later years, Janie lost both of her legs, probably due to diabetes, which runs on both sides of Mommy's family. The name Scott no doubt comes from a slave-owning family in or around Lockhart, South Carolina. According to Christine, John Scott's mother Charlotte was half Blackfoot, so if she is the only Indian among your ancestors, that would make you guys 1/32 Native American. Mama Lori probably had no indigenous blood because the Caribs had abandoned St.Eustatius before Columbus arrived in 1492.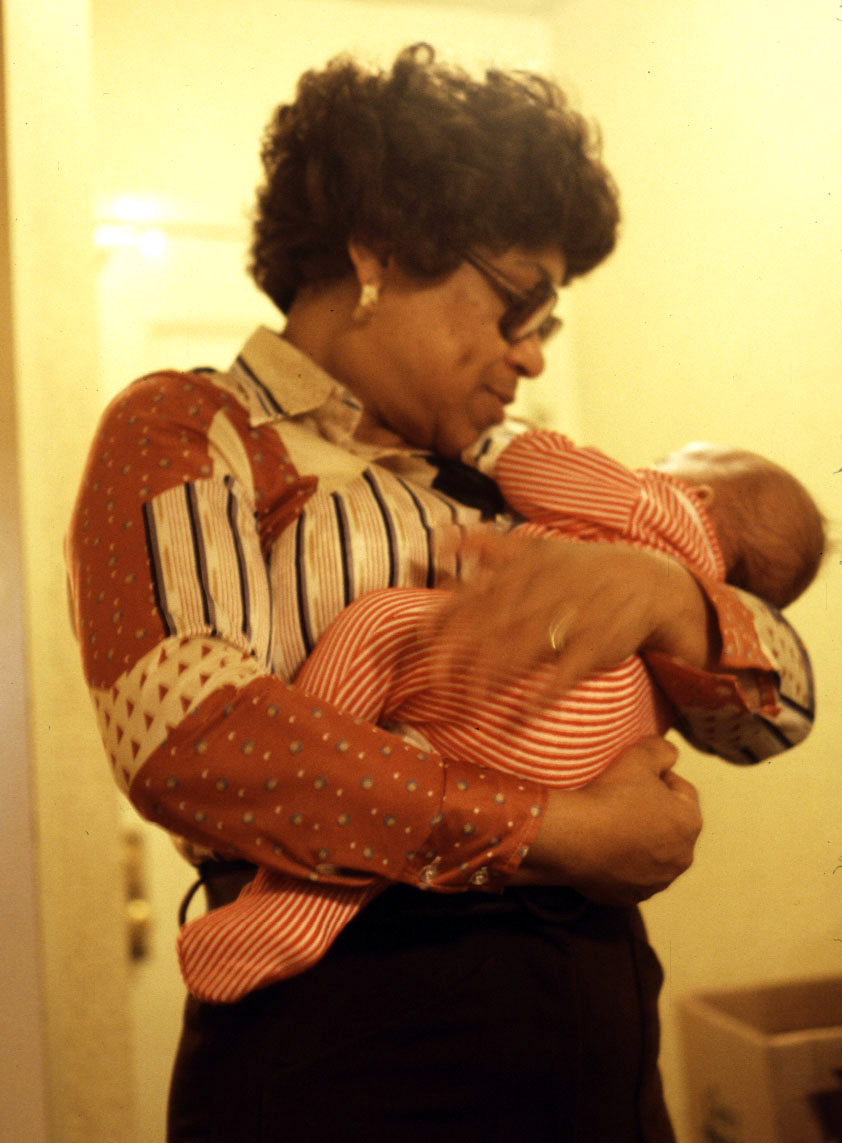 Mamie & Peter 1977
Granpa smoked unfiltered cigarettes all of his life, and for decades he worked in small, poorly ventilated dry cleaning establishments breathing toxic fumes. He got sick in 1995 or 1996. Peter can tell the story better than I can because he went to help Granma take care of him in his final weeks. When he died, there was a big funeral that I went to and saw a lot of people for the last time, like Mamie Durant (Peter's Godmother) and Gloria Sánchez (Granma's good friend and next-door neighbor in the projects); she was Italian and her husband Al was Puerto Rican.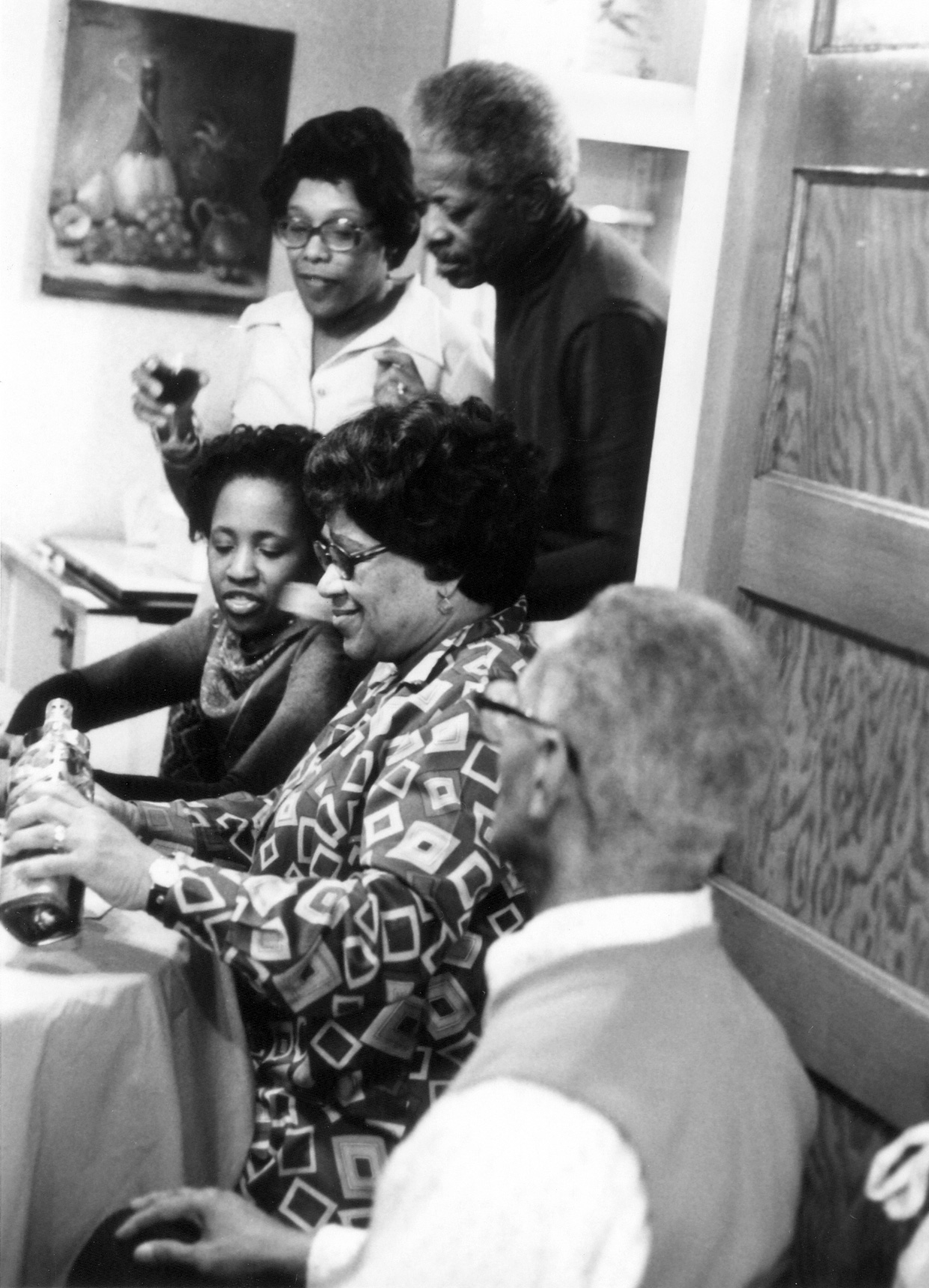 Scotts and Durants 1975
Mamie was one of Granma's best friends, she lived right upstairs and the Durants and Scotts were in and out of each others' apartments constantly. The Durants had two girls, Deborah and Donna, who were friends with Lori, Christine, and Judy. Mamie's husband was Oscar, but he was totally noncommunicative so Mamie would bring him around and he'd just sit there. One day when she brought him, I said "Hi Oscar, how you doin'?" and he said "Hello Frank, I'm just fine" and then we chatted a little, small talk. Everybody else was watching this with total amazement. Then he went back in his shell. Mamie is still alive at age 100 as of June 2019.
Mommie's family — the Scotts and Wilsons — was large, close-knit, loving, and fully functional. Totally unlike the family I grew up in. Of course you guys inherited Granma and Granpa's middle names.