. Data source: CDIAC (1751-2014) and BP (2015-2018). [Last modified 2019/11/04]
Top: Time series of fraction in % of the countries and regions CO2 emissions and bottom: cumulative emissions since 1751. Figure in
PDF
. Data source: CDIAC (1751-2014) and BP (2015-2018). [Last modified: 2019/08/05]
(a) 2018 emissions by source region, and (b) cumulative 1751-2018 emissions Figure in
PDF
. Data source: CDIAC (1751-2014) and BP (2015-2018). [Last modified: 2019/08/08]

Figure in PDF. [Last modified: 2019/08/13]
.
Emissions by Fuel Types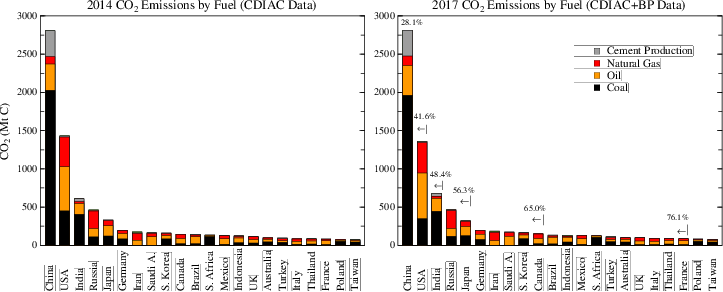 Fossil fuel CO2 emissions are almost half by the top three emitting countries, almost 2/3 by top 10 countries and more than 3/4 by top 20 countries. in
2014 in PDF
,
2017 in PDF
,
2014 and 2017 together. (Last modified: 2018/10/25)
in PDF (Data through 2019, last modified 2020/10/21)

PDF, PDF for US only (Data through 2018, last modified 2019/10/22)

PDF (Data through 2018, last modified 2019/10/22)

in PDF; 3 countries, Canada, Australia, UK (Data through 2017, last modified 2018/10/26)
.
Per Capita Emissions

(a) Per capita emissions for 2018. (b) 1751-2018 cumulative per capita emissions. Now Turkey is moved from Middle East to the rest of Europe. Per_capita(2018) was computed as Total Emissions (2018)/Population(2018).
PDF
[Last modified: 2019/08/20]
.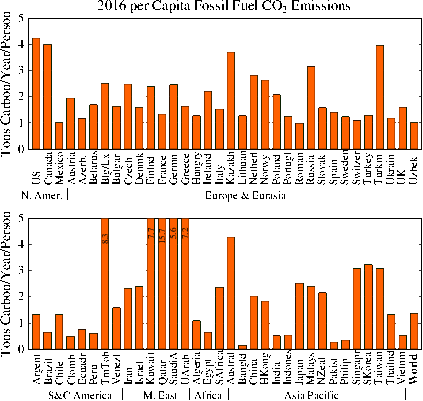 In
PDF. Data source:
CDIAC Per Capita Emissions and BP data. The percapita emissions are computed in a different way. The populations are assumed to be the same in 2018 as in 2014 and the total emission changes from 2014 to 2018 are approximated by total energy consumption changes:
perCap(2018)=EC(2018)/EC(2014) x perCap(2014). [Last modified: 2017/06/27]
.
All above figures data sources: Carbon Dioxide Information Analysis Center, Fossil-Fuel CO2 Emissions page for 1751-2014 and BP Statistical Review of World Energy for 2015-2018, concatenated to CDIAC data for each fuel type.