Climate Change and Development in the Gambia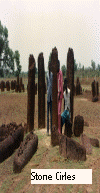 Health Care
The healthcare system in the Gambia consists of a three level delivery system, namely Primary, Secondary and Tertiary. In all there are 4 government-run referral hospitals, 8 Major Health Centers, 16 Minor Health Centers, 1 Research Health Center, several NGO and private clinics and over 200 Mobile/Trekking Clinics. In 1979, the strategy of Primary Health Care (PHC) was to make health care more accessible and affordable to the majority of Gambians. A key target of the PHC was mainly rural settlements with a population of over 400 persons. For each PHC village a Village Health Worker (VHW) and a Traditional Birth Attendant (TBA) was trained to provide primary health care in their communities. The VHWs (Village Health Workers) are assigned the role of maintaining the supply of essential drugs, the provision of outpatient care, making home visits and carrying out health education programs. The Traditional Birth Attendants conduct deliveries and identify and refer at-risk mothers.
At the secondary level health care is delivered through a number of major and minor health centers. There are about 7 government-owned and private major health centers 12 minor health centers and 19 dispensaries. Resident Doctors, registered nurses and other auxiliary staff staff major health centers. Until recently, Minor Health centers had only had registered and enrolled nurses and other support staff. These facilities provide our-patient services and in-patient services at a small scale. Dispensaries, on the other hand, are staffed by enrolled and community health nurses.
At the tertiary level, health services are provided by four referral hospitals, one Research Health Center (MRC), a number of private and non-governmental clinics and research centers. These hospitals are located in Banjul, Farafenni, Bwiam and Bansang. The Royal Victoria Teaching Hospital (RVTH), located in Banjul, is the main referral hospital offering specialist consultant services. The hospitals operate a pharmacy, laboratory services and a polyclinic, which provides secondary level health services to surrounding communities.
<![if !vml]>
<![endif]>
Major Health care facilities in the Gambia. Source: Department of State for Health and Social Welfare.
Education
<![if !vml]><![endif]>
Gross Primary School enrollment by gender between 1960 through 2003. Source: World Bank Development Indicators.
Education Enrollment
Female enrollment and