Climate Change and Development in the Gambia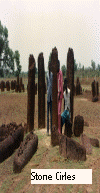 ETHNICITY
There is little written history about the Gambia people and culture before the Europeans. Early settlers along either banks of the river were believed to be hunter-gatherers, croppers and traders. The Jola and the Bainounkas were believed to be early settlers of present day Kombo while Sere and Wolof settled in the northwest (today's Niumi). By AD 1000, people from the east Sarahule, Mandinka and Fula settled along the river in towns and villages. When early European arrived in the Gambia in the 15th Century, the Gambia had a number of kingdoms in Baddibu, Fuladu, Niani, Kantora and Wuli.
The Gambia, with its small geographic area has over 10 distinct languages or ethnic groups. The Mandinka, Fula, Wolof, Sarahuli, Serer and Bambara are primarily savanna people, living in large nucleus settlements with highly organized social structures and well-defined caste system. Almost all at one time or another have had kingdoms of their own. The Jalo/Karoninka, Manjago and relatively unknown Bainouk are forest duelers. Unlike the savanna people the forest duelers live in loosely organized family hamlets scattered across the landscape. They do not have kings or kingdoms or defined caste system.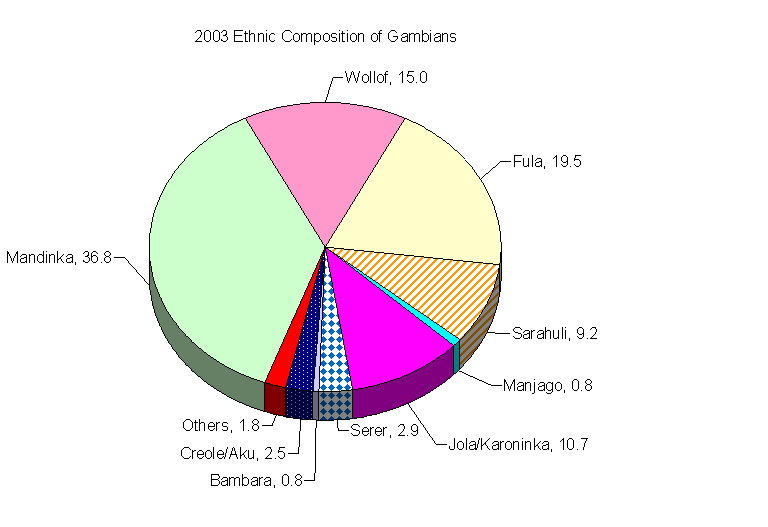 About 80% of the population of Gambia are Gambian nationals down from 89% in 1973. Non-Gambian increased from 52,000 in 1973 to 272,900 in 2003 primarily from neighboring countries. Senegalese constitute the largest non-Gambian population 81,567 (60.8%) in 1993 followed by Guineans (Republic of Guinea), 20.7%, Guinea Bissau 6.3% and Malians 4.7. Between 1983 and 1993, the population of Senegalese increased from 32,835 to 81,567 while the proportion of Guineans remained stable and nationals of Guinea Bissau, Mali and Mauritania all experienced a decline in their population. During the 1990s civil unrest in Sierra Leone and Liberia resulted in increase in refugees from those countries. Although data on regional distribution of non-Gambian population is not available before 1983, Kanifing, Brikama and Kerewan LGAs have the highest proportions. In 2003 the non-Gambian population in Kanifing and Brikama LGAs were estimated at 33% and 23% respectively.

RELIGION
The Gambia's population is 90% Muslim, 9% Christian and 1% indigenous religion..

<![if !vml]>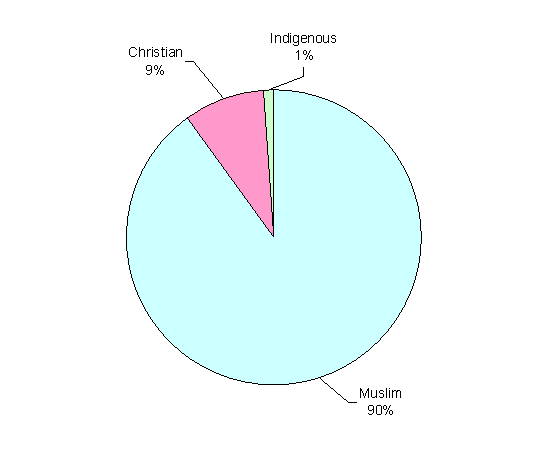 <![endif]>