September 17, 2013. Kyiv – New York
New Films in Our Collection.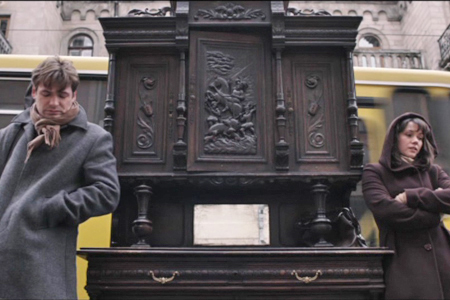 Credenza, director Valentyn Vasianovych looks at ill of Ukrainian society.
The last few months have been exceptionally bountiful in the new and newly restored films that expanded our already impressive collection. This became possible thanks to the growing recognition among Ukrainian filmmakers of what the Club has been doing in order to promote their works in North America and the world at large. Often the films are offered us by their directors and producers with the understanding that they will be screened at Columbia University on a mutually agreed upon occasion. All major genres are amply represented among the new acquisitions of the summer 2013: feature and documentary narratives, feature and documentary shorts, animation. Choosing from a sizeable number of offered films we have relied on the principle that only works with a recognizable Ukrainian identity will be included in the Club's collection. Exceptions are foreign movies made fully or in significant part about Ukraine-related themes.
To begin with, we have acquired a number of brand-new feature narratives that still have to be theatrically released in Ukraine. They include: Credenza, 2013, dir. Valentyn Vasianovych (anticipated release date in early November); Such Beautiful People, 2013, dir. Dmytro Moiseiev (a promising debut in the genre by this gifted new director), Paradzhanov, 2013, dir. Olena Fetisova (a biopic of Sarkis Paradzhanian or Serhii Paradzhanov, perhaps the most important director of the Ukrainian New Wave of the 1960s.), Khaitarma, 2013, dir. Akhtem Seitablaiev (the first Crimean Tatar feature narrative ever made), Delirium, 2011, dir. Ihor Podolchak (a trip into forbidden realms of human psyche bordering on the mad, and haunting with its innovative marriage of image and sound), Eternal Homecoming, dir. Kira Muratova (yet another indictment to humanity by the celebrated singer of gloom-and-doom from Odesa. The movie's principal redeeming characteristic is the fact that it is somewhat less disappointing than Muratova's two previous oeuvres).
Khaitarma is the first Crimea-Tatar feature narrative ever made.
The newly acquired documentary narratives are: Valentyn Vasianovych's Dusk, 2012, Małgorzata Potocka's Guardian of the Past, 2004 (Poland), Marek Pawłowski's The Runaway, 2007 (Poland), Yuliya Ivanova's Family Portrait in Black and White, 2012 (Canada). Specially should be mentioned a fascinating documentary almanac Open Access, 2013 consisting of five parts, each done by a different director: Mezhyhir'ya, Afhanets, Shkola, A House with Chimeras and Cornered. It addresses some of the most burning issues of Ukraine under the Yanukovych kleptomaniac regime. The almanac has just started its tour of Ukraine despite obstructionist measures by the authorities to prevent it from being screened to the public. This past summer we discovered a talented documentary director with a fascination for the authentic and a keen interest in the everyday life of the nation that is often overlooked by most other filmmakers. His name is Dmytro Tiazhlov. His feature-length documentary I'm a Monument to Myself, 2009, once again proves an old maxim that life is stranger than fiction, particularly in Ukraine.

The feature shorts include: Ukrainian Lessons, 2012, dir. Ruslan Batytsky, Nuclear Waste, 2012, dir. Myroslav Slaboshpystky, No Less Than 50 Kilos, 2013, dir. Maryna Artemenko, two almanacs of independent feature shorts produced by Volodymyr Tykhy and Denys Ivanov Goodbye, Ukraine!, 2012 and The Furious of Ukraine,2013, Vania, 2012, dir. Oksana Artemenko.
Among the new documentary shorts are: Sirs and Misters, dir. Oleksander Techynsky, 2013, Via Mobile Tour, 2011, The Music Box, 2013, and Cornered 2013, all three by dir. Dmytro Tiazhlov, Demonstration Lesson, 2013, dir. Natalia Mashtaler, Seventh Generation, 2002, dir. Andrei Koliev.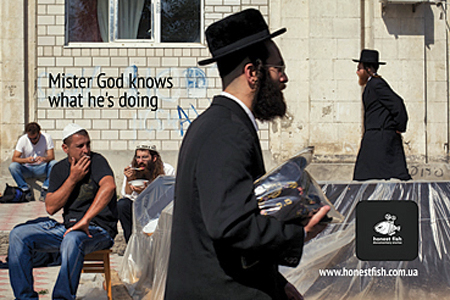 Sirs and Misters,
dir. Oleksander Tychynsky.
Our continuing cooperation with the Oleksander Dovzhenko Center in the project of bringing Ukraine's forgotten classic back to the world viewer resulted in the windfall of films that have enriched our silent and Soviet Ukrainian talking film collection. We are now in possession of the original Ukrainian-language version of the After the Two Hares (Za dvoma zaitsiamy), arguably the most popular Ukrainian film every made, that up until today was available in its Russian-voiced over version. The Club will generate English-language subtitles to the recently found original of the film. We have also obtained a Volodymyr Denysenko strikingly beautiful Conscience (Sovist), 1969. The films was banned by the authorities and initially restored in 1989. It is a true and still unappreciated jewel in the crown of the Ukrainian New Wave of the 1960s. The Club is working on the English subtitles to the film and plans to screen it within the next couple of months in New York City. Other Soviet-era Ukrainian classical films that have just been added to our DVD-library are: the recently restored the historical drama by Leonid Osyka Zakhar Berkut (1971), the dramas by Oleksander Myratov Do You Know How to Live? (Chy vmiyete vy zhyty?), 1970 and by Artur Voitetsky Tronka, 1972.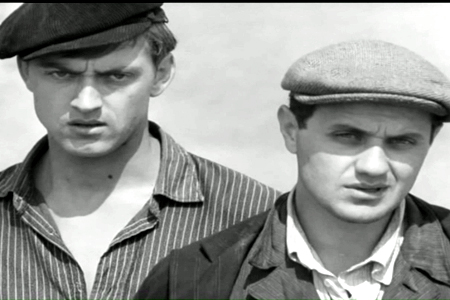 Conscience, forgotten masterpiece of Ukrainian new wave of 1960s.
Our collection of silent Ukrainian films, most of which have been unavailable both to scholars and the viewers, now boasts such newly restored and digitally re-mastered feature narratives as Mykola Shpykovsky's epic Bread,1929, Panteleimon Sazonov's three-hour long comedy In the Claws of the Soviets,1926. Both contain contemporary inter-titles in Ukrainian, which offer a rare glimpse of the language before the onslaught of Soviet Russification. There are also eight short animated cartoons produced for agitation and propaganda. They address such pressing issues of Soviet reality as bureaucratic red-tape, absenteeism from work, militarist foreign policies of the West, industrialization, and others. They are: Dniprelstan, A Tale of Total Disarmament, Palace of Arts, Paper, Mail, Sold, Shirker, Eleventh.

Some of the newest Ukrainian films just acquired by the Film Club are included in the Ukrainian Film Panorama to take place on October 24-29, 2013 in different venues of New York City and organized jointly with the Ukrainian State Film Agency.
Yuri Shevchuk