| | |
| --- | --- |
| | ←(Use Google Translate to see an approximate translation into another relevant language) |
[General index] [Index to chapters] [Index to galleries] [Full family history]
This document contains what I have learned about the Portuguese part of my family from my own father, my Uncle Pete, my grandfather Daniel, and from relatives in Portugal, primarily Raimundo Narciso, Luzia Machado, and Helena Mascarenhas, and from my first cousins Lina Lamirande and Danny da Cruz, and (most recently) from my newly-found cousin Mercedes Jatel in British Columbia. It is just one chapter of a much larger document addressed to my children. Key:
Dad = my father, Francis da Cruz Sr., first son of Daniel da Cruz.
Mom = My mother Vivian Lund.
Pete or Uncle Pete = Daniel Patee da Cruz, second son of Daniel da Cruz.
Gus = My grandmother Lenore Rager da Cruz, Daniel's first wife.
Leila = Leila Shaheen da Cruz, Pete's wife (in Pete chapter).
Danny and Lina = Pete's and Leila's children (in Pete chapter).
Dennis = my little brother Dennis da Cruz.
Judy = my ex-wife Judith Scott.
You, you guys = my children Peter and Amy da Cruz.
Most recent update:
24 December 2022 16:27:03
My Grandfather Daniel da Cruz and his family in Portugal
[
SEE IN FAMILY TREE
] [
SEE PHOTO GALLERY
]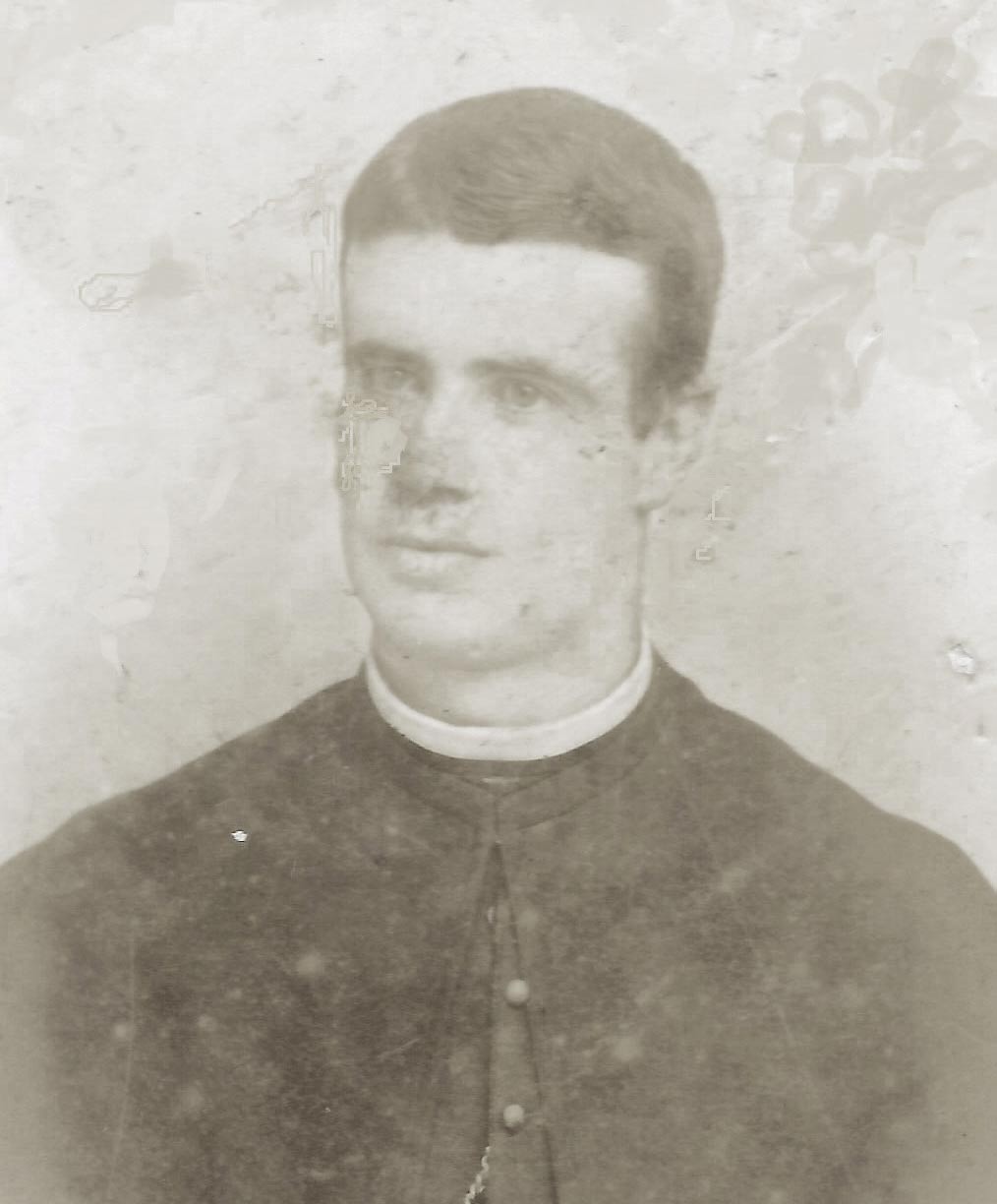 Daniel da Cruz in 1906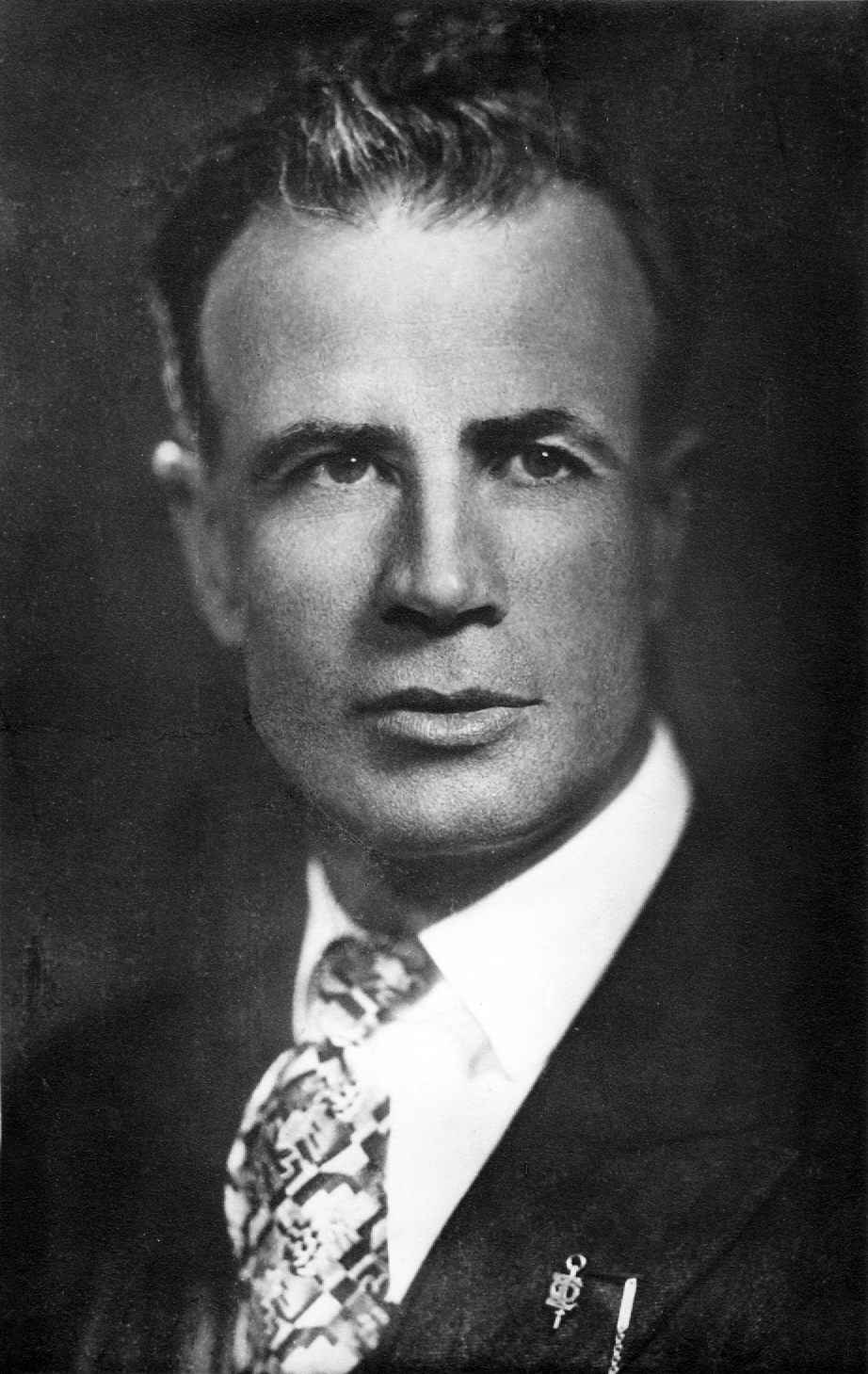 12 April 1941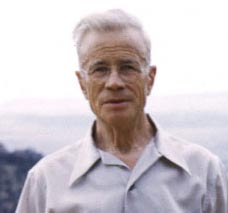 Daniel da Cruz 1960
My dad's dad: Daniel da Cruz. Born Manuel da Cruz Narciso, Vilar, Portugal, 1 March 1880. Changed his name to Daniel da Cruz June 7, 1926, when he was naturalized at the Hamilton County Court House, Hamilton Ohio, Certificate of Naturalization Number 2 238 576. Died 26 December 1966 (of shock caused by coronary artery disease; he was a heavy smoker). His ashes were deposited in River of Adonis in Lebanon (the Abraham River in Mount Lebanon) by his second wife, Louise.
NOTE: I found this notation in one of my dad's albums: "As the investigations of my brother in 1986 and 1987 revealed, both he and I were citizens of Portugal, a fact neither of us knew in in 1949" (when he filled out his government employment form).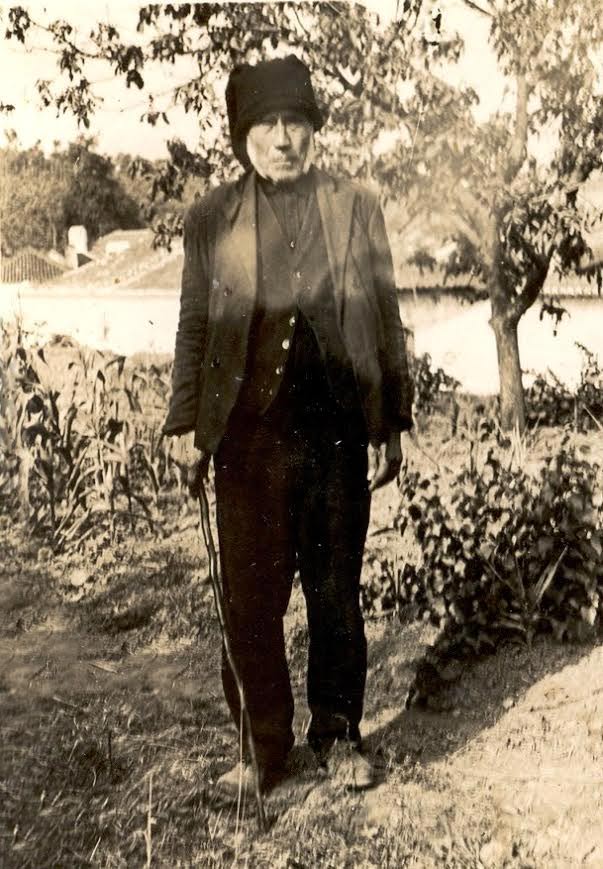 João da Cruz Narciso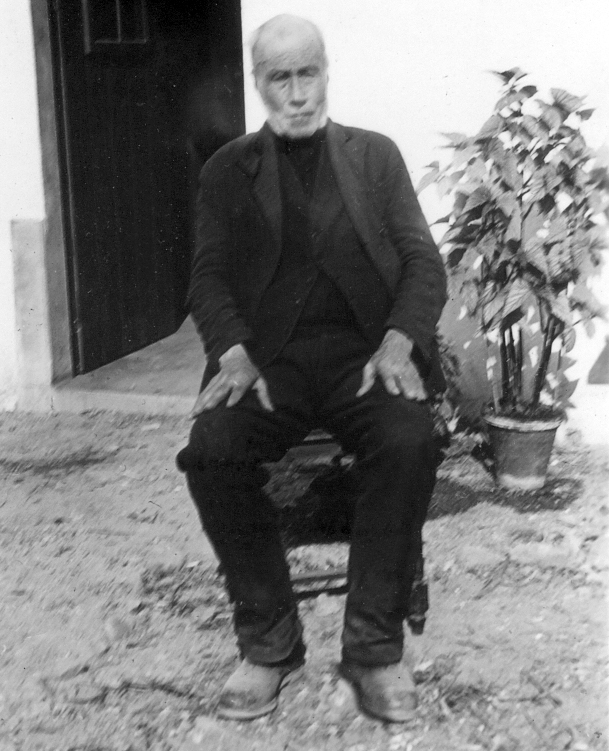 João da Cruz Narciso
Son of João da Cruz Narciso and Joana Maria das Dores.
Paternal grandfather: Joaquin Narciso.
Paternal grandmother: Maria da Encarnação.
Maternal grandfather: José Maria das Dores
Maternal grandmother: Delfina da Conceição.
Neither of João's parents had the name da Cruz. Most likely, the parish priest suggested the name in honor of São João da Cruz (Saint John of the Cross), Catholic Saint and Carmelite friar and priest of Marrano (Jewish converso) origin associated with Teresa of Ávila (Santa Teresa de Jesus), with whom he cofounded the "Shoeless Carmelites" (Ordem dos Carmelitas Descalços), and with whom he shares the distinction of now being among the 36 Doctors of the Church named by Roman Popes since the beginning of the church, an honor they share with Thomas Aquinas, Saint Augustine, the Venerable Bede, and Hildegard von Bingen.
João inherited the name Narciso from his father, Joaquin Narciso. I don't know the names of Joaquin's parents but probably "Narciso" comes from São Narciso de Gerona, Bishop of Gerona in Catalunya in the 4th Century, martyred around 307AD, known for the Miracle of the Flies (o Milagre das Moscas), which occurred 1000 years after his death when a horde of insects rose from his tomb to drive out French invaders.
Portugal was occupied and ruled by North African Arabs and Berbers from 711 to 1249 and therefore most Portuguese (like most Spanish and Sicilians) have North African blood. According to Ancestry.com's analysis of my DNA, I am 1% North African so my father was 2% (because he married a Norwegian) and his father 4% (because he married a German).
About Portuguese surnames
Surnames that have prepositions (da/de/do/das/dos) or conjunctions (e) prefixed, such as "da Cruz" and "dos Santos", are similar to German surnames with "von": attempts to seem aristocratic (some of our relatives in Portugal say in many cases it's a snobbish or pretentious affectation). Anyway, if you are born with the surname "da Cruz", that is your offical name you are filed under D, not C, just as in the USA. But where we would say "the da Cruz family", Portuguese and Brazilians say "a familia Cruz". Our cousin
Luzia Machado
gives some examples from her own family and beyond:
[Husband] Artur's full name or register name on the identity card is Artur da Rocha Machado. However, everybody knows him as and calls him "Rocha Machado" and he often signs his name simply as Artur Rocha Machado. My son-in-law is Hugo César de Amorim and he probably does the same. My grandson is also "de Amorim" and at school everybody calls him Amorim (to differentiate him from the other Franciscos).

These last weeks a scandal arose here, revealed in our newspapers, about a woman whose name was Paula Brito Costa. She founded some years ago an institution to take care of children with rare diseases, a very worthy initiative, that unfortunately surmounted her founder. After being Paula Brito Costa, he began signing her name as Paula Brito "e" Costa and this "e" is even more stylish than de or da. Portuguese (but also human...) miseries!!!
Portuguese names have some other peculiarites too. For example, it is not unusual for brothers or sisters to have the same first name. For example in our family, my grandfather's sisters were Maria, Maria Rosa, and Maria José. His own birth name was Manuel da Cruz Narciso and he had a brother with exact same name. He also had a brother, Francisco Maria, with a different surname: dos Santos; this was because Francisco was born on All Saints Day.
I should also mention that (as you can see on the family tree) it is fairly common for a person's name to have six or more words. Example: father's surname Santos, mother's surname Oliveira; child's surname might be Oliveira Santos. This child marries another person who also has a double surname derived the same way, say, Machado Morais, and their child's surname could be Oliveira Santos Machado Morais. Or it could be Santos Morais. Or whatever else the parents decide. There are no fixed rules as far as I know. See this this page for a concise summary.
Daniel's Family
[
SEE MEMORIES OF VILAR BY RAIMUNDO NARCISO
]
Daniel da Cruz, nieces, Portugal 1953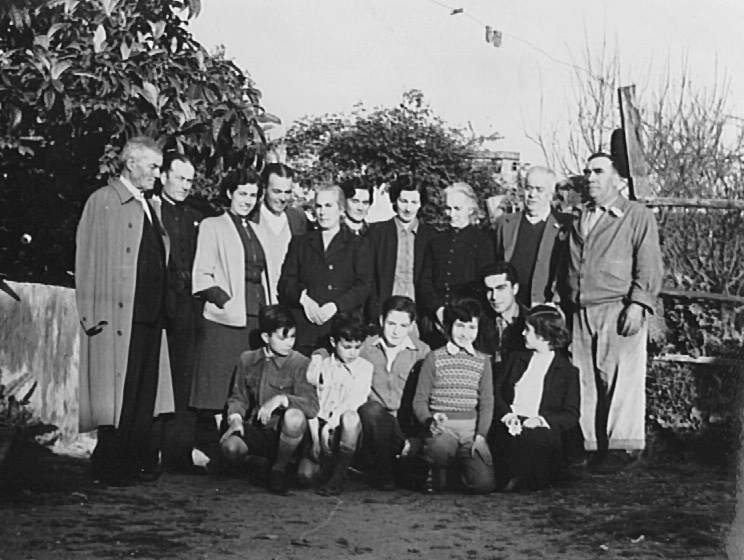 Family group, Vilar, 1953
My father and my Uncle Pete told me about our family in Vilar; they both went to visit in the 1950s (and Pete as recently as 1989), and then cousins Danny and Lina visited them often starting in 1992. The pictures at left were taken in 1953, which was the only time Daniel went back to Portugal after his departure in 1911. The two women are his nieces, my father's first cousins: Luzia and Madalena. The second picture is a large family group that includes four of Daniel's siblings. Click each picture to find out who's who.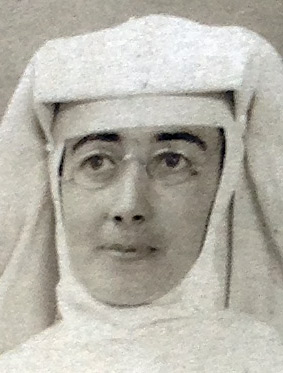 Maria José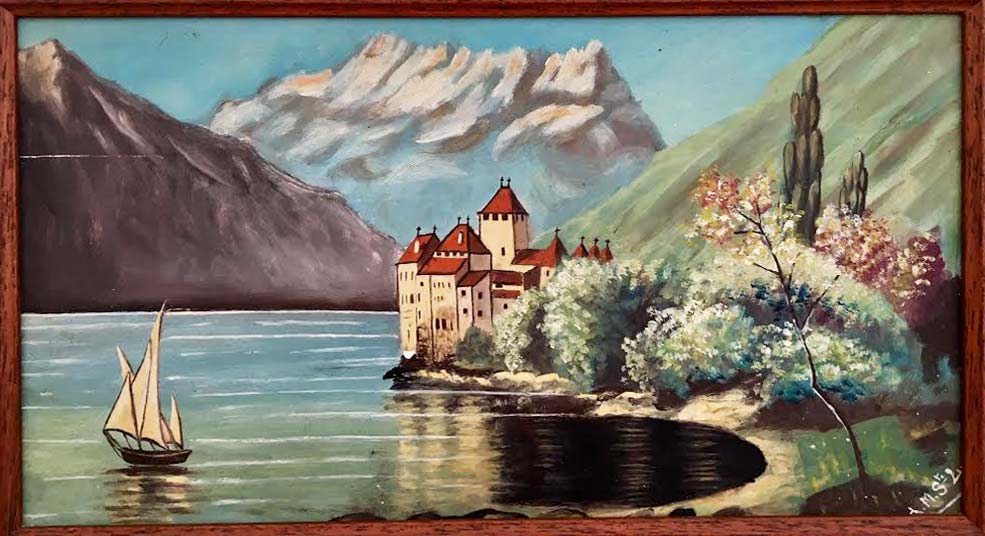 Maria José painting
Daniel had three brothers (Francisco, Manuel, and Celestino) and three sisters (Maria, Maria Rosa, and Maria José). All used the surname da Cruz Narciso except Francisco, whose surname was dos Santos because (as noted previously) he was born on November 1st, All Saints Day. They all married and had children except Maria José (1887-1974), who became a nun and teacher of art, music, and languages in Portugal, England, France, and Morocco; one of her paintings (courtesy of Luzia Machado via Cousin Lina) is shown above; to see a brief history of her life,
click here
. Anyway, if Daniel had remained a priest, he wouldn't have had children either and we would not exist. He was the only one who emigrated, dropping "Narciso" from his name and spawning the American da Cruz family consisting so far of 12 direct descendents, 9 still living.
Vilar in the 1950s
Vilar is is about 60km north of Lisbon in the Provincia of Estremadura, Distrito of Lisboa, Coselho (county) Cadaval, Municipio Cadaval, Freguesia (parish) Vilar. It's a very small town in a fruit-growing region. There are several other towns called Vilar, so Vilar-Cadaval can be used to specify this one. Photo at right taken by either Dad or Pete in the 1950s.
In Vilar, the da Cruz Narcisos were a farming family, mainly vineyards but also vegetables, fruit trees, chickens, turkeys, ducks, and rabbits for home use and sometimes for sale. As Daniel's nephew Raimundo, who grew up in Vilar, recalls, "Our village was deeply Catholic. Most of the adult population was illiterate. Their culture and ideology were whatever the priest dispensed in masses and sermons. The dictator Salazar was held up as a saint. My grandfather João lived in our house and died in 1940 at the age of 92. He was very religious and when he could no longer go to church he prayed at home."
References...
Joaquim Claudino, Humberto Germano, Sérgio Claudino, Cronologia do Vilar (1148-2020), PDF, in Portuguese, 29 pages (2020). Sent by Luzia, who says "They say that your grand-father was the first to get a Ph.D. in the parish and that the first name of Vilar was Santa Maria do Vilar, something that I didn't know, as well as that the actor António Vilar was from Vilar and his name was a tribute to his motherland. You will realize, Frank specially, who understands portuguese, that your grand-father wasn't the only one to resign from the religious life, to found a family. In 1955-1959, Padre Carlos who had a "cousin" with him, resigned. And in 1965-1969, also António Morais, who was a modern priest, did the same. But what they don't say is that he found a family with our cousin Zita (Luzia Maria, Fafita's sister). People loved him and were indeed shocked, specially the parents, uncle Dinis and aunt Margarida, who were very catholic. Zita and Fafita were at that time studying in Lisbon to be kindergarten teachers and some time later he married Zita. They have 3 daughters in common. As Zita is hardworking, she also studied psychology later." Luzia points out that an interesting facet to Vilar's recent history is that "many families in Vilar received Austrian children, including my parents. I wasn't born and my brothers were small children and the little girl was with my parents few weeks. She had some disease and to my mother's great regret she went for treatment for fearing of contagion. As far as I know, most of these children even after being adults maintained warm relations with their adoptive families."
Daniel and the Church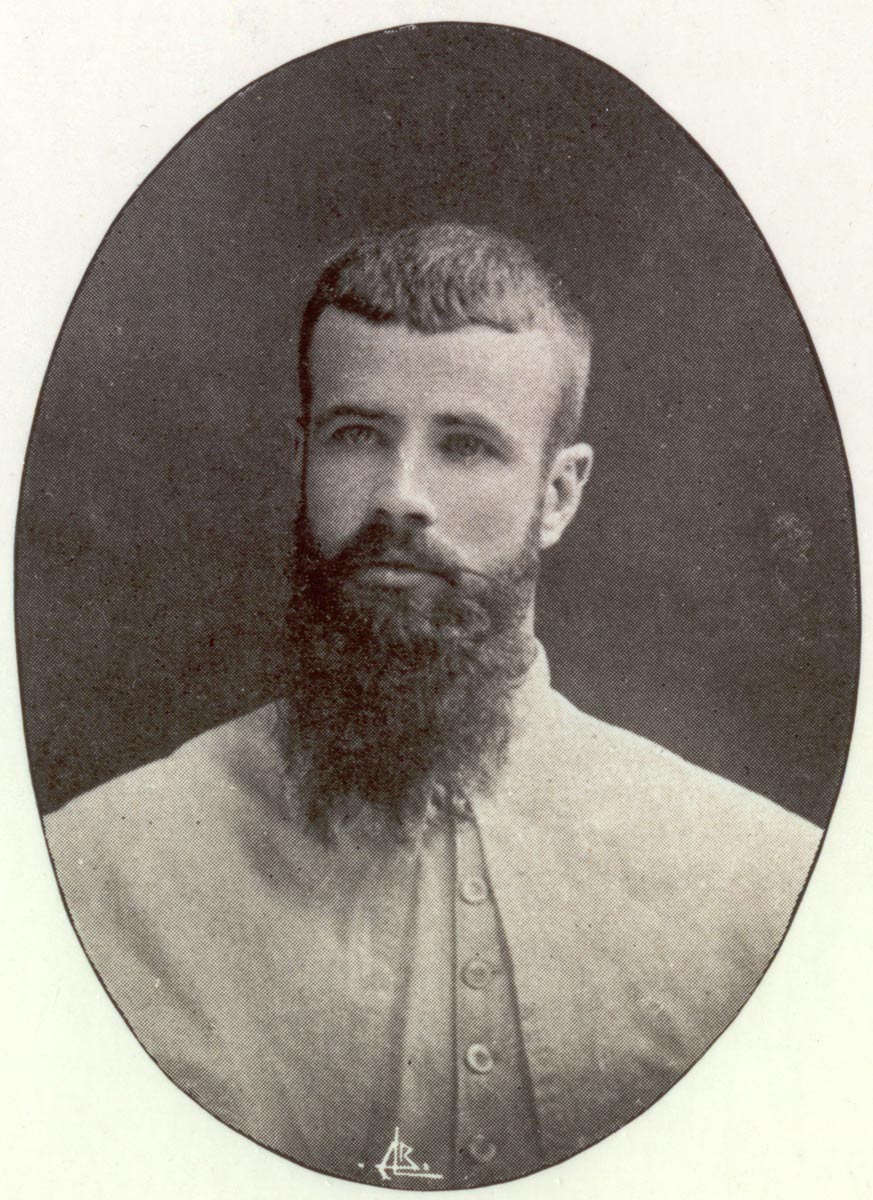 Daniel da Cruz 1910
According to official documents, my grandfather entered the Convento Franciscano at Varatojo (in the Torres Vedras area about 26 miles NNW of Lisbon) as a novice under the name of Manoel Maria da Cruz at age 18 in 1896 and was given the novice name Daniel da Virgem Santíssima. He took his first vows a year later under the name of Daniel da Cruz. He began his studies of philosophy and theology at St. Barnardino College (about 43 miles NNW of Lisbon), continued at the Convento Fransicano Montariol in Braga, about 25 miles NNE of Porto. In 1901 the Portuguese government issued a proclamation perceived hostile to religious institutions, and Daniel along with some of his fellow seminarians transferred to Braga Theological Seminary in Seville (Spain). He was ordained there as a priest in 1904. So first he was a monk (Frie, Fr.), then he was priest (Padre, Pe.). A monk is supposed to take the name of a saint, and it turns out that in the Roman church, Daniel from the Old Testament is indeed a saint.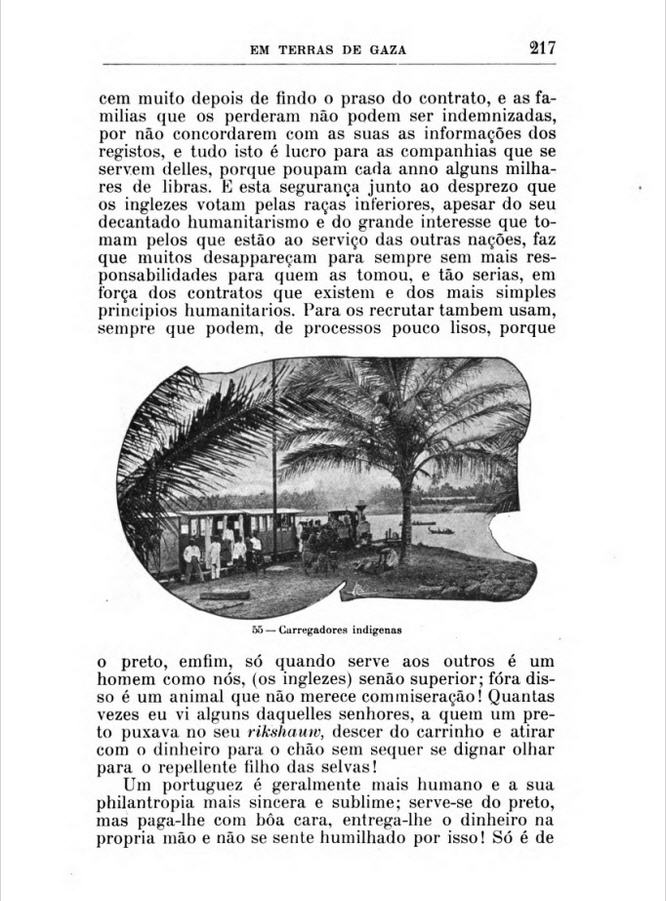 Random page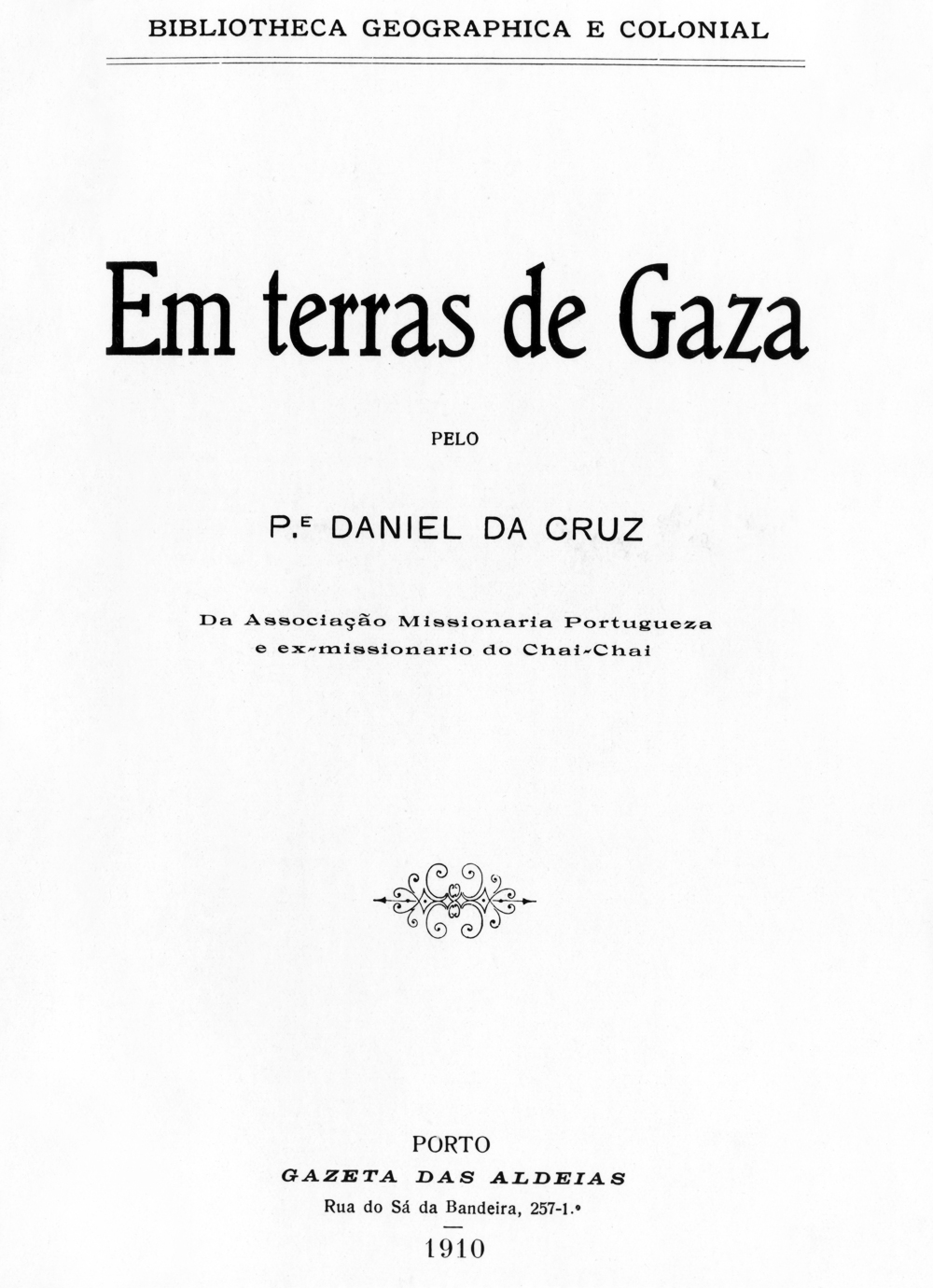 Em terras de Gaza
As a Catholic priest, Daniel served as a Fran­ciscan missionary in Mozambique [Portuguese East Africa] from late 1906 to early 1908 at the Congoene Mission in Chai-Chai (now called Xai-Xai) in Gaza province. During his stay there he devoted himself to scientific research rather than religion, learning about the people, their language and customs and beliefs and technology and diet as well as the flora and fauna of the area, and published a series of articles in the Franciscan journal
Gazeta das Aldeias
, even after he returned to Portugal. This material was the basis of a book published in 1910,
Em terras de Gaza
, Porto: Gazeta das Aldeias (1910), 312pp, 90 illustrations. The University of California had Google digitize this book for its
Hathi Trust
(see
publication list
). I skimmed through all the pages; it's gorgeous and very well done; an ethnological/​sociological/​musicological/​botanical/​nutritional study, not a religious tract, with tons of photos, diagrams, even sheet music; professional design, and no trace of superiority or racism.
Daniel in the United States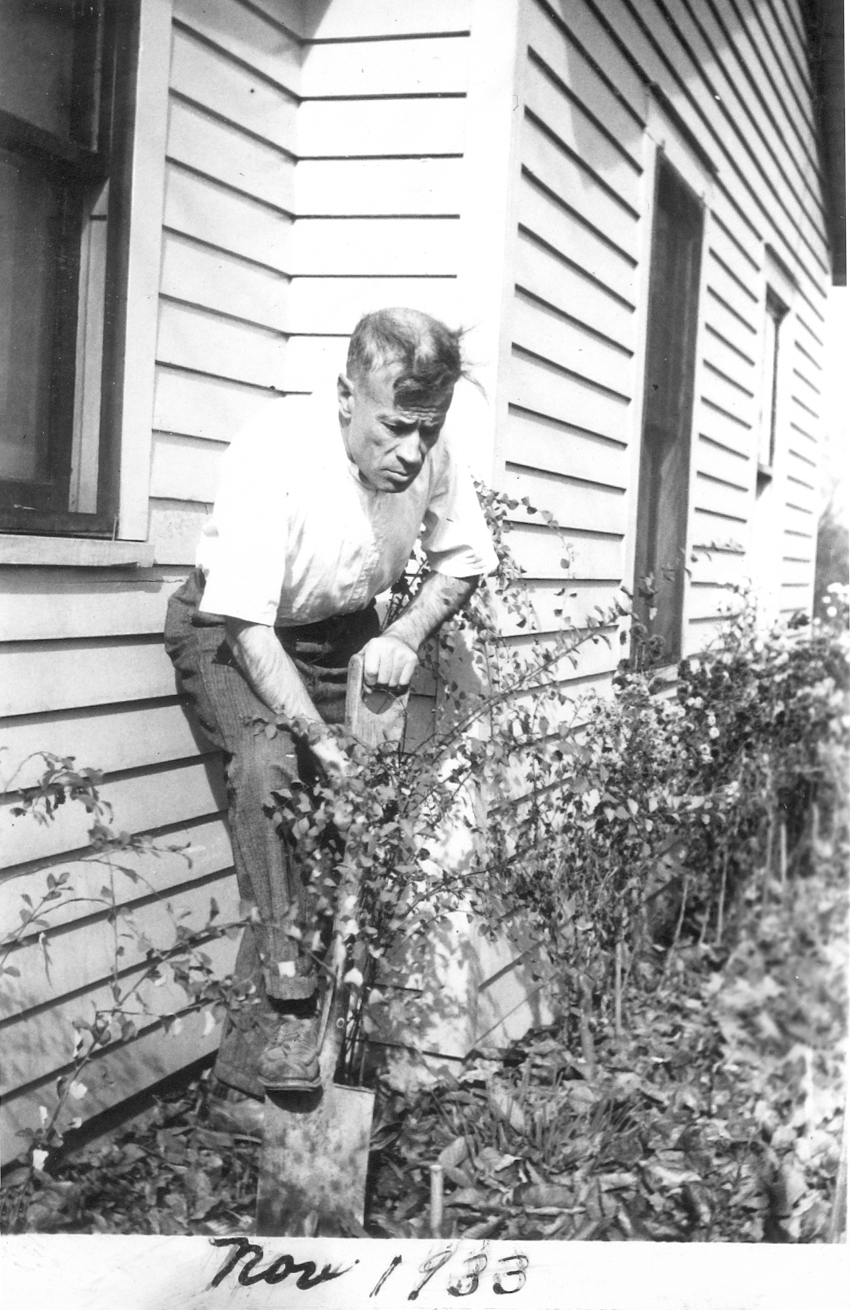 Oxford Ohio 1933
In 1911 Daniel left the church of his own volition. He was not, contrary to family legend, excommunicated. Rather, it seems that he became more interested in science than in God, which is apparent in his publications in
Gazeta das Aldeias
as well as about 50 articles in another Franciscan journal,
Voz de S. Antonio
, which cover diverse topics, none of them religious: entomology, ornithology, botany, agriculture, public health, seismology, etc. These articles are available online
here
, and probably did not overly endear him to the Church. In any case he emigrated to the USA in 1911…
Incidentally, he sailed to the USA on the Lusitania ("Portugal"), a HUGE ocean liner like the Titanic, which would be torpedoed and sunk four years later by a German U-boat, killing 1200 out of 1900 on board and providing the USA with an excuse to enter WWI (look it up, there are two sides to this story). The Lusitania docked in the Port of New York August 4, 1911.
… where he went back to school and received his PhD in Botany at Catholic University in Washington DC in 1915. His Ph.D. dissertation was
A contribution to the life-history of Lilium tenuifolium
. At the end there is a brief bio:
Daniel da Cruz was born at Villar [sic], District of Lisbon, Portugal, March 1st, 1880. He received his early education in the public-school course of Villar and in the two years' preparatory course at St. Bernardino College. He joined the Franciscan Order, September 1896, at Varatojo, and pursued courses of Philosophy and Sciences at St. Bernardino and Montariol, Braga, Colleges, being graduated at Montariol in 1901.

He began his course of Theology in Sevilla, Spain, the same year, and was graduated in 1905 at Braga Theological Seminary, whither he had returned in 1903. He was ordained to the priesthood in July, 1905, sent to the Mozambique, Portuguese East Africa, Missions, October, 1906, and was appointed Professor of Sciences in the Franciscan College of Leiria [which is in Portugal] in 1910. He came to the United States, entered the Catholic University of America October, 1911, and pursued the courses of study in Biology, Botany, Chemistry and German under the following professors and instructors: Dr. J.J. Griffin, Chemistry; Dr. T.V. Moore, Philosophy; Dr. P. Gleis, German; Prof. J.B. Parker and Mr. G.J. Brilmeyer, Biology, to whom he expresses his appreciation for their sympathetic guidance of his studies.
At some point before 1917 he met my grandmother Gus (Lenore Rager); the family story was that he was in the hospital and she was his nurse. They were married June 7, 1917, in Kansas City, Missouri, during the period when they were traveling from one university town to another while he searched for a teaching position. Anyway grandfather had a tough time finding a professor job the first two years of his marriage. Every time he was hired, when they found out he was an ex-priest or atheist or troublemaker or a semi-communist and/or brother of a real communist who had fled Portugal for his life, they fired him. So he moved around a lot in those two years. In 1918 he wound up at the University of Miami in Ohio where the president (Raymond M. Hughes) told him his job would be safe and he would never be asked to resign because of his past, and indeed he worked there until he retired in 1946.
My father was born to them on April 1, 1918, in Kansas, shortly before Daniel landed his Oxford job. On September 12th, Daniel registered in Oxford for the World War I draft but, since the war was almost over and he was 38 years old, he was not called up. The second and last child, my Uncle Pete, was born in Oxford in 1921. Daniel was on the faculty of Miami University as a professor of Spanish, Portuguese, and Romance Philology. He wrote books on many topics including politics and history plus at least one Portuguese language textbook that I remember seeing as a kid, plus an annotated edition of Don Quijote (see publication list) plus a Spanish textbook that I found in the Library of Congress catalog (it has since disappeared), as well as works on diverse topics including astronomy. My grandmother left him in 1924. In 1927 he obtained sole custody of the children in a divorce decree, and took them back into his house in 1928. At some point while still in Oxford he married his second wife, Louise Burk, who would be with him until his death.
Upon retiring, Daniel moved to 1603 West Kiowa Street, Colorado Springs, Colorado, for his health — asthma, probably brought on by heavy smoking — and lived there with Louise until he died at 86 in 1966. The house is still there as far as I know. In Colorado Louise worked as a teacher at the Colorado School for the Deaf and Blind. In the 1970s, she went to Portugal to meet Daniel's brother Manuel ("Ramon", as she and the American branch of the family called him) and the rest of the family; more about this below. She died in 1990; I never had any contact with her.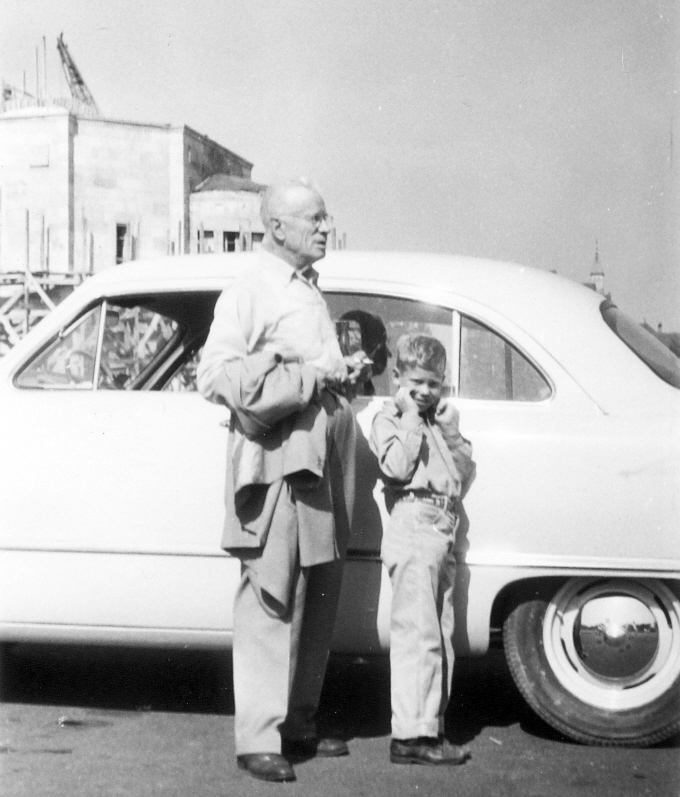 Daniel and Dennis 1956
Daniel came to visit us once in the mid-1950s, so I knew him very briefly. All I remember was when he arrived he picked me up and gave me such a strong hug it almost broke all my bones, and then he was quizzing me about what I was studying in school; I had the impression that he fixated on schools, education, and learning above all other things. He also talked a bit about Mozambique and I recall he went into some detail about tapeworms. I was in 6th or 7th grade. He was going stay with us for a while, but he was gone within a few hours. My father said it was because he did or said something that made my mom very upset (he didn't say what) and she demanded he be sent away. But that doesn't sound right to me: Mom got along with everybody and she never demanded anything, and even if she had my dad would would have ignored her, or worse. I never asked either one them for the real story. Too late now!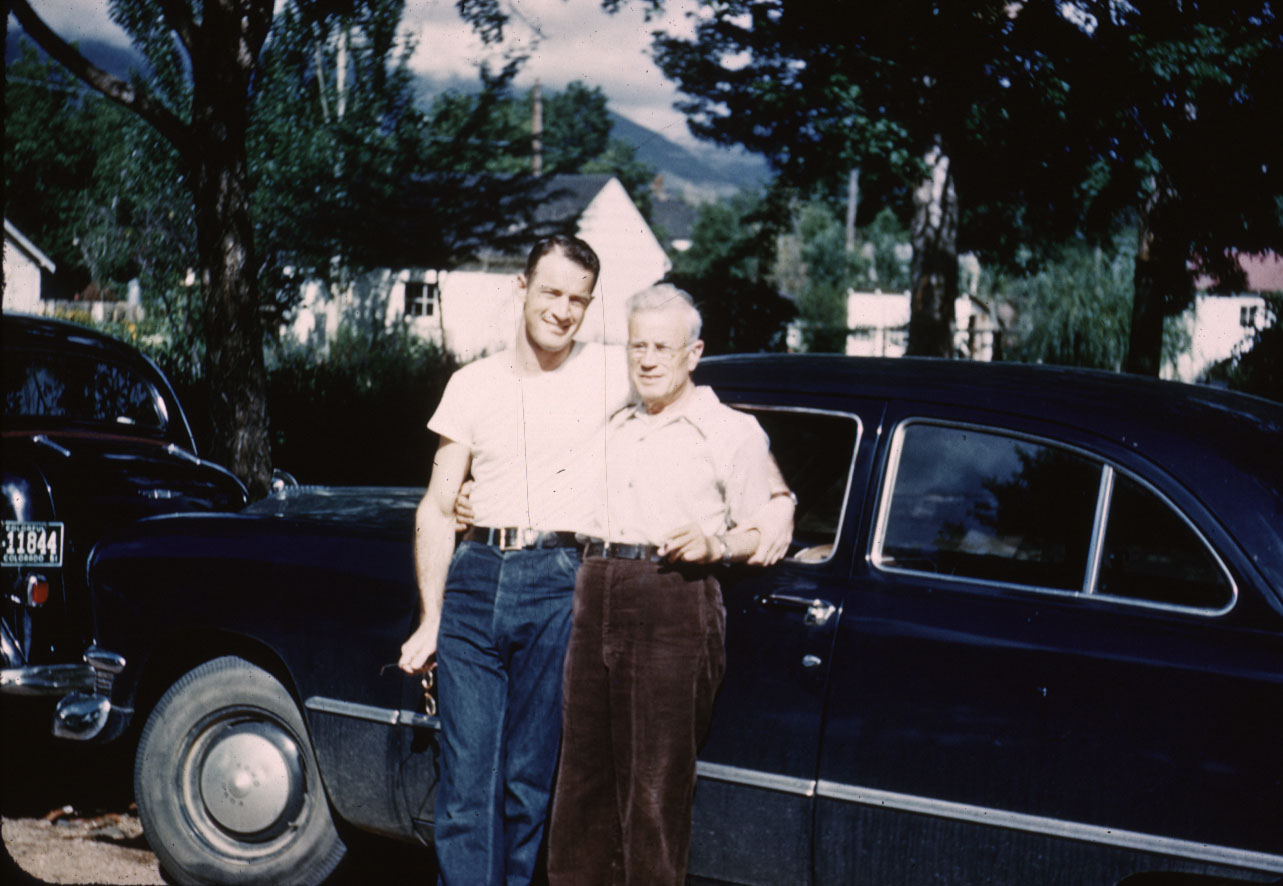 Uncle Pete and his father 1960
Thanks to Uncle Pete, who used the Freedom of Information Act to get a confidential 14-page 1946 FBI report, we find that granddad was definitely Reddish, something my Dad never bothered to mention. Daniel backed the Republican side in the Spanish Civil War, organizing support and raising funds in the USA and belonging to the Committee for United American Spanish Aid, which published anti-Fascist pamphlets
such as this one
. He also was a member of the NAACP (viewed by the government as a subversive organization in those days), and he was a self-proclaimed atheist. He was an outspoken advocate of the working class and critic of the American way of distributing wealth. All this is in the FBI report. It was almost, but not quite, enough to get him into trouble during the postwar Red Scare (the FBI report, however, is not very thorough — they didn't know about his controversial writings, they didn't know he had been a priest, they didn't bother to look up the Aid Committee to find out it was on the Attorney General's List of Communist Organizations, and they didn't know about his radical brother, so who knows what else they didn't know!… But then, they also didn't think my Dad had a drinking problem...).
When I was kid, we had a book by him on our bookshelf called Spain Begs Your Pardon (1940). I never even bothered to open it. In later years I assumed this must have been about the Spanish Civil War and I wanted to get a copy. Eventually I found it at Miami University. It was just a manuscript, not published (I thought it was published because the copy we had at home was hardbound). Just before I left Columbia I got it on interlibrary loan and scanned it into a PDF (see publication list). It turns out to be a comparison of Spain and Portugal versus England as colonial powers in the New World. Spain and Portugal were awful, of course, but he shows how England was infinitely worse. So "begs your pardon" is ironic. The book is dedicated to the Spanish Republicans.
Another of his unpublished tracts was Faith of our Fathers (1964), a scathing takedown of the Bible that he originally wrote as an Xmas [sic] present for Pete and Leila. He sent me a copy of it when I was in the Army; I brought it back with me and had it in my apartment at 109th Street where my dog ate it. I'm not kidding. Judy had given me a puppy for Christmas, and it grew pretty fast. Since I was always in class or working, it went crazy locked up in the small basement apartment. One day when I came home and opened the door, the entire apartment was full of feathers and paper shreds up to the ceiling; the dog had demolished all the pillows and mattresses, plus many of my books and records. Faith of Our Fathers was in shreds. Many years later it turned out that my cousin Danny had his father's copy, which he scanned for me (see publication list).
My grandfather sent me the manuscript upon learning of my 1965 application for release from the Army on moral, ethical, and pseudo-religious grounds as a consciencious objector because I did not want any role in the slaughter that was going on in Vietnam and, in fact, I wanted to be entirely free of the Army so I could work to stop the war. Army regulations required that I be questioned by a chaplain to see if I was sincere, and my grandfather thought I had been mesmerized by the priest I spoke with, when in fact all I needed was to get his signature on a piece of paper (if the truth be known, the priest did not understand why I would not want to "kill a Commie for Christ" but I convinced him that I would not, and we ended by agreeing to disagree). Despite the misunderstanding, my grandfather's words in the letter he sent with the manuscript reflect his own life experience. He said my situation reminded him of:
...a phase of my own growing pains which cost me many years of undescribable suffering and disillusionment. It is a phase of life that overtakes a great number of young men of your age [20] as a result of the sense of guilt which in most cases is nothing more than the realization of one's inadequacy, which the ministers of the church are quickly inclined to exploit on behalf of their own pet ideas and preoccupations. Of those who yield to their insidious, though powerful, temptations, only rarely do they come out of their ordeal unscathed. Such conversions are the sour fruit of the emotions, of the surrendering of one's will and future destiny to the rapacious ambition of someone whose real interest is not your salvation but his own glory and the benefits accruing to his own class.

I am sending you a manuscript on the Bible, which I expect to have published before very long, which manuscript is the result of 60 years of research. I was only 17 years old when certain doubts about the genuineness of the Bible as the word of God made me start a study of the sacred book, and of what I found I give a few samples in the manuscript. The first criterion of Truth we were given, no matter by whom, was our Reason.
In 2018 cousin Lina went to visit the family in Portugal. Raimundo's sister Helena told her that she had spent six months with Daniel and Louise (probably in the 1960s) and said that Louise was jealous of them speaking in Portuguese all the time and that Daniel wanted to come back and die in Vilar among family; he had asked her to look for a house for him. Whether she did or not, he died before he could have moved.
Writings of Daniel da Cruz Sr...
[
search Bookfinders
]
Voz de Stº. Antonio, Monthly Illustrated Magazine, 1895-1910. Numerous articles by Daniel da Cruz, sometimes signed as P.ₑ D.

da

C

ruz

, others simply as "D.C." or with a pseudonym such as Lucano. Many of these articles are profusely illustrated. Need index.
Gazeta das Aldeias — articles published in different issues, early 1900s, need index.
Em terras de Gaza, Daniel da Cruz da Associação Missionaria Portugueza e ex-missionario de Chai-Chai, Bibliotheca Geographica e Colonial, Porto (1910), 312 pages, my grandfather's ethnographic study of the Gaza province of Portuguese Mozambique. As of March 2021, this is available in reprint, both paperback and hardcover, from Alibris.com.
A contribution to the life-history of Lilium tenuifolium, Ph.D. Dissertation, Catholic University of America (1915), 39 pages.
El ingenioso hidalgo Don Quijote de la Mancha, edited with introduction, notes, and commentary by Daniel da Cruz and J.W. Kuhne, Miami University of Ohio (1922); with illustrations of Gustav Doré. Searchable PDF.
Five Spanish Plays for Study and Stage, Macmillan Hispanic Studies (1930); co-author: Willis Knapp Jones.
El Procurador Yerbabuena, The Century Company NY (1931); co-author: Willis Knapp Jones (vocabulary and commentary on the work by Juan Gualberto López-Valdemoro y de Quesada, Conde de las Navas, 1897) [listed in New York Times Latest Books Received, November 15, 1931].
Spain Begs Your Pardon, my grandfather's unpublished 1940 manuscript comparing Spanish and Portuguese colonization of the New World with Britain's, with a dedication to the heroism of the Spanish Republicans. This one can be ordered from Amazon or AbeBooks, it seems to be a paperbound scan of the original manuscript.
Portuguese Lessons for Beginners, Miami University of Ohio (1942).
Coisas do Outro Mundo, an unpublished treatise written in Portutuese in 1953 for his brother Manuel and his family, typed with hand-drawn illustrations and some photos pasted in. Raimundo scanned the front matter and some of the pages with illustrations, which I have gathered into a PDF file. As the author says in the preface, "The other world of the title refers to the rest of the Universe not included in the compass of the little corner that we inhabit, as well as the time before the six thousand years it is supposed to have existed. The magnitude of this other world, compared to our planet, exceeds the vastness of the oceans compared to a droplet of water suspended in the air on a misty morning... and by ten million years for every second of those 6000 years. Everything that gives us the measure of how small is, for us, the panorama offered by Nature that defines us and of which we are an integral part."
É a Biblia a Palavra de Deus?, a critique of the Bible in Portuguese, typed manuscript with hand-drawn illustrations, 1954, dedicated (in handwriting) to his brother Manual and nephew Raimundo and sent to them in Portugal. Raimundo scanned some pages, and I did the best I could to put them together into a single PDF file, which is HERE. And HERE is a transcription of the book's summary in Portuguese and (translated by me) English, side by side.
Communing with the Stars, unpublished manuscript (1955) (to be scanned).
Faith of Our Fathers, an expanded critique of the Bible written in English, a typed manuscript dedicated to his son Daniel (Uncle Pete) and daughter-in-law Leila, 1964, and sent to them in Lebanon. He also sent a copy to me in Germany, while I was in the Army.
And about Daniel da Cruz:
Uncle Manuel (a.k.a. Ramon)
[
SEE IN FAMILY TREE
]
Manuel and family
Daniel & Manuel 1934
Daniel's brother Manuel was born in 1897, 17 years after my grandfather. Family legend says he was involved with the founding of the
Portuguese Communist Party
(PCP, founded 6 March 1921); within a matter weeks he had fled to the USA because the Fascist police were after him. So far this story can't be confirmed or denied but the timing tends to confirm it.
He was in the US for 15 years: May 1921 to October 1936, using the names Raimundo and Raymond and living in different places, including the large Portuguese outposts in New Bedford and Fall River MA in the 1920s, and at 175 Bleeker Street in Manhattan in the 1930s; see letters from that period. My father, my uncle Pete, and Daniel's second wife Louise all called him Ramon. Although my grandfather's role in Manuel's American sojourn remains unclear, I do know that Manuel visited him in Oxford at least once, in 1934. My father and Uncle Pete met him and remembered him well and referred to him as Uncle Ramon.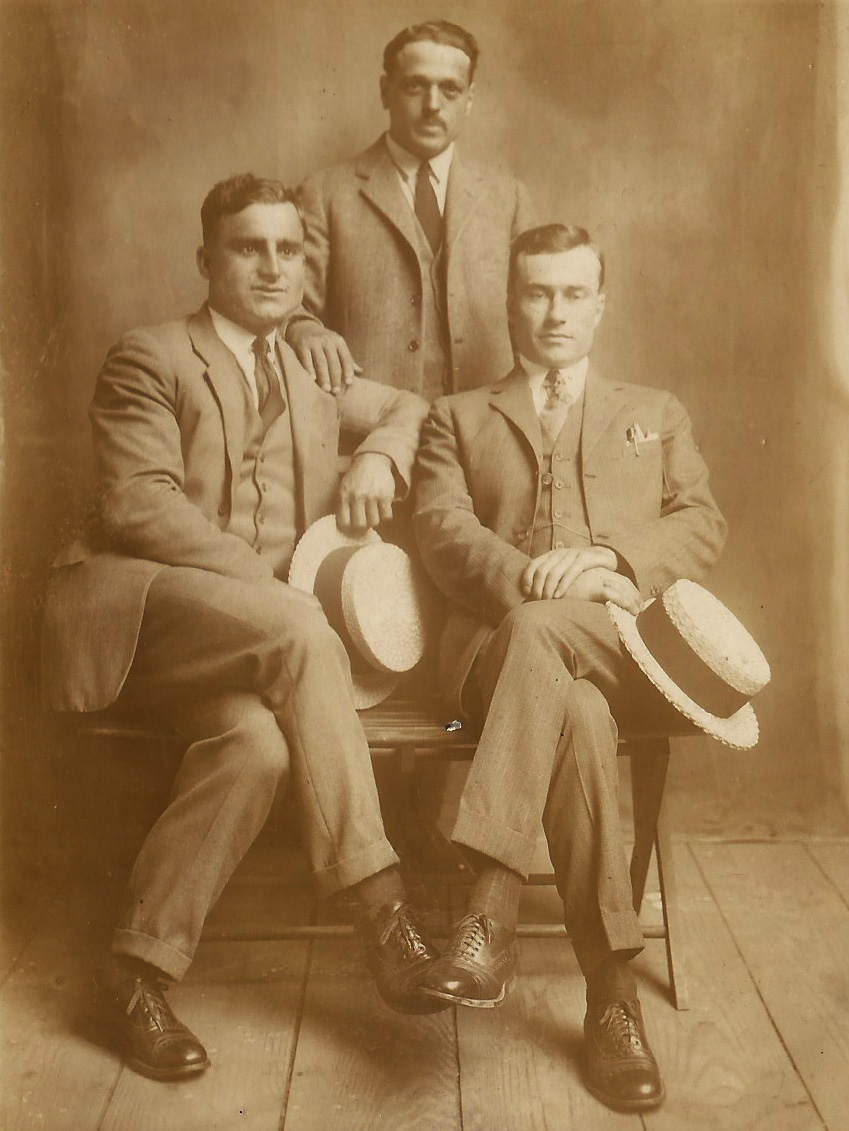 Manuel Fall River 1924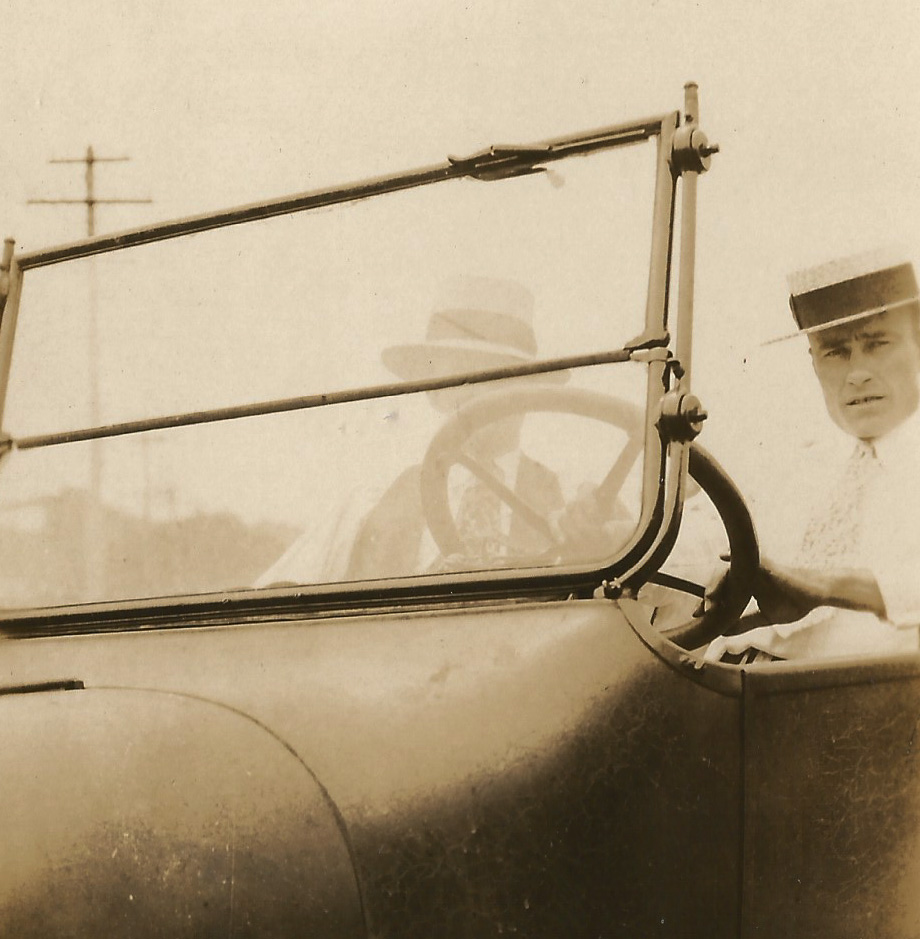 Manuel in USA 1928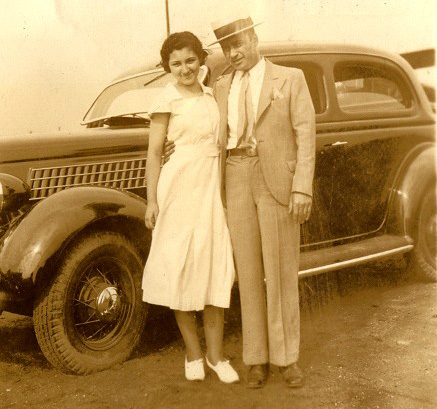 Manuel in USA with friend
Manuel in USA
In 2003 I contacted the PCP asking for information about him; they were eager to help but couldn't find any records; small wonder given the confusion over his name, which, at the time, I thought was Ramon da Cruz.
In 2014 I came across a handwritten letter from my grandfather's second wife Louise (the one my father tried to kill with an axe), who made a pilgrimage to Portugal in 1971, five years after he died. The letter is gushing and scatterbrained but there are a few facts in it. She visited with Ramon (Manuel), who was 74 and in failing health but (she says) spoke excellent English even though he hadn't used it in many years. Manuel had his wife Ilda with him when Louise was there. Their two children had already left home; daughter Helena was in Orléans (France) expecting her first child (actually she and her husband Jaime were in exile from the fascists), and son Raimundo, they told her, was working as an engineer in Germany (but in reality had gone under­ground in Portugal as a leader of the antifascist revolution that finally succeeded in 1974). She ends the letter with some fantasy about how Dad and Pete are in "direct line and descent from a Portuguese Queen". She seemed to be totally unaware that she was in a fascist dictatorship ruled by force and terror. About the supposed connection to royalty, Raimundo (next section) says:
Francisco Maria dos Santos and part of his family were monarchists and some of the sons or daughters investigated the family origins and "discovered" that they descended from the queen Carlota Joaquina of Bourbon (1775-1830), wife of king Dom João VI. But of illegitimate descent and not the king. I do not know the foundation of this story that persists in the family. Since the descendants did not come simultaneously from the queen and the king I did not interest myself completely of the subject :-) Carlota Joaquina de Bourbon was the eldest daughter of the King of Spain, Carlos III and was "sold" at 10 years of age by the court of Spain to the Portuguese court to marry João who was 18. She was a woman of strong character who conspired against her husband, the King, also tried to be Queen of Castile. With the invasion of Portugal by Napoleon in 1807, who wanted to replace the King (an ally of England) the Portuguese court fled to Brazil and only returned to Portugal in 1821.
Louise also mentions in passing that "Carlota (NY) and a friend met us for the 2 hours wait between planes in NY before we boarded TWA for Lisbon." Raimundo says
Carlota Nobre Santos
is a relative, about my age, daughter of Diniz, granddaughter of Daniel's brother Francisco, in other words my second cousin. She is a sister of Fátima/Fafita, pictured
below
. I don't know if Carlota was living in NY or was just visiting.
About his father's political history Raimundo says:
About my father's political activities in Portugal I know nothing. Nevertheless he referred to his brother Daniel as a man with progressive ideas but that's all I know.

I also don't have much information about why he went to the USA or what he did there. But the family referred to his radical ideas and his estrangement from the Church; these were condemned in the village and resulted in political and religious persecution.

Portugal experienced a period of great political instability and major political and religious confrontation during the First Republic — the Republican revolution of 5 October 1910 that overthrew the monarchy until the military coup that established the dictatorship in May 26, 1926, and that installed a fascist regime that lasted 48 years, until 1974.

Vilar, as well as most of the rural country outside Lisbon and Porto, is deeply conservative and dominated by the Catholic Church that was against the Republic — and consequently the Republic was against the Church — each side persecuted the other. It is in this context of political and religious harassment that Manuel flees to the USA.

My father never sought to force his polical or religious beliefs upon his children, but knowing them, and what he told us about America, were a window through which we could escape from the ultra-conservative, political and cultural environment of Vilar.

Then when I was 60 I noticed a collection of the American Communist Party magazines that were half hidden in some stacks of books. My father had brought them from the USA (at some risk to himself). He also told me about his participation in demonstrations in defense of Sacco and Vanzetti.
Raimundo also found a 1933 letter to his father from a comrade, F. Lourenço, who had gone to Siberia to help build the New Russia. So that's another hint.
Cousin Raimundo
[
SEE IN FAMILY TREE
] [
SEE RAIMUNDO'S AUTOBIOGRAPHY
] [
SEE RAIMUNDO'S MEMORIES OF VILAR
]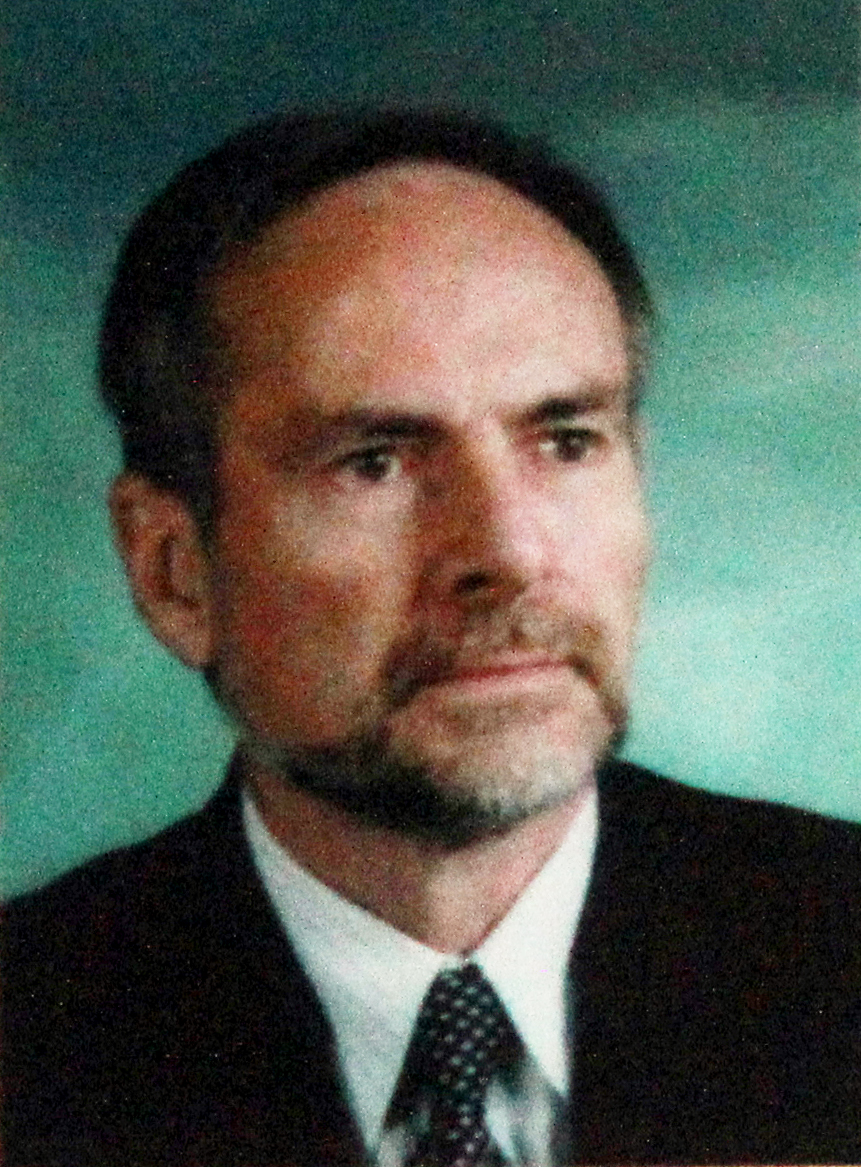 Raimundo Narciso
We have a cousin, Raimundo Pedro Narciso, six years older than me, a leader of the anti-Fascist revolution in 1974 and in the late 1990s was a Socialist member of Parliament in Portugal. Danny met him once; see his
travel diary
. I saw him on the PCP and government websites when was a Communist/Socialist deputy in Parliament; I emailed him in 2003 but never received an answer. Then the government went back to right wing and all traces of him disappeared for a long time, but I looked again on the Internet in 2017 and see quite a bit, such as a long 2014 interview with him about his life and times and politics and struggles
here
and another
here
.
Plus he's on Facebook. And German Facebook. And Google+. He might be IS one of the kids in that group picture. His father is Daniel's brother Manuel. Raimundo studied engineering at the Instituto Superior Técnico Lisbon and in 2000 wrote a book about the Portuguese antifascist revolution:
Narciso, Raimundo, 1938-
ARA, Acção Revolucionaria Armada : a historia secreta do braço armado do PCP / 1a ed. Lisboa : Publicações Dom Quixote, 2000.
(Series: Caminhos da memoria ; 27)
and another book Álvaro Cunhal e a Dissidência da 3ª Via, of which I don't have the details. The Wikipedia page for the ARA is here, and there is 2004 interview with Raimundo about ARA here. Raimundo says of himself:
Fui membro do PCP de 1959 a 1990 e membro do seu Comité Central de 1972 a 1988. Em 1989, ainda no PCP mas em processo de saída, criei com amigos e outros dissidentes, um Movimento político "Instituto Nacional de Estudos Sociais" que reuniu a elite da intelectualidade de esquerda portuguesa, e em 1992 criei com outros uma associação politica "Plataforma de Esquerda" que fez um acordo como o Partido Socialista então dirigido por António Guterres, actual SG da ONU. Fui então deputado do Parlamento de 1996 a 2000.
In short he was an orthodox Communist revolutionary for about 20 years but then got tired of the squabbling between the PCP and other left-wing groups which prevented them from winning elections — the same thing that happened in Germany in the 1930s, which was the direct cause for Hitler coming to power.
Finally in October 2017, I found a way to contact him and we have been working on this project together ever since. He has photos, documents, and a vast memory. He filled in 90% of the Portuguese side of the family tree and shared many treasures. His sister Helena's daughter, Helena Mascarenhas, says:
[My mother Helena] and my father [Jaime] went into exile (France) because of the dictatorship in Portugal. Five years after, the revolution happened (25 of April of 1974) and they were able to be back ... Meanwhile I was born (in France in 1971) :-) My uncle Raimundo Narciso gave some years of his life to fight very hard against our dictatorship, and fortunately he was never caught by the political police, otherwise maybe he wouldn´t be among us. After the revolution, he participated on the construction of our democracy and he keeps on doing that. My mother and my uncle Raimundo, two persons which I admire a lot, are both very courage.
In March 2018 Raimundo resurrected and reworked an extensive website from his days in the post-revolutionary government, the purpose being to explain to the people exactly what he was doing as a Deputy in Parliament and Secretary of the National Defense Commission, what we today would call "transparency"... Raimundo invented it! See it
here
for as long as the link lasts.
Portuguese Family Today
These are some photos I received from Raimundo, Luzia, Fafita, Helena, and Danny in 2017-2018: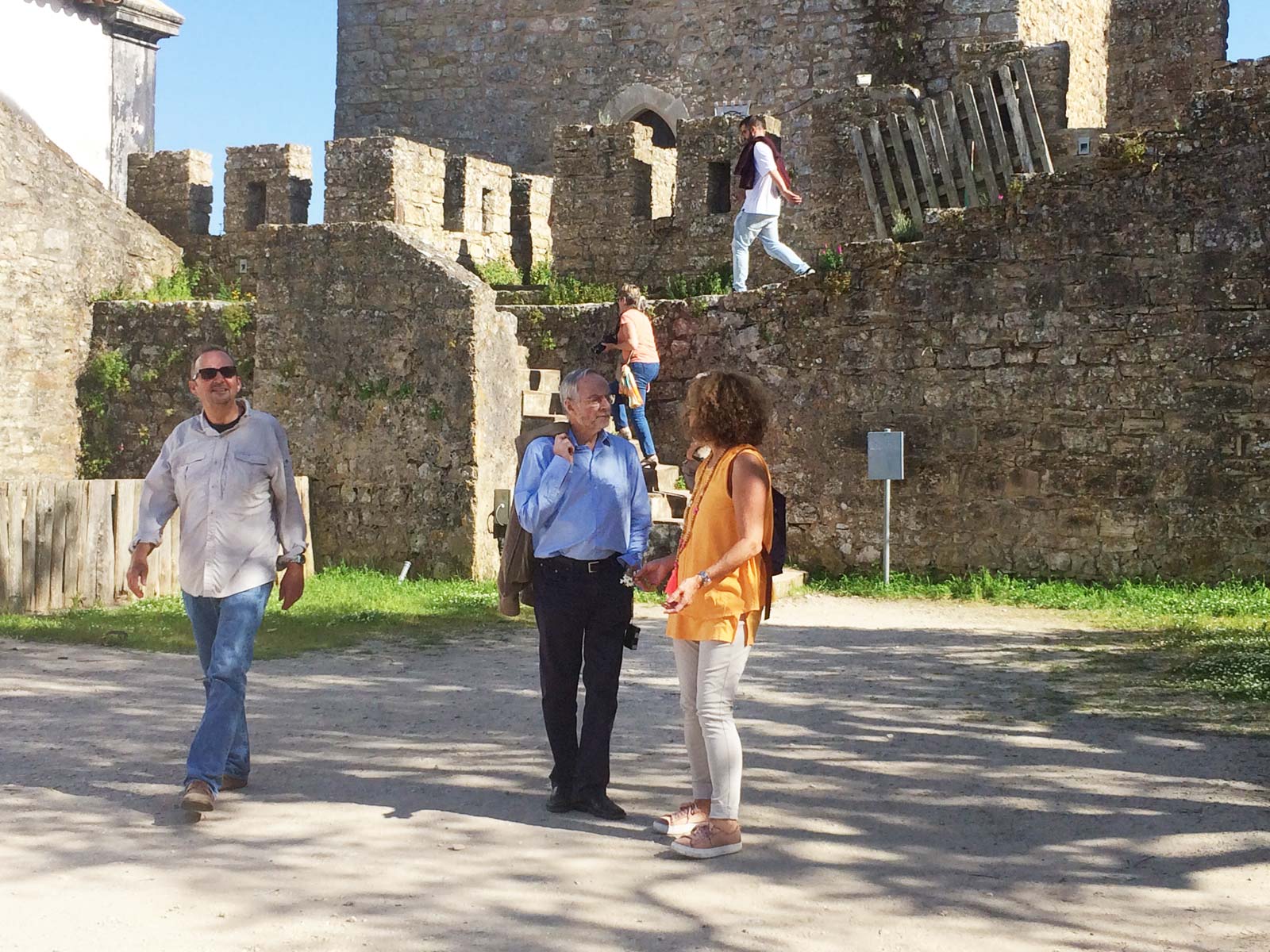 Jean-Luc, Lina, Raimundo 2018, by Helena
In Spring 2018, cousin Lina and her husband Jean-Luc traveled to Portugal to see the family, an odyssey that Lina describes
here
(narrative and photos). This is another photo from the occasion, taken (in Óbidos?) by Helena Mascarenhas, my second cousin.
Below: Views of present-day Vilar by cousin Raimundo: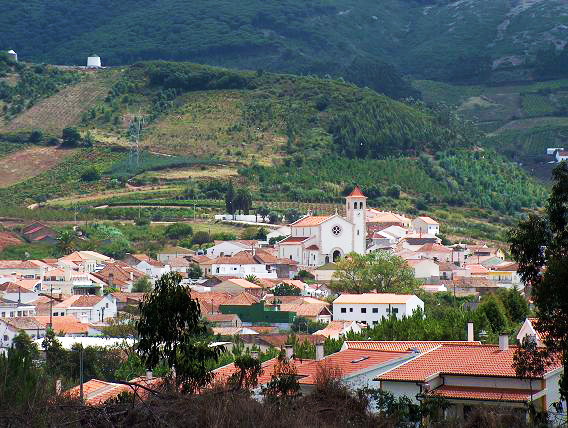 Vilar today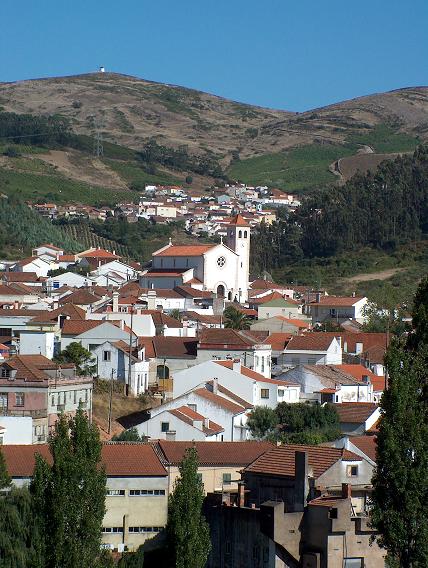 Vilar today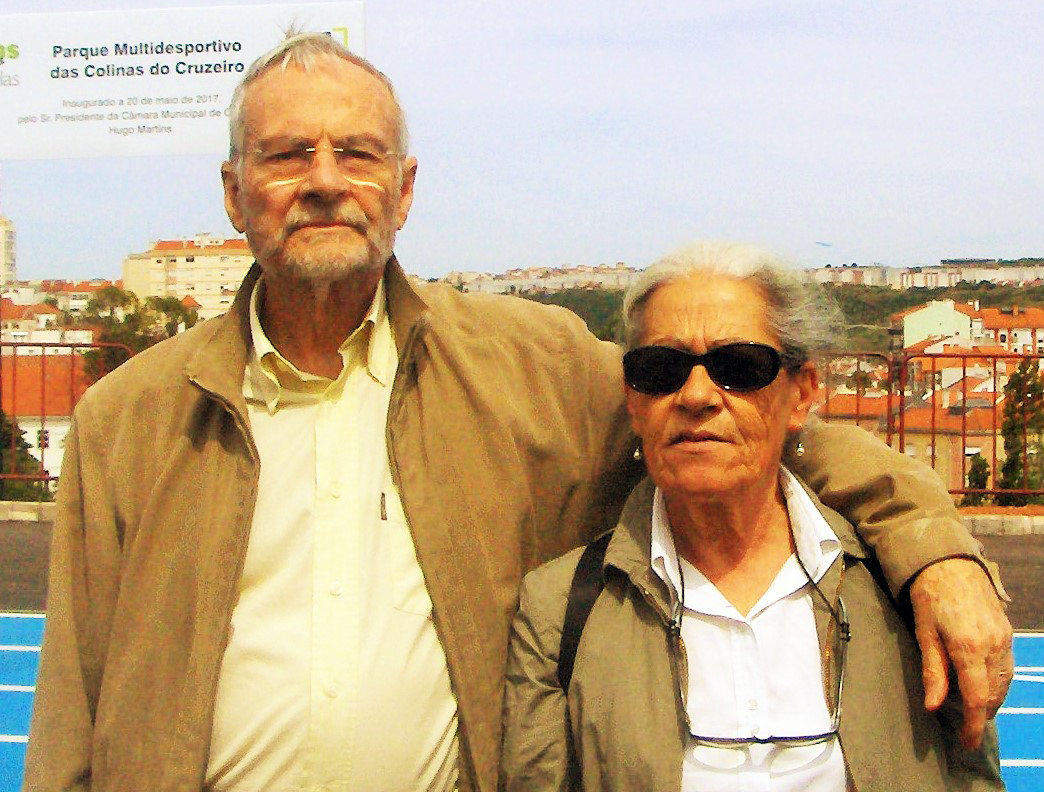 1. Raimundo with wife Maria 2017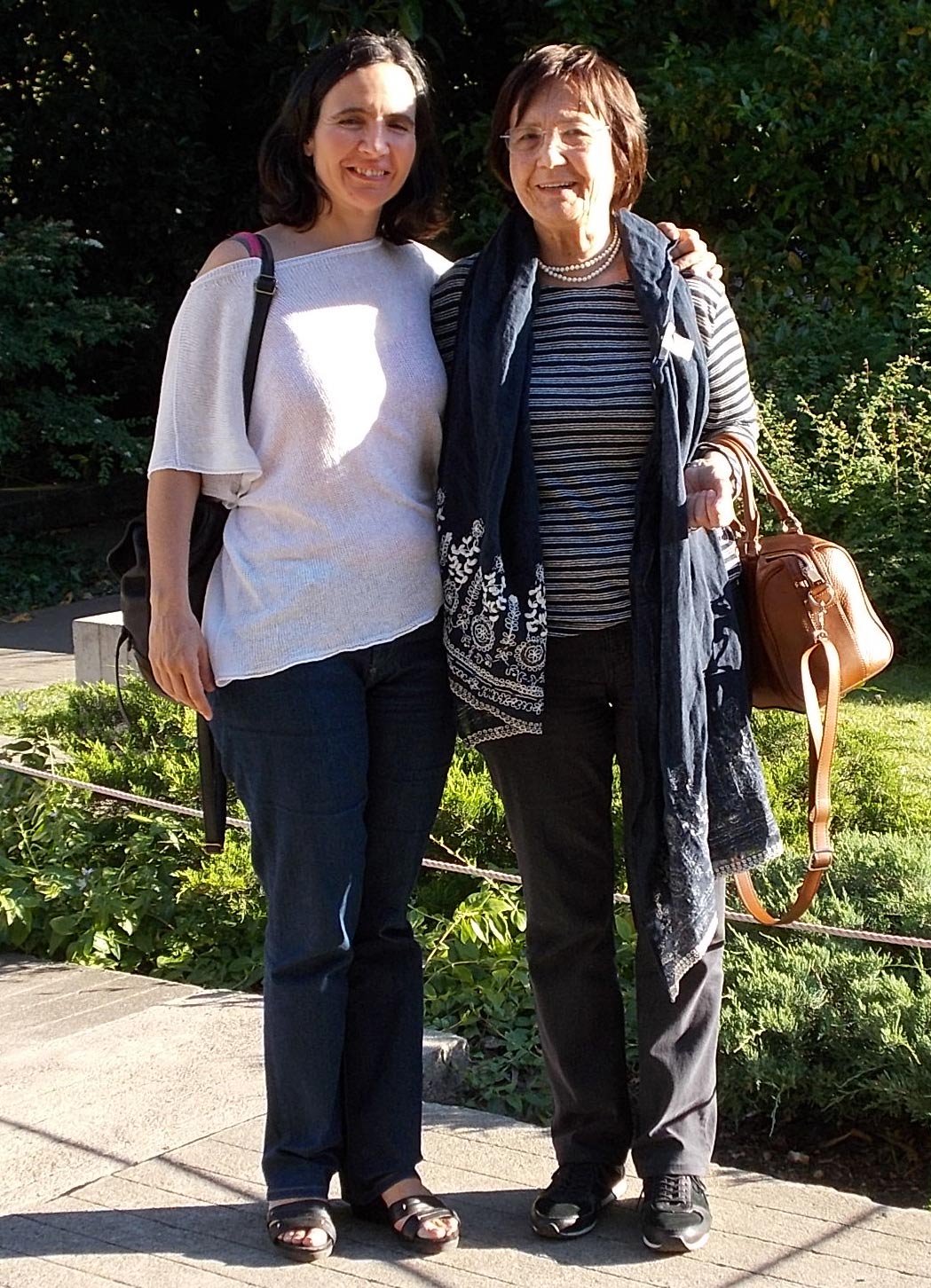 2. Helena+Helena 2016
1. Raimundo Narciso, my father's first cousin (and my first cousin once removed), and his wife Maria Machado in 2017.
2. Raimundo's sister Helena Maria (right) and her daughter Helena Mascarenhas (left). Read more about Raimundo and his family in Raimundo's autobiography.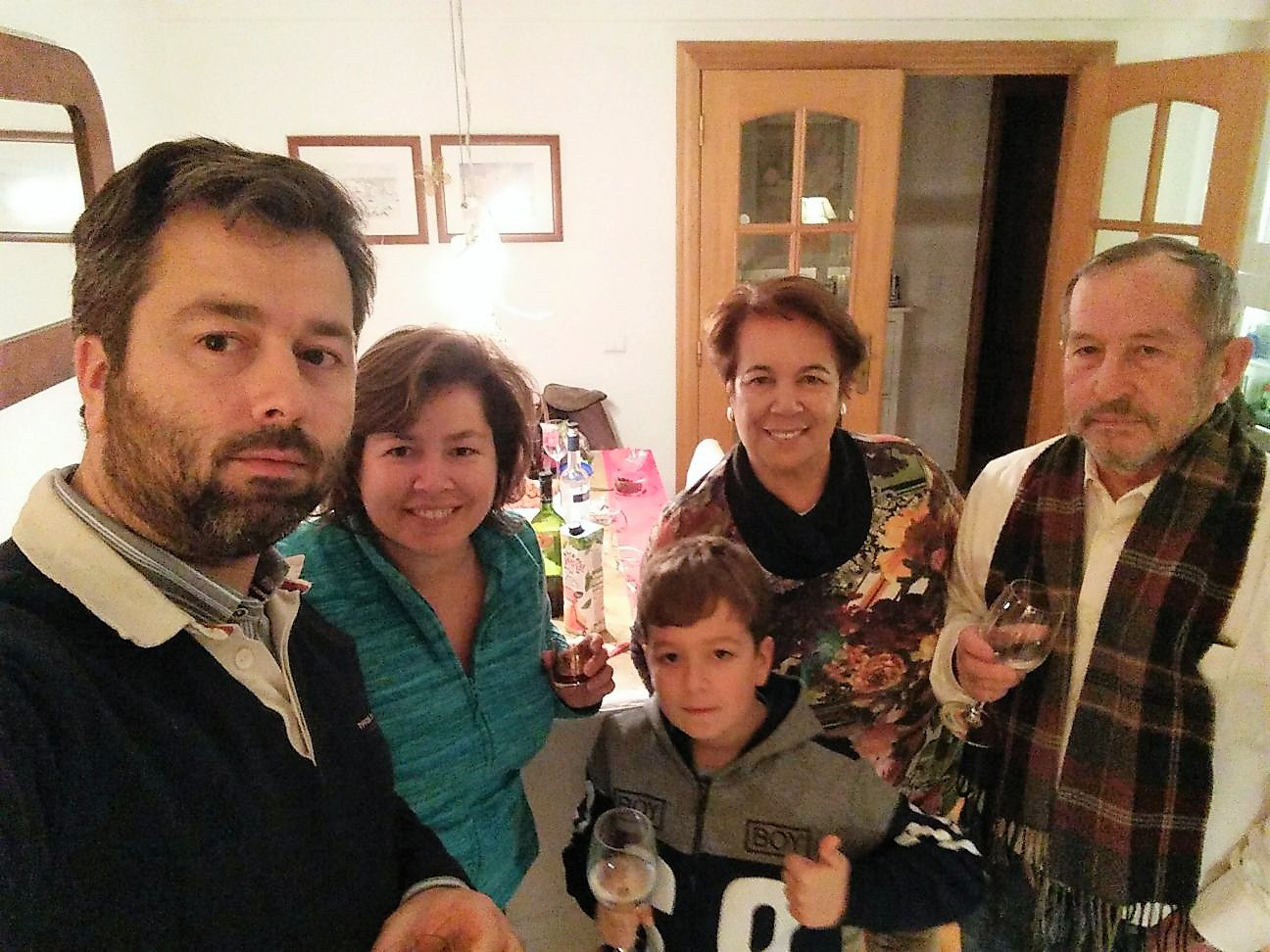 Luzia Machado (center) and her family 2018
Alfonso October 2019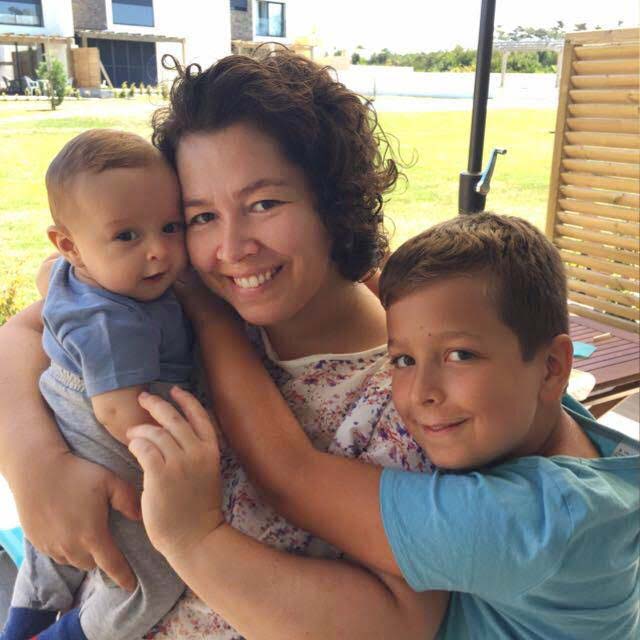 Alfonso, Dina, Francisco
The family of cousin Luzia (a.k.a. Juca) Machado, born Maria Luzia Moço de Oliveira Santos. Luzia is granddaughter of my grandfather Daniel's brother, Francisco, which makes her my second cousin.
Left to right:
Hugo César de Amorim (son-in-law of Luzia and Artur); Dina Machado Amorim (daughter of Luzia and Artur); Luzia; Artur Rocha Machado (Luzia's husband); and in the middle: Franciso (son of Dina and Hugo). Selfie by Hugo, January 2018. Luzia says, "Me, Artur, Dina, Hugo, Francisco, we live all at Lisbon (Telheiras) and very close. In fact we only need to bend the street corner to be in the house of each other." The second picture is of Dina's and Hugo's son Alfonso Rocha Machado de Amorim, born 03 April 2019, and third is Dina with her two children in 2019.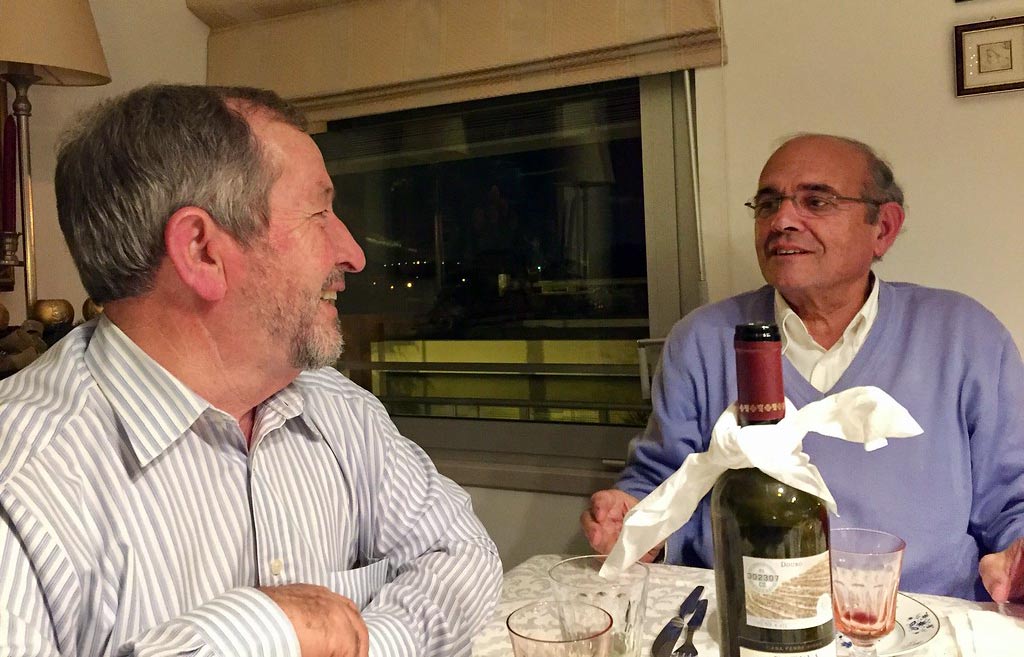 Artur and Zeca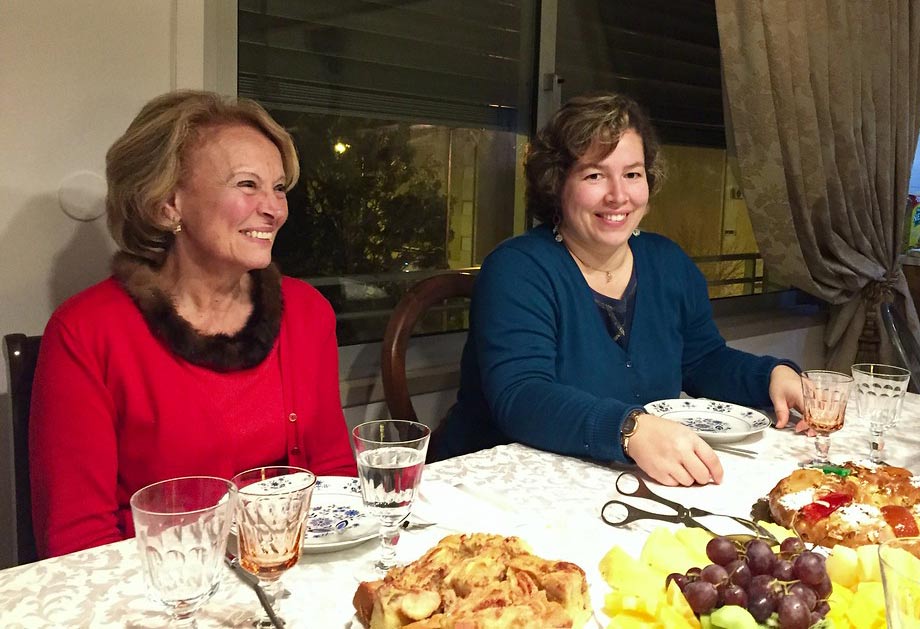 Zulmira and Dina 2016
Left: Artur (Luzia's husband) and José de Oliveira Santos (Zeca), grandson of my grandfather's brother Francisco, which makes him another second cousin. Zeca lives in Estoril. Right: Zulmira (Mi) de Oliveira Santos, wife of Zeca, and Dina Maria, daughter of Luzia. Photos by Danny da Cruz at Luzia and Artur's house, Lisbon, 2016.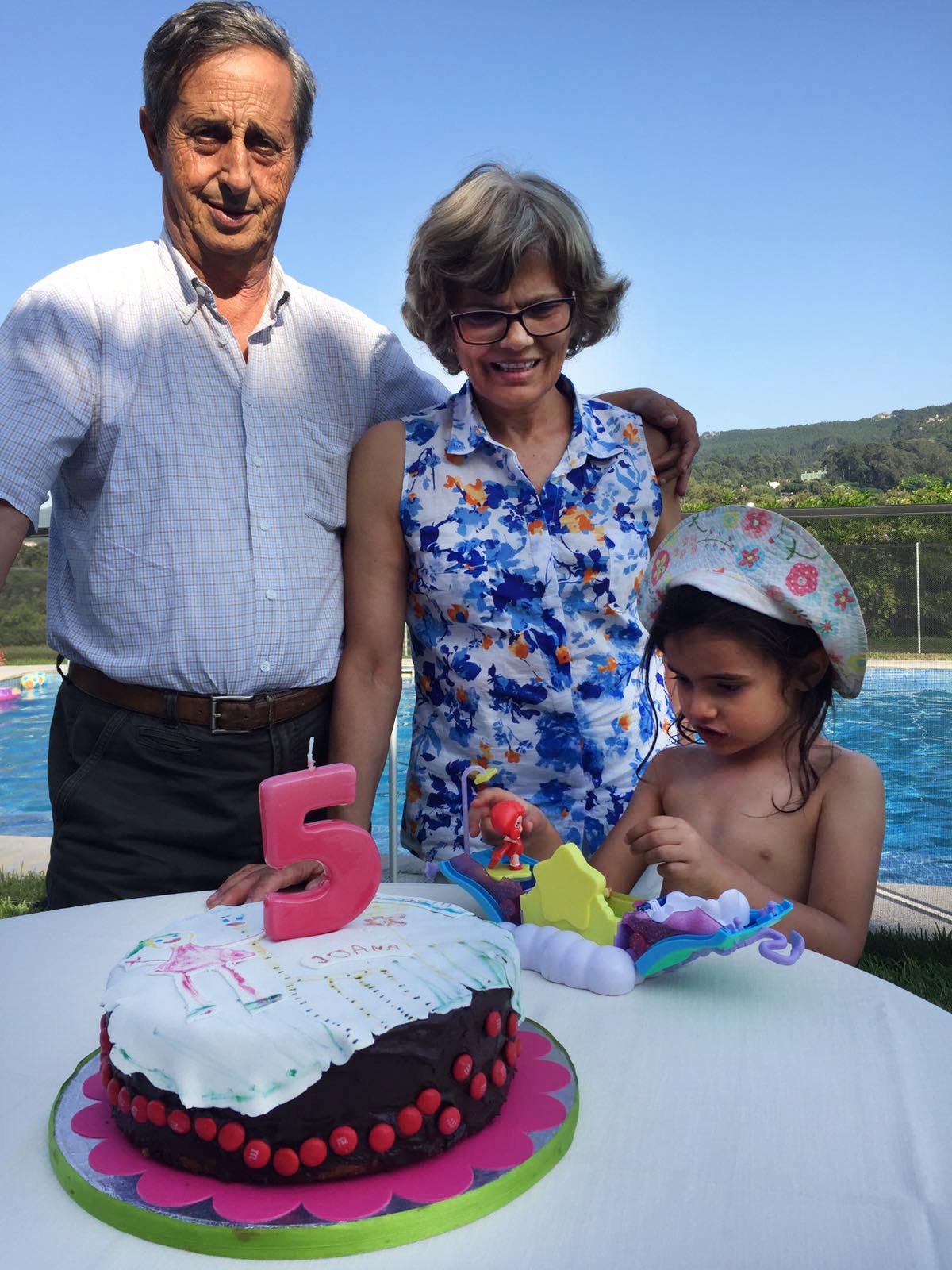 1. Francisco, Fátima, Joana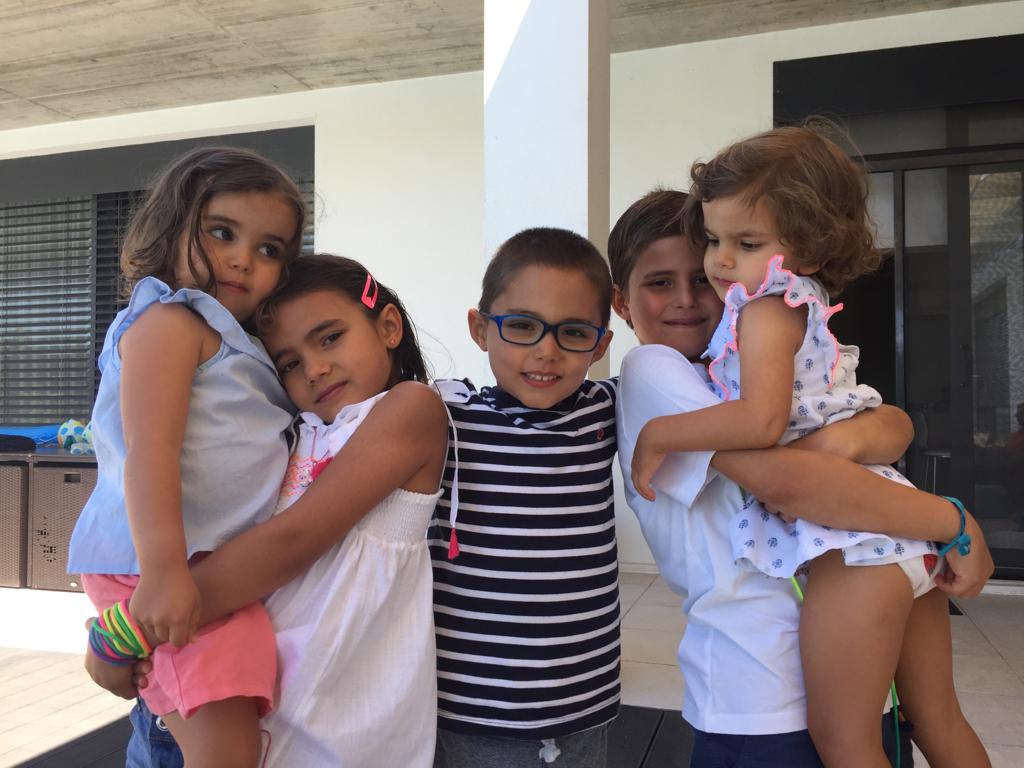 Santos family 2019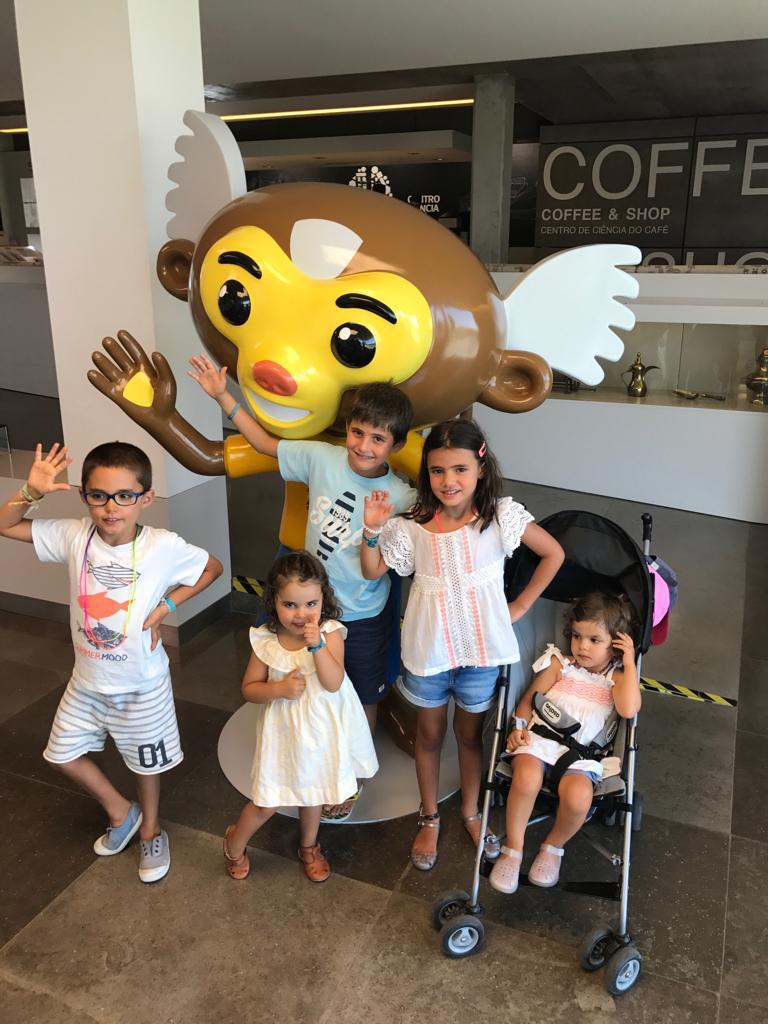 Santos family 2019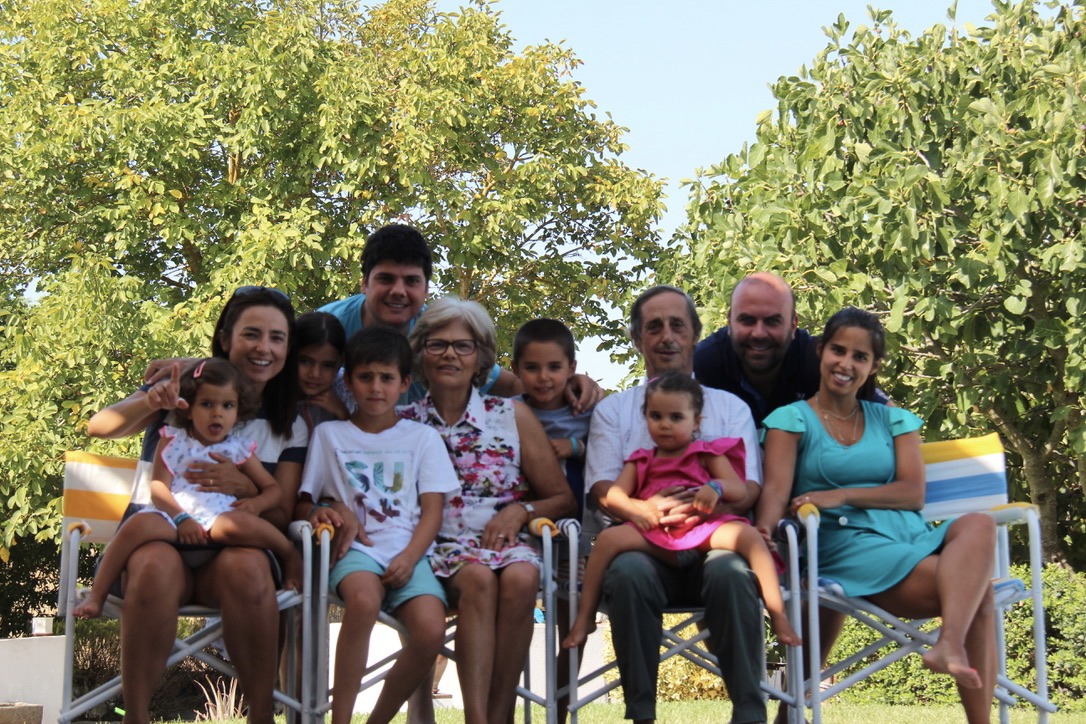 Santos family 2019
1. Fátima Santos Nobre (Fafita) with her husband Francisco Lobão Rasquilha, who live in Elvas, Alentejo, celebrating the 5th birthday of their granddaughter Joana, June 17, 2017, in Sintra at the home of her paternal grandparents. Fátima is daughter of Diniz and granddaughter of my grandfather's brother Francisco, which makes her my second cousin, too.
The other three photos are from 2019.
---
Luzia Machado wrote on March 11, 2018:
Hi Frank, Olá aos primos e família

I've been postponing my message to you, because I didn't get (not yet) the information on my grandparents dates (birth and death). I've been in contact with Carlota and I even called the sacristan in Vilar, but they didn't get that information. Anyway it is online at: Tombo.pt but it will take some time to look for in the old books. I'll do it in some more time, unless some cousin may want to help me...

The register books begin with the year of 1860, because before that date occurred in Portugal the French invasions and the register books were destroyed in the church of Vilar. Several battles took place in the west region in those years with the Napoleon troops: Roliça, Vimeiro, Linhas de Torres Vedras and Portugal won those battles with the help of the old allies, the English? I remember my father saying that at that time the French troops transformed the church of Vilar into a horse stable. Later, a priest who went to Vilar (Padre Bento), had the "bright" idea to demolish that historic church, which was according my father, a small one, but beautiful.

Answering to one of your last questions on the wine-growing in Vilar, I'll say that in the family nobody lives from agriculture now and I would say that very few families live there now exclusively from agriculture. When my aunt Luzia died, all cousins agreed to sell her properties to a family that already cultivated her lands. Me and my brothers we had already sold our properties to the same family some years before. But they are specialized, one of them is an agricultural engineer, he has vineyards and produces wine by modern procedures. Other property owners take their grapes to the cooperative cellars in the area. Even when I came to Lisbon (1971/72) I seldom heard the nostalgic sound of the hand presses during September, that I heard when I was a child.

On the other side, many vineyards were transformed into orchards, in particular of pears (it's the case of ours and our aunt's properties) with a kind of pear called "pêra Rocha" which is very good, very appreciated and exported to other European countries.

I would like to introduce you now a new generation of cousins: my nephew, Zeca's son, João Miguel and Carlota's daughter, Alexandra (the same name as Lina's daughter). Next time I'll send you a picture of the other Zeca's son (Paulo) and Lino's sons (Marco and Valter) João Miguel is IT engineer (like Hugo, my son-in-law, who is computer engineer as well). João Miguel lives near Porto and Alexandra is veterinary doctor and lives in Vilar. About Alexandra, she's an enthusiastic ecologist and hard-working woman, like her mother, Carlota. She gets in on a portuguese ecologist movement - Quercus, and has on youtube several videos (Alexandra Azevedo) on wild food, where you can see her (left). I send you also Alexandra's daughter, Carlota's granddaughter Laura Varges, who studies marketing and communication, performing a Nina Simone song (right).

João Miguel and family

I send you a selfie with João Miguel's family and a view from Porto and send their full names (to complete the tree): from left to right João Miguel Mendes de Oliveira Santos - Daniela Pinto Teixeira Oliveira Santos (older daughter) - Suzana Alexandre de Pinho Teixeira e Silva (wife) and Mariana Pinto Teixeira Oliveira Santos (younger daughter).

I send you also some photos we took last month at Andorra and Spain. My grandson wanted to see snow, something we don't see here in Lisbon. On the way back to Lisbon we stopped at Tordesilhas, where I was disappointed to see such a historic and medieval small town so abandoned. But history doesn't generate funds, at least at that place?

Andorra

Snow in Iberia

Tordesilhas

Tordesilhas Treaty House

About the treaty

And finally I would like also to ask you when do you introduce us your close family, the final consignees of the family tree?

Kisses to everybody/ beijinhos a todos(as)
Luzia (Juca)
OK, here we are: Amy and me one day in Queens NY, and a recent photo of Peter: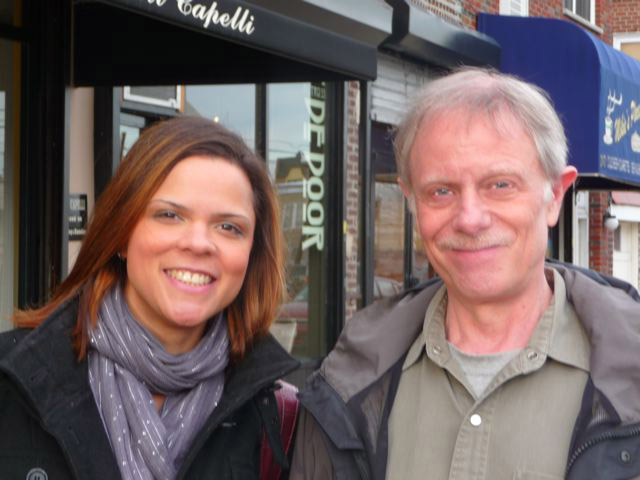 Amy and Frank da Cruz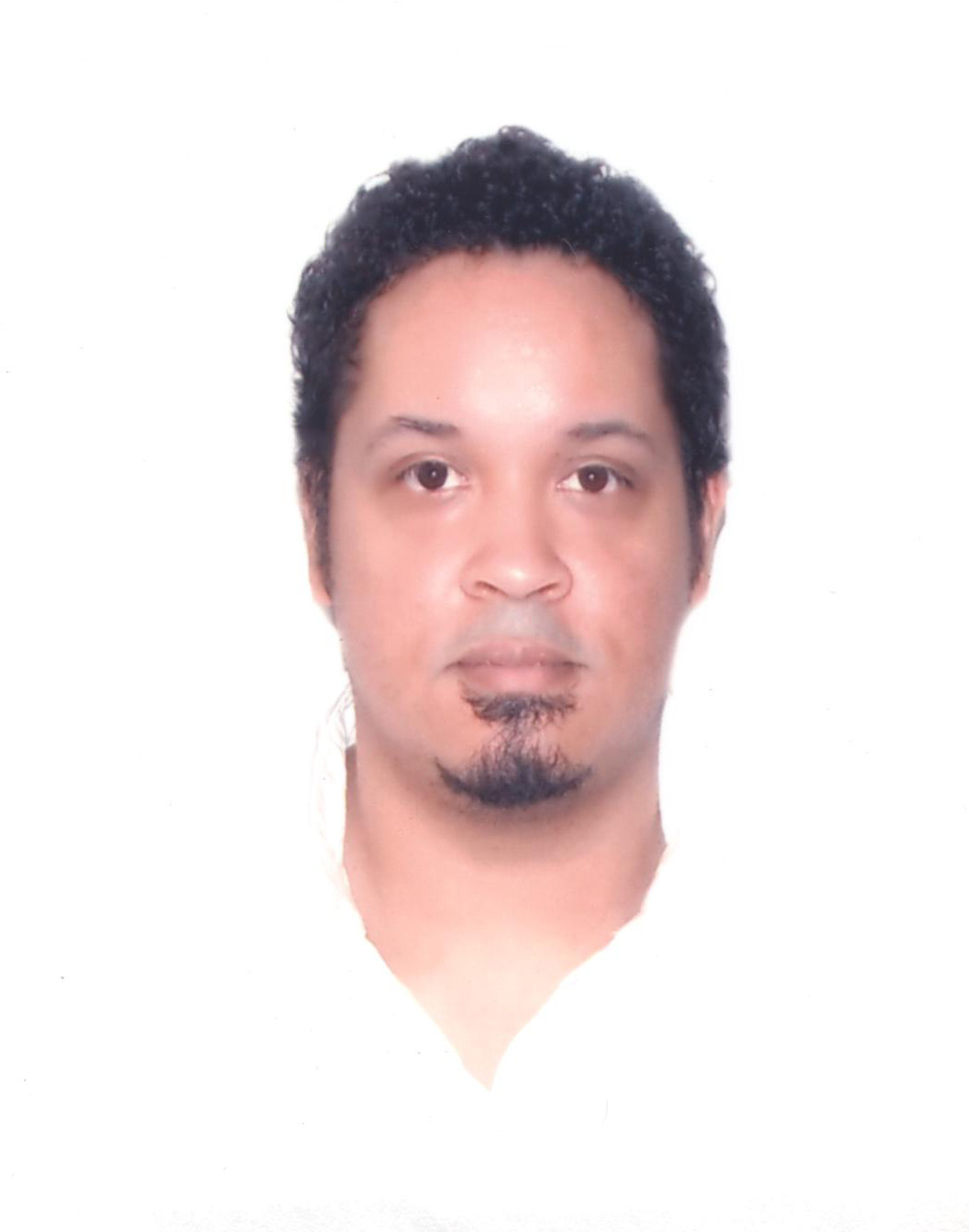 Peter da Cruz
In 2020 Luzia sent this photo from Christmas 2019 at her house in Santa Cruz: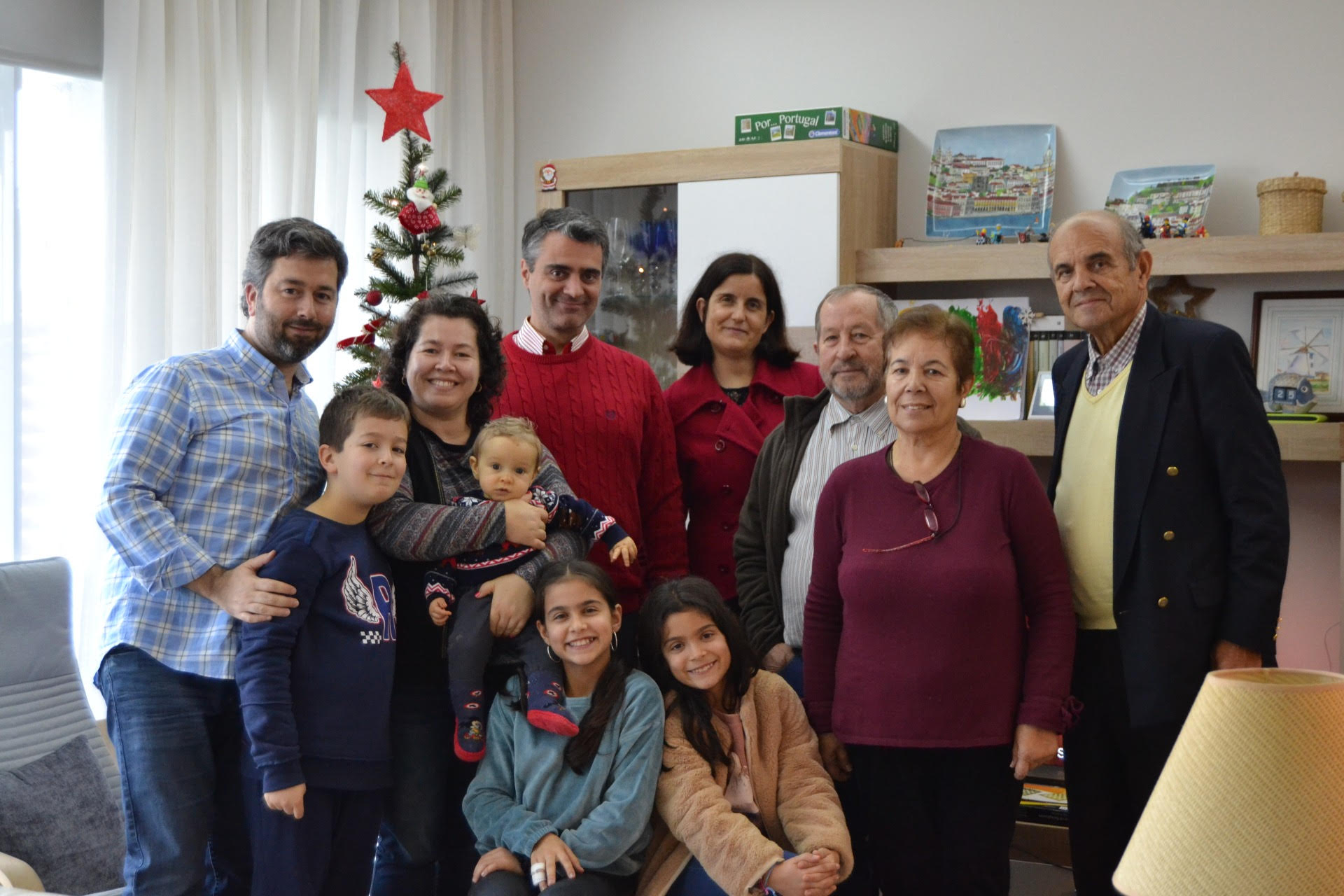 Hugo, Dina and the children, her nephew Paulo and his family, Paulo's wife Diana and the girls, Leonor and Mafalda, me, Artur and Zeca.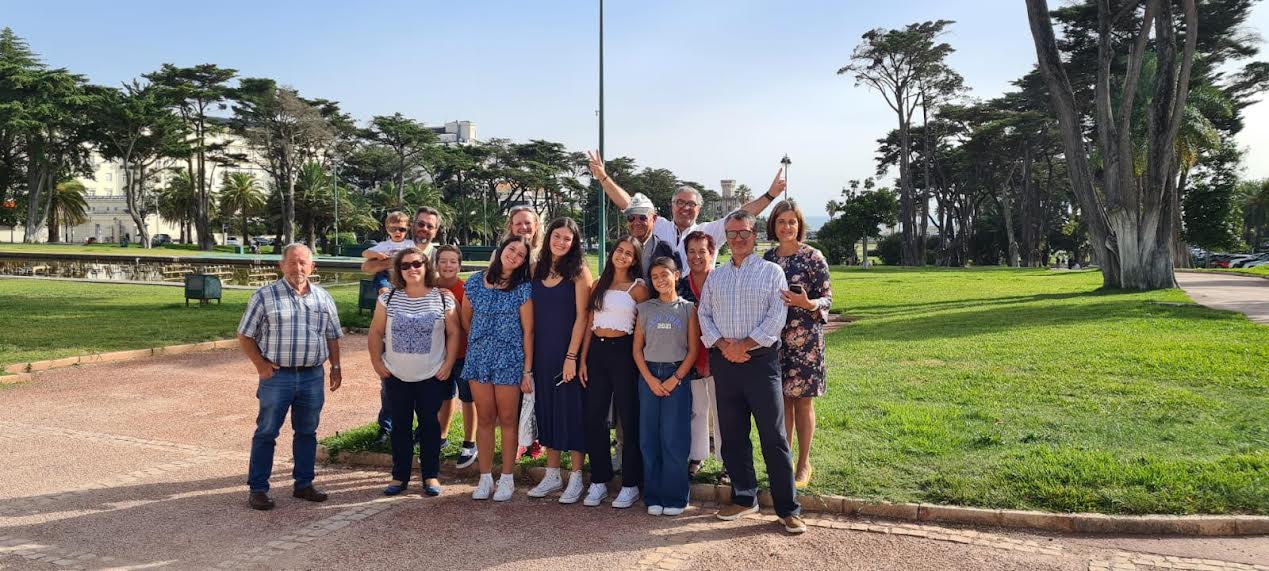 And approximately the same group in 2022 (from Luzia).
Mercedes Jatel and family in British Columbia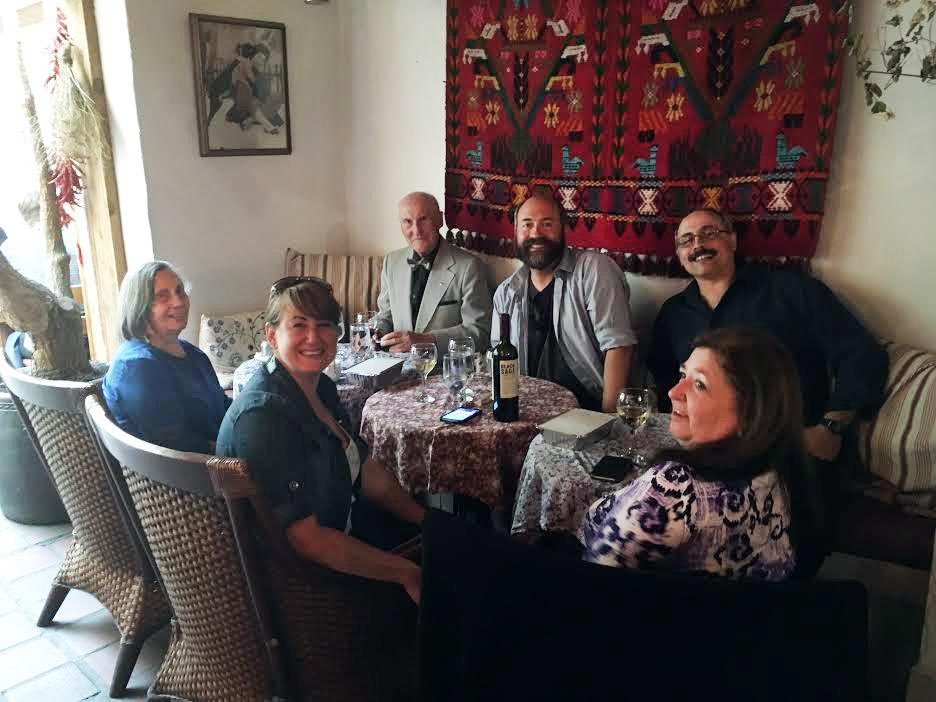 Mercedes Jatel (left) and family in 2018
In May 2020, my second cousin Mercedes Jatel, born
Maria Mercedes Nobre da Costa
in Lisbon in 1942, noticed this history and contacted me. She is estranged her her family in Portugal (except for cousin Raimundo and his family) and lives in Naramata, British Columbia. She is a granddaughter of my grandfather Daniel's sister
Maria da Cruz Narciso
. She emigrated to Hamburg, Germany, in 1964 and there she had a son Solomão (Sol) with another Portuguese emigré, João Martins, a military officer who had fled the fascist regime in Portugal. In 1971 she emigrated again, this time to Ontario, Canada, and there she married a Czech emigré, Karl Jatel, and had two more sons, Nelson and Ruben. Now she and Karl live in Naramata, British Columbia, and her name is simplified to Mercedes Jatel. The photo shows a birthday celebration in 2018; "first at the left against the wall is my husband Karl; next to him is our son Nelson and next to Nelson is Sol. Across from Karl is his wife Mercedes (me), next to me and across Nelson is his fiance 'Tanis' Norwegian from the part of her Mother (nice coincidence like you and your Mother), next to her and across Sol is his wife 'Janice'; they had 2 children: 'Kaitlyn Megan Martins' 28 years old, is a nurse in Halifax, Nova Scotia, Canada. By the way, my son Sol with wife and children lived in Halifax, Nova Scotia, for 20 years, 3 years ago was transferred to Victoria, British Columbia."