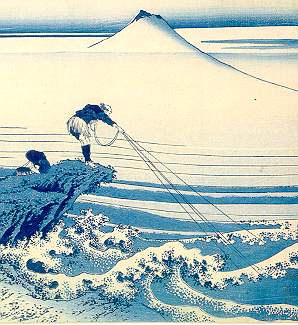 Detail from Hokusai, Kôshû Kajikazawa ,
color woodblock print in Berlin blue ,
from "Thirty-Six Views of Mt. Fuji," ca. 1830.

---
TOOLS AND RESOURCES FOR
JAPANESE BIBLIOGRAPHY


Report on Japanese Electronic Dictionaries (Nov. 2005)
A report on the current generation of Japanese electronic dictionaries (denshi jisho 電子辞書), as of early November 2005, based on catalogs assembled at Yodobashi Camera in Shinjuku.


Basic Bibliography for
Research on Japan
A short guide to the basic tools and methods for searching and locating books and articles, in both English and Japanese.

Japanese Bibliography ("Bib 95")
A Reference Handbook for Research in Japanese Humanities at Columbia University (not dated, current only through 1995)

Special Projects by members of Bib 2000, 2002, 2003
Special supplementary reports on current Japanese bibliography, with an emphasis on Web resources.


FAQ on Nat'l Diet Library's "Digital Library of Meiji Period"
A guide to a very important bibliographical resource, the full-image online collection of a certain percentage (over one-third so far) of the National Diet Library collection of books published in the Meiji period (1868-1912).


Henry Smith's
Home Page


Chushingura and the Samurai Tradtion
History: East Asian V3925 (Spring 2002)
Buildings and Cities in Japanese History, Spring '98 [EALC 3613]
Slide Shows on Major Monuments of Japanese Culture
Click here for information on access to this material.
Syllabi for Graduate Symposia
19th-Century Japan (History-East Asian W3870), Fall 2002

Tokyo: History, Form, and Spirit (Fall 1998)

Expanding Edo Art: A One-Day Workshop at Columbia University,
February 20, 1999.