Christine Denny receives an NIH Director's Early Independence Award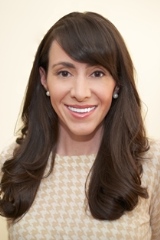 Congratulations to Christine Denny, Assistant Professor at Columbia University Medical Center, on being awarded an NIH Director's Early Independence Award. This award supports exceptional early career scientists who want to move directly from their PhD training into an independent research position, essentially omitting the traditional post-doctoral training period. Applicants must be within one year of completion of their terminal degree or clinical residency, and each institution may only nominate two candidates for consideration each year.

Christine earned her Ph.D. in Biological Sciences at Columbia, working in the lab of Prof. Rene Hen. One of only 15 recipients nationwide, she earned the Early Independence Award for her work on Optogenetic dissection of hippocampal circuitry underlying Alzheimer's disease.
Good luck starting up your new lab, Christine!