Frank da Cruz
May 2011; updated October 2020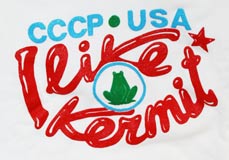 May 1989. Frank da Cruz and Christine Gianone of Columbia University's Kermit Project were invited to the Soviet Union to present Kermit protocol and sofware at a three-day conference hosted by the International Centre for Scientific and Technical Information (ICSTI) in Moscow, attended by computer experts from Hungary, East Germany, Poland, Bulgaria, Mongolia, Czechoslovakia, Cuba, and all over the USSR itself. The first day we gave an overview of Kermit software and protocol; the second day we presented a new extension to the protocol allowing transfer of text files between computers that use different encodings (such as for Russian Cyrillic text), developed beforehand by us in cooperation with ICSTI as well as with scientists in Japan and elsewhere, collaborating over BITNET and the myriad other networks that were shortly to be replaced by the worldwide Internet. The third day was an open forum in which attendees discussed the use of Kermit in their countries. We took about 700 pictures of which this is a small sample, and our hosts also made a documentary film.
I'm not a big multimedia guy. The PAL-format video tape was converted about 1990 to DVD by a commercial service. The Video link is to an MP4 version produced from the DVD with Handbrake; it's a little jerky. The "video files" link is to a directory that contains the files that are on the DVD, in case a better conversion is possible.
Also see: Source code in Russian for Kermit on the ES-8570 mainframe, which we brought back with us on a 9-track magnetic tape from ICSTI and decoded (using methods known only to the Kermit Project) from Cyrillic EBCDIC to Unicode [download]; see Wikipedia about the Soviet ES EVM [ЕС ЭВМ] series IBM-360/370-compatible mainframes. For a lot of high-quality footage of Moscow and Leningrad in the last days of the USSR, just before everything changed, see the film The Russia House (1990). And for some excellent color footage of the Soviet Union from about 1970, see the film Sunflower.
This gallery was created in May 2011 when I scanned some of the 1989 photos we took with film cameras. The gallery was converted to Photogallery 3.07, UTF-8 encoding (for Cyrillic), and HTML5 with full fluidity for viewing on screens of all sizes.