Digital Equipment Corporation (DEC) had a strong presence at Columbia University in the 1960s, 70s, and 80s beginning with PDP-4, PDP-7, PDP-8, PDP-9, PDP-11, PDP-12, and other minicomputers in the departments, and later VAXes as well as desktop computers and word processors. In the Computer Center the first campuswide timesharing was offered from a PDP-11/50. Then followed four DECSYSTEM-20 mainframes, plus two more in the departments, and finally a VAX-8650 and then a VAX-8700 mainframe, until finally Digital ceased to exist. Our first campus network (besides the IBM 3270 terminal network) was DECnet. The PDP-10 line (DECsystem-10 and DECSYSTEM-20) played a key role in the development of the ARPANET, which was to become the Internet, and was the birthplace of many ideas and applications that live on to this day.
These are 5¼×8" paperbacks that were given away. Most of of these are for the extremely popular 16-bit PDP-11 minicomputer line; these computers were installed in the Computer Center and many Morningside and Medical Center departments in the 1970s and 80s.
The first four items are seminal papers in the groundbreaking design of TENEX (which was to become TOPS-20). The sales brochures before 1977 were used in our decision of machine to adopt as followon to the PDP-11 (the choice came down to DECsystem-10 or DECSYSTEM-20).
For terminals that were in wide use at Columbia and/or that are emulated by MS-DOS Kermit, Macintosh Kermit, or Kermit 95 for Windows. These are original published manuals unless otherwise indicated. Of these Jeff Altman, Kermit Project, 1993-2003, says:
One of the things I enjoyed most when working on Kermit was the ability to travel the world and meet users wherever I went. Frank, and to a lesser extent myself, acquired a large number of manuals, terminals, software, and computers and more that by the time they came into our possession were already facing extinction.

After my departure from Columbia University in 2003 Frank was forced to scrap a large number of items because my office space was no longer available for storage. Some of the equipment which was destroyed in that purging were military terminals whose manuals were labeled top secret. They came into my possession on a drive from Charlotte NC to New York through Virginia where a concerned soul literally met me behind an abandoned warehouse and the machines and manuals fell off the back of a truck into my back seat.

I am particularly concerned about the loss of the early and rare terminals because in my time working with them I found the manuals to be frequently lacking in accuracy. The only way to know how the actual terminal sequence parser would behave was to write test sequences and pass them through the physical machine. The manuals were nice to have but without the terminal, an accurate emulator could never be developed.
CLICK HERE to see the terminals that were sent to the dumpster in 2003.
Sharp, Duane E., Handbook of Interactive Computer Terminals, Reston Publishing Company (1977). An explanation of how terminals work and a survey of terminals on the market in 1977.
Strang, John, Linda Mui, and Tim O'Reilly, termcap & terminfo, O'Reilly & Associates (1988). How the UNIX terminal database works and how to use it.
ADDS Consul 500 Series Users Manual (1978). Photocopy.
Ann Arbor XL Series User Guide (1984). This was the first terminal with a "tall" display (the Genie had 30 lines; the Ambassador, sixty). Everybody wanted one but they were very expensive.
Bolt Beranek and Newman (BBN) BitGraph Advanced Graphics Terminal: User's Guide and Operating Instructions Version 2.0 (1982). Photocopy.
Data General: Programming the Display Terminal: Models D217, D413, and D463 (1991). The Data General DASHER text/graphics terminals, received (along with a DG minicomputer) in an equipment grant to support Kermit software development for Data General users.
Data General DASHER terminal keyboard labels for CEO and SED.
Datamedia Elite 3025 Video Terminal Operator's Handbook (1978). We put some of these in the dorms because the were made of metal, built like tanks.
Datamedia Elite 1520APL Technical Manual (1977).
Datamedia Elite 3052 Video Terminal Operator's Handbook (1978).
DECscope sales brochure, undated but probably from 1975 or 76, featuring the VT50 and VT52, the latter being the first DEC video terminal with lowercase as well as uppercase letters, and an 80-column screen, big enough to show a "full-card FORTRAN or COBOL image" on each of the DECcope's twelve (VT50) or twenty-four (VT52) lines. And it eliminates the teletypewriter's annoying noise!
DECscope User's Manual (1975). VT52, VT50H, VT50. Photocopy.
DEC LA36/LA35 User Manual (1976). Hardcopy terminal, pinfeed 132-column fanfold paper.
DEC LS120 DECwriter III Operator Manual (1977). Ditto.
DEC LA120 User Guide (1979). Ditto.
DEC VT100 User Guide, 3rd Edition (1981). Perhaps the most influential of all video terminals, till widely emulated to this day.
DEC GIGI VK100 Terminal Installation and Owner's Manual, 1st Ed. (1981). The GIGI was DEC's attempt to create a new graphics standard based on its ReGIS graphics language. The GIGI could draw pictures and animations specified by BASIC programs. The GIGI itself looked like a fat keyboard; the monitor had to be ordered from a third party (Barco). It could also do slide shows. DEC gave a big GIGI presentation at CU in Harkness theater around 1980 or 81. The GIGI kind of fizzled out but later model DEC terminals supported host-generated ReGIS graphics.
DEC GIGI/ReGIS Handbook, Preliminary Edition (Feb 1981).
DEC GIGI Graphics Editor Manual, 1st Printing (1981).
DEC GIGI BASIC Manual, 1st Printing (1981). Two copies.
DEC GIGI Character Set Editor Manual, 1st Printing (1981).
DEC GIGI Slide Projection System Manual, 1st Printing (1981).
DEC VT125 User Guide (1981).
DEC VT131 Video Terminal User Guide (1981).
DEC VT102 Video Terminal User Guide (1982).
DECwriter IV Graphic Printer User's Guide (1981).
DEC Letterprinter 100 Operator Guide (1983)
DEC Letterprinter 100 Programmer Reference Manual (1983)
DEC VT220 Installation Guide, 2nd Edition (1984).
DEC VT220 Owner's Manual, 3rd Edition (1984).
DEC VT240 Series Installation Guide, 2nd Edition (1984).
DEC VT240 Series Owner's Manual, 3rd Edition (1984).
DEC VT240 Series Programmer Reference Manual, 2nd Edition (1984).
DEC VT320/VT330/VT340 Video Terminals, sales brochure (1987).
DEC: Installing and Using the VT320 Video Terminal, 1st ed. (1987).
DEC: Installing and Using the VT330/340 Video Terminal, 2nd ed. (1988).
DEC VT330/VT340 Programmer Reference Manual, Volume 1: Text Programming, 2nd Ed. (1988).
DEC VT330/VT340 Programmer Reference Manual, Volume 2: Graphics Programming, 2nd Ed. (1988). Two copies, one still shrinkwrapped, sort of.
DEC VT420: Installing and Using the VT420 Video Terminal (North American Model), 2nd Ed. (1990).
DEC LK450 Keyboard Engineering Specification (6 August 1986).
DEC LK450 Keyboard Product Specification, Confidential and Secret Information (17 Jan 1991).
Hazeltine 2000 Operating Manual, March 1972, Revised January 1975. Photocopy. As far as I know, this was the first video terminal at Columbia University. When I came to work at Watson Lab in 1974, there was one in each room, so that 2 or 3 people shared each terminal.
Heathkit Manual for the Video Terminal Model H19 (1979).
Hewlett Packard 2621A/P National Terminal Owner's Manual (1980). Columbia had large numbers of 2621-series terminals in the public terminal rooms in Mudd, Carman, and the Computer Center beginning in 1979.
Hewlett Packard 2621B Interactive Terminal, Revision 1 (1980).
Hewlett Packard 2648A Graphics Terminal Reference Manual (1977).
Honeywell VIP7809 Terminal Product Manual, Department of the Navy (April 1983).
Honeywell VIP7809 Display Terminal Reference Manual, Department of the Navy (April 1983).
Honeywell VIP7800 Family Display Terminals User's Reference Manual (1983).
Human Designed Systems, Concept Reference Manual (1978 plus 1979 addenda). This was the preferred terminal for use with the DECSYSTEM-20s at Columbia for reasons I can explain if asked. Well, briefly, because it had very powerful host-driven editing and screen-formatting features, enabling advanced editing features at slow communication speeds. The Systems staff at Columbia added Concept support to EMACS. If I recall correctly, this included the first split-screen editing (two files, one in each sub-window).
Human Designed Systems, Concept Schematic Diagrams (1980).
Human Designed Systems, Concept-APL Reference Manual DRAFT (1978). We were a big customer of the Concept-100 terminal. However, the APL language was required by some number of Columbia courses, and APL uses a special character set. This terminal was pretty much custom-built for us and we wound up buying a truckload of them.
Human Designed Systems: various technical updates, 1979-80.
Human Designed Systems, Concept 108 Users Manual (1981).
Human Designed Systems HDS3200 Terminal Series Owner's Manual (1988).
IBM 3101 sales brochure (1979).
IBM 3151 ASCII Display Station Configuration and Software Reference Guide, 1st ed. (1988). IBM 3100-series terminals were used to some extent by Columbia administrative computing departments, presumably in areas that could not be reached by the SNA 3270 terminal network.
IBM 3151 ASCII Display Station: Guide to Operations, 2nd ed. (1989).
IBM 3151 ASCII Display Station Models 11, 31, and 41: Guide to Operations, 3rd ed. (1990).
IBM 3161/3163 ASCII Display Station Description, 1st ed. (1985). With several supplements. In a 3-ring binder.
IBM 3164 ASCII Color Display Station Description, 1st ed. (1986).
IBM 3270 Information Display System Component Description, 11th Ed. (1980). The famous "green tube", practically ubiquitous in CU administrative offices through the 1990s.
IBM 3270 Information Display System Introduction, 19th Ed. (1984).
IBM 3270 Information Display System Character Set Reference (1986).
Infoton Vistar/GT Technical User's Manual (1973).
Infoton I-100 User's Manual (1973). Draft, photocopy.
Perkin-Elmer Model 1100 User's Manual (1977). At $500, the Perkin-Elmer "Fox" was the first affordable video terminal and we put about 15 of them in the first public terminal room in 272A Engineering Terrace. It was rather large.
Perkin-Elmer Model 550 User's Manual (1978). This was a "miniature" version of the Fox.
Selanar Graphics 200 Terminal (1982).
Siemens-Nixdorf Bildschirmeinheit 97801-40x / 97801-40x Terminal: Betriebsanleitung / Operating Manual (1990). German and English. An extremely powerful and complex terminal that supported a multiplicity of character sets and writing systems, including Cyrillic. With these manuals (and a 97801 terminal) we equipped Kermit 95 with 97801 terminal emulation.
Siemens-Nixdorf Bildschirmeinheit 97801-5xx Schnittstellen: Benutzerhandbuch (1991). In German.
Siemens-Nixdorf 97801-5xx Terminal Interfaces User Guide (1991). English.
Siemens-Nixdorf Datensichtstationen 97801-512/-512/-512P 97801-514/-514P/-514 Betriebsanleitung / Operating Manual (1992). In German and English.
Siemens-Nixdorf EM97801 3.0 (MS-DOS, Windows) 97801-Emulation Unter Windows (1993). German.
Siemens-Nixdorf TC20-V1xx: Installation, Inbetriebnahme und Wartung / Installation, Operation and Maintenance (1995). In German and English.
Stratus V102 Terminal Programmer's Guide (1986).
Tektronix 4010 Computer Display Terminal (1972). This was the most influential of all graphics terminals. Its graphics language is supported to this day by many other graphics terminals and emulators, and by host-based graphics software such as SASGRAPH. Columbia had a Tektronix 4010 in its Self-Service Input/Output Area in the 1970s and 80s, and in Watson Lab. MS-DOS Kermit included Tek4010 emulation.
Tektronix 4014 and 4014-1 Computer Display Terminal User's Manual (1974, Revised 1982). This terminal was in the Seismology Department.
Tektronix 4205/4207 Computer Display Terminals Operators Manual (1988).
Tektronix 4957 Series Graphics Tablet Users Manual (1986)
TeleVideo 922 Video Display Terminal Operator's Manual (1984).
TeleVideo 965 Operator's Manual (1988).
Zenith Data Systems Video Terminal Model Z-19-CN Operation Manual (1981).
Wyse WY-50 User's Guide (1983). Photocopy.
Wyse WY-60 User's Guide (1989).
Wyse WY-60 Programmer's Guide (1987).
Wyse WY-370 Programmer's Guide (1990).
Wyse WY-35/ES Programmer's Guide (1995).
Reference Cards and Pocket Guides for Terminals [Box 28]
For terminals that were in wide use at Columbia...
Concept-100 Reference Card
DEC VT100 Terminal Setup
DEC VT125 Programming Reference Card
DEC VT220 Programmer Pocket Guide
DEC VT240 Series Programmer Pocket Guide
DEC VT330/VT340 Programmer Pocket Guide
Hewlett-Packard HP-2621B Interactive Terminal
IBM 3164 ASCII Color Display Station Operator Reference and Problem Solving Guid
Tektronix 4010 Graphics Terminal Plot-10 Easy Graphics Reference Card
Tektronix 4200 Series Computer Display Terminals Reference Guide (1988)
Wyse-50 Display Terminal Quick-Reference Guide (1983)
Modem Manuals [Box #30]
3Com Courier V.Everything Getting Started Guide (1997).
ACER Modem Command Description (undated)
ASKEY V.90 External Modem AT Command Set (undated, late 1990s)
AT&T Paradyne DataPort Express Modem User's Guide (1995)
BOCAMODEM V.34 Data Fax Modem (undated).
Conexant Commands for Host-Processed and Host-Controlled Modems: Reference Manual (1999).
Conexant AT Commands for SmartSCM, SmartACF, SmartACFL, and SC56D Modems: Reference Manual (2001).
Diamond Supra EXPRESS V.90 Manual (undated, late 1990s).
ELSA Microlink 56k AT-Befehle (1998). In German.
Hayes Smartmodem 1200 Hardware Reference Manual (1983), spiral bound.
Hayes Smartmodem 1200 User's Guide (1984), with Reference Card.
Hayes CCITT V.25bis Command Set Reference (1992).
Hayes Smartmodem 2400 Getting Started (1989), pamphlet.
Hayes Smartmodem 2400 User's Guide (1986), spiral bound.
Hayes Smartmodem 2400 User's Guide (1988).
Hayes V-series ULTRA Smartmodem ULTRA-24 with Express 96, ULTRA 96, ULTRA 144 (1992), paperbound.
Intel Command Guide for Intel High-Speed Data Modems (1991).
LASAT Internet 56.000 Modem Manual (1998).
Lucent Technologies / Bell Labs VENUS AT Command Reference Manual (1997, 2000)
Microcom DeskPorte 28.8P Fax/Data Modem User's Guide (undated)
Motorola UDS V.3229 Modem Installation and Operation (1991).
Motorola 28800 BPS Fax Modem AT Commands (undated)
Omnitec Telephone Coupler Models 401 A/BC 701 R Technical Specification, Instruction and Maintenance Manual (1977). For use Teletype Model 33.
Powersurf Data/Fax/Voice Modem AT Command Reference Manual (undated)
Practical Peripherals Practical Modem 14400FXMT Operating Manual (1992).
Racal-Milgo Inc. RMD-3221 Modem User's Guide (April 1989).
Racal-Milgo Inc. MDS-II Chassis Controller - DCP Interface Specification Version 5.0 (April 23, 1987). This and the following: Documentation for Columbia's modem-pool chassis, late 1980s - mid 1990s, supporting about 800 simultaneous inbound data calls.
Racal-Milgo Inc. MDS-II Interprocessor Interface Specification Version 7.0 (December 14, 1990).
Racal-Vadic VA4492E Modem User's Guide (September 1986).
Racal-Vadic VA9000 System Controller User's Guide (July 1987).
Racal-Milgo Inc. RMD-3264 Dual Modem User's Guide (Feb 1991).
Rockwell AT Commands for RCVDL56ACF, RCVDL56ACFL/SP, RC56D/RC336D, RC56LD/RC336LD Modems Reference Manual (Preliminary) (1998)
Siemens Manual Reference Modem Commands for Siemens Mobile Phone S35i, C35i, M35i. Undated, in English.
Shark Basking Combo Sound Card / 56K Modem (undated).
Smartlink 5634TS User's Manual (undated, early 1990s).
Telebit Models RA12E and RA12C Packetized Ensemble Modem: Firmware Version R2.0-020, Commands and Registers Reference Manual (1985, 1985). With reference card.
Telebit Trailblazer User's Manual (1985). This is the first modem to include a "Kermit spoof"; that is, the modem itself executed Kermit protocol between itself and the computer and converted to its own PEP protocol between the modems (this was done in cooperation with the Kermit Project). This modem, which was one of the first to routinely exceed 9600 bps, formed the connection backbone of CSnet.
Telebit Trailblazer Commands and Registers Reference Manual (1987).
Telebit T3000 Fast Start Guide (1991)
Telebit T3000 Facsimile and V.25bis Addendum (1992)
Telebit T3000 Reference Manual (1991)
TurboModem V.Fast Installation Guide (undated).
UDS 212LP Modem Manual, undated, mid-1980s.
US Robotics Courier PCMCIA User's Guide (1992), paperbound.
US Robotics Sportster modems Quick Start (1994).
US Robotics Sportster Winmoden 28.8 and 14.4 Faxmodems for Windows: User's Guide (1996).
US Robotics Courier High Speed Modems V.34 User's Manual (1994)
Wisecom 56K Moderm Riser Card WS-5614DML (2001).
Zoltrix AT Command Set Summary for PCTel chipset (1998).
Zoltrix AT Command Manual for Zoltrix Model FMHCF56i/FMVSP56SHCF/FM56KTOMCAT (1998).
Catch-All [Box #31]
SEL 810-B Manual Set (1969). Reference Manual, Assembler, Fortran, DOS, and Operations. This is from the Engineering School; it was the first computer that I programmed using a programming language rather than plugging wires into holes.
Reports of the DECsystem-10/20 Spring '77 U.S. DECUS Meeting. Collection of reports and papers.
Bcpl Manual, Bolt Baranek and Newman Inc. (September 1974). A programming language for compiler writing and systems programming on the PDP-10 and PDP-11, dating back to 1964.
User's Manual for Utility-Coder (1978), a popular utility for managing files (datasets) on the IBM 360/91.
Wilcox, Clark R., Mary L. Dageforde, and Gregory A. Jirak, MAINSAIL Language Manual, Version 4.0, Stanford University (July 1979). Mainsail was the followon to SAIL, more portable and more stable; we used it quite a bit on the DEC-20s but it disappeared from the scene after a few years.
Knuth, Donald E, TEX and METAFONT: New Directions in Typesetting, Digital Press and the American Mathematical Society (1979). Paperbound, 8×8". Very rare, the first TeX book, typeset by the author using TeX itself in the Computer Modern font created using METAFONT.
PDP-11 MACRO-11 Language Reference Manual (Jan 1980). PDP-11 assembly language was, well, very cute. So cute, in fact, that I believe it was the inspiration for some parts of the C language.
Intertec Data Systems SUPERBRAIN Users Manual (1980). Paper, 8½×11×1½". This was the first desktop computer deployed at Columbia U and the one where Kermit was first implemented. It ran an 8-bit operating system, CP/M-80 (more about the Superbrain here).
CP/M-86 Operating System Guide, Digital Research (1981). This was the 16-bit version of CP/M, for which we wrote a Kermit program that was eventually ported to about 12 different platforms.
Catchings, Bill, Frank da Cruz, Daphne Tzoar, Kermit Protocol Manual, different editions, showing early developments in the protocol (1982-83).
Catchings, Bill, Frank da Cruz, DEC-20/Superbrain File Interchage (25 May 1982). Documentation for the very first application of Kermit protocol and software.
CP/M-86 Operating System Command Summary, Digital Research (1982).
VT18x Upgrade and System Test Guide (undated, probably 1982). DEC's first microcomputer was the VT180. It was built by adding two circuit boards and an external dual 5¼-inch diskette drive to a VT100 terminal. VT100 owners could buy an upgrade kit to turn their terminal into a computer. We had these at Columbia in the early 1980s. Also, it's significant that the VT180 was the first computer that had a Kermit program "ported" to it outside of Columbia; in fact this was done at Digital Equipment Corporation, which as an early adopter and promoter of Kermit, which published the Kermit books, and which sponsored (through its user group, DECUS) Kermit seminars in Japan, France, and Switzerland as well in the USA.
Columbia Sundial article, Breaking the War Mentality, by Barack Obama, most likely composed using CUCCA terminals and computers (March 10, 1983).
DECUS France CAROLL Award (a silver plate), presented to the Kermit Project for the best software of 1984 (there was also a bottle of champagne, which disappeared on the spot. Later on, a Club Kermit would be formed in France, which hosted a Kermit meeting that we attended in Paris in 1987.
Stallman, Richard M., EMACS Manual for TOPS-20 Users, MIT Artifial Intelligence Laboratory, AI Memo 555, 20 February 1985, 240pp. EMACS before it was GNU EMACS.
da Cruz, Frank (ed.), Kermit User Guide Sixth Edition, Revision 1 (14 June 1985), with specific chapters for DECSYSTEM-20, VAX/VMS, VM/CMS, UNIX, Macintosh, MS-DOS, CP/M-80, CP/M-86, and Apple II DOS.
DEC TOPS-20 Monitor Calls Reference Manual, TOPS-20 V6.1 (1985).
Scribe User Manual (1985), Scribe User Manual Supplement for Version 5 (1986), Scribe Supplement for Version 6(1600) (1988), Scribe Supplement for Version 7(1700) (1988), and the SCRIBE Document Production System Advanced User Manual (1988).
Columbia University Proposed Microwave / Broadband Coaxial System, ROLM Corporation, November 24, 1986. The initial proposal for the $20M telephone exchange and wiring plant that is still in use today.
Kermit Distribution Manual (1987). Procedures for tech support, order fulfillment, filing, making labels, ordering supplies, using production computers and getting them fixed, sending invoices, etc. The Kermit Distribution office had 2-3 full-time employees and several part timers for about 20 years.
Poster, 25th Anniversary of Columbia Computer Center.
International Kermit Conference, Moscow USSR (1989). VHS tape made in the Soviet Union by a Finnish production team. I think the recording (signal) standard is PAL/625/25, but it might be MESECAM/625/25. In any case, the tape does not play on NTSC (North American) players. (On the other hand, it might be an NTSC conversion, I'm not sure, I don't have a video tape player.)
Manual set for NeXT workstations (1989, 1990). AcIS bought truckloads of these workstations in the early 1990s for itself, the Libraries, and for some public labs.
IBM/Rolm/Siemens CBX Manuals and Documents (not boxed)
This is Columbia University's main telephone system on the Morningside campus, installed in 1988 and with no plans to remove it even in 2011, even though most new phones being installed are netphones.
ROLMphone 244PC User's Manual (1987). From 1988 until the mid-to-late 1990s, when all the buildings were wired for Internet, access to the central computers from the desktop was through a Rolm Data Phone via the serial port at 19200bps.
ROLM Phonemail User Guide (1987)
Gianone, Christine M., Preparing for Data Communications with the ROLM CBX, Academic Information Systems, Columbia U (1988, 1989, 1990).
CUCCA Newletter, October 1988: Special ROLM CBX issue.
Guide to Data Service Installation for the RolmPhone, Office of Communications Services, Columbia U (undated).
ROLMphone 120 240 400 Quick Reference Guide (undated).
ROLM CBX II Data Communications: Releases 9004.0 and 9004.1, System Administrator Guide (1987). Spiral bound.
IBM ROLM 9751 CBX Data Communications User Guide (1987). Spiral bound.
ROLM 9751 CBX Automatic Call Distribution Agent Guide, Release 9005 (1992). Spiral bound.
Siemens System Management Guide Release 9005 (1999). Paperbound.
ROLMphone 120 240 400 Quick Reference Guide
Various Columbia University Directories containing Rolmphone instructions.
Completely Miscellaneous (not boxed)
Ekman, Torgil, and Carl-Erik Fröberg, Introduction to Algol Programming, Studentlitteratur, Lund, Sweden (1967). Algol was the first block-structured programming language, from which languages such as C, Pascal, PL/I, and Ada were derived. It was taught in Columbia CS courses in the 1970s. Watson Lab's John Backus was a principal author of the Algol-60 language.
Gries, David, Compiler Construction for Digital Computers, Wiley (1972). Hardcover. Another book that was formatted on the IBM/360 and printed on the 1403 line printer. This was the standard text for Columbia's Programming Languages and Translators EE/CS course in the 1970s.
ОТ БЭСМ ДО СУПЕР ЭВМ: СТРАНИЦЫ ИСТОРИИ ИНЦТИТЫТА ЕМ и ВТ им. С.А. ЛЕБЕДЕВА АН СССР В БОСПОМИНАНИЯХ СОТРЫДНИКОВ, Moscow (1988). From BESM to Super-EVM, a history of Soviet computing, with some pictures. Paper, 5¾×8½". [CHM]
СЕТЕБАЯ ЕНТЕГРАЦИЯ АВТОМАТИЗИРОВАННОГО МАШЕНОСТРОНТЕЛЬНОГО ПРОИЗВОДСТВА НА БАЗЕ ПРОТОКОЛОВ ЦБЯЗИ MAP/TOP, Международный Центр Научной и Технической Информации МОСКВА (1988). Paper, 5¾×8½". Overview of Manufacturing Automation Protocol / Technical and Office Protocol (MAP/TOP), which was a hot topic in 1988, by the International Centre for Scientific and Technical Information (ICSTI) in Moscow. [CHM]
Das Postleitzahlenbuch, Deutsche Bundespost, 1 July 1993. The new postcodes for all of unified Germany. Paper, 8¼×11¾". Used to update the Kermit customer database and mailing list when the German postcode changed. (I KEPT THIS ONE.)
Drăguţ, Vasile, Arta Românească, Vol.1-2, Editura Meridiane, Bucureşti (1982). Big Romanian coffee-table art books, given as a token of appreciation for some favor we did for somebody in Romania. (THESE ARE TAKEN.)
Asimov, Isaac, Asimov on Numbers, Bell Publishing Company (1982). Columbia MS 1939, PhD 1948. Asimov had three Columbia degrees, was on the Columbia faculty, and taught computer science courses at Watson Lab.
IEEE Annals of the History of Computing, V21 (1999) - V32 (2010).
Dolkart, Andrew S. Morningside Heights: History of its Architecture & Development, Columbia University Press (1998). Hardbound.
McCaughey, Robert A., Stand Columbia, Columbia University Press (2003). Hardbound.
Kurlansky, Mark, 1968: The Year that Rocked the World, Ballentine Books (2004). Hardbound.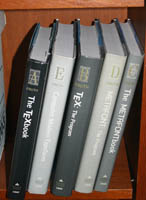 Don Knuth was arguably the best-known figure in computer science in the 1970s and 80s, and his
Art of Computer Programming
series was (and is) a classic. He came to Columbia in 1980 to give a series of lectures on his 10-year detour in completing that series, when he found it necessary to computerize the art of mathematical typesetting that had been lost since the publication of his first editions, the result being T
E
X and METAFONT, presented in the following volumes:
Knuth, Donald E, The TEXbook, American Mathematical Society (1984). Softcover, spiral bound.
Knuth, Donald E, Computers and Typesetting / A: The TEXbook, Addison Wesley (1986). Deluxe hardcover edition with jacket, like new.
Knuth, Donald E, Computers and Typesetting / B: TEX: The Program, Addison Wesley (1986). Deluxe hardcover edition with jacket, like new.
Knuth, Donald E, Computers and Typesetting / C: The METAFONTbook, Addison Wesley (1986). Deluxe hardcover edition with jacket, like new.
Knuth, Donald E, Computers and Typesetting / D: METAFONT: The Program, Addison Wesley (1986). Deluxe hardcover edition with jacket, like new.
Knuth, Donald E, Computers and Typesetting / E: Computer Modern Typefaces, Addison Wesley (1986). Deluxe hardcover edition with jacket, like new.
Extra Kermit Books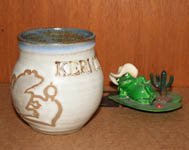 Kermit books in new condition, first editions, second editions... in English, French, and German. Also one of the few surviving handmade Kermit Cups, and La Petite Grenouille, official chachka of Club Kermit in France.
Diskettes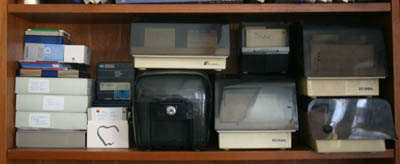 These are the original 5¼-inch and 3.5-inch diskettes that were sent to us by programmers all over the world with their contributions of source code, binaries, documentation, and utilities, plus examples of some of our own distribution diskettes, and diskettes prepared for Kermit classes, plus various utilities (assemblers, editors, commercial or shareware communications programs that included Kermit protocol such as Crosstalk). Some examples:
The original Superbrain Kermit (CP/M-80) Kermit diskette -- the first Kermit program.
Original CP/M-80 Kermit diskettes for Kaypro and VT180; others for CP/M-86.
An MS-DOS boot disk for the Rainbow (comes in handy since the Rainbow shown below does not have a working hard disk).
Artifacts
MOST OF THESE ITEMS ARE IN THE BOOKCASES OPPOSITE THE WATSON LAB 6TH FLOOR CONFERENCE ROOM AND MAY BE CLAIMED BY CUIT PEOPLE OR ANYONE ELSE WHO WANTS THEM.
Due to lack of space, very little computing equipment has been preserved at Columbia. For example, no trace remains of the early DEC minicomputers such as the PDP-4, PDP-7, PDP-9, PDP-12, and PDP-15 that were once found at Columbia, not mention the more common PDP-8s and PDP-11s; the SEL, IMLAC, who knows what other kinds of early minicomputers, and certainly not the much larger mainframe computers, nor the earlier IBM punched-card equipment, nor of the groundbreaking machines that were built at Watson Lab in the 1940s and 50s. Even the smaller relics have mostly disappeared. I remember, for example, when I first came to Watson Lab the building was littered with IBM control panels, but later when I tried to find one, they had all vanished. Anyway, I managed to keep a few things:
A magnetic tape strip from the IBM Data Cell, circa 1965.
Some small decks of punched cards.
Two acoustically coupled modems, circa 1975: Ven-Tel and Anderson-Jacobson (but not the wooden box model).
A 55MB tape cartridge from the IBM MSS, circa 1982.
Some reels of 9-track magnetic tape (1970s and 80s).
An Intertec "Superbrain" 8-bit microcomputer (1980), the one on which Kermit was first developed. The Superbrain was sent to the Computer History Museum.
An Atlantic Research Corporation Interview 30A Data Analyzer, circa 1980, manual included; the blue box shown above. This was used in the development, testing, and debugging of the Kermit protocol. Last time I turned it on it still worked.
A DEC Rainbow personal computer (1982..84).
An IBM PC/AT with hard disk, 160KB 5½" floppy and 1.2MB 5½" floppy. This computer has been transferred to Butler Library where it will be used for recovering information from orphaned floppy disks (old Ph.D. dissertations, etc).
A DEC VAXmate PC (1986)
An illuminated Macintosh logo etched in thick glass that was presented to each of the original 15 Apple University Consortium members in 1984 (i.e. major universities that agreed to promote the Macintosh and resell it to their students). This item is now with Rob Cartolano in Butler Library.
An original HP-48 programmable scientific calculator that has Kermit protocol built in for downloading and uploading programs and results. Needs new batteries; otherwise OK. (Someone took the calculator but not the cables!)
Two DEC VT320 terminals (mid 1980s)
A DEC VT420
A DEC VT520
A DEC terminal server
A box of cables and adapters for the DEC terminals and server
Two Wyse terminals
Some line-printer printouts
A rotary telephone
Hayes 1200, 2400, and 14400 modems
A Telebit Trailblazer modem (from the CSnet backbone)
A Multitech 2400/1200/300 baud modem
A Multitech MT1432 modem.
5 or 10 serial-port switches (A/B, ABCD, matrix, etc)
All kinds of serial-port and network cables and adapters (gender changers, null modems, loopback connectors, Y-connectors, ribbon cables, breakout boxes).
And finally here is my menagerie for building C-Kermit on old platforms, in the ex-IBM Watson Lab building on 115th Street in NYC. In this picture you can see: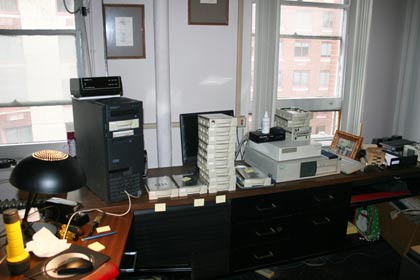 The tall black box on the left is an IBM Netfinity 3500 PC with a pluggable disk drive, by which it can run many operating systems on the "bare metal".
On top of the Netfinity is a Heath Clock, circa 1977, which scans continuously for the National Bureau of Standards date-time signal on various frequencies and outputs the current date and time through a serial port on the back. The antenna is 5 or 6 feet high fully extended. The unit still works, but the broadcasts have either stopped or moved to different frequencies. We used this clock in the 1970s and 80s for setting the time automatically on our DECSYSTEM-20s (I'm not shouting, that's how it's spelled).
Stacks of beige pluggable hard disks for the Netfinity with different PC OS's, such as Red Hat Linux 6.1 and 7.1, Solaris 5.6 and Solaris 8, QNX 4.25, NetBSD 1.5.2, OpenBSD 2.5, Debian Linux 2.1, FreeBSD 3.3 and 4.4, SCO Unixware 2.1.3, SCO Open Server 5.0.5, and some others. Most of these OS's can be accessed via Internet, but several of them only by serial port; for these, a serial cable connects the Netfinity to my desktop PC (not shown).
The larger beige box to the right of the stacked-up disks is a Siemens-Nixdorf RM200 MIPS machine, circa 1995, running SINIX 5.42.
The little beige box on top of it is a no-name PC running SCO XENIX 2.3.4 from 1989.
On the right, some modems and a matrix switch allowing any of 4 terminals or emulators to connect to any of 4 hosts or modems.
The long black cabinet contains myriad serial-port cables with all kinds of connectors, gender changes, null modems, converters, adapters, breakout boxes, and a kit for making DB25s with custom wiring.
The framed pictures on the wall are from Kermit, A File Transfer Protocol (1987). They are original sketches by the artist, George Ulrich; there are five of them in all.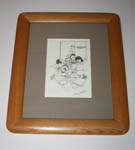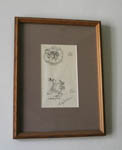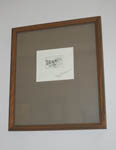 Not included among the Kermit Project artifacts are many computers and terminals discarded over the years: a VAX-11/750, a VAX-11/730, several MicroVAX-IIs, a VAXstation, 17 DEC Pro-380s, 11 DEC Rainbows, various VT50-, VT100-, VT200-, and VT300-series terminals, a DEC GIGI, a dual-boot DEC Alpha (VMS, Tru64 Unix), a Data General AOS/VS minicomputer, a Sun-4/280, four HP-150s, an HP-9000/715, an HP-9000/800, numerous PCs and Macintoshes, and a large number of terminals that we were compelled to throw out in 2006, pictured here.