September 4, 2012. New York, NY
New Films in Our Collection
Over the last few months the collection of the Ukrainian Film Club at Columbia University, already one of the biggest such resources outside Ukraine, has considerably expanded. New full-length feature films with English subtitles include: Mykhailo Illienko's The Firecrosser, 2012, Valentyn Vasianovych's directorial debut in this genre Business as Usual, 2012. Whereas the former can already be acquired on DVD in specialized stores in Ukraine and, through the Internet, elsewhere, the latter is to be only theatrically released in the fall of 2012 and has not yet been issued on DVD. The Club will shortly announce the New York and possibly USA premier of Business as Usual.
* * *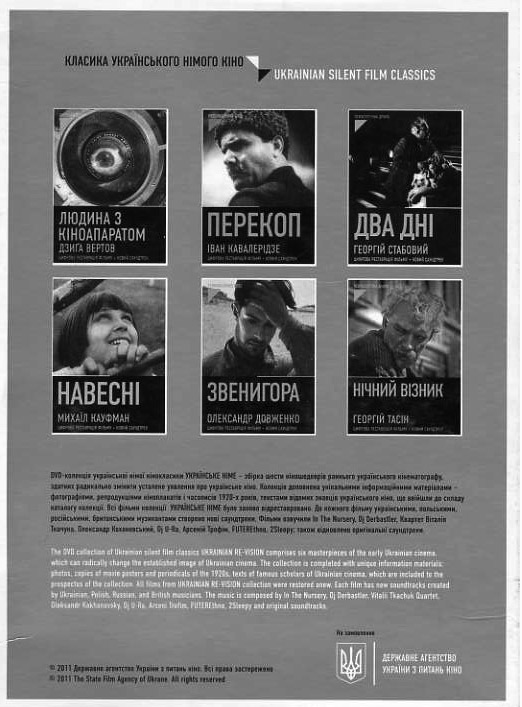 We have also acquired a host of newly restored and digitally re-mastered films: "Ukrainian Re-Vision," a six-DVD set, issued by the Oleksander Dovzhenko National Cinematheque. It is made up of Dovzhenko's Zvenyhora, 1928, Ivan Kavaleridze's Perekop 1930, Heorhii Stabovyi's Two Days, 1927 and Heorhii Tasin's The Night Coachman, 1928, both internationally acclaimed and now little-known psychological dramas, documentaries Dzyga Vertov's Man with a Movie Camera, 1930 and Mikhailo Kaufman's In Spring, 1930. The novelty of this addition is that it presents celebrated works by Vertov and his brother as part of Ukrainian, as opposed to Soviet and by that logic Russian, cinematographic heritage, since both these films have been commissioned by and made at the legendary VUFKU, or All-Ukrainian Photo and Film Administration, film factory.

The second notable feature of this path-blazing edition is that all films carry new musical soundtracks, created and played by modern musicians from various countries, namely the bands 2Sleepy, Ukraine, FUTUREthno (Poland), In the Nursery (UK), solo musicians and composers Oleksander Kokhanovsky (Ukraine), Arsenii Trofim (Russia), DJ Darblaster, a.k.a Oleksander Moskalenko (Ukraine), Yurii Mykhalchuk (Ukraine), and the Ukrainian modernist classic Borys Liatoshynsky. They give novel, fresh, and invariably compelling interpretations of the films, some of which are widely celebrated, like Vertov's "Man with a Movie Camera," some are almost completely unknown, like Kavaleridze's "Perekop."

The set is accompanied by a 360-page book with valuable information about each film and bios of those directors, actors, and others who participated in their production. Among its contributors are such leading experts in Ukrainian films history as Serhii Trymbach (Ukraine) or Lumomir Hosejko (France). Each text has a Ukrainian and English versions and is richly illustrated by contemporary graphics, posters, and photographs. Some of the filmmaker's biographies are published in English for the first time ever.
* * *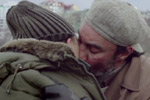 New comedy of errors by Larysa Artiuhina
Historians of Ukrainian film will be interested to know that the Club has obtained digital versions of other silent Ukrainian films of the 1920s that are so far unavailable to the general viewing public or even professional film scholars either in Ukraine or outside. They all have no English subtitles and feature either Ukrainian or Russian intertitles. These are: Petro Chardynin's Taras Shevchenko (two parts), 1926, Turin's Snitch (aka In the Web) (Ukr. Provokator, aka V pavutyni), 1927, Mykola Shpykovsky's Self-Seeker(Ukr. Shkurnyk), 1929, Arnold Kordium's Mirabeau, 1930.

The recently restored silent film "Snitch" stands out in a number of aspects. It is one of the early examples of what would become a very popular genre of Soviet political thriller. The film is in a great condition. As one of its central protagonists it features the legendary Ukrainian actress Anna Sten (née Anna Petrivna Fesak) (1908-1993). Born in Kyiv to a Ukrainian father and Swedish mother, she later moved to Germany and from there was invited to Hollywood by Samuel Goldwyn. Anna Sten was supposed to compete, and for various reasons never really did, with the likes of Greta Garbo and Marlene Dietrich. She famously played alongside Clark Gable in "The Wedding Night" (1935). Today her Ukrainian origin and acting beginnings remain unknown to experts outside Ukraine. Likewise the film "Snitch", the second in her acting career, more often then not is left out of her filmographies.
* * *
Among the new shorts we acquired lately are: Mykola's Field, 2012, by Liza Kliuzko, Yellow Flower for Mr. Bourillon, 2012, by Larysa Artiuhina, The Reeds, 2012,by Ruslan Batytsky, Blood, 2010, by Iryna Pravylo. As has been the case since 2005, the Club received a collection of short films by young directors that were this year's finalists of the Open Night Film Festival, organized by Mykhailo Illienko.