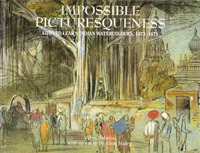 Impossible Picturesqueness

Edward Lear's Indian Watercolours, 1873–1875
Vidya Dehejia with an essay by Allen Staley
Columbia University Press, 1989
Distributed by Columbia University Press
8 1/2 x 11in., 122 pp., 71 color illus.
ISBN 0-231-068954-5 | US $25
Edward Lear, best known as a writer of limericks and nonsense verse, was by profession a landscape draughtsman and painter. Traveling through exotic regions such as Calabria, Corsica, Egypt and India, he made sketches from nature, which, upon his return home, he worked up into oil paintings and watercolors for sale and exhibition. Impossible Picturesqueness presents a selection of Lear's Indian watercolors, and documents his journey to India in 1873-75, making ample use of the artist's exuberant and thoughtful journals of his time spent there. Art Historian Staley has written an insightful essay on Lear's life and work, which concludes the book.
Lear was one of the most notable British artists to visit the subcontinent during the Victorian Era. He produced over 2,000 Indian drawings in watercolor and ink. Lear did not publish the journals, which accompany this portfolio, as with previous journeys, yet they are considered some of his finest writings outside of his Nonsense verse.
The book will be of great interest to scholars of British India, Victorian Art, the travel literature of the 19th century, as well as those interested in Edward Lear.