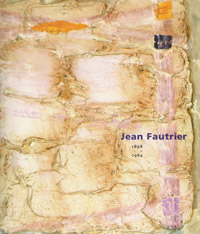 Jean Fautrier, 1898–1964
Curtis L. Carter and Karen K. Butler, with essays by Yve-Alain Bois, Benjamin H. D. Buchloh, and Rachel E. Perry
Yale University Press, 2002
9 x 10", 221 pp., 82 illus., 77 in color
ISBN 0-300-09697-6, Paper, $35
Jean Fautrier, one of France's most important interwar and postwar artists, is perhaps best known for the Otages, his series of abstract paintings featuring partially obliterated or disfigured faces—victims of Nazi atrocities in France during World War II. This landmark book, the first English-language publication on Fautrier, discusses his significance to the history of avant-garde and modern art.
Essays examine Fautrier's early work of 1926–28 in relation to art informel; analyze the formal and social aspects of the Otages paintings; consider Fautrier's Originaux multiples of 1950, a radical series of original reproductions that questions modernist notions of the unique art object; and discuss the influence of American abstract expressionism on his late work. The book also includes contemporary critical essays on Fautrier written by leading French literary figures, including André Malraux, Jean Paulhan, and Francis Ponge as well as a group of translated letters, many never before published, sent by Fautrier to Malraux and Paulhan.
This important book accompanies an exhibition jointly organized by and on view at the Haggerty Museum of Art, Marquette University, from September 19 to December 29, 2002; the Wallach Art Gallery, Columbia University, from January 28 to March 29, 2003; and the Fogg Art Museum, Harvard University, from April 26 to July 20, 2003.