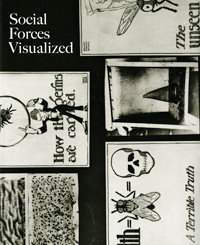 Social Forces Visualized

Photography and Scientific Charity, 1900–1920
Drew Sawyer and Huffa Frobes-Cross
Wallach Art Gallery, 2011
9 x 11", 64 pp., 32 illus., 31 duotones, 1 color
ISBN 978-1-884919-28-2, Paper, $30
Through essays, plates, and reproductions, the accompanying catalogue presents the range of photographs and other materials in the CSS records. In the foreword, Maren Stange revisits her foundational study "Symbols of Ideal Life: Social Documentary Photography in America, 1890-1950" in which she wrote extensively about the photographic practices of the Charity Organization Society, and addresses the ongoing significance of the collection to the history of photography.
Huffa Frobes-Cross provides a review of the extensive literature regarding the limitations of a progressive documentary tradition, including critiques during the 1970s and 1980s by Susan Sontag, Martha Rosler, and Allan Sekula, among others. This essay historicizes these arguments while taking into consideration the growing field of scholarship that has developed on photography of suffering, violence and poverty.
Drew Sawyer's essay focuses on the visual culture of housing reform to highlight the heterogeneous and changing visual strategies of these two organizations at the turn of the twentieth century. More specifically, the essay deals with abundance of overlooked photographs of architecture in the archive. In doing so, it provides a corrective to scholarship and criticism that has focused on images of people and suffering rather than the built environment.