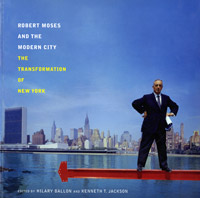 Robert Moses and the Modern City

The Transformation of New York
Hilary Ballon and Kenneth T. Jackson, ed.
W. W. Norton & Company, 2007
10 x 10", 336 pp., 259 illus, 53 in color
ISBN 0-393-73243-6, Paper, $35
A fresh look at the greatest builder in the history of New York City and one of its most controversial figures. Robert Moses's vast building program aimed to modernize urban infrastructure, expand the public realm with extensive recreational facilities, remove blight, and make the city more livable for the middle class. This book offers a fresh look at the physical transformation of New York during his nearly forty-year reign over city building from 1934 to 1968.
In his various roles in city and state government, Robert Moses reshaped the fabric of the city, and his legacy continues to touch the lives of all New Yorkers. Revered for most of his life, he is now one of the most controversial figures in the city's history. Robert Moses and the Modern City is the first major publication devoted to him since Robert Caro's damning 1974 biography, The Power Broker: Robert Moses and the Fall of New York.
In these pages, eight short essays by leading scholars of urban history provide a revised perspective. Stunning new photographs offer the first visual record of Moses's far-reaching building program as it stands today, and a comprehensive catalog of his works is illustrated with a wealth of archival records. Included are renderings of rejected designs and controversial projects that were defeated and views of spectacular models that have not been seen since Moses made them for promotional purposes.
Robert Moses and the Modern City captures research undertaken in the last three decades and will stimulate a new round of debate.