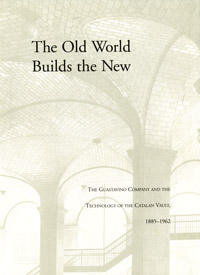 The Old World Builds the New

The Guastavino Company and the Technology of the Catalan Vault, 1885–1962
Janet Parks and Alan G. Neumann, AIA
Avery Architectural and Fine Arts Library and Wallach Art Gallery, 1996
8 1/2 x 11", 99 pp., 61 b&w illus.
ISBN 1884919030
ISBN 978-1884919039, Paper, $26
The Guastavino Fireproof Construction Company was the major architectural innovator whose work is in more than 1,000 buildings in North America, was founded in 1889 by an emigré architect from Barcelona named Rafael Guastavino. He along with his son, also named Rafael, was responsible for many of the most distinctive features of American buildings constructed during the course of the company's history.
Born in Valencia in 1842, Rafael Guastavino had an established career as an architect in Barcelona during its great urban expansion, which began in the 1860s. He had pioneered the adaptation of a centuries–old building technology called the boveda catalane, or Catalan vault, a fireproof method of construction in which courses of tile are laminated with mortar.
The Guastavino Company designed and manufactured tile for the construction of vaults, staircases, domes, arches, and other architectural elements. Because the company served as a contractor on these projects, the Guastavino name today is not known to a wide audience, although the company worked primarily on large public buildings.
Guastavino's arrival in New York coincided with two architectural trends: the beginning of the grand Beaux Arts-inspired American Renaissance architecture and the early development of steel, portland cement, and concrete as architectural materials. The Guastavino's client list reads like an architectural Who's Who: McKim, Mead, and White; Bertram Goodhue; Ralph Adams Cram; Henry Hornbostel; Carrère and Hastings; Warren and Wetmore; among many others.